The Best Reasons to Go to Canada for the Afternoon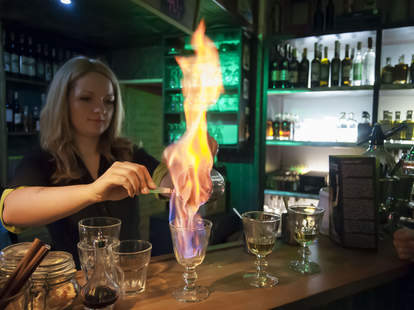 Roman Yanushevsky/Shutterstock
Blessed are we to have in our sights, and our easy reach, the most utopian of countries, the almighty Canada: land of skunky lagers, violent ice sports, and bears -- lots of bears. To broaden the cultural horizons of our readers, we encourage you Detroiters to get oot and aboot and enjoy the land of plenty which lies across the chilly shores of the Detroit River. Here are a few reasons why:
Play one of the weirdest sports ever
More or less a giant game of shuffleboard played on ice using brooms, curling is one of Canada's better contributions to the world. It's exciting, but don't take our word for it. If you find yourself under the maple leaf flag sometime between the months of November and March, there's a good chance you can get in on a game. Try challenging the locals at the Roseland Golf & Curling Club. 
 
See Detroit from the other side
We have a pretty city, no doubt. We've talked up our riverfront plenty, but dontcha know the best place to get a great view of the city of Detroit is from Windsor's Riverfront Trail.
Drink at one of Canada's oldest distilleries
A working whiskey distillery since 1894, the Hiram Walker plant still produces Canadian Club whiskey to sip at your leisure along the waterfront. Also check out the Walkerville Brewery, housed in an old distillery warehouse, which has been producing "honest beers," in the words of Walker himself, since 1890.
Chris Hill/Shutterstock
Visit the closest national park to Detroit
Less than an hour from the Ambassador Bridge is Point Pelee National Park, one of Canada's national parks, and a peninsula jutting out into Lake Erie. Hiking through the marshlands that lead to the lake puts you in touch with nature, and you can witness the lake's volatile changes from the tip of the peninsula. One of the best times to visit the park is during the annual monarch butterfly migration in September, when millions of the insects make a pit stop on their way to Mexico, where we presume they go to drink tequila and lounge in the sun.
Swim at better lake beaches
On the eastern shores of Lake Huron lies The Pinery Provincial Park, a small but bountiful park with sandy beaches and loads of, as the name would suggest, trees. It's a relatively short distance from Detroit, and offers some of the most beautiful sunset views you'll find on Lake Huron. 
 
Take advantage of Canada's cheap(er) prescription drugs
This legal-ish activity is a relatively common reason for Yanks to cross the border. Being that Canada -- like many other countries -- actually puts a cap on how much prescription drugs should cost, generic drugs are often much cheaper over there than in the US, provided you don't have insurance. Take a copy of a prescription that you receive from a doctor and turn it in to a Canadian pharmacy. Just make sure you don't agitate the border patrol on your way back in.
 
Converse with inebriated, 19-year-old Americans
On any given Friday or Saturday night, the likelihood of running into an American teenager learning about the benefits of legal drinking while roaming the streets of Windsor is quite high.
Eat legitimately great Italian food
Windsor's Little Italy is home to some of the best Italian restaurants in the greater Detroit area, many of which have been open since the first wave of Italian immigrants arrived in Southern Canada in the early 20th century, where you can easily find gnocchi that's been handmade with the same recipe for years at places like Nico Ristorante or Spago.
Buy some highly coveted, illegal green liquor
You can actually purchase real-deal absinthe, wormwood included, in Canada... which, in case you forgot, you can't legally purchase in the United States. Why not make a day of it and see what makes this stuff so good that our country has to ban it? 
Sign up here for our daily Toronto email and be the first to get all the food/drink/fun in town.
Megan Frye is a writer based in Detroit and Mexico City. Despite being 50% Canadian, she's not always welcomed across the border. Tweet her your best Canadian jokes at @fryechild.