Have a special someone whom you're looking to impress? Have an inkling that breaking the law together would add excitement to your relationship? Aching to be the next Bonnie and Clyde? (Well... don't go that far, we all know how that turned out.) If you are thinking of taking things to the next level by engaging in some illegal activities together, here are some localized ideas that we strongly recommend NOT partaking in.
Have a romantic dinner for two atop the 38-story left-for-dead Book Tower (or any of our empty skyscrapers for that matter)
How to pull it off despite us very clearly advising against it: Cast a spell on any security guards that may be lurking around now that the building has a new owner. Under the cover of night, climb up the fire escape until you find a door or window you can pop in. Then take the stairs to the top.
Laws you'd be breaking: Trespassing on private property. The tower was purchased by the man who bought Detroit, Dan Gilbert, in August 2015 for a measly $30 million along with the Book Building next to it. Bonus for your date: there will be light!
Sip mixed drinks and watch the sunset from Belle Isle
How to pull it off despite our explicit disapproval: The most skillful and refined of Detroiters will scoop up a few 20oz bottles of Faygo and exchange half of its contents for a some nice vodka, preferably one distilled in one of our own fine liquor-brewing establishments: Detroit City Distillery, Two James Spirits, or Our/Detroit. But we hear Mohawk and Burnett's have the same effect, if you're into paying your sin penance through atrocious hangovers.
Laws you'd be breaking: It's illegal to drink alcohol in a state park, which Belle Isle has become. Actually, it was technically always illegal to drink on Belle Isle but the law was rarely enforced. If you want to drink on the island legally, you can obtain a permit through the park office. But what's the fun in that?
Make, as Bob Seger calls it, some front-page drive-in news (in other words, have sex in your car)
How to pull it off despite us assuring you that the sex police do indeed issue citations: We're not in the business of telling you how to up your game and engage in coitus: that is what VICE is for. But once you do find a partner, the next step is finding a car, and the next step is, well... someone has to unbuckle their pants.
Laws you'd be breaking: Despite Detroit being the birthplace of the automobile, it is illegal to have sex in a car here, unless you do "it" on your own property.
Get rip-roaring, golden age-of-transportation drunk together on the Amtrak
How to pull it off even though, again, this is not an idea we'd condone: There are a few options here: 1) purchase booze in the booze car (duh) and/or 2) bring it with you.
Laws you'd be breaking: It's illegal to be drunk on a train in Michigan. Why the hell do we live here again?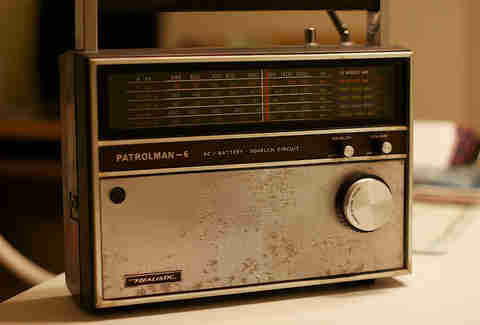 Find a radio you don't care about and smash it with a sledgehammer together
How to pull it off despite our repeated pleas not to do it due to legal issues: Take exhibit A: radio and exhibit B: sledgehammer and allow the two to meet in an aggressive, yet ceremonious encounter.
Laws you'd be breaking: It's illegal to smash a radio in Detroit. The more you know!
Throw an octopus on the ice at Joe Louis Arena
How to pull it off despite our disapproval and repeated withering looks: Your best bet would be to obtain a deceased cephalopod, stuff it in a sack attached to your lover's gut, and blend in with the other chubby Red Wings fans.
Laws you'd be breaking: What has been considered a good-luck charm for the Red Wings since the mollusk-launching tradition began in 1952 is completely illegal and will get you kicked out of the game and likely slapped with a hefty fine.
Laugh in church in Grosse Pointe
How to pull it off despite us desperately wishing you'd stop all illegal behavior this minute: Get goofy. Maybe watch a funny movie, or whatever gives you kids the giggles. Then, go to church and see how long you can get away with your public snickering in a house of worship.
Laws you'd be breaking: It's illegal to disrupt church with laughter in Grosse Pointe.
Find a pig without a nose ring and let it run wild through the streets of Detroit
How to pull it off despite the fact that we've said we'll call your parents if you actually do it: This one is pretty easy: literally all you have to do is find a pig.
Laws you'd be breaking: It's actually illegal to allow a pig run loose in Detroit, but only if it doesn't have a nose ring. Pigs with nose rings are allowed to frolic as they please.
Twerk on each other at a bar in Fraser
How to pull it off despite the fact that you will shame your entire family and lineage: We know, nothing goes together quite like freak dancing and the largely nondescript suburban void of Fraser. You two would actually be doing metro Detroit a favor by adding a little spice to the town. Just make sure you bring your own music as all you're going to find in these sports bars and VFW halls is New Country and '70s hand job-in-a-Camaro music -- i.e. LOTS of Foreigner.
Laws you'd be breaking: It's illegal to freak dance in Fraser.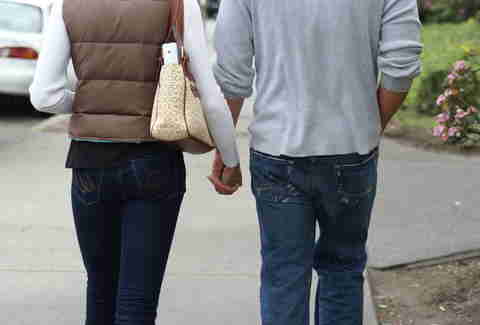 Idly wander, hand in hand, through Washington Township
How to pull it off despite us telling you that going to jail really isn't cool at all: First, find Washington Township -- you'll recognize it as a former Podunk-turned-McMansion golf course. Start walking with absolutely no intent of having a destination.
Laws you'd be breaking: It's illegal to wander aimlessly in Washington Township. Seriously.
Sign up here for our daily Detroit email and be the first to get all the food/drink/fun Motor City has to offer.

Megan Frye is a Thrillist writer and can usually be found tying alligators to fire hydrants in Detroit, one of her favorite illegal activities that she urges you never to try. Tweet her at @fryechild for horrible legal advice.