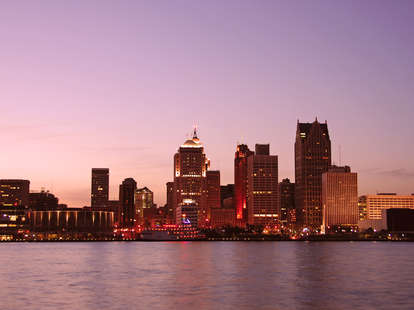 Ivan Cholakov/Shutterstock
Ivan Cholakov/Shutterstock
Let's get this over with: I don't hate any Great Lakes state. No, not even Ohio. In fact, I once lived in Ohio for eight years, and it was generally kind of OK... sometimes.
Even though it's just a given that Michigan is the Greatest State of Them All, let's talk about some of our lovely lake-side neighbors and their finer qualities for a minute. And then let's talk about why we're better. Michigan is going to go toe-to-toe with each of our lakeside neighbors in a gentle but definitive takedown. How Midwestern of us.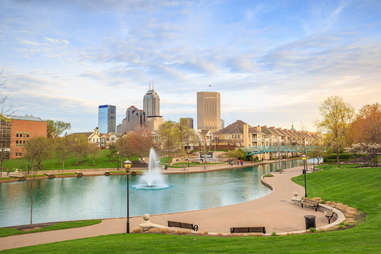 Indiana
No offense to Indiana, but let's start with the sweet, nondescript home of… Hoosiers? Whatever a Hoosier is, it presents no danger to a Wolverine. Indiana has some pretty country in the south, rolling hills, and cute-as-a-button college campuses in Bloomington and South Bend. But it's also home to the atrocity that is Notre Dame, so it's out of the running for that alone. Meanwhile, we'll offer up the shiniest of specimens that is Ann Arbor and the University of Michigan.
Indiana has some lovely beaches, but come on -- Sleeping BearDunes is consistently named among the greatest vacation spots in the world for a reason! Although Indiana's Lake Michigan sand dunes don't quite stack up to our monsters, I will grant the state this token: it has a couple of beaches that you can legally drink on, and that's something that gives even the dullest of Great Lakes states a pass.
Wisconsin
Speaking of drinking, let's head northwest, to Wisconsin. While Milwaukee churns out millions of gallons of cheap lagers, Michigan takes the hoppy cake with its craft beer scene. Grand Rapids was voted as "Beer City USA" in national polling two years in a row, and for good reason: the city alone has more than 40 active breweries, with more beer per square mile than basically anywhere else. Michigan has Hopcat, franchised craft beer bars, all about pouring the best local stuff. On a conceptual level, show me another business that's absolutely booming with a craft- and local-forward mindset, that wants to show off the breweries the entire state is brewing -- Bell's, Founders, Arcadia, to name a mere few of the heavy hitters. We'll take quality over quantity any day.
Wisconsinites are a people after my own heart: they love their beer and cheese, they have charmingly weird accents, and they make OK pasties, too. Cheese curds are a gift to humanity -- where would poutine be without them? -- and I've consumed more of the Champagne of Beers in my past than I'd care to admit. But I'd rather chow down in Grand Marais on Breakwall pasties while sipping from a growler of Lake Superior Brewing brown ale any day.
Illinois
Illinois has Chicago. It's bigger, it's smellier, and the traffic is worse than in Detroit. Like any Michigander, I have been to Chicago my fair share of times, and the experience has always been rather "meh." There's this one painting in the Art Institute of Chicago that's oddly attractive, some Chagall stainglass, and "American Gothic," the painting of the man and woman who are actually siblings, not spouses as is commonly misbelieved. But the DIA is free now, it has one of the largest and most significant art collections of anywhere in the US, and it's right here.
People might point to Chicago's deep-dish pizza, which is really just a pizza-themed casserole (Pequod's being the exception to the rule). If you want to talk about real deep-dish, however, look no further than Buddy's in the D. Put a slice from there and Uno's, what most consider to be the most "traditional" of the Chicago pies, on the same plate and you'll see why Detroit's deep-dish will come out as victor every time. Or just let Jon Stewart do it for you.
It does have some great cocktail bars. Lots of them, in fact. Lost Lake is one of the greatest tiki bars I've ever stepped into; Violet Hour is regarded as one of the best in the country; and Scofflaw's gin-anything will bring me to tears (along with that free cookie at midnight). But as with beer, I'll take my Detroit bars, like Sugar House and Katoi, mixing drinks just as good (if not better than) any overpriced drink you'll find here. And, now that Detroit's getting a Gus's Chicken of its very own, there's really no need to venture as far as Illinois, unless you want to go clear across the state and check out the Mighty Mississippi, or drive past the very large cross outside of Effingham... which, been there, done that.
Minnesota
Minnesota is pretty OK. When I was a kid, I thought I wanted to move to Minneapolis because of Prince (RIP). That was before I knew that music basically only comes from four places in the US, and one of those places is Detroit.
Minnesota has Boundary Waters, and apparently normal-sized mosquitoes (unlike Michigan's monstrosities). Minnesotans love their lakes as much as Michiganders do. The fishing there is almost as good as in Michigan.
But their much-hyped 10,000 lakes don't add up to a fraction of our Great Lakes coastline. They have one lake that counts. We have four. Point: Michigan. And when February rolls around, we won't be itching to trade in our annoying winters with Minnesota's burying and frigid ones. No, thanks.
New York
No, not the city; the state, which, with coastline on Ontario and Erie, is technically a Great Lake State. Buffalo has that quintessential down-at-the-heels underdog status, which makes that part of the state one of us, at least. It has wings, too... damn good ones, and for that I am eternally grateful to Buffalo.
That drive, though. Ever driven all the way across the state of New York in mid-winter? It's interminable, abominable, a frozen wasteland. You can judge the division in New York from lake state to eastern seaboard state by the turnpike coffee shop switch from Tim Horton's to Dunkin' Donuts. It's around Utica, in case you were wondering.
Pennsylvania
Pennsylvania barely squeaks in as a Great Lakes state because it fought tooth and nail 200+ years ago for a share of coastline. I give them props for scrappiness, and a kayak trip along the Erie shore is a good way to whet your appetite before heading to more civilized lands -- just four hours away, in Detroit.
I admit, I judge a town by its bars, and Pittsburgh's bar scene is on point. Pittsburghers (it couldn't be Pittsburghites? Pittsburgundians?) are a fine group of people who get their drink on pretty well. Don't get me started on Philadelphia, though, which again is more of an East-Coast thing, with the arrogance and the abrasiveness to prove it. It may be Always Sunny there, but slicing up subpar mystery meat and slapping some cheese on it does not constitute quality cuisine.
Ohio
At long last, the great rivalry. Don't expect this to be a rant over football programs, because there's more to a state than its sports teams (Go Blue, and Sparty On, though). Take Hocking Hills, for example. It's a magical wonderland of waterfalls and rocks to clamber over, and it's easy to get to.
Cleveland gets grief as a dirty Rust Belt town, but I'm from a dirty Rust Belt town, and I gotta say, I love Cleveland. I stood up in a wedding at Great Lakes Brewing Company in 96-degree heat once, but we all danced the night away anyway, and I may or may not still have a couple of nicked pint glasses from there.
The rest of the state, though? Could do without it. Ever eaten a plate of Cincinnati-style chili? Well, don't. Spaghetti is involved, and it's gross. Stay far away from this chili; it's a crime against humanity. Coney dogs, on the other hand, are meat cases of delight.
In the end, though, the only Great Lake they have is Erie, and everyone knows that's the worst of them all. Just remember: it caught on fire. Needless to say, I'm still wary of swimming in that lake.
Sign up here for our daily Detroit email and be the first to get all the food/drink/fun the Motor City has to offer.