Summertime is short and sweet in Michigan. Unless you absolutely hate heat, humidity, and crowds, in which case, it feels long and salty like a Koegel sausage. But if you've been patiently putting off a summer vacation, you still have plenty of excellent destinations to choose from among the major regional tourist spots. And the best secret? These places are way better to visit during the fall.
Recommended Video
Debatable: It's Fine To Recline Your Seat On a Plane
If you've ever talked to someone who's spent time on Isle Royale during the summer, or anywhere in the Upper Peninsula for that matter, you may have heard them say something like this: "It was gorgeous, except all those damn black flies." They bite. And they swarm. In general, the insects are a nuisance that don't let up until the weather starts to change. By early autumn, you can enjoy the trails on this isolated national park without much hassle from the insect kingdom. Not only would you be avoiding these pests by turning your summer vacation to Isle Royale into a fall vacation, you'd also be witnessing the remarkable fall color change that is very much a sight to behold so far north. Just make sure you plan ahead as the park officially closes for the winter on November 1st.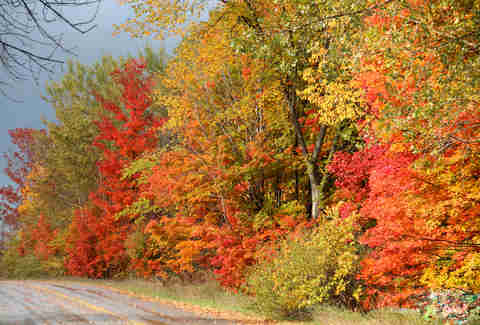 Drink beer in a crowd-free Traverse City
You can still experience all that Traverse City has to offer -- which basically is beer and a lake (but damn good beer and a damn beautiful lake!) -- in the fall. And you will be happily surprised to find yourself wandering around a more relaxed version of the resort-like town than its summer side. That is, you won't be stepped on by men wearing socks and sandals and crowded by giant families from Grand Rapids wearing church camp T-shirts.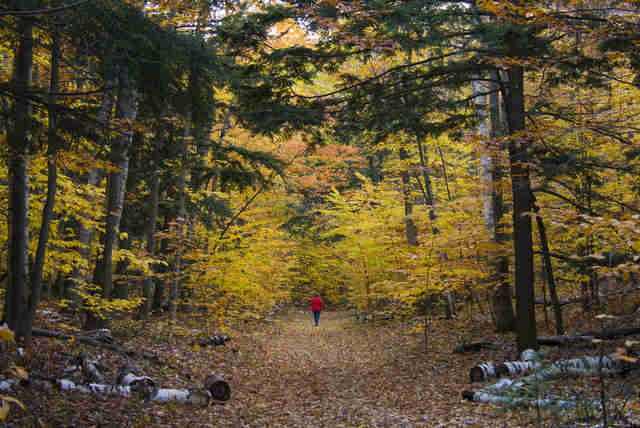 Climb Sleeping Bear's dunes without sweating your ass off
Have you ever climbed up Sleeping Bear Dunes National Lakeshore, a 300ft sand dune on an 85-degree afternoon swarmed by the aforementioned families from Grand Rapids? It's really not that lovely of an experience. Now drop the temperature by about 20 degrees, reduce the number of people by about half, and add a bit of color to the trees. If that sounds like paradise to you, you're not alone, but you won't find yourself in the masses either. There's still enough warmth to the air and lake water to make this season the ideal one for getting to know this stunning park, which is often just too crowded to fully enjoy during the summer.
Enjoy the outskirts of Appalachia as it's intended
Normally we wouldn't advise anyone to go to Ohio -- we mean... come on. Alas, the state has a few things going for it beyond just its proximity to Michigan (which is its main attraction). Located in southeast Ohio, where the flat cornfields that dominate the state's geography give way to rolling hills, limestone cliffs, and waterfalls is the Hocking Hills State Park -- basically an entrance to the wonder that is Appalachia. Spring and fall are desirable times to hit the trails in this park for some hiking as the extreme humidity that characterizes the summers of this region is at a significantly more manageable level. The changing leaves are particularly stunning at Hocking Hills and the temperatures are a little bit warmer than they are in Michigan, making this is a great spot to hit in November when, by all counts, winter will already be settling in across the Mitten.
Cedar Point around Halloween. Enough said.
Forget the hour-long lines and bratty teenagers that abound in this king of amusement parks throughout the summer. In fact, going to Cedar Point in the summer is like the equivalent of sitting in a boiling bathtub while watching reruns of Full House on repeat. Worthy of note are HalloWeekends, in which the park stays open later in the evening and attempts to creep you out. The actual scariness of the attractions may be debatable, but the decor and the vibe are worth checking out and make for an entertaining end to a day where your stomach and lungs trade places.
Be a tourist in your own city without having to deal with actual tourists
Arguably Michigan's premier tourist destination, Mackinac Island itself is stunning and it's much, much easier to enjoy -- and cheaper -- during the fall months. Expect to pay a fraction of what you would during the height of the summer season, and know that you won't risk the chance of being tripped by any Rick Snyder lookalikes as you wander the historic town.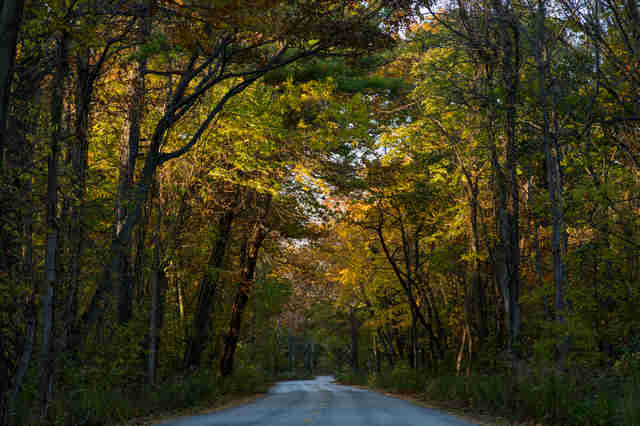 It's always a nice time of year to visit this peninsula jutting into Lake Erie. But fall is especially wonderful as the park is a noted migration stop for monarch butterflies passing through on their way from Canada to their winter mating and resting grounds in Mexico. The months of September and October can see hundreds, if not thousands, of the little winged migrators at a time. The park also quiets down considerably during the fall, lending to a much more vibrant sense of nature and wilderness than in the summer.
Escape to an actually secluded forest on Lake Huron
One of the most stunning sights within a short day's drive from Detroit is the Bruce Peninsula on Canada's side of Lake Huron. The water is extravagantly turquoise and deep blue, and the cliffs off the peninsula are dramatic and rugged. Even in the summer, it's largely under-visited by Americans, and we find that to be a shame, because we love annoying Canada as much as we possibly can. So, please. Go there this fall and be on your best, obnoxious American behavior. No, just kidding. Don't do that. This is the ideal place to visit for a tranquil escape into one of the least-known Great Lakes vacation spots. Be on your best behavior.
Canoe/kayak the Au Sable
The time for floating down the river in an inner-tube exposing yourself (but not too much) to summer's rays and popping jello shots out of the cooler may be long gone. The summer party atmosphere of Michigan's rivers, namely the Au Sable, is legendary. But wouldn't you know it, canoeing and kayaking during the fall months is just as pleasant, if not more so, than in the summer. You can typically count on September and October being pretty dry, which is perfect when you're floating atop the currents, which are also slower in the fall. And the best of all, the fall brings with it cooler temperatures and fewer mosquitos, so you can avoid breaking the sweat you'd be working up from swatting at all those little winged demons as you'd have to in July.
Visit Chicago when it's not oppressively hot or cold
For you city slickers out there, take a quick dip southwest to our beautiful Rust Belt neighbor, Chicago. The city's major attractions are usually swarming with tourists during the summer: Navy Pier, Shedd Aquarium, Millennium Park, the Willis Tower (formerly known as Sears, if you haven't been keeping up), Wrigley Field, the beach at Lake Michigan, countless museums, etc. But in the fall, not only will you not have to battle selfie-sticks and confused visitors, but the heat and humidity which characterize the city in the warmer months won't be of much concern either. Enjoy a slower pace and plenty of time and space to enjoy all that the capital of the Midwest has to offer before winter hits and you learn what real cold and wind feels like.
Same, but Toronto
Toronto is an exceptional jewel of Canada, a cosmopolitan center filled with all manner of delicious food, polite people, and a shit ton of things to do. As with Chicago, you can expect the fall in Toronto to be made up of more Torontonians than tourists. As the most diverse city in Canada, explore a variety of cuisines, from Ethiopian to Vietnamese, and way, way more. The time is right to enjoy the city before the winter hits, when you'll actually be glad you live in Detroit and not Toronto because, believe it or not, they have it way worse.
Sign up here for our daily Detroit email and be the first to get all the food/drink/fun the Motor City has to offer.