Believe it or not, we've got it pretty good in Detroit. Sure, we have our fair share of problems -- wait, scratch that. We have more than our fair share of problems. We have an unequal share of problems, and legitimate things to worry about that others cities just don't.
We don't have to repeat all of the concerns Detroit has. But we do know that, relatively speaking, there are things we should worry less about. Detroit stands to improve in a lot of ways, but if you're nit-picking about things beyond your control, you're making your life more miserable than it has to be. Here are some things about this city you've either got to put up or shut up about:
1. The weather
Listen, you know exactly what you signed up for by living in Michigan. It's cold all winter, hot all summer, spring and fall are basically the same, and your energy bill is probably going to suck regardless. The best way to adapt, if you haven't done so already, is to plan ahead. Get heavier gear for the winter. Make sure you're not driving on bald tires during the rainy seasons.
2. Boredom
"Oh, there's nothing to do in Detroit!" cries the lonely transplant who's been to the DIA once and never another museum, ever. As a town built on community, we have long traditions of socializing in our own households, so we're pretty indoorsy anyway. Still, we're going into concert and festival season, and guess what: it's totally fine to go do something outside your comfort zone. Whether it's a trip to the Arab American National Museum or the Charles H. Wright Museum of African American History; hanging out at the Hamtramck Labor Day Festival, the African World Festival, the summer season at Chene Park or the Detroit Jazz Festival; or even trekking it up to the DTE Energy Music Theatre or Meadow Brook Amphitheatre, there's no shortage of weekend activities. During the week, look out for pop-up dinners in bars, DJs spinning classic vinyl, free concerts by up-and-coming bands, and karaoke nights.
3. Having to move to the suburbs
It is not the end of the world if you move to Southfield. We get the FOMO of not living Downtown, but let's face facts: if everybody in Metro Detroit lived Downtown, it would get ridiculously crowded. Whether you're moving for a job, moving to raise your family, or just want some goddamn space, the rest of Detroit will still be here for you, and you can still enjoy it. You'll just have to drive a little for it. Speaking of which...
 
4. Having to drive places
It's the Motor City, and it's not going to change anytime soon. Yeah, I'm sure you wish Mayor Duggan could wave a magic wand and make every street four lanes -- one car lane and three bike lanes just for you, right? But again, this is another of those "you knew what you were getting into" kind of things that's not changing anytime soon.
5. Sports traffic
With all the talk of a potential new soccer stadium, one of the immediate concerns was traffic around yet another sporting event, in addition to the heinous Wings, Tigers, and Lions traffic. (Not to mention big concerts.) Traffic sucks -- though this writer's in no position to criticize traffic complainers, having quietly hurled insults at bike tours clogging up major intersections a mere bullet point ago -- but this is one of those things we have to accept living in a city. If there's a big game going on, avoid Downtown. Simple.
 
6. Really, traffic from any large event
When the North American International Auto Show happens, people complain. When the Woodward Dream Cruise happens, people complain. Both of these, in addition to other big draws (Movement is just around the corner, so grumble about all the fluorescent hipsters in Hart Plaza right now to get it out the way), worldwide crowds come here to see what Detroit is all about. Let's be a little grateful we have traffic, because the alternative is none at all.
7. Restaurants that aren't designed specifically for you
Oh hey, yet another Asian-fusion, Michigan-beer-serving, small-plates-dishing, no-brunch-yet-because-the-demand-isn't-there restaurant is opening in a former garage/widget factory/wig store, and there's exactly one vegan option on the menu, and you can't bring your dog. There's a new restaurant opening in Detroit every week these days. Your day will come.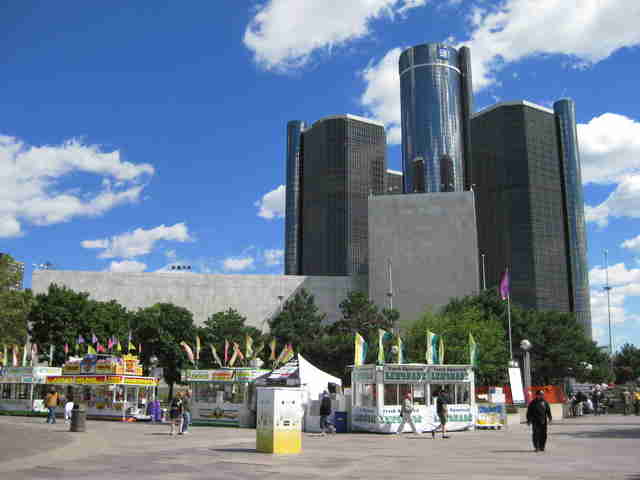 8. Everything being too expensive
Well yeah, exclusively shopping at leather goods stores and eating out 12 times a week adds up, doesn't it? Say what you will about some of the fancier things opening in town, but you should never say you can't get by on the cheap in this city. Find out your favorite bars' happy hours (here, we did it for you) -- or maybe try a new bar? Look for healthy food options to cook at home, and yes -- you can shop healthy outside of the Midtown Whole Foods. (Super Greenland in Dearborn, anyone?) And you don't have to have a $600 Shinola watch to wear made-in-Detroit pride; the city's wide variety of artisans and makers would be happy to have your business as well. (Oh yeah, and maybe follow @freeismylife on Twitter for all the best Detroit deals.)
 
9. The rent
The big, controversial issue on everyone's minds is the cost of Downtown living. Or the cost of Midtown living. You can't afford to live in Detroit? No, wait -- you can't afford to live in Downtown Detroit. The rest of Detroit, whether it's a flat in Hamtramck or a three-bedroom house in Grandmont, is still affordable. You need to get out there and see some other neighborhoods before playing the "Detroit is too expensive" card. (And either way, you're still stuck with high car insurance.)
Sign up here for our daily Detroit email and be the first to get all the food/drink/fun the Motor City has to offer.
Aaron Foley is the author of How to Live in Detroit Without Being a Jackass, editor of BLAC Detroit magazine, and probably knows more about Detroit than you.