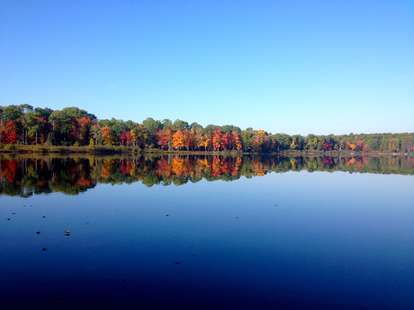 Michigan may be the best state in the country, but we certainly don't have the best winters, which means you don't have much time left to get in your sweet Saturn three-door coupe and go somewhere cool. So here are 11 great road trips to take this fall (aka, while you still can!).
Hike the Pinckney/Waterloo recreation areas
Distance from Detroit: 55 miles west; one-hour drive
Why it made our list: Ann Arbor is great, and there's plenty of fall stuff to do there, but you already knew that. So why not Dexter? Jolly Pumpkin's Dexter tap room offers beer, wine, and spirits from Jolly Pumpkin, North Peak, and others. You'll also be going to Dexter Cider Mill, and for your outdoor fix, hike/bike the Potawatomi Trail, which starts in the Pinckney recreation area.
Pro tip: Watch out for… ugh, bikers on the Potawatomi Trail. Or, you know, join 'em.
Drink ALL the beer in Grand Rapids
Distance from Detroit: 160 miles west; 2.5-hour drive
Why it made our list: Surprising, right? Too bad. Grand Rapids rocks in the fall. There are a handful of apple orchards to choose from, ArtPrize runs until October 11th, and of course, beer… beer everywhere. Founders, Brewery Vivant, Perrin... the list goes on, and it's your drinking duty to try every seasonal beer they've got.
Pro tip: If Founders has live music on stage, there might be a cover. Don't be discouraged. G-Rap is home to a number of talented groups like Big Dudee Roo and The Crane Wives, the latter of which will be playing the Founders Halloween party this year.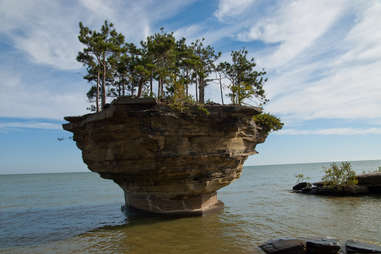 Kayak around Turnip Rock… while you still can
Distance from Detroit: 130 miles north, 2.5-hour drive
Why it made our list: Well, we already put it on this list, but that's because 1) Turnip Rock makes for a unique kayaking excursion, and 2) the thumb could use a little more love as a road trip destination. Also, check out Sleeper Park for beach-y things and a few hiking trails.
Pro tip: Stop in the "cute fishing towns," as your girlfriend will call them, along M-25, like Port Sanilac, Harbor Beach, Port Austin, etc.
Drink your way through Holland
Distance from Detroit: 180 miles west; three-hour drive
Why it made our list: 1) Lake Michigan, which means your fall color tour comes with a freshwater backdrop, and 2) New Holland Brewing Co. with its Ichabod pumpkin ale and Carhartt Woodsman. Of course, New Holland does spirits, too, and damn good ones at that.
Pro tip: Please drink the following items at New Holland: Dragon's Milk, Beer Barrel bourbon, and the Knickerbocker barrel gin. Consume all together in a big jug (not really).
Listen to the elk in Pigeon River Country State Forest
Distance from Detroit: 250 miles north; four-hour drive
Why it made our list: Have you ever been out in the Michigan woods at dusk and heard an elk bugle? Because you should be out in the Michigan woods at dusk and hear an elk bugle. That's something you can do here because it's home to one of the largest free-roaming elk herds east of the Mississippi.
Pro tip: A lot of people want to see elk on weekends so you should come during the week. Fewer people = greater chance of elk.
Stay in the car on M-22
Distance from Detroit: 255 miles northwest, four-hour drive
Why it made our list: It's the all-encompassing, quintessential Michigan highway. You can get your lake views, forest views, Sleeping Bear Dunes, and Traverse City all in one with M-22. USA Today readers even recently named it the best scenic autumn drive in the country... and if there's a single bastion of trustworthy voices remaining in this age of dubious media, it's the readers of USA Today.
Pro tip: You don't need help finding eats/drinks in Traverse City, so for stops on the way consider Coho Cafe in Frankfort or the Cherry Republic Grand Café in Glen Arbor.
Go on a wine tasting tour of Old Mission Peninsula
Distance from Detroit: 265 miles northwest; four-hour drive
Why it made our list: It's a picturesque fall color drive, sure, but it also comes with wine, and fall colors look a little warmer after you've been through, like, eight wine tastings at places like Black Star Farms and Chateau Grand Traverse.
Pro tip: Take Center Rd up and you'll get your share of fall color. After you make the obligatory stop at the Mission Point Light, take one of the shore roads down and you'll get your share of… um, the shore, presumably.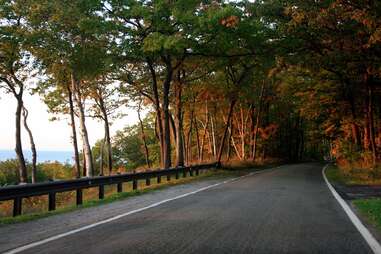 Drive through the Tunnel of Trees
Distance from Detroit: 280 miles northeast; four-hour drive
Why it made our list: This is another essential fall color tour in the state. Also, it ain't far from Petoskey, which is where you should eat and stuff. Also, if fall color is what you're after, and you're like, "Yeah, these trees are great, but I wish I could see them from above," head to Boyne Highlands, where a chairlift ride will allow you to do just that.
Pro tip: Do breakfast or lunch at Roast & Toast in Petoskey. You'll like it.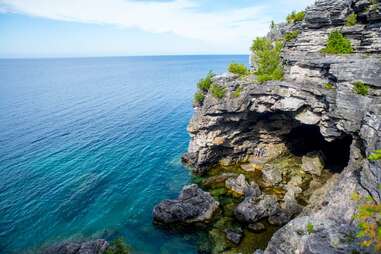 Go to… ugh, Canada. The Bruce Peninsula, Ontario, specifically.
Distance from Detroit: 240 miles northeast; five-hour drive
Why it made our list: In terms of terrain and scenery, it's a lot like the UP... but a faint whiff of maple syrup and free health care permeates the air. Nah, but really, the forests are rocky, the water is clear, and the Canadians say words funny.
Pro tip: Take the trails around Cyprus Lake to Indian Head Cove and the Grotto.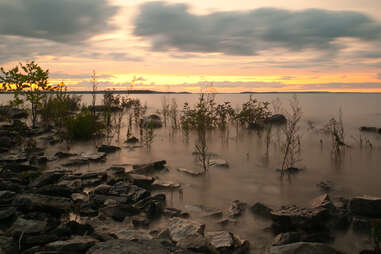 Go outside on Drummond Island...
Distance from Detroit: 350 miles north; five-hour drive (plus 30-minute ferry ride)
Why it made our list: Go ahead and plug Drummond Island (aka The Gem of the Huron) into Google Maps. See all that green space there? Yeah. We do, too. About 68% of Drummond Island is state-owned, which means plenty of hiking, hunting, fishing, ORV trails, and a healthy dose of genuine, Up-North fall.
Pro tip: Kayaking is big here, so hit up the Pigeon Cove Flooding or one of 34 inland lakes.
… And Pictured Rocks National Lakeshore
Distance from Detroit: 410 miles north; 6.5-hour drive
Why it made our list: OK, so we lied. This one will take you slightly more than six hours, but it's worth it. You know it, we know it, and boy, does the Pure Michigan campaign know it. Waterfalls, sandstone cliffs, hiking trails, the Grand Sable Dunes, and kayaking. PRNL pretty much has it all.
Pro tip: The must-sees: Miners Falls, Miners Castle, Beaver Basin Wilderness (to name a few).
Sign up here for our daily Detroit email and be the first to get all the food/drink/fun Motor City has to offer.
Jeff Waraniak is going up north this weekend to ride his mountain bike and look at sugar maples. You can find more of this work on his website www.jeffwaraniak.com.