The sound of Detroit is as much the heavy swish of a freighter gliding on the river, as it is a jackhammer on a Sunday morning. But thanks to the embarrassment of riches in sheer musical talent this town has created over the years (Motown, techno, and a lot more was born here, let's not forget), that isn't the soundtrack to the city. In honor of all who have rocked our most rockin' of all hometowns, we present you with the most Detroit songs ever:
Most Detroit line: "Picket lines and picket signs / Don't punish me with brutality / Talk to me, so you can see / Oh, what's going on"
The song was written about violence in the world, and the suffering within the United States at its own hands. Recorded in Detroit at Motown's Hitsville U.S.A., it may as well have been about the city itself.

Most Detroit line: "I got something mean stickin' in my pocket / Until you tried it you, better not knock it / Doin' the Detroit breakdown, oh the Motor City shakedown"
We all know it starts with a pocket rocket, and soon enough you've got a civil infraction on your hands. Detroit LOVES it some J. Geils Band. Or at least the Detroit suburbs do. At any rate, the band decided to honor its loyal fans with a jam in their honor.

Most Detroit line: "We walk the streets at night, the city looks in fear / Do what the fuck we want, wanna make it clear / There's no turning back, there's no guarantees / Friends of rock n' roll, that's who we wanna be"
It's a lot like the city itself: it's a gritty song, but there's a certain camaraderie to it. If there weren't, we'd all be gone by now.
Most Detroit line: "Only way that I know how to escape from this 8 Mile Road"
For those not in the know, one of 8 Mile Rd's duties is separating the city of Detroit from the suburbs that sit above the city. The city is historically black, the suburbs are typically white. Marshall spent his formative years in the perpetually gritty and backward suburb of Warren, dreaming of ascending in the hip-hop world south of 8 Mile Rd.

Most Detroit line: "Can I get a ride to the house of redemption / 'Cause Detroit CIty Never Done Me No Good / This is not the time for an ounce of prevention"
Dirty. Fuzzy. Manic. This stoner-rock band represents the best of the city's distorted underground.
Most Detroit line: "Ya know, the Motor City is burning people / There ain't a thing that white society can do"
A race riot ignited the city in 1967 with five days of violence and police brutality, which was enough to send an already crumbling city into sink mode. The MC5 sprung like a spring crocus through the turmoil, emerging as a main figure of the counterculture and political far-left.

Most Detroit line: "Everybody's gonna leave their seat / You gotta lose your mind in Detroit Rock City"
Those ugly-lookin' dudes in KISS have been known to say that they owe their fame to Detroit -- having more of an arena-rock feel close to Detroiters' hearts than the famous rock-club New York bands. We think it's because of Detroit's fondness for pyrotechnics.
Most Detroit line: "Told her that I came from Detroit City / And I played guitar in a long-haired rock and roll band / She asked me why the singer's name was Alice / I said listen baby, you really wouldn't understand"
If there's one thing you can't throw a stone without hitting in Detroit, it's a long-haired rock and roll band.

Most Detroit line: "Hit the west side 'cause that's where all the hoes at / And every real n**** in Detroit knows that"
There isn't much to add, other than that 7 Mile Rd is known as the place where the weak are killed and eaten.

Most Detroit line: "Man, f*** this, come back to Delray / There you can rob motherf****** any day / Crackheads, hoes, whatever you can name / Catch all the rich ones coming out the ball game"
And for today's Juggalo history lesson: back when the Tigers played in Corktown, it was apparently much easier to rob upper-class baseball fans in the not-so-distant neighborhood. This was back when there were people in Delray who had more than $50.
Most Detroit line: "A trickle of strangers were all that were left alive / Panic in Detroit, I asked for an autograph"
Inspired in part by stories that Iggy Pop told Bowie about the 1967 riots, and further cemented by the dystopic, violent, and haunting country he found when touring the US for the first time in 1972.

Most Detroit line: "I seen 'em dumpin' garbage, in my rivers and lakes / I seen 'em send up John Sinclair, you know / Two joints is all it takes"
In his early years, Seger had one bell-bottomed leg in the political sphere and one in the hit-makin' scene. Referencing former MC5 manager and political activist John Sinclair's 10-year sentence for selling two jazz cigarettes to an undercover narcotics officer, this Seger represents the former -- before he split for Kathmandu.

Most Detroit line: "Love in my heart, the night to exploit / Twenty-five stories over Detroit"
Smith became a Detroit girl in the 1980s when she married the MC5's Fred "Sonic" Smith and lived with him and their two children in the Detroit area.
Most Detroit line: "Now I'm ready to feel your hand and lose my heart on the burning sands"
Splitting eardrums since 1969, this song is as volatile as the time period it emerged from. Also, there are many dogs here that want to be your dog.

Most Detroit line: "That bassline, doh"
There are few better examples of how a bass guitar should be played than James Jamerson's legendary four-string moves. This bass is the sound of Detroit.

Most Detroit line: "Something, something 'four on the floor' / Something, something 'drive like hell'"
From the land where cars were born comes a gearhead's anthem to get your heart pumpin' like a drag race on the Lodge.

Most Detroit line: "Boom, boom, boom, boom / I love to see you strut / Up and down the floor / And when you talking to me that baby talk"
Hooker was a drifting factory worker and musician from the Mississippi Delta who came to work in Detroit in the 1940s, and is rumored to have penned this track in the now-defunct Apex Bar.
Most Detroit line: "Well it's 1, 2, 3, 4, take the elevator at the Hotel Yorba, I'll be glad to see you later, all they got inside is vacancy"
The Yorba is a real place. And there is plenty of vacancy. The band recorded the song in the hotel itself.

Most Detroit line: "Met a girl from Dearborn, early six o'clock this morn / A cold fact / Asked about her bag, suburbia's such a drag"
In case you spent 2012 under a rock, watch Searching for Sugarman. Rodriguez was Detroit's latino Bob Dylan who faded into obscurity, even though he was an icon of political activism in apartheid-ridden South Africa. An unsung underdog in an underdog town.
Most Detroit line: "Well, I left Kentucky back in '49 / And went to Detroit workin' on assembly line / The first year they had me puttin' wheels on Cadillacs"
The tale of an auto-worker stealing enough parts in his lunchbox every day to build a custom car of his own certainly rings true in this blue-collar town.

Most Detroit line: "Welcome to the D, baby, it's all live down here, what you see is all real"
With a fuzzy organ and a Jamerson-esque bass line, J Dilla's intro track to the album of the same name is just the tip of the iceberg to his uniquely Detroit style.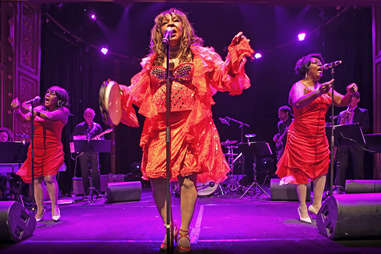 Most Detroit line: "It's not love I'm running from / It's the heartbreak I know will come / 'Cause I know you're no good for me / But you've become a part of me"
That eerily clanking song is really snow chains being used as a percussion instrument. Doesn't get much more Detroit than that.

Most Detroit line: "Out in Detroit / Where I come from / The cops don't beat you / They use their guns"
Bill McAdoo was a blues singer and historian who cut straight to the core of issues faced by African-Americans in the pre-Civil Rights era.

Most Detroit line: "The saltmine racist gang / The spoils of the pizza king / That's not gonna save you, man"
This post-punk band illuminates the greed heads who have benefitted from keeping Detroit down and out, and who are ready to line their pockets with its newest so-called renaissance.

Most Detroit line: "Detroit is known for its automobiles / It really built the nation on wheels / To me Detroit means a different thing / It's got the little girl that'a make my heart sing"
Young lust and automobiles. What more do you want? Rumored to have been the impetus of Berry Gordy's naming of his Motown label.
Honorable mention:
"Don't Stop Believin'" by Journey
(You know, because of that one line where he goes, "Born and raised in South Detroit.")
Sign up here for our daily Detroit email and be the first to get all the food/drink/fun Motor City has to offer.
Megan Frye is a Detroit writer who thinks what this town really needs is just a little more cowbell. Tweet her with BÖC trivia at @fryechild.