When and Where You Should See Comedy in Metro Detroit
If you're into macabre comedy, this fair city gives us plenty to laugh about. But if you're looking for an escape, for laugh-until-you-cry joke telling, or for straight-up goofy improv, Detroit's vibrant comedy scene has plenty of those, too. Unsure where exactly to find all of it? We've got you covered -- here are the best places to check out comedy in Detroit.
Ferndale
When to go: There's something going on every day but Monday. Go on Friday or Saturday nights for the most raucous crowd and vibe.

Full bar? Check. Entertainment six nights per week? Check. Improv classes? Check. Go Comedy! is arguably the finest establishment in the metro area to check out live comedy on a nightly basis. It's even kind of classy inside! Regular sketch comedy shows featuring local troupes and open mics make this a solid alternative to bellying up at a bar for some Keno.
Hamtramck
When to go: Improv Mondays, every Monday at 8pm. For $5, check out a guest troupe, the home team, and close the night out with open mic improv.

The epitome of a DIY comedy space, Planet Ant has reigned over Detroit's comedy scene for what seems like a century. Expect to laugh until you pee all over one of the folding chairs. Some of the most hilarious improv you could imagine happens in this little space -- particularly on Improv Mondays -- and outside in the garden following the show.
Berkley
When to go: Tuesday nights at 9pm for Tuesday Night Shindig.

When not full of inebriated leprechauns sloshing pints of Guinness and bungling the lyrics to "Whiskey in the Jar," O'Mara's hosts one of the area's best-known comedy shows, Tuesday Night Shindig, which has run for going on a year. Come for both the open mic and set schedule. O'Mara's hosts national acts as well as well-known local comedians.
Royal Oak
When to go: Thursdays-Saturdays for nationally recognized headliners.

If you're not afraid to venture into Bro Central, Mark Ridley's is a regular haunt for national comedians as well as local wise guys looking to get their act together. This is where homeboys Tim Allen and Dave Coulier got their start, and where would the '90s have been without those two? Expect a three-tiered comedy show on weekend nights, with a small-time headliner, a seasoned middle act, and a national act to round out the night.
Downtown
When to go: Sunday nights for Detroit Comedy Underground.

The Elizabeth Theater is an ample space above the popular Park Bar and original Bucharest Grill, making it easily the coolest comedy spot in Downtown. Touted as a stand-up showcase, Detroit Comedy Underground is a professional venture realized by industry bigwigs that features loads of local entertainment and, often, a touring act each Sunday.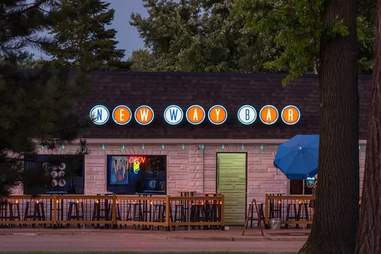 Courtesy of New Way Bar
Ferndale
When to go: Monday nights for open mic, and the first Friday of every month for The Blain & Diego Show.

One of Ferndale's finest dives, the New Way hosts a weekly comedy night, a monthly Friday night showcase, and all the PBR you can swill into your gullet for a nominal price. What more could you possibly want? Newcomers to the open mic night get about five minutes on stage, which is more than enough time to make an ass out of oneself and/or stake one's claim in the city's comedy scene. The monthly showcase features a new bill every time.
Hamtramck
When to go: The first Thursday of every month.

One of Detroit's most genuine rock 'n' roll bars lowers the volume (slightly) once a month for Ray & Laura's Comedy Showcase. The show is hosted by two comedians from Hamtramck (which means they're hilarious, and also likely buzzed) who invite independent local and national acts to take the newly inaugurated stage in the bar's front room for celebrity guest impersonators, game show parodies, and good ol' fashioned stand-up. "The showcase is often a comedian's first time coming to Small's, and it's fun to watch them point out all the demonic accents in the bar: the stained glass, permanent Halloween decorations, the velvet painting of Satan right behind them," says bar owner Melody Malosh. "It's happened a few times... they notice stuff that we forget about." There you have it, kids, an intimate and slightly Satanic comedy event!
Hamtramck
When to go: Every other Tuesday night for open mic night (the first one started on March 1st, so do the math, people).

Hamtramck has a new bar. A NEW BAR! This recently unveiled watering hole has jumped right into the comedy scene with a biweekly open mic night, during which you can some expect type of food for the crowd on the house, with a two-drink minimum.
Sign up here for our daily Detroit email and be the first to get all the food/drink/fun Motor City has to offer.
Megan Frye is a writer based in Detroit and Mexico City. Any and all comedy on her behalf is a complete coincidence. She's so boring, in fact, that you should tweet her some jokes at @fryechild.