Detroit's Creepiest Craigslist Roommate Ads
SvetlanaFedoseyeva/Shutterstock
Brace yourself: new research shows that Craigslist is full of scams. Egads! I know, it's like, your whole entire world and sense of what is real and sane has been completely shattered. 
 
So Detroit, would you like to know who the biggest weirdos currently seeking roommates on Craigslist are? Of course you do. Here they are. Just remember, when seeking a roommate, if you're leery about buying furniture from a stranger on the Internet, WHY WOULD YOU MOVE IN WITH ONE??
Screenshot via Craigslist
Just send photos for free room and board!
Sounds completely legit.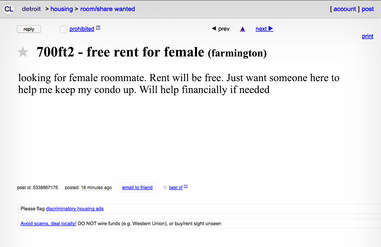 Screenshot via Craigslist
I just want someone to help keep my condo up
I'm going to go out on a limb here and say that's not the only thing this no-rent-paying female will be helping keep "up" in this tiny-yet-difficult-to-keep-up condo. AY-OOOOO. *high-fives*
Screenshot via Craigslist
Honestly, this isn't even creepy
This dude knows what he wants and puts it right out there. Any extra-aggressive domme looking for free rent seems like she'd have it made right here. Wouldn't it be exhausting maintaining that master-slave dynamic 24/7? Like, what happens when you wake up and all you want to do is drink your coffee and get caught up on the latest in the presidential campaign circus, or you just feel like vegging out on the couch and binging on the first season of Unbreakable Kimmy Schmidt again before the new season drops? Surely even dommes have normal, boring people lives once they peel off that patent leather. A living situation like this would inevitably end up disappointing the poor "slaveboy" whose domination fantasies can't possibly be satisfied around the clock. Then again, I suppose she could always just tie him up in a closet and leave him there when she wants to get around to her grown-up stuff. 
Screenshot via Craigslist
... Let the horror of this one sink in
This 55-year-old white male is seeking a disabled, homeless female -- who must submit her photo along with her age for him to consider allowing her to move in -- to stay in his home rent-free and sleep on a sleeper sofa in his living room, though it's doubtful that's where he actually intends for her to sleep. I'm not sure if this is a fetish thing (disabled, homeless) or an opportunistic thing (money from SSI benefits???). But then, he's offering "free" rent by preying on desperate women without resources or recourse, who will accept a free place to live in exchange for pretty obvious sex slavery. No matter where this one lands, it's horrifying.
Screenshot via Craigslist
Help save Detroit!
There is nothing at all wrong with this post except for the fact that you would have to live with one of those overly exuberant Detroit settler couples who are altogether too excited about their glorified fixer-upper with a STATE-OF-THE-ART 32-POINT SECURITY CAMERA SYSTEM. (Which, I mean, and this is just me, if my living situation requires me to have a 32-point security camera system and it isn't for a $12 million Malibu mansion, I might just find myself a different living situation. But that's just me!)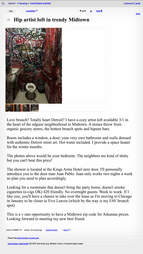 Screenshot via Craigslist
I realize this is a joke post, buuut...
I kind of want to call on this listing?
Screenshot via Craigslist
This guy clearly hasn't heard of Grindr
Seriously, guy, there's an app for that.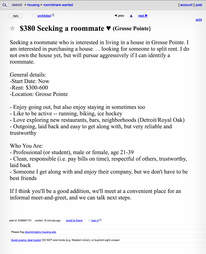 Screenshot via Craigslist
This girl doesn't need a roommate, she needs a friend
The kind of friend you see in movies where the friends spend all of their time together and talk about everything together and wear each other's clothes and cut their hair to look like each other's and hook up with each other's boyfriends...
Screenshot via Craigslist
If this photo were actually the guy who posted this ad, I might even look into it myself
But I 100% guarantee you this is not the actual guy. I promise you this. Also, so much to be said about "Do you smoke?" Ahem: "Because you're on FIRE!" *high-fives*  
Screenshot via Craigslist
That sad, frightening photo...
The listing itself is innocuous enough (unless you consider that it's in Roseville), until you look at the photo of the "room" being offered. Also, $400 probably covers the entire mortgage. If you're going to be forced to live in that miserable room, you should at least get free rent. Dude needs to take a cue from some of these other guys here.
Screenshot via Craigslist
Looking for the "girlfriend experience"
The worst part about this post is that, as of the time I am submitting this story for publication, it is the only one that has been flagged for removal after at least a week. Once again, Craigslist is full of scams (and also barely-concealed sex trafficking solicitations), and they're doing a shit job of policing them. Have a nice day.
Sign up here for our daily Detroit email and be the first to get all the food/drink/fun Motor City has to offer.
Nicole Rupersburg needed about 16 showers after writing this in order to feel clean again. Follow her to happier places on IG @eatsdrinksandleaves.