Election Season 2016 was stressful. So stressful, in fact, that we forgot exactly how lucky we are to live in Michigan. Sleeping Bear Dunes! Mackinac Island! Isle Royale! Grand Haven! Yeah, we know: our state is pretty much the best, so much so that it's almost impossible to keep track of all the beautiful places in it. Get out this weekend and relax, while you explore all the best of Michigan at the most beautiful places in the state that you never knew existed.
Grant Township
There's a place in Michigan that actually has MOUNTAINS. No, really. They may not reach 2,000ft in altitude, but dammit, they count! And this bright blue jewel of a lake, nestled on the east side of the Upper Peninsula's Keweenaw Peninsula, lies at the foot of said mountains and glistens with water from Lake Superior.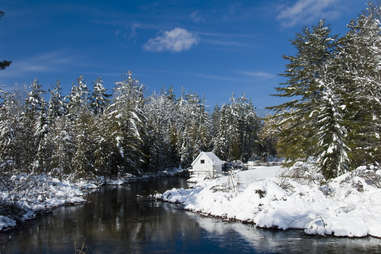 Honor
For all the ballyhoo about Sleeping Bear Dunes, you never hear much about the river that empties out at the national lakeshore: its crystal-clear waters snake around the sand, forests and hills that make up its home, making it the perfect place to post up with a canoe and a fishing rod. And then do literally nothing else.
Thompsonville
Founded in 1995 by the late Detroit-area artist David Barr, this park contains more than 47 works of art, created by more than 27 artists, and each of which tells a story of the Great Lakes State, all tucked into 30 acres of lush woodland on the side of Crystal Mountain.
Port Austin
In short, a unique rock formation at the tip of the Thumb where Lake Huron is at its clearest. Take a kayak out from Port Austin and traverse the shore until you reach one of the state's natural wonders.
Munising
Alger is one of 11 underwater preserves in Michigan. Near the city of Munising on the south shore of Lake Superior, it is home to a number of intact shipwrecks and underwater caves. Scuba diving is of course the best way to view the wrecks and explore the caves, but the less gutsy or less inclined to jump into the coldest of the lakes can also take a glass-bottom boat tour, which crosses over the shipwrecks alongside Pictured Rocks National Lakeshore.
Leland
Not for the faint of heart, the aquaphobic, or those highly allergic to mosquitoes, these islands lie more than 10 miles from the Lake Michigan shoreline, within sight of the Sleeping Bear Sand Dunes but a world away from any modern conveniences. Only available to backpackers, the islands are as rustic as it gets. South Manitou is famed for its amenities -- well water and pit toilets -- as well as its haunted and abandoned farming village, mass-burial pits (cholera is no joke!), 300ft sand dunes, giant cedar forest, and a shipwreck visible from the beach.
Eagle Harbor
While driving along the Western edge of the Keweenaw Peninsula, there is no shortage of intense beauty to be found and Eagle Harbor is right in the middle of it. Rolling hills, thick forests, lighthouses and plenty of places to kick your shoes off and frolic (carefully and preferably whilst wearing some form of AquaSock situation) on the cold rocky shores of the largest freshwater inland sea in the world. The town's 144-year-old red-brick lighthouse is a sight to behold when the gales of November come early and Superior turns fierce.
Munising
The thing about winter in Michigan is that it's inevitable, and it'll be here sooner than you think and will stick around longer than you'd like, but there are some pretty epic ways to actually enjoy winter, and one them is to explore the ice caves that form along the edge of Grand Island during especially harsh winters.
Frankfort
The hiking trails meander through the hilly forests of white birch and carry you up to one of the most stunning overlooks in the entire state. From here, Michigan looks exotic, even tropical in the summer. Look hard and you'll see a shipwreck in the waters, which change from gold to blue to green depending on the cloud cover.
Ludington
More than 3,200 acres of tall, windswept dunes, grassland, marshland and endless Lake Michigan horizon make this spot truly feel like another planet. Juniper trees and rare hemlocks give off a divine scent, which the lake's winds carry effortless through the air. Home to many animals, including coyote, deer, porcupines and zillions of songbirds, this area is truly a backpacker's haven.

Mackinaw CIty
One of only nine designated "dark sky" parks in the world, this 600-acre parcel of land contains two miles of uninhabited Lake Michigan shoreline and thick forest. The park -- which meets "dark sky" specifications by providing exceptionally starry skies due to low light pollution -- has been wowing astronomers, photographers, and nature lovers since its opening in 2011, and can be accessed 24/7, 365.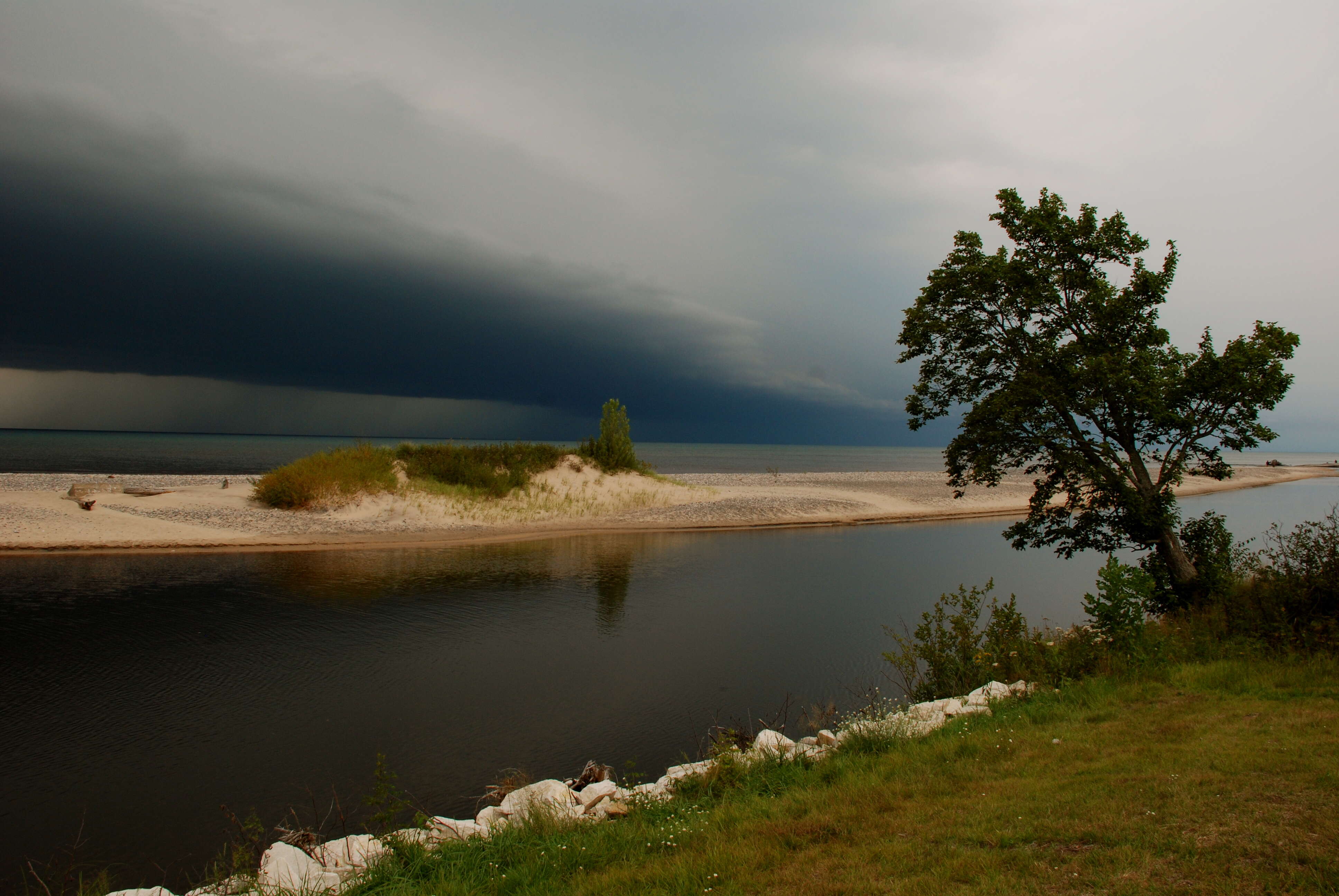 Newberry
Because a river with a beer named after it is all kinds of special. And a river that travels more than 23 miles through the wilderness and dumps out along a deserted Lake Superior beach is the most special of all.
Northport
You don't just stumble upon Leelanau State Park. It lies at the tip of the Leelanau Peninsula which means actually traveling northwest of Traverse City, north of Leland, past the wineries, past the fruit orchards and to the western edge of Michigan's "Little Finger." The payoff for making the trek is huge. Hiking trails, empty sandy beaches, and rolling hills make up this part of the North Country nearly completely surrounded by water. The Grand Traverse Lighthouse that illuminates the tip of the peninsula still works, and holds nautical lore from the past two centuries.

Sign up here for our daily Detroit email and be the first to get all the food/drink/fun Motor City has to offer.
Megan Frye is a born and bred Michigander who refuses to give up all of her state's secrets. Challenge her to a Bob Seger sing-off on Twitter at @fryechild.