Detroit is known for many things (Coney dogs, sports!, rock 'n' roll, and potholes, to name a few), but having a multitude of job opportunities is not one of them. But if there is one thing we Detroiters are, it's crafty. So how do people get by in one of America's most under-employed cities? We set out to find the most interesting jobs and the people who are doing them in the Motor City.
Jon Zemke, developer/land baron
What he does: "Sometimes I am tracking down absentee owners of blighted properties. Other times I am closing financing deals for renovations. Often times I am herding contractors to push a project forward. Most of the time I am glorified gopher for my workers with a penchant for solving problems on the fly. I love that no two days are alike. I love the challenge of helping solve some of Detroit's most intractable issues. I love learning why my neighbors love and hate this place. I love that I can do all of this in one of America's great cities during one of its most dynamic chapters."
How he got the job: "Put simply, just about everybody lost their minds when the Great Recession hit. They believed that property had become worthless and started selling at prices not seen since the Great Depression. My wife, Kristin, and I bought some quality properties (most of which weren't habitable at the time) for a few thousand dollars, sometimes a few hundred dollars. Purchases for pennies on the dollar when you look at the craftsmanship that went into these historic buildings. We went from renters to landlords owning dozens of properties within a couple of years. My family has been renovating and renting houses on the side for generations, so it was an easy transition for me."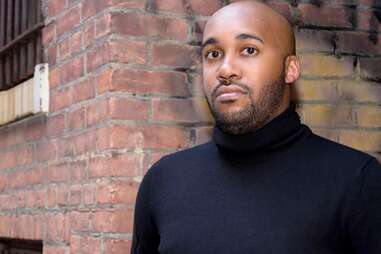 What he does: "As an editor of a publication geared toward black Detroiters, it's my duty to tell the stories that wouldn't otherwise get traction. I do the same as an author, because it seems like every other book about Detroit these days is about coming back to the city after a couple of years and seeing how bad it got. I try to use humor and snark in a lot of things I do, because sometimes Detroiters don't know how to laugh at themselves -- we're so serious and 'gritty' all the time, we can't take a joke. There's only a few places in Detroit you can say 'shit,' 'f***,' and 'jackass,' but you have to meet people where they are. That's what I try to do: talk to people like we're having a beer at a bar, not a panel discussion on TV."
How he got the job: "I've been writing since I was a kid and took the typical path into journalism through my high school paper and college paper and thought I'd begin and end my career at a professional paper. But then newspapers started to implode and next thing you know, you're competing with all your closest friends for a job posting tweets and Web stories at 6am for a publication that just laid off half its staff, and that's just not a future I saw for myself. At the same time, I had a lot to say about what was going on in the city I grew up in, so I started ranting on Jalopnik, which turned into ranting elsewhere, which led to me meeting both the publisher of my book, How to Live in Detroit Without Being a Jackass, and the publisher of my magazine."
What she does: "I oversee the execution of program vision, develop artist outreach strategies, and commission new work for unique space for the Sidewalk Festival of Performing Arts. The mission is to bring modern, socially relevant performance to places unexpected, featuring local and national artists. In addition, I handle development (grantwriting and donor relations) and oversee a small team that includes Sidewalk's community outreach manager, director of logistics and guests curators. I also work as program manager for Kresge Arts in Detroit, which means I handle the nuts and bolts of the program, as well as advancing ideas regarding outreach and community impact."
How she got the job: "I founded Sidewalk Festival of Performing Arts from the ground up in the fall of 2012 as a means to celebrate the natural and built environment of Detroit through performance and installation art."
What she does: "I book and produce shows in Detroit with the help of Sarah Marie Norton. I also work with a company in California, Atomic Music Group, booking tours all over the US. I book bands like The Tossers, Valient Thorr, Guttermouth, Bad Cop Bad Cop, and many more including local faves Child Bite."
How she got the job: "I got into the job when an awesome lady, Maria Cukr, saw me working for Esham and thought I should come work for Live Nation doing shows. After a year or two with them, I was offered a job with Ellis Industries in New York, learning how to book US tours (My Chemical Romance, Dashboard Confessional, Taking Back Sunday) but was homesick and came back home. That's when I started Black Iris Booking, so I could do shows and see if any bands would need a booking agent for the US for extra money and to help out my musician friends."
Marianna Vermiglio, co-founder of Salsa Siciliano
What she does: "I make amogio with my father. For those who don't know what amogio is, it is like a Sicilian salsa. A fresh bruschetta made with Mediterranean ingredients and added to pretty much every meal, it's been a staple in my family for generations. Our family comes from the east side of Detroit; before that we were immigrants from Sicily. We make it together at the community kitchen in Eastern Market where we sell it at the Saturday market, and it's about to hit stores in the next couple of weeks."
How she got the job: "My father and I came together knowing little about what it takes to sell amogio, and now we are about to turn our family hobby into something real and big. It feels very rewarding to have followed my father's footsteps into the world of entrepreneurship."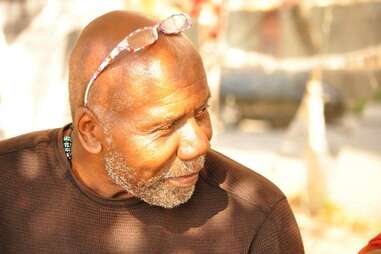 What he does: "I create artwork from iron, rocks, and wood predominately, and I use them to build installations. I give tours and lecture about them. I collect and sell rare beads from Africa. I help organize our five annual festivals and generate revenue to keep the door open."
How he got the job: "I worked at the Charles H. Wright Museum of African American History for 10 years. It was there that I was bitten by the excitement of teaching about Africans in American history. In 1996, I founded the Dabls MBAD/ABA African Bead Museum. I created this position to teach African people's contributions to the mosaic culture fabric of world history."
What he does: "We specialize in selling gear that fits into studios of all sizes. Essentially, my job is to take each customer's situation into consideration, use what I know about gear, and ensure that their purchases will make their workflow more efficient. Since we're applying the 'beauty is in the eye of the beholder' concept to sound, a lot of my job revolves around getting someone to verbalize what they hear in their head, which is pretty unique to this field (and maybe psychiatry). In the last few years of handling sales at Vintage King, I have made some great friends and also had a hand in helping some of my biggest inspirations, like Joe Walsh, Neil Young, Bob Seger, and the Rolling Stones."
How he got the job: "Our band, Bars of Gold, was mixing a record in a studio just outside of Detroit, and one of the engineers there knew I had attended recording school and that I had a studio at home. He had been working in Detroit at Vintage King's headquarters for a while and put in a good word for me with one of the owners, Mike Nehra. They started me out with packing boxes, which was a great foot in the door. It also helped me learn the mechanics of the company.
"About three years ago, I was working as the warehouse manager when Vintage King started getting into the guitar pedal business. I had done similar work for my previous employer, so it was a seamless transition when I became Vintage King's point person for selling and testing pedals. After a few sales calls turned into some sizable pro audio sales with great customer experiences, I was asked to choose between selling gear or packing it up in boxes. It was an easy choice."
Laura Willem, environmental scientist
What she does: "I like to tell people that I get paid to go urban-spelunking. A good bulk of my work is evaluating buildings and properties for hazardous materials and contamination. The majority of my projects are in Detroit and in vacant buildings and properties that have been acquired for renovation. Additionally, I do industrial hygiene monitoring to evaluate worker exposures to various airborne hazards (such as metals and chemicals) and conduct health and safety audits, both of which I think is very important for the welfare of our work force. Overall my job is a combination of physical work, technical writing, knowledge of a lot of regulations and common sense."
How she got the job: "I graduated with a double major in environmental science and geography at Central Michigan University. After several months substitute teaching, babysitting, pet-watching, and temporary environmental jobs for work, I was hired by NTH Consultants, Ltd. I've been doing this for 16 years."
What he does: "I help students to see that poetry is accessible to everybody. I do my best to take writing out of the cage that it is too often living inside. So yeah, what I do or what I hope I do is I offer children the opportunity to look at the world and to see the world and to speak about the world in a way that is filled not with limits but with possibilities. One of my favorite things in the world is when I run into one of my former students and kids I once towered over now look me in the eye and ask me if I've still got my magic pencil [that I teach with]. That's when I reach into my pocket and pull that pencil out, this twig that I've carried around with me since the third grade, and then I hit them back with the same question. Do you still have your magic pencil? Most of them look away at that moment, but before they do I see a glint of light in their eyes, that memory of taking up into their own hands a pencil that is more than just a pencil and through it they can see and say anything that they want."
How he got the job: "I was in the right place at the right time. The right place was Detroit and the right time was 1995. InsideOut was just being dreamed up by poet Terry Blackhawk whohad taught in the public schools of Detroit for over two decades. I was a young writer with my young family newly moved to Detroit's now-named Midtown. Back then, the state of Michigan offered grant opportunities to writers through the now-defunct Creative Writers in the Schools program. I knew an English teacher at a Detroit high school who I approached to see if she'd be willing to write such a grant to bring me into her school for a weeklong residency. The teacher said sorry, I don't think so, but then she told me about a new program that was just then starting out. That program was InsideOut and it was set to launch in five Detroit public high schools. I felt instantly alive when I walked into that first classroom and started to speak about the power of words and about the importance to tell our stories, to find our own truths."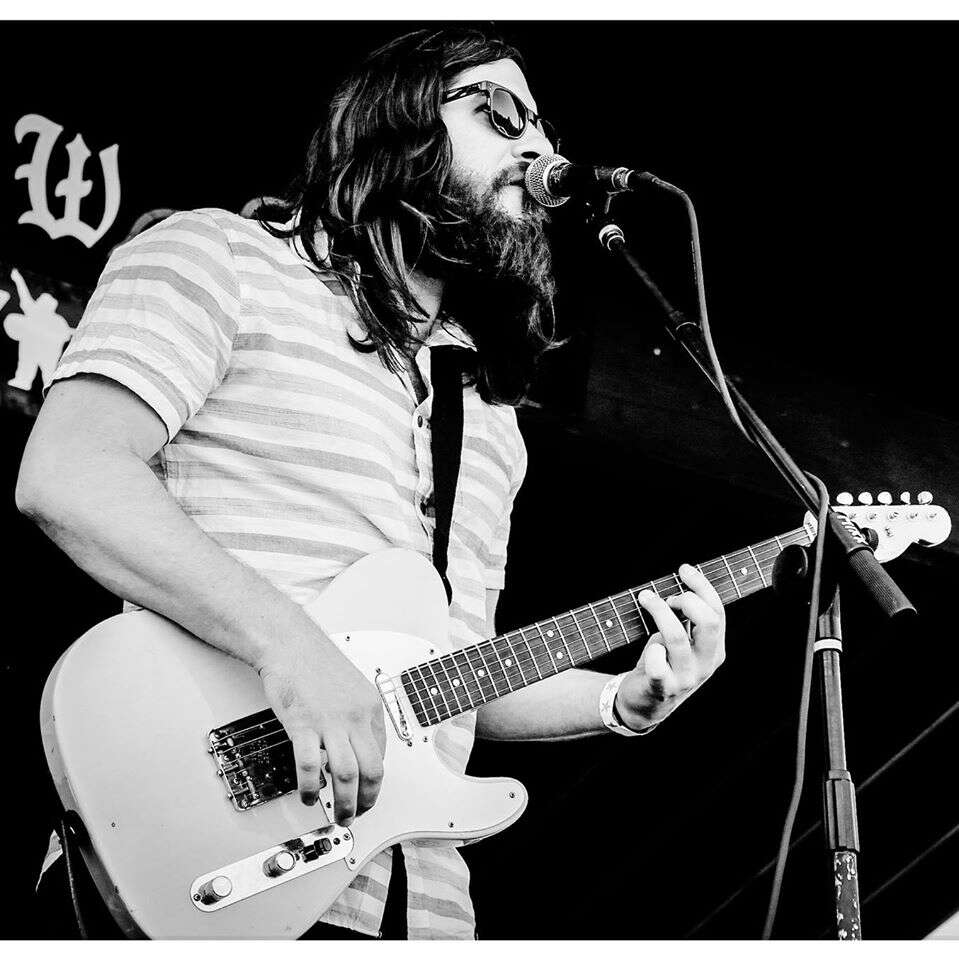 Gregory Beyer, medicinal cannabis candy maker
What he does: "I make edibles for a couple of medical marijuana dispensaries. I specialize in making caramels, hard candies in multiple flavors, chocolates, and cookies. They are all different strengths ranging anywhere from 20mg to 300mg."
How he got the job: "I originally got involved in the business because two friends of mine owned a dispensary. The dispensary was recently closed down because of zoning laws, but we still produce medical cannabis products we sell to various dispensaries around town."
What she does: "My department works closely with the museum's curators, conservators, registrars, and photographers. Our core responsibility is doing everything that involves handling the collection, from receiving shipments of pieces, any movement throughout the museum, installations in the galleries and also installing the special exhibitions. The even more behind-the-scenes work we do is organizing and maintaining all of our storage in the basement of the museum. We have about 25 storage rooms and a large, secured and climatized, off-site warehouse space that is used to store pieces that are too large to keep at the museum."
How she got the job: "I studied fine arts and filmmaking at the University of Michigan and worked as the assistant preparator at the Cranbrook Art Museum prior to the DIA. I had interviewed for the position a couple of times after graduating from college, but didn't get the position. Then they called me in 2005 to come in for an interview, and that time I was offered the job. I've been there ever since."
What she does: "I collaborate with clients to create interesting, aesthetically pleasing body adornments which we tattoo with great skill. We mentor other artists who work with us, and I run two shops (the other being Depot Town Tattoo in Ypsilanti) managing the finances, supplies and other artists. Our shop specializes in traditional tattooing and we know how to make our own needles and our own ink. We have an expert understanding of how to build a tattoo that will stand the test of time. I also have a studio art practice where I paint, draw, and pursue all my creative endeavors."
How she got the job: "When I was a kid, my dad told me artists can't make a living. But when I was 12, my mom came home with a tattoo. From that point I knew that's what I could do. But the opportunity didn't present itself until much later. I worked waitressing jobs and eventually became a graphic designer, but I never quite fit in the office environment. An opportunity to apprentice as a tattooer came up and I took it. But it was a long, poor road for many years before I got good at it and gained a steady clientele. Eventually with the help of good friends and partners Mike Emmett and Bill Falsetta, we opened three shops one at a time."
Rebecca Roman, Feldenkrais and yoga teacher
What she does: "I currently have my home practice doing Feldenkrais in classes and personal lessons. I work with special needs infants and children up to adults for a variety of issues. I teach at Shine On yoga in Ferndale, at Enhance Inc. on a grant to help handicapped women and at Third Man Records in Detroit. I was asked by each organization. I have some new corporate stuff coming up and am headed to California to work with my students out there."
How she got the job: "It started in second grade: my teacher put on a flute music and we sat quietly with eyes closed, meditating. I realized there was another way to be in this world. A few years later, I was exposed to the Feldenkrais method; the learning and somatic experiences from that for me started around 12 years old. I moved to California when I was 18. As a runner, my lower back started to ache and my friend took me to a Bikram yoga class; I never stopped practicing yoga since then. I grew into other styles of yoga and started taking Feldenkrais weekly classes too. I realized I wanted to teach. I eventually moved back to the Detroit area to be with family; I taught at a bunch of studios in the area, and eventually I decided to teach from my home again here in Ferndale."
Alex Trajano, director of content and programmig at WDET-FM
What he does: "I am involved in original content creation, (we're launching a new show and podcast this year), and I continue to be audio image director. WDET brought the Moth to Detroit in 2009. I produced the event and have been hosting ever since. This led to hosting a webcast for the Detroit Symphony Orchestra during their subscription concert series which started in 2011."
How he got the job: "When the recession hit in '08, I was working in advertising at a studio that mixed radio and TV commercials. I saw many talented folks chopped, one by one. I survived, only because I was new to the biz and wasn't making the big dollars. To be honest, it put a scarin' on me. Because I scare easily. Then one day, a friend sent around a job posting for an audio engineer/producer. I attacked and got lucky.
"I started in '09 and my first job was to increase the overall sound of our station on an audio level. Done. Then slowly over time, that shifted into me developing the sonic 'image' or personality/tone of WDET through various on-air spots and messaging to our listeners. So, I started to inject some goofy, irreverent humor and mini SNL-inspired radio bits -- and little by little, it grew from there. Over the last few years, I really fell in love with audio storytelling, which led to me developing and hosting WDET's podcast, The Beginning of the End. We are currently building season 2!"
Ian Radogost-Givens, co-owner of Cellarmen's mead, beer, and cider
What he does: "I do a little of everything here at Cellarmen's. We all wear seven hats, from going on honey and cider pick ups, tending to fermentation everyday, bartending on the weekends, making ciders and meads, and cleaning equipment constantly. Being a maker is 90% dishwasher, 10% mad scientist. We live a shop-rat lifestyle at its best. It is all a man or woman could ask for. Day to day is never one task when you are a company that is based on collaborating with all the workers at every turn."
How he got the job: "Hard work, dedication, and not taking no for an answer. I worked for free in the industry for a year and a half, and then was given the chance to make mead and cider. It was more than work to me; it was a lifestyle choice to become one of the best in the industry. After seven years of making in the industry, I was able to start a meadery, cidery, and brewery in Hazel Park with some great minds and friends (Jason Petrocik, Andrew Zalewski, and Dominic Calzetta) that I worked along side with for many years. We called it Cellarmen's. We use all real fruit, along with fresh spices in everything we do to create melomels, metheglins, and cocktail inspired meads as well as making traditional meads and ciders to showcase the high quality honey and apples we source from Michigan (and a non-lager lager)."
Sign up here for our daily Detroit email and be the first to get all the food/drink/fun Motor City has to offer.
Megan Frye is a writer based in Detroit and Mexico City. For work, she plays the jaw harp on the Mexico City subway for free chicle. Tweet her how you make your money, honey at @fryechild.