Ann Arbor has a reputation for being a place full of pot-smoking hippies, booze-guzzling students, and football-obsessed fanatics. Sure, it's a reputation well-deserved, but if that's all you think this charming Midwestern college town is about, you'd be quite mistaken. Our fair city is also a serious culinary destination backed with crafty libations, and there are activities galore to satisfy anyone, be you an awkward nerd or a social butterfly, nature enthusiast or indoor-only type, or some completely different species of weirdo altogether. Behold: Your "must-do" list for getting the most out of any visit to Ann Arbor.
Recommended Video
Debatable: It's Fine To Recline Your Seat On a Plane
Rent a kayak or canoe and hit the river
A river runs through Ann Arbor, and it's the Huron -- a long, lazy, snaking waterway that's perfect for canoeing or kayaking. You can bring your own or rent from the Argo or Gallup Park liveries, which are open from May to early September and also provide a boatload (sorry) of information to help you plan your river adventure. More of a tubing type? You can put in at the Argo Cascades and enjoy splashing down a series of man-made rapids.
Take a scenic stroll through beautiful and diverse landscapes
Outdoorsy types who happen to be landlubbers need not fear: You can get your nature on without getting wet in one of Ann Arbor's many beautiful parks. Go hiking and bird-watching at the 161-acre Bird Hills Nature Area, or cross the quaint pedestrian bridge over to Island Park, the perfect spot for a riverside picnic. Anytime of year is a great time to walk through the magnificent 123 acres of the University of Michigan's Nichols Arboretum, or the tropical foliage at the climate-controlled Matthaei Botanical Gardens. Mix art and nature at the university's Wave Field, an earthwork created by artist Maya Lin, best known for designing the Vietnam Veterans Memorial in Washington, DC. Or, if you're of a slightly morbid bent, visit the graves of some of Ann Arbor's most illustrious citizens, including the town's co-founder Elisha Rumsey and legendary University of Michigan football coach Bo Schembechler, at the picturesque Forest Hill Cemetery.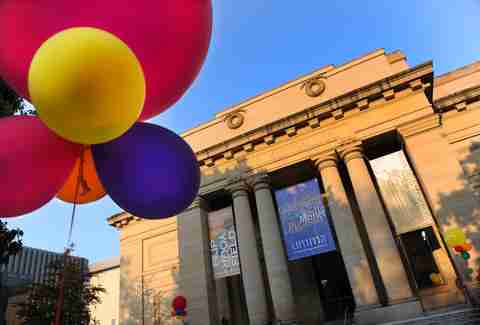 Increase your cultural and/or historical knowledge by visiting some museums
The Ann Arbor area is brimming with museums, and whether you like looking at quaint architecture, old skeletons, stimulating paintings and sculptures, or mechanical contraptions of a bygone age, there's something for everyone. The University of Michigan alone operates three top-notch museums full of discovery and wonder and whatnot: the Museum of Art, Museum of Natural History, and the Kelsey Museum of Archaeology. Learn more about the history of Tree Town and its surrounds at the Museum on Main or the Kempf House, a well-preserved dwelling showing how a German-American family lived in the latter part of the 19th century. Or head down the road just a bit for the Yankee Air Museum in Belleville or the Michigan Firehouse and Automotive Heritage museums in Ypsilanti.
Be a champion of indoor sports
Because not everyone is an avid outdoorsman, and/or because sometimes the weather just completely sucks, the Good Lord invented indoor gaming. Of course, there's always darts and billiards, both of which you can play in the classic dive-bar environs of the 8 Ball Saloon (cash only, please) or the sleek and modern Revel and Roll, where you can also bowl a few cosmic frames if the mood strikes you (sorry). There are also board and card games of all kinds at the Vault of Midnight (Ann Arbor's answer to The Simpsons' Android's Dungeon) or Get Your Game On, which also caters to video gamers. Or demonstrate your prowess at Skee-Ball, air hockey, and, yes, pinball, at Pinball Pete's, one of the area's last remaining classic arcades.
Seeking something different? Gather a posse and rent a late-night, BYOB private karaoke room at Blue Karaoke and air those pipes out -- karaoke's totally a sport. Even better, take that posse and BYOB to Whirlyball of Ann Arbor, which combines the joys of dodge 'em cars and jai alai (yes, you read that right).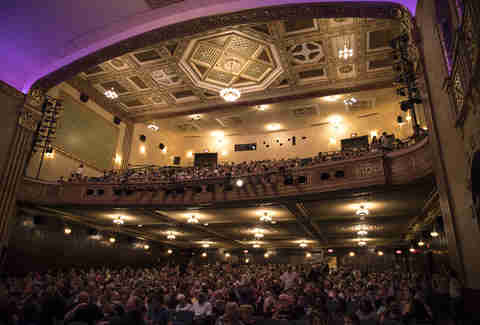 Catch a movie or concert at one of Ann Arbor's unique venues
When it comes to enjoying everything from first-run films to midnight cult classics, you can always rely on the Michigan Theater, a lovingly restored 1920s movie palace, and the State Theatre, an Art Deco-inspired cinema house just steps away. If you're taking in a movie at the Michigan, be sure to arrive early for the performance on one of the country's only historic theatre pipe organs still remaining in its original home.
The Michigan also routinely hosts major musical acts, but you can dig concerts of all stripes and sizes elsewhere, like the University of Michigan's historic Hill Auditorium, nationally renowned for its superb acoustics; The Ark, Ann Arbor's home for folk, acoustic, blues, and Americana; the Blind Pig, a literally grungy rock venue known for hosting such acts as Nirvana and Smashing Pumpkins before they were famous; or the Kerrytown Concert House, an intimate space for everything from chamber music to experimental jazz, located inside an actual house built in the 1850s.
Take part in a festival, any festival
Ann Arbor locals love festivals. It's why we have so damn many of them, and chances are, whenever your visit, you'll be here during some celebration of something or other, and you'd be well advised to join the, um, festivities. To name just a few: In the spring, there's the Ann Arbor Film Festival, the oldest experimental film festival in the country; the FestiFools parade on Main Street, which showcases the whimsical papier-mache puppetry of artsy townies and students alike; and the Water Hill Music Festival, where musicians perform in front yards all across one of the city's most photogenic neighborhoods.
Summer brings the Ann Arbor Summer Festival, three nonstop weeks of concerts and events (many free); the Michigan ElvisFest and Michigan Brewers Guild Summer Beer Festival in neighboring Ypsilanti (need I say more?); and the Ann Arbor Art Fairs, our town's answer to Mardi Gras (in the city-takeover sense, not the flash-for-beads sense). In the fall, discover local food and drink at the Homegrown Festival or cutting-edge musical grooves at Edgefest. Winter? Yep, we still fest here: Check out the traditional holiday market at December's KindleFest, or get the folk out at the Ann Arbor Folk Festival in January.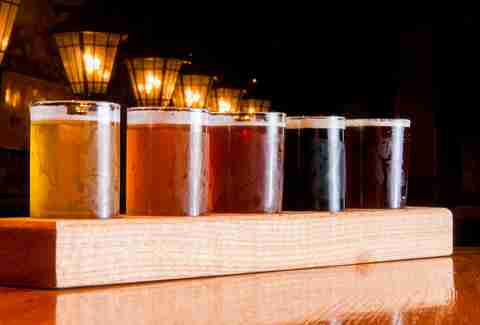 Enjoy a local brew or two (or three or...)
At some point, you're gonna get thirsty. Lucky for you, Michigan has the fifth (or sixth, depending on the day) most breweries of any state in the union, and Ann Arbor has its share of them. Two of the state's first brewpubs, Arbor Brewing and Grizzly Peak, are still going strong more than two decades after they opened. Both are within walking distance of each other, as well as to Blue Tractor, a brewpub that specializes in barbecue, and the Jolly Pumpkin Café, which pours the nationally recognized wood-aged sour ales from the acclaimed brewery located just down the road in Dexter (which has a taproom of its own). West of Downtown, there's Wolverine State Brewing, makers of award-winning craft lagers; Glasshouse Brewing; and Ann Arbor's newest brewery, HOMES, whose hoppy beers get drained as fast as they can make them. And by the time you read this, another two breweries may have opened up.
Do a Downtown pub crawl to explore Ann Arbor's other adult beverages
Locally brewed beer isn't all that Ann Arborites get to enjoy. We love beer from everywhere, and with the venerable Ashley's, a 72-tap bar that's been expanding beer horizons for more than three decades, and HopCat, which recently added another 100 taps to the mix, you're sure to find whatever beer your heart desires. Cocktails more your speed? Try a hand-pulled Old Fashioned at The Ravens Club, dig a barrel-aged Negroni at the Alley Bar, or get the Detroit-invented namesake of The Last Word -- or have nationally recognized bartender Robyn Cleveland mix you up another perfectly balanced potion.
Oh, and if you're not keen on the "crawl" part of your pub crawl, you can pedal instead. Grab a group of pals and book a quadricycle tour from Trolley Pub Ann Arbor or High Five Pedal Tours, the latter of which departs from the Ann Arbor Distilling Company, providing yet another venue to slake your insatiable thirst, you shameless boozehound.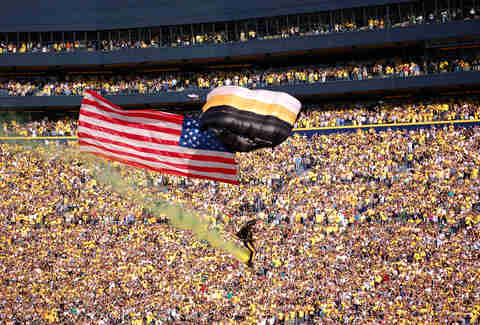 Party at a tailgate and/or attend a Michigan football game
It's no secret that Ann Arbor is a college football mecca. But just in case, here's a quick recap for the unwashed: University of Michigan students have been playing organized football since 1879; the Wolverines have the most wins of any college football team in any division; and Michigan Stadium, originally built in 1927, is the second-largest stadium on the planet, selling out its 107,601 seats every home game. Saturdays in the fall are absolutely wild around here, and even if you're not a Michigan (or college football) fan, you can't help but marvel at the spontaneous order of street-corner entrepreneurs, open-field tailgaters, and general revelry that pervades the town during these timeworn, autumnal rituals of glorious sportsdom. Translation: it's kind of a big deal, and you shouldn't miss it.
Sign up here for our daily Detroit email and be the first to get all the food/drink/fun the Motor City has to offer.