If it seems like your social feeds have been dominated by posts about Detroit real estate, including slideshows about rents you can (or can't, unless you're planning to have roommates until you're 45) afford, you're not alone. Everyone has real estate on the brain. But doesn't it seem like all you hear about are the same neighborhoods, over and over again? Woodbridge and Corktown are nice and all -- if in-fighting among neighbors in Facebook groups is your thing -- but what about any other of Detroit's neighborhoods? Here are some -- with names that have been around for decades -- that weren't chosen over a night of drinking by people who just moved there 72 hours ago! -- that are just as worthy of your attention as the trendier spots.
Parkland
Good for: That Royal Oak charm at the Royal Oak Township price
Head over to Joy Rd (exit 9), drive west toward Telegraph, and check out this bungalow neighborhood bordering Rouge Park. With the city of Detroit sprucing up its parks from millions in grant money, this could be a solid bet. Dearborn is close by to the south, and Southfield to the north, with Telegraph Rd just a few blocks away.
 
Russell Woods
Good for: The growing family on a budget
Full disclosure: I'm partial to Russell Woods because this is the neighborhood I grew up in. Still, for those of you watching the price increases in Boston-Edison and the 7 Mile/Livernois neighborhoods (Sherwood Forest, Green Acres, University District), you can split the difference with this 1930s/1940s colonial neighborhood, close to New Center, University of Detroit Mercy, the Davison Freeway, and I-96. (And the scenic route of taking Livernois Ave to Ferndale ain't a bad jaunt, either.)
 
Berg-Lahser
Good for: The mid-century enthusiast
Who doesn't love a good midcentury pad? If you head over to Beaverland St between Frisbee St and Seven Mile Rd, you'll find no shortage of them. There's a mix of homes here: ranches, bungalows, split-level, all tucked away from busier thoroughfares like Eight Mile, Seven Mile, Lahser Rd, Telegraph, and Grand River Ave. (Really, if you're looking for a small place, Parkland, Berg-Lahser, and other neighborhoods along the Detroit-Redford border are worth a try.)
 
Highland Park
Good for: Those with really, really high M-1 (excuse us, 'QLINE') hopes
Yes, that Highland Park. And before you go typing that dismissive comment, Mr. I've Lived in Detroit For 50 Years And Still Call it the Cass Corridor, I'm fully aware Highland Park is a separate city and not a Detroit neighborhood. Here's the thing about HP, though: before Galapagos said it was moving here, insiders have always known that its historic neighborhoods -- specifically, the state-named streets near MacGregor Library, and Pilgrim, Puritan, Moss, and Eason streets (architect Leonard Willeke, who designed several Ford properties not named Albert Kahn, had a home here that's still occupied) -- can't be beat. Let's hope the activity in Palmer Park and the North End moves toward the center.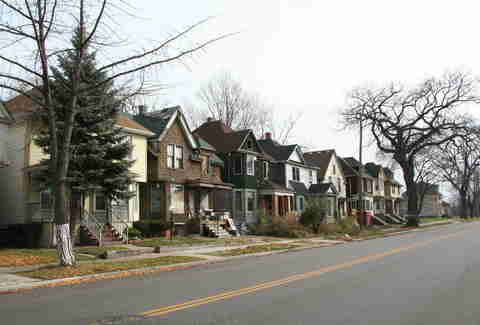 Pingree Park and Islandview
Good for: The aspirational Indian or West Villager
You like going to Craft Work, but don't want to live above it. You love Indian Village mansions, but can't afford the price of entry. You want to be near Downtown, but don't want to rent. Welcome to two neighborhoods bordering Indian Village and West Village. To the west of Indian Village is Pingree Park, a collection of 1920s family homes surrounding a park of the same name. To the southwest of Indian and West Village is Islandview (because of the "view" of Belle Isle nearby) -- a mix of row houses, spacious not-quite-mansions, early-century bungalows, and multi-family units. Prices in Islandview have been on the upswing as West Village surges, so get in quick.
 
The West Vernor neighborhoods
Good for: Those looking to live along a thriving business strip
Michigan Ave in Corktown has ceded the lion's share of media attention to the Avenue of Fashion, but people aren't talking nearly enough about West Vernor, which has one of the strongest commercial business strips (and not just by the Ambassador Bridge!) in the city. Head west and west and west until you can't anymore; pass by Cristo Rey High School, which is known for sending all of its graduates to college year after year; you'll hit Clark Park, too many restaurants to count, and the Campbell branch of the Detroit Public Library.
 
Aviation Sub
Good for: Detroiters with Dearborn sensibilities
Like Parkland and Berg-Lahser, Aviation Sub is one of those bungalow neighborhoods that falls off the radar because it's near main roads, but easily missable if you blink. A fun thing to do is drive the length of Oakman Boulevard -- a beautiful strip of houses in its own right -- from Detroit to Dearborn and soak it all in. Around Joy Rd is a well-kept neighborhood with easy access to Warren Ave, which criss-crosses between Detroit and Dearborn but is stocked with retail and restaurants.
 
Osborn
Good for: When East English Village is too far east
Right around East Outer Dr and Van Dyke is a collection of '30s and '40s colonials that look like they could belong in East English Village (or even the Pointes), but aren't nearly as pricey -- or as far out. Whether you just want a close commute to one of the 'burbs on Eight Mile, or you use Van Dyke as a way of getting around, Osborn is worth a look.
 
The Schaefer 7/8 Mile Lodge neighborhoods
Good for: Those looking for a sense of community
A collage of block clubs and neighborhoods make up these west side neighborhoods close to the Lodge (of course), Eight Mile (of course), Southfield, Oak Park, and Ferndale -- another option for the University District/Sherwood Forest aspirant. Find a few good mid-century places, plus your standard Detroit houses with wet bars and pink or powder-blue bathrooms.
Sign up here for our daily Detroit email and be the first to get all the food/drink/fun Motor City has to offer.
Aaron Foley is the author of How to Live in Detroit Without Being a Jackass, editor of BLAC Detroit magazine, and probably knows more about Detroit than you.