Paid Content For

How to Get Back on Public Transportation, According to Experts
New-normal tips for navigating mass transit.
Paid Content For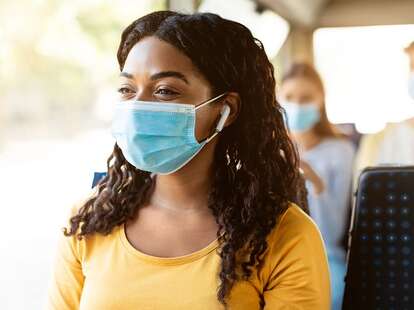 By Prostock-studio / Shutterstock
As thousands of us are summoned to the office, and city traffic is visibly back with a vengeance, hopping on public transportation is becoming increasingly necessary. To wit, according to a 2021 survey from TransLoc, 73% of people are planning to use public transportation as frequently as they did pre-pandemic, and over half are already using it to commute back to work.
But safety is still a major concern, as 71% of respondents said they were afraid of catching an illness on buses and trains. So what are transit systems doing to make sure you're safe? And what should you know to ease your return to public transportation? We talked to experts, from transit system executives to virus researchers, to find out.
Understand transit systems have had a lot of time to ensure your safety
In the year-and-a-half since Covid-19 entered our lives on a large scale, transit systems have developed dozens of new cleaning procedures, rules, and guidelines to help ensure rider safety. So while riding may have been a questionable proposition last March, today it's about as safe as it possibly can be.
"There was a statement from a national leader made early on, saying, 'I would not get on public transportation,'" says Paul Gonzales, Public Affairs Manager for Metrolink, a commuter rail system linking the five counties of Greater Los Angeles. "But it's different now, and the risk of getting Covid-19 on [public transportation] is exceedingly low if people follow protocols."
Metrolink now deep cleans its cars twice a day, wiping down every touchpoint on the train and using enhanced air filter technology to kill nearly all germs in the air. Other transit systems have incorporated similar procedures, and masks are almost universally required. Regulations vary wildly across systems, so check with your local authority to see exactly what they're doing.
Plan out your trip beforehand, because things have changed
The transit system you knew before the pandemic may now look nothing like it used to. Decreased ridership, change in work patterns, and a number of other factors have caused cities around the country to alter schedules and services. And if you don't plan ahead, you may well end up trying to take a train to the airport, only to realize you missed the last caboose.
"As people are getting back into the rhythm of transit, take a look at websites and trip planners, and understand the new fares and new routes," says Eulois Cleckley, Miami-Dade County Department of Transportation and Public Works Director and CEO.
In addition to cutting routes, Miami and other cities have also added some services to aid essential workers living near transit routes that were discontinued during the pandemic. So if you see your old bus line isn't running anymore, contact your local transit district and see what options you may have.
"But that involves calling a government agency!" you might say. "And much as I love hold music, I don't have 14 hours to sit on the phone!" And you're not wrong, though reaching out to transit agencies on social media can be surprisingly effective. Most transit websites are up-to-date with route info and automated trip planners, too, which Cleckley recommended using to discover your best options.
For the love of all things good in this world, wear a mask
We know, we know. The ubiquitous reminders about wearing masks in public have started to sound a little like a not-so-happy parent nagging you to clean your room. But when you're crammed into a sweaty rush hour subway, experts say along with being vaccinated, it's important for your protection.
"The virus spreads by being in close contact with people, so how do you avoid that when you're on a bus or subway? You wear a mask," says Frances Bertley, president and CEO of the Center of Science and Industry in Columbus, Ohio. He also holds a PhD in Vaccine Development and Viral Immunopathogenesis. "It should be mandatory whether you're a traveler or working for the transit system."
Don't cram yourself into buses and train cars, even if you're masked up
Even if you are wearing a mask, going all clown-car on the rush hour train isn't helping the Covid-19 fight. Experts say ultimately you're best waiting for another bus or train if the one you're trying to get on is already jam-packed.
"The biggest thing is to exercise common sense, don't squish up on somebody," says Dr. Bertley. "Try to be extra conscious of your space. If you've gotta catch that bus, you've gotta catch that bus. But just use common sense."
You're not likely to catch COVID from touching anything
Despite the common assumption that grabbing a subway pole or hanging on a bus strap is the surest way to catch a virus, Dr. Bertley says that's actually not the case for Covid-19. Sure, the realization that dozens of people have touched the same pole you did is still kinda gross. But from a molecular perspective, it's not a big risk.
"We know so much now about transmission, and it comes from people coughing [and] sneezing that little vapor that drips out of your mouth," he says. "So the misconception that, oh, I sat down on a bus and I got Covid-19? No, that didn't happen."
Still, it's wise to keep your hands clean for all kinds of other general sanitation purposes. And it never hurts the Covid-19 cause, either. Just understand your risk is more dependent on what's in the air than what's on a pole.
Check and see what kind of air filters your transit system has
Air filtration, Dr. Bertley says, is the single biggest thing transit systems could do to ensure safety. He even suggested using photohydroionization, or PHI technology, where UV light is used to kill viruses and other contaminants. Though he admitted that might not be cost-effective for public transit systems, he stressed that clean air is the most important factor in protection against Covid-19.
Metrolink, for example, uses PuraFil Purashield filters that kill over 99% of viruses and harmful bacteria in the air. That's a comparable rate to the highly-touted HEPA filters used on airplanes. Other transit systems around the country use similar technology, so if you're concerned about air cleanliness, research what your local system does before you ride.
The rules will be enforced if you're not following them
"Having layers against the infection is the best thing we can do," Metrolink's Gonzales says, referring to the mask requirements aboard its trains. "So I would say don't push back against that. Following the processes is the best way to keep people safe."
Metrolink has LA County Sheriff's deputies roaming its cars to make sure people are wearing masks. He says the system has only had a handful of issues since the pandemic's outbreak, but transit system rules are not empty threats. In Miami, the local transit system has security officers doing the same thing, at stations, on buses, and aboard trains. "We have a slogan: No mask, no ride," adds Miami-Dade's Cleckley. "It's a simple, concise statement that enforces the expectation for riding on our vehicles."
Now that you understand the relative safety of public transportation and the precautions put in place, we hope you feel more confident about getting back into the world. Discovering new parts of your city without getting in a car can be an exciting prospect, and even if public transportation wasn't your mode of choice pre-pandemic, you may well find it a viable new alternative. Google Maps mass transit routes, how we've missed thee.
Clorox wants to help give you confidence to get back out there. That's why they've partnered with the Cleveland Clinic and CDC Foundation to form the
Clorox Safer Today Alliance™
, helping brands like United Airlines, Enterprise, and AMC Theaters create healthier public spaces for us all.
Clorox® Disinfecting Wipes
also come in convenient on-the-go sizes, so you're covered wherever you go.