Paid Content For
Everything You Should Know About Moe Greens, SF's High-Class Pot Lounge
Paid Content For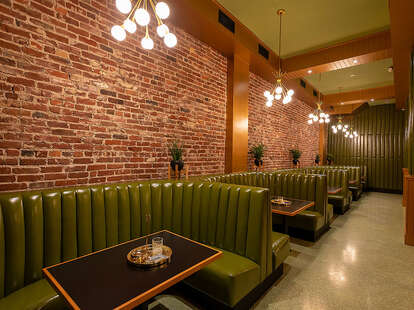 Nick Wadler Photography
Nick Wadler Photography
San Francisco has always been home to an abundance of swanky places to eat and drink, but until recently, there weren't any high-class destinations for the city's weed smokers. That all changed when the Barbary Coast Dispensary on Mission Street expanded to add a speakeasy-style lounge that channels an old saloon. Just like that, the city gained another must-visit destination. The team behind that space has now opened Moe Greens, a dispensary-lounge on Market Street (the largest in the city) with a stylish mid-century aesthetic intended to feel welcoming to cannabis consumers of all types.
"I think we're raising the bar," Nate Haas, co-owner and CEO of Moe Greens and the previous GM of Barbary Coast, says. "We're trying to break those stereotypes of some guy wearing tie dye and playing hacky sack. Cannabis can be professional; it can be fun."
Of course, we had to find out more about this new space, so we got a first-hand look at everything it has to offer. Here's what we learned: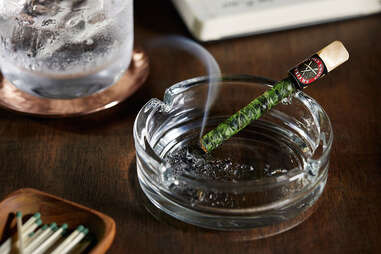 Every guest has a customized, cannabis experience
Moe Greens has "medicine" (as Haas calls it) for every cannabis-consumer's needs, including edibles, gummies, vape pens, concentrates, tinctures, pre-rolled joints, traditional "flowers," and CBD salves for pain or joint ailments, all of which can be taken to-go or enjoyed on site. For now, all of the cannabis products are purchased in the dispensary, counter service-style. In the coming months, though, guests will be able to enjoy more of a fine dining experience, where they'll be seated by a hostess in the lounge and have a server deliver their order and take their payment.
Here, there's no need to stress if you're not sure what kind of product you want or need; that's where the "budtenders" who are well trained in all of the offerings come into play. When you arrive, your budtender will ask about what kind of experience you're looking for -- if you want a head high, something that will make you more energetic, or are looking to relax or get a good night's sleep. The key, Haas says, is be open with your budtender who is there to give you as much information as possible so you can make a good decision about what you want to do when you're high or what you want to medicate with.
"Don't be shy about your past experiences and what worked or maybe didn't," he says. "Let us know what you want to experience, and we'll try to get you there."
"This is a great place to show off what cannabis could be."
The atmosphere is luxe, vintage SF
Moe Green's is in the heart of Mid-Market, steps away from some of San Francisco's best music and theater venues, leading tech companies, City Hall, and the Main Library. That played a big part for Haas, a third generation San Franciscan, when choosing the location. "[The city] is really trying to revitalize this area to make it more like it was for my grandparents and my great-grandparents when they would go to Market Street on Sunday and walk, go to the shops, and maybe see a show," he says. "We saw that and thought: this is a great place to show off what cannabis could be."
That vision is evident in the mid-century modern-inspired design of Moe Greens, which is destined to set a new standard when it comes to places to consume cannabis. After all, once you smoke a joint in a glamorous space with custom green leather booths, reflective gold wallpaper, exposed brick, and Jonathan Adler sputnik light fixtures throughout, will taking bong hits while sitting on your living room couch ever really feel the same? (Okay, so maybe there's room for both, but only because you can't hang out in your underwear and watch reruns at Moe Greens.)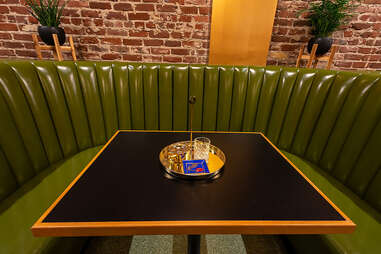 There are seating areas for whatever vibe you want
If you decide to stay and enjoy your purchase at Moe Greens, where you sit will depend on how you want to consume your cannabis. The Playground is the largest space, dedicated to vaping, where you can sit solo or mingle with friends. If you are going stag, you can also get some work done, as the Wi-Fi is fast and all of the tables have USB ports and chargers. "We really wanted to embrace that there are a lot of employees in the neighborhood, and maybe they don't want to go back to work smelling like marijuana," Haas says. To further aid this, each room has its own HVAC system that's pushing enough oxygen into the space to ensure everyone gets enough fresh air with their good high.
For those looking to smoke (and don't care about returning to work with the lingering smell of pot of their clothes), there's the dimly lit High Roller room, which has five large leather booths. This is the space for combustibles, and in true luxe style, everything is provided for you: paper, grinders, even clean bongs and pipes.
Finally, there's a dab lounge called The Vault, an enclosed space where concentrated cannabis extracts are consumed with the help of a "dabtender" who guides people through the process and also makes sure that all of the "rigs" are disinfected and cleaned between guests. Haas warns that the high is significantly stronger than the other offerings. However, if you're looking to try it out and want something a little softer, there are dabs that are high in CBD as well -- which can help with anxiety and muscle pain, Haas says.
This isn't your typical stoner crowd
The goal of Moe Greens, Haas says, is to provide people with a place to get high in a safe, clean, and comfortable environment that's an ode to an older San Francisco -- including those who may be inexperienced with weed. People usually hang out for about 30 minutes or so, but as the lounge grows in popularity, a time policy may be put in place as a loose guideline.
What's not a loose guideline, however, is Moe Green's stance on alcohol, which is not allowed inside. Those who appear to be inebriated could be asked to take a breathalyzer, because as Haas says: "If you can't drive, you probably shouldn't be in here."
Other things to know: everyone is asked to sign a waiver before they enter the lounge. You only have to sign it once, as it will then be attached to your profile. Moe Greens doesn't sell any food or drink that isn't medicated (there are, however, water stations and hydration is encouraged), but you can bring in a sandwich or a burrito to enjoy. Just don't be that dude who brings in 12 large pizzas; it's not that kind of place. Photos of you and you group are okay, but be respectful of other people's privacy. And, if you're getting good service, you're definitely encouraged to tip.
Last, don't be surprised if you're sharing the space with a few people you wouldn't expect. Like the three Connecticut ladies in their early 60s who stopped by recently to see what dabbing was all about. They liked it so much that the staff put them in the main room and brought them a portable unit -- and that's the exact experience Haas wants everyone to have. "That's our litmus test: if our mothers would be comfortable in here," he says. It's a test Moe Greens passed on opening night, when Haas got a thumbs up from his own mom. As weed becomes more accepted in SF, he says he looks forward to rolling out the green carpet for a diverse clientele (moms and grandmas included) in the days and months to come.