Now that Thanksgiving is over and the air has finally (sort of) cooled a bit, you may think it's time to endure crazy mall parking and overdose on holiday music, weird tasting Christmas coffee, and/or eggnog. It's not. At least not in Oahu. Watch as Santa arrives by outrigger, play in manmade snow, and bask in the glory of some of the world's coolest sand sculptures. Christmas in Oahu kicks other Christmases' asses. Here's why: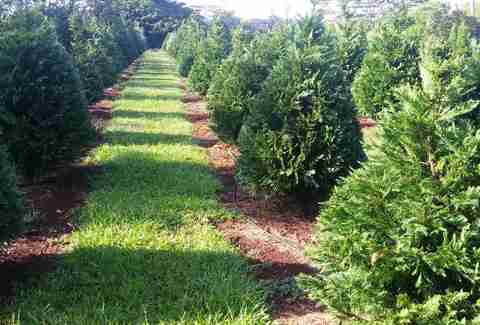 You can pick out a legit Christmas tree at Helemano Farms
This year, instead of sifting through parking lots full of Christmas pines, fill up your gas tank and head to the Wahiawa, where you can pick out a live Christmas tree at a local Christmas tree farm. Choose from variety of island-grown green Norfolk pines, soft and full Leyland cypress, silver-blue Carolina Sapphires, Japanese Yoshino cedar trees, or aromatic Blue Ice evergreens. Helemano Farms crew will saw down your dream tree, wrap it, and help you haul it to your car.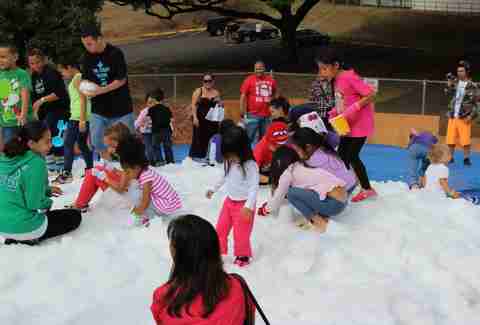 We can frolic in the (man-made, not freezing cold) snow
While a white Christmas is meteorologically impossible in Oahu, fortunately for us, making man-made snow in 80-degree weather isn't entirely impossible for a few climate-manipulating geniuses. Get cozy in the snow on December 5th from 10:00am to 1:00pm at Calvary Church of the Pacific, December 12th from 10:00 to 1:00pm at Salt Lake Shopping Center, and December 12th from 5:00 to 9:00pm at Mililani Town Association. Bring a few extra layers of your favorite winter wear and play in over 8-20 tons of snow, and experience ice outside the shave ice cone. 
There are gigantic sand sculptures at Sheraton Waikiki
Take a cue from Santa's selfie-snapping Menehune holiday helper and pose next to carefully crafted holiday sculptures in the Sheraton Waikiki lobby. After 15 days, Florida-based Sandsational Sand Sculpting, transformed 32 tons of sand into two sandy scenes, featuring Santa serenading Mrs. Claus with a ukulele, and another showcasing Santa's photogenic friends. The sandy monuments will hold up until 2016, so check out the intricate designs before the holidays have washed away. 
We have an open-air ice skating rink at Ward Village, and it isn't even cold out
The old IMB parking lot, which often moonlights as a movie theater, community brunch spot, and yoga studio will transform into the island's first outdoor skating rink from November 27th through January 10th. Fifteen dollars gets you 90 minutes of skate time, including your ice skate rental. Bust out your inner Yamaguchi or Boitano and skate away under the sun (or stars, I guess). And, if your kids haven't gotten their fill of Idina Menzel's "Let it Go," they can sing and skate to their heart's content as Ward Village streams the popular cartoon on December 18th for a Frozen Sing-a-Long.
Instead of curling up on the couch to watch movies on TV all month, treat your date to a commercial-free experience at Diamond Head Theatre's musical interpretation of the 1983 classic about Ralphie Parker and his quest for an official Red Ryder BB Gun. Watch the iconic fishnet-clad leg lamp and the freezing flagpole-licking scene come to life on stage, and you'll be glad to have traded in your PJs for a night at the theater. The play currently offers 16 shows from December 4th-23rd, but snag your tickets quickly, because seats tend to fill fast. 
Honolulu City Lights is a month-long event of all things festive
This classic Honolulu holiday event has been around since 1985 and slowly evolved into the free, month-long extravaganza it is today. The celebration begins when Honolulu Hale is filled with lights and a shaka-waving Santa and Tutu Mele move into city hall, dipping their toes into the building's fountain. Opening night kicks off on December 5th, with keiki rides and food booths at Sky Gate, a tree lighting ceremony at Honolulu Hale, and an electric lights parade that starts at Aala Park and works its way down King Street. Check their website for additional events.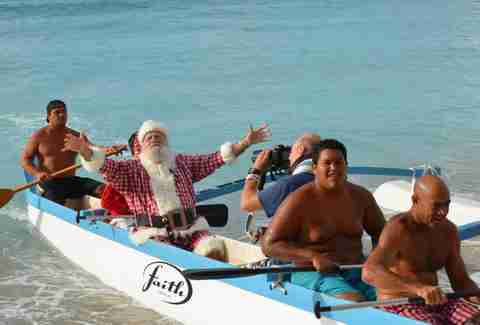 Since there are no snow-covered rooftops in Honolulu for Santa to land his sleigh on, Santa must arrive by alternate means of transportation. On December 12th at 9:00am, a shorts-wearing Santa sails through Waikiki Beach on an outrigger canoe, sans reindeer, and helmed by board-short wearing paddlers instead of onesie-clad elves. Watch as the merry man makes his way from the shore to the Outrigger Waikiki Beach Resort lobby, where jolly ol' Saint Nick will pose for photos, free of charge. 
Start a new tradition with Hawaii Symphony Orchestra's first holiday-themed music concert at the Neal Blaisdell Concert Hall on December 12th at 7:30pm or December 13th at 2:00pm. Led by Maestro Rob Fisher, the orchestra will be accompanied by local, award-winning trio Na Leo Pilimehana, who will perform their own classic hits in addition to holiday songs like "Have Yourself a Merry Little Christmas" and "O Holy Night." The program also features orchestral renditions of "Sleigh Ride" by Leroy Anderson and "Fantasia on Greensleeves" by Ralph Williams, as well as music from holiday movies like The Polar Express and Miracle on 34th Street. Make sure to warm up your vocal cords, because singing along is encouraged. 
Our locally made gifts are rad
Forget the mall. Support local vendors and find one-of-a-kind gifts at the first annual Mele Kalikimaka Marketplace at the Neal Blaisdell Center on December 12th-13th. Peruse food products, crafts, jewelry, books, apparel, pre-packaged gifts, and holiday pop-up shops. Later, take a break in their snowy Winter Wonderland, at the crafts table, or catch some live entertainment. Procrastinators can find holiday shopping fulfillment at Rogue Christmas, Honolulu Night Market's last block party of the year, where you can mix shopping with sampling dishes at food trucks, watching fashion shows, and listening to music.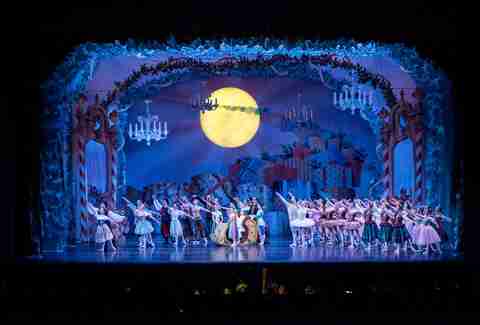 We've got not one, not two, but three ballets
Hawaii Ballet Theatre kicks off the Nutcracker season at Leeward Community College from December 12th-20th, featuring dancers from across the island. Principal dancers from national dance academies will accompany Ballet Hawaii students at the Neal Blaisdell Concert Hall with live music provided by the Hawaii Symphony Orchestra from December 18th-20th. At Mamiya Theatre on the same weekend, Hawaii State Ballet students, directed by John Landovsky, will take you through a young girl's journey through the land of sweets.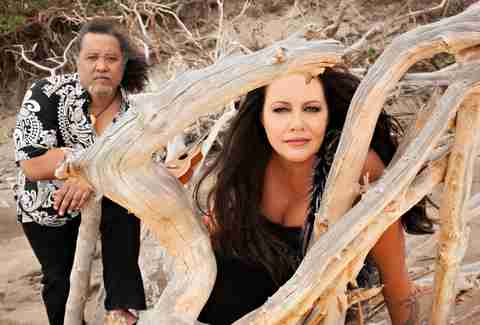 Um, you're damn right we have an Amy Hanaialai'i and Willie K. Holiday Show
Treat your ears to festive music from two Nā Hōkū Hanohano-award winning musicians at the Hawaii Theatre from December 18th-20th. Hosted by entertainer Rodney Villanueva, the concert features solos, duets, and holiday classics, including Willie K.'s popular version of "O Holy Night." 
Don your best red and green outfit and squeeze in a little non-retail cardio for Make-A-Wish Hawaii's 3rd Annual Jingle Rock Run on December 20th. The 5k starts and ends at the historic 'Iolani Palace at 5:00pm and takes you through a festive tour of the Honolulu City Lights as the sun sets over the island. Kids and pets are welcome to join in, so dress your little ones and furry friends in your most creative Christmas outfit. Also, the most festive costume takes home a prize. 
Sign up here for our daily Honolulu email and be the first to get all the food/drink/fun in town.
 
Summer Nakaishi is a freelance writer for Thrillist, and all she wants for Christmas is for the Bears to win the Super Bowl. But since she can't have that, shoes are always nice.