Hawaii Tourism Authority (HTA)/Tor Johnson 
Hawaii may be small, and instead of six degrees of separation it may feel more like two or three, but the islands still hold a few secrets even your best friend's co-worker's parents may not know about. Here are 12 of 'em that may or may not involve human sacrifice and fish poop. OK, they totally do.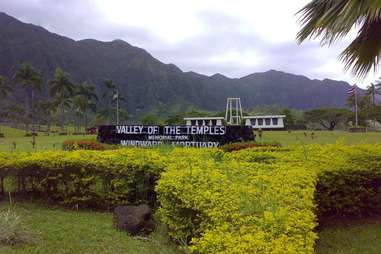 Oahu
Yup, Oahu has a pet cemetery, and Tyke the circus elephant is buried there. Don't remember her? Well, 21 years ago the circus came to the Neal Blaisdell Arena, and, during an August performance, the 20-year-old African elephant fled the arena, trampling her trainer in the process. Panicked, she ran through the streets of Kakaako during rush hour traffic before local police shot 87 bullets into her 8,000lb body. Today a stone marker memorializes the fallen elephant in the Valley of the Temples pet cemetery.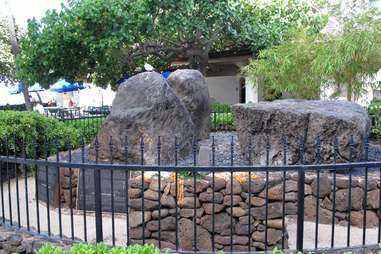 Four sacred stones are located in the middle of Waikiki
Oahu
Located ocean-side, near the police station along busy Kalakaua Ave, the fenced-off basalt rocks are hidden in plain sight. Oral tradition says four healers from Tahiti traveled to Waikiki around 400 AD and became renowned throughout the island for their abilities. Not planning to stay long, the men transferred their spiritual energy into four separate stones so that their healing powers could remain in their absence. Lost for decades, the sacred relics were uncovered in 1958 after a bowling alley was demolished. Temporarily nicknamed the "Wizard Stones of Kapaemahu," they were restored and blessed, and renamed Na Pohaku Ola Kapaemahu a Kapuni to prevent any Western wizard-like magical misinterpretation. Sorry, Harry Potter fans.
There are six King Kamehameha I statues in the nation
Oahu, Hawaii Island, Maui, Washington DC
The most famous statue honoring the king who united the Hawaiian Islands stands in front of Aliiolani Hale, the Hawai'i State Judiciary Building, but it's actually a replica. In the late 1800s, the original was lost at sea, so a replacement statue was ordered. Years later, the original was recovered and sent to North Kohala on Hawaii Island, near King Kamehameha's birthplace. After Hawaii became a state in 1959, a third was displayed at the nation's capitol. Plans for a fourth statue were made for a resort in Kauai; however, residents opposed the statue since the Garden Isle was the only island King Kamehameha did not physically conquer. Instead, in the late 90s, the Princeville Corporation donated the statue, and it is now installed in Downtown Hilo. The fifth and sixth statues are located in Maui at the Grand Wailea Resort Hotel & Spa and Ka'anapali Beach Club, sculpted by Herb Kawainui Kāne and Caleb O'Connor, respectively. A seventh had resided in Las Vegas, in front of the Hawaiian Marketplace, but has since been removed to make way for a Chili's restaurant.
Oahu
If you haven't flipped through a guidebook or been on a field trip to the statehouse lately, you may not have realized the American adaptation of the Bauhaus-inspired building is designed to reflect the natural aspects of the islands. The two legislative chambers are modeled after volcanoes to represent the formation of the Hawaiian Islands, and the reflecting pool surrounding the building symbolizes the Pacific Ocean. The eight white pillars on each side of the building represent palm trees for each island, and the open-air design allows for wind, rain, and sun to filter through.
Oahu
Maybe you've driven past the H1 freeway and have seen Japanese tourists getting dropped off at Moanalua Gardens by the busload. Maybe some of them are there to enjoy the sprawling green gardens, but mostly, they've come to see the famous 50ft tall, symmetrical Hitachi tree in person. Japanese electronic company Hitachi, Ltd. has been using the century-old tree as their corporate symbol since 1973 and has been paying $400,000 a year since 2004 to use the massive monkey pod in their advertisements. Although you may not have grown up seeing the famous tree plastered all over town, (or have sung along to the Hitachi tree song), for $3 admission ($1 with local or military ID), you too, can snap photos or relax under the shade of the state-designated Exceptional Tree and see what the fuss is all about.
There are abandoned tunnels hidden in Mount Waialeale
Kauai
In the 1920s man-made tunnels were dug out of the mountain to divert millions of gallons of water to sugar crops. Carved out of solid rock, the nearly 100-year-old tunnels are mostly intact, albeit damp and wet, and accessible by an unmarked trail that is best tackled by groups of experienced hikers who don't mind a natural mud bath.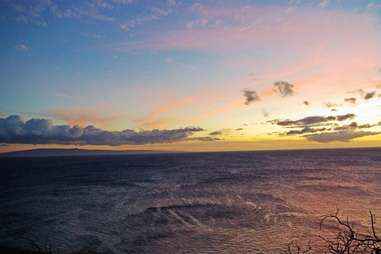 There's a Scandinavian monument at McGregor Point Lighthouse
Maui
A great vantage point for spotting whales and sunsets, the bluff is also the site commemorating the first and only Scandinavian migration to the islands, where two ships brought just over 600 Norwegians, Swedes, and Danes to work in the sugar cane fields at the end of the 19th century. Local Scandinavians were sometimes called the "forgotten immigrants," since little is known about their history on the islands.
Hawaii has our own Frank Lloyd Wright
Various islands
For architecture buffs and real estate connoisseurs, Vladimir Ossipoff may be a household name, but many have walked past his landmark buildings without realizing they've bypassed the work of the man called "the master of Hawaii modern architecture." Born in Russia, but raised in Japan, Ossipoff moved to Honolulu in the 1960s. Declaring a "War on Ugliness," Ossipoff transitioned local architecture away from the Territorial-style buildings, by blending Eastern and Western influences, using natural ventilation, and Japanese craftsmanship. Ossipoff designed hundreds of residential homes in the islands and dozens of public structures, like the IBM building, Pacific Club and Outrigger Canoe Club. One of his most famous residences, the Liljestrand House on Oahu, is available to tour.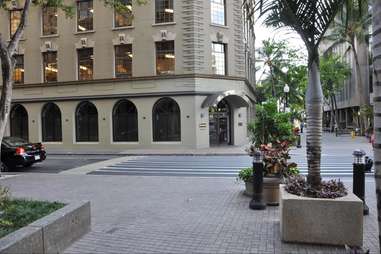 Fort Street Mall was a temple for human sacrifice
Oahu
Now a pedestrian mall in the middle of Oahu's business district, the downtown Honolulu area includes some of the island's oldest streets, and was previously the site of Pakaka heiau, a place of worship once adorned with human heads that had been sacrificed to the gods. Later, the site became a Russian-American fort, but King Kamehameha chased the men stationed there to Kauai, and it was demolished in 1857, making way for Walker Park, where rumor has it, headless ghosts still haunt the tree-lined pathways.
Oahu
There are multiple dike tunnel systems winding through the island, but the Waihee tunnel is currently the only one you can tour, and by appointment only. Stretching 1,500ft it leads to a bulkhead where water is stored during dry months, and is constantly dripping water, so bring a rain jacket and rubber boots if you want to head underground and learn about one of the island's best natural resources.
There was a centuries-old underwater temple dedicated to the shark gods
Hawaii Island
Just offshore in Pelekane Bay, are remnants of an ancient heiau called Hale o Kapuni created to appease the shark gods. Sharks were once worshipped as protectors, and it is believed that human sacrifices were carried to a heap of stones in the ocean, where sharks would devour them. Rubble from the heiau ruins were said to have been last seen during low tide in the 1950s, and you probably don't want to go looking for it -- sharks still frequent the waters where the temple is believed to be located.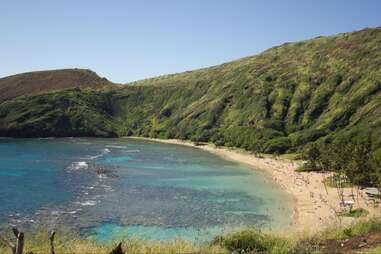 Our white sand beaches are made from parrotfish poop
Various locations
Walking barefoot along a sprawling white sandy beach in Hawaii is the stuff romantic vacations are made of... except for the fact you're walking on fish poop. Parrotfish, or uhu in Hawaiian, bite into dead coral that pass straight through their derrière, resulting in at least 840lb of sand a year. At popular snorkeling spot Hanauma Bay, for example, a particularly large parrotfish population contributes about 70 percent of the sand's makeup. But hey, who gives a crap?
Sign up here for our daily Honolulu email and be the first to get all the food/drink/fun in town.
Summer Nakaishi is a freelance writer who is busy looking for an empty stretch of parrotfish poop so she can take a nap.