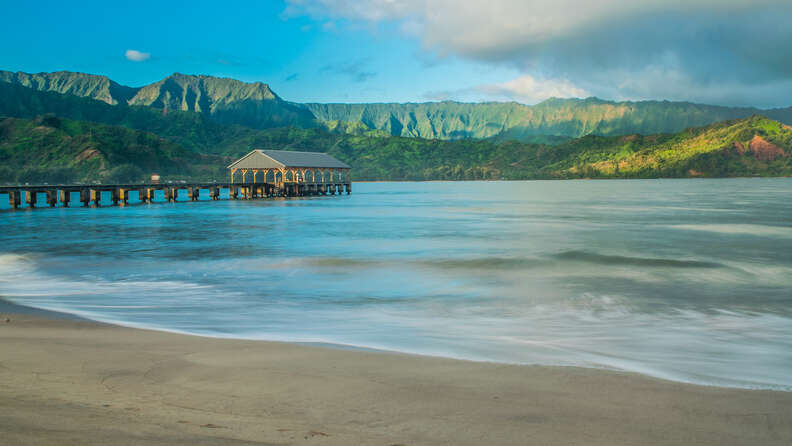 Hanalei Pier Sunrise

| Kelsey Neukum/Shutterstock
Hanalei Pier Sunrise

| Kelsey Neukum/Shutterstock
Very little can match the majestic beauty of Hawaii, and her beaches are -- by far -- some of the most beautiful and postcard-perfect spots in the world, the ideal places for beachgoers from around the world to sun, surf, swim, or be seen. It's worth noting that thanks to airline price wars and sweet travel deals, flights from the mainland seem to be getting cheaper, making these natural wonders even more accessible than ever. But the beaches on this list are not just your typical holiday spots. Get ready to squish your toes in a rainbow tapestry of colored sand, watch surfers tackle the largest waves they can, groove with drum circles, and dash naked into the surf.
Below you'll find our picks for the best beach spots found on the Hawaiian Islands, but first, here are a few tips to keep in mind when you visit.
If in doubt, don't go out: Many beaches do not have lifeguards, and dangerous rip tides and large waves can quickly ruin your day. Visitors and locals alike drown every year. Always swim with a buddy.
The beach is not a souvenir: Don't take any sand or rocks home with you. It is "kapu" -- Hawaiian for forbidden. The volcanic goddess Pele doesn't like her property stolen.
Help keep it clean: If you want to do more than just lounge on a vacation, consider joining a beach cleanup group to help remove the tons of garbage that wash up on our beaches. Picking up just a few items can make a huge difference in preserving Hawaii's fragile ecosystem. Onward.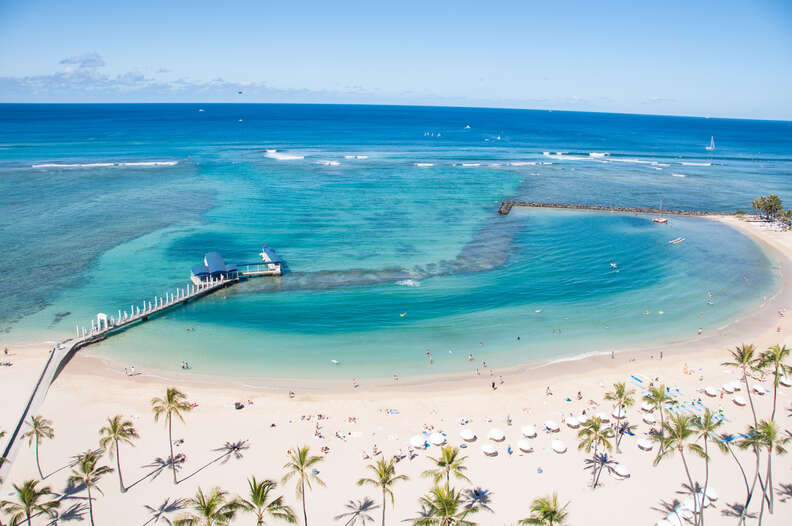 Waikiki Beach
Oahu
The Times Square of the Pacific Ocean
No visit to Hawaii would be complete without soaking up the sun at Waikiki Beach. Home to international resorts, hotels, and restaurants, Waikiki -- Oahu's bustling tourist district -- is world-famous for good reason. With the iconic Diamond Head Mountain looming in the distance, it's packed with beautiful beachgoers sunning on the golden sands chiseled surfers jostling over the glassy waves. Leathery beach boys teach pale tourists how to hang ten, and retirees gather around ukulele players strumming sad songs of times gone by. Across the beach on Kalakawa Ave, shops offer everything from cheap shell jewelry to top-shelf sushi or pricey handbags. It's packed with leafleteers, folks in ill-fitting aloha shirts, and four-star restaurants, and at night, crowds gather around food trucks on Kuhio Ave while street musicians and other performers jockey for space.
Know before you go: Whether it's sun, surfing, paddleboarding, snorkeling, swimming, eating, or entertainment, you name it, and Waikiki has it, including weekly Friday-night fireworks over the Hilton Hawaiian Village on Waikiki's west side. On the east side, Kapiolani Park's grassy plains give solace to those needing a break from the hustle. Note that Waikiki can be a dangerous spot anytime of the day or night, so lock your valuables in your hotel safe when you hit the beach, and keep your wits about you after dark.
Papakolea Beach (Green Sand Beach)
Hawaii Island
Emerald green sand awaits at the southernmost point of Hawaii
Green sand? No way! But indeed it is true, and you can find green sand on the Big Island's remote Papakolea Beach, at the island's southernmost point. The colorful Papakolea Beach got its hue from olivine crystals found in the eroding volcanic cinder cone rocks. Beachgoers have to shimmy down the side of the cinder cone on a worn trail to the beach. The relatively steep beach appears dark brown at first, but once you pick up a handful, the olivine crystals will shine with an unmistakably green glint. The green cliffs around the beach also offer a nice walkabout at this volcanic masterpiece.
Know before you go: Only strong swimmers can manage the waves here, and there are no lifeguards, so if you're nervous, risking it is not a good idea. To get to it, drive to the end of South Point Rd via Highway 11 to a dirt parking lot. From there, it's about an hour hike through an old lava field to get to the beach. Bring a hat, water, and sturdy shoes -- as it can be a tough walk. On the way, you can spot brilliant green patches of sand and the remains of an ancient Hawaiian heiau, or "altar." Sometimes, locals with 4x4s will take you to the beach for about $10-$15 round-trip per person. The dirt trail they take is a roller coaster, so hang on tight, and be warned there are no restroom facilities once you get there. Take only pictures, as it is illegal to remove any sand or stones.
Kaihalulu Bay (Red Sand Beach)
Maui
A red sand retreat where clothing is optional
The road to Hana doesn't just offer a fabulous trip down the famed curved highway, as it also gives visitors a chance to swim on a red sand beach. Towering red cinder cliffs surround the Kaihalulu Bay and give the beach its unique, rusty, red-colored sand. Take note that although the bay is protected, there are no lifeguards, so you're taking a risk if you choose to swim. But due to the cove's isolation, many leave their clothing on the beach and swim au naturale. Just don't expect to find supermodels and bodybuilders splashing in the foam.
Know before you go: This out-of-the-way beach is technically located in Hana, and although plenty of people swim there, you have to trespass on private property to do so. Do the right thing and seek permission from the landowners before you take the plunge. The short hike also takes you through a very unstable and dangerous trail, so wear solid shoes. Don't chance it if the trail seems washed out, as a fall down the cliff could be fatal. To reach Hana, take Highway 360 (aka Hana Highway) from Kahului. The popular drive offers switchbacks, waterfalls, and scenic views, while the town of Hana will bring you a few restaurants, stores, and a fancy resort.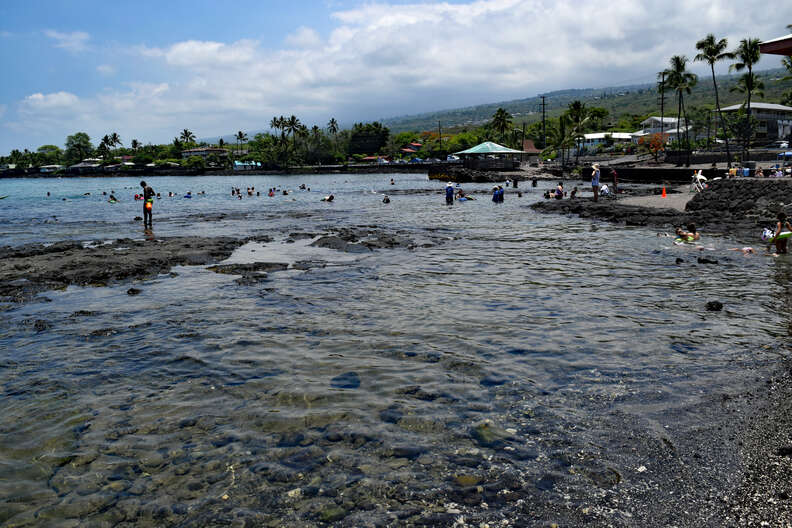 Kahaluu Beach Park
Hawaii Island
A federally protected destination for sunbathing sea turtles
While Kailua-Kona isn't known for its white or golden sand beaches, Kahaluu Beach Park, just south of town down Ali'i Dr, is a fantastic spot with unsurpassed snorkeling, wildlife, surfing, and a grey-black sand that sticks to your skin. An offshore reef makes for great snorkeling and easy swimming at this lifeguard-protected spot, too. The water is shallow in many places, and colorful fish tend to swim with abandon right next to you in the surf. And out of the water, you'll probably also notice sea turtles basking on the lava shelf.
Know before you go: Kahaluu Beach Park also has picnic tables, parking, bathrooms, and some food vendors, making it a great spot for families. Just be cautious of sharp lava rocks that can cut like a razor. In the evenings, locals and tourists alike try to catch the daily green flash sunsets. Take special care: It is against federal law to interact with the protected sea turtles, so only take pictures.
Papohaku Beach
Molokai
3 miles of nearly empty seclusion
The Molokai Mo' Betta' mantra clearly applies to this sparsely visited golden sand beach found on the island's west side. The beach offers nearly three miles of plush sand and turquoise-blue water, and on a clear day, views of Oahu across the channel. Also known as "Three Mile Beach," the waters can be treacherous in the winter months but are mostly calm for swimming and snorkeling in the summer.
Know before you go: While there is parking, picnic tables, and bathrooms, there are no lifeguards or other facilities on Papohaku Beach. Molokai itself is also sparsely populated, so you'll likely have the beach to yourself if you make the trip out. Sunsets can be spectacular, but the after-dark drive back to Kaunakakai is a long one. Bring your own supplies because there is little on the way to pick up.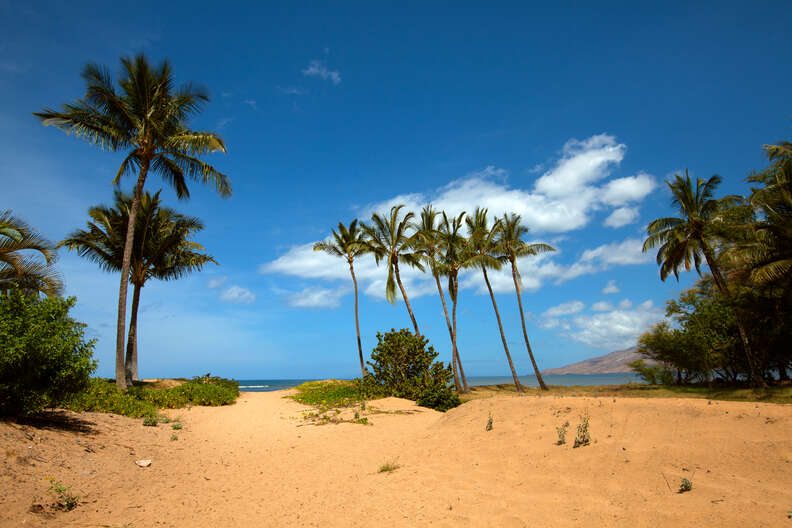 Kalama Beach Park
Oahu
A presidential alternative to the super-crowded sections of Oahu
So Lanikai Beach is hands-down the most famous and picturesque beach on Oahu…and everyone knows it. The beach and its neighborhood have been barraged by beachgoers and belching buses that have caused terrible congestion and traffic in recent years, to the community's dismay. Sadly, the beautiful Kailua Beach Park, which is just around the bend, has similar problems and another, more important one: beach erosion has scarred her pristine landscape. You can avoid all of those hassles and get the same experience down the road at Kalama Beach Park. Like her more popular sister beaches, you'll still experience crystal-clear turquoise waters, whites sands, and unsurpassed views the east side of Oahu. Kalama Beach is actually part of Kailua Beach but is found further north on N Kalaheo Ave.
Know before you go: There's parking and bathrooms but no lifeguards. If the parking lot is full, you can park anywhere in the adjacent neighborhood as long as you don't block anyone's driveway. (But beware: Police enforce strict no-parking areas around Lanikai during holidays; check beforehand, unless you want an expensive souvenir courtesy of HPD.) The area also has several other access points to get to the two-mile beach area with ample parking available. Former President Barack Obama and family stayed in this area during his many Hawaiian holiday vacations, and he was often spotted at the beach and in Kailua and Kaneohe towns. (The home his family usually stayed at was at the farthest end of the beach in a gated community.)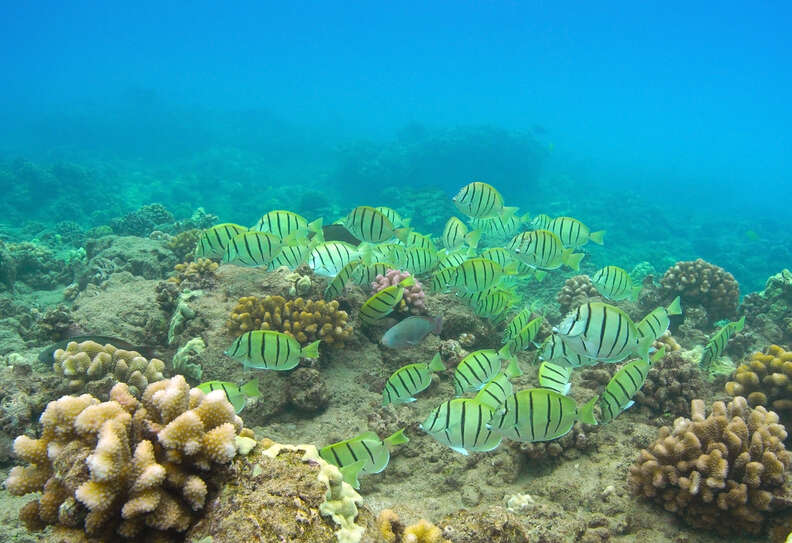 Hulopoe Beach
Lana'i
A lovely Lana'i location known for its spinner dolphins
Lana'i's crescent Hulopoe Beach is a favorite for locals and tourists located near the posh Four Seasons Resort. The protected bay offers easy swimming and snorkeling for all. Spinner dolphins swim around in the beautiful waters, and whales can be spotted during the winter months. The beach is a warm transition from the chilly Lanai City located in the mountains above.
Know before you go: A short walk from Hulopoe leads to the famed Sweetheart Rock, a freestanding cliff just off the coast. Hawaiian legend tells of a lover who threw himself from atop the red cliffs into the pounding ocean below after he found his beloved drowned. Sweetheart Rock still stands tall and makes for great photos. There are picnic tables, showers, and bathrooms at the park. The beach is found at the end of winding Manele Road.
Makena Beach ("Big" and "Little" Beaches)
Maui
Charge the break on the big side; lose the suit on the small side
Found south of the ritzy Waiea on Maui's southwest coast, Makena Beach, also known as Big Beach, is a golden sand paradise where sunbathers soak up the rays and body boarders charge the waves. While the high-end resorts have surrounded many of Maui's southern beaches, Makena is free of development and locals and tourists alike share the plush sand and deep blue ocean. A large parking at the beach will fill up fast and some food trucks set up during the day.
Know before you go: There is a lifeguard stand but remain cautious of the big shore breaks. Just to the right over a small cliff is Little Beach, a clothing-optional spot where swimmers of all ages swim and tan in the buff. Makena Beach is found just south of Waiea on Makena Rd. Waiea offers great food and entertainment, along with some of the highest-priced hotels and resorts in Hawaii.
Makua Beach (Tunnels)
Kauai
A surreal underwater spot with amazing snorkeling
Set on what could only be described as a Hollywood backdrop, Makua Beach (aka Tunnels Beach) is so stunning you'll be humming "Bali Hai" in no time. It is one of Kauai's favorite spots. The big draw is the shallow waters and offshore reef that is perfect for snorkeling. The crystal clear waters, caves, arches, and sea life made me think I was in some alternative reality when I visited. For swimming and snorkeling, it's unmatched.
Know before you go: On the beach, ironwood trees provide shade while you lay out on the golden sands. The beach is found just outside of Hanalei down Kuhio Hwy. There are two access points to the beach that offer some parking but it can be trying, as the beach is popular. Alternatively, you can park at Haena Beach Park further down the road but the walk to Tunnels is a workout through the thick, sandy coastline. Go early before the crowds get there.
Hanalei Beach
Kauai
A touristy paradise for sailboats, sunsets, and swimming
Well before George Clooney's film The Descendants made this beach spot popular, South Pacific did it with Kodachrome clarity. Hanalei Beach has always drawn people to her amazing sand, beautiful waters, and panoramic views. The popularity of Hanalei with mainlanders makes the area feel more like SoCal than Hawaii, as locals can sometimes be few and far between in this tourist-heavy area. The picturesque Hanalei pier stretches out into the water offering stunning views of the Na Pali Mountains and sailboats moor out in the distance.
Know before you go: Several beaches line the three-mile-long Hanalei Bay including Wai'oli Beach Park to the west, Hanalei Pavilion Beach Park in the center, and Black Pot Beach Park to the east. Each spot has its own parking, grassy lawns, and bathrooms as well as their own vibe. The mouth of the Hanalei River is at Black Pot Beach, and many choose to paddleboard or kayak up the river. (There are spots to rent those, along with surfboards.) Locals will also drive their cars onto the sand at Black Pot to picnic and BBQ. The beaches are located in Hanalei town on Kauai's North Shore. The town has many excellent restaurants, guesthouses, and hotels, along with a thriving nightlife.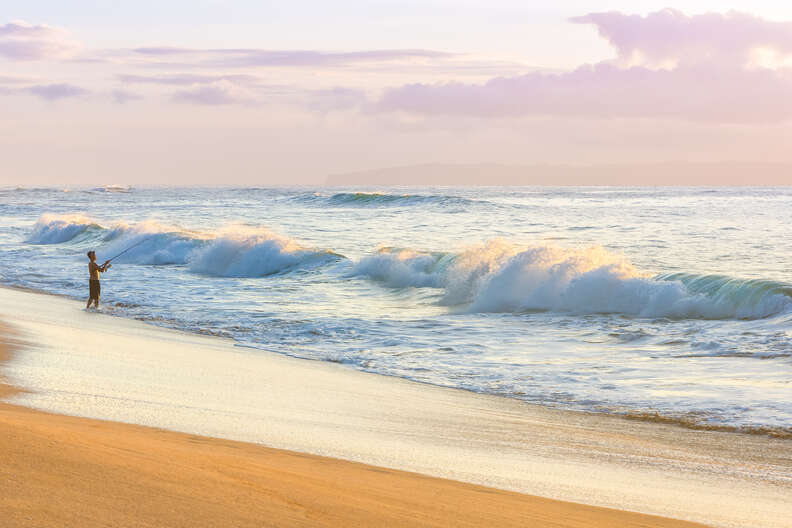 Polihale State Park
Kauai
A wild, remote beach with literal "barking" sand
With the Na Pali Coastline anchoring this magnificent stretch of golden sand beach on Kauai's west side, Polihale State Park is as remote as you can get in Hawaii. You can't get any further west, and the expansive beach stretches out for miles over the horizon. Sand dunes line the back of the beach, and one area is known as Barking Sands as the sand "barks," when you walk over it due to the unique texture of the sand pebbles. Unfortunately, a large portion of the beach, including Barking Sands, is off limits to the public as a military base, the Pacific Missile Range Facility, occupies a large portion of the area. It's said those with active military IDs can access certain restricted areas on the base, but due to heightened security concerns, access can change unannounced.
Know before you go: In unrestricted parts of the park, there is little to no shade, and facilities are sparse. Swimming is treacherous, and the only spot to swim safely is an area called Queens Pond. Camping is available by permit. There are no lifeguards. The park is outside of the small town of Kehaka, and the only access to the beach is a poorly maintained dirt road that once served the sugarcane plantation in the area. While a four-wheel drive car is highly recommended, many people take normal cars. Note that car rental companies may prohibit you from taking their vehicles to the area, and if you get stuck, a tow truck will cost you a small fortune. Polihale State Park's wild side will leave many speechless but properly planning can make a visit here an adventure of a lifetime.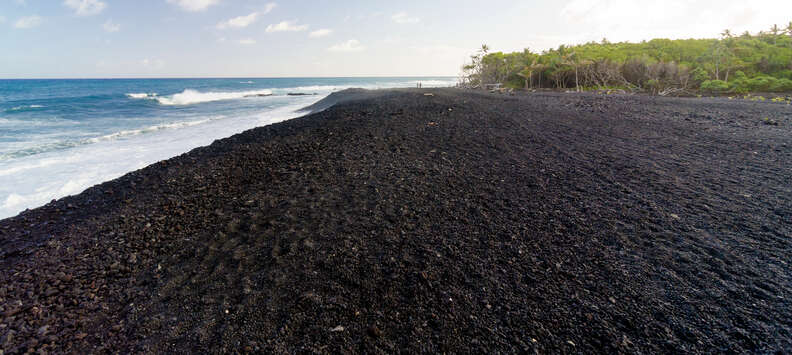 Pohoiki Black Sand Beach
Hawaii Island
A new black sand beach formed out of the destructive Kilauea eruption
In 2018, the southeast region of the Big Island endured the Kilauea volcano eruption that destroyed more than 700 homes and displaced around 2000 people. Lava covered more than 13 square miles and added over one mile of coastline. While the eruption destroyed life as it was in lower Puna, a beautiful black sand beach arose from the ashes of the devastation. Isaac Hale Park, found on Hwy 137, was partially covered with lava, but rough ocean waves broke apart the fragile rocks and created an expansive black sand beach. While much of sand is still coarse, you can still enjoy a day at the beach at Pele's newest creation. Experienced surfers can catch the newly formed breaks while strong swimmers can splash around the shore. You can also walk around the lava fields that surround the area as well.
Know before you go: While there are toilets, the park offers nothing else, including little shade, so bring all your supplies for the day. The shore break is dangerous so stay out of the water unless you are an experienced ocean swimmer. The lava fields in the area remain dangerous as many rocks are jagged and some areas of the crust are thin and could lead to a nasty fall. Stick to worn trails if you wander around. As of this writing, officials have only cleared limited portions of Hwy 137 and you can only access the area by going down Hwy 130 via Pahoa and turning on Kamaili/Opihakao Rd or catching Hwy 137 from Kalapana town. If you go to Kalapana way, you will also find the hedonistic Kehena Beach on the way to Pohoiki.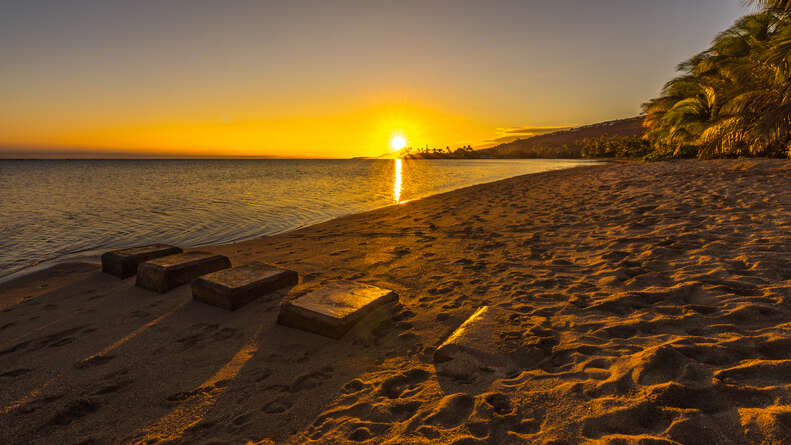 Paiko Beach
Oahu
A golden sand strip of beach found down a residential road.
Paiko Beach is a mostly a locals-only beach that can disappear at high tide. The thin strip of golden sand offers amazing views of Oahu's south shore. A shallow coral reef makes for poor swimming, so the beach is best for picnics and sunset views. Many locals kayak around the bay and if conditions are fair, you can walk across the ocean's shallow reef. Down the beach is a wildlife sanctuary that's home to several native birds but you must have a permit to enter the area.
Know before you go: Paiko Beach is found off Kalanianaole Hwy on Paiko Rd in Hawaii Kai. There is limited parking on the neighborhood road so please be mindful of neighbors and their property. Do not park on private land nor park near the permit-only wildlife sanctuary. There are no facilities or lifeguards. Check the tides before you make the trip out as the beach might not be there when you arrive. Farther down Kalanianaole Hwy from the beach are many stores, restaurants, gas stations, and even a movie theater.
Kahuku Beach
Oahu
A sandy beach where visitors can help clean up
Located in front of a municipal golf course on Oahu's North Shore, Kahuku Beach offers blue waves and golden sands and the isolation location makes it a wonderful escape from reality. Sea turtles and monk seals occasionally bask on the shore and endangered birds nest in the nearby James Campbell Wildlife Refuge. But underneath this tropical splendor, ocean pollution washes up on the untouched paradise. Prevalent ocean currents and strong winds push plastic garbage and fishing industry waste onto the beach and into the rocky shelves. In recent years, local organizations like 808 Cleanups take teams out to Kahuku and other affected beaches to help pick up trash and clean the sand of microplastics. Consider joining a cleanup during your vacation to make a difference. If you can't make a scheduled cleanup, just carrying out a small bag of ocean garbage off this beach (or any beach) can help preserve Hawaii for years to come.
Know before you go: Kahuku Beach is ocean side of the Kahuku Municipal Golf Course on Oahu's North Shore. To get to the beach, you have to park at the golf course and walk down a worn trail just left of the club house. Stay off the course as you could get hit by a golf ball. Near the beach trail you'll pass a forgotten plantation-era Japanese graveyard with 18th and 19th century stone markers. The beach offers little shade and there are no facilities. Swimming can be treacherous and there are no lifeguards. Don't forget to stop at Kahuku Superette on the way to the beach and buy some of Oahu's best poke.
Kapalua Bay Beach
Maui
Award-winning beach perfect for sunning and snorkeling.
Just north of tourist heavy Kaanapali is the idyllic Kapalua Bay beach park that is rimmed by coconut palms and offers golden sands and calm, warm waters. The sheltered bay teems with colorful sea life, making the beach perfect for snorkelers and swimmers of all types. This award-winning beach is popular so arrive early to catch a shady spot and one of the few stalls at the parking lot. On clear days, views of Molokai and Lanai are possible and sunsets are incredible.
Know before you go: Kapalua Bay is off Lower Honoapiilani Hwy and about 15 minutes north of Kaanapali. The beach park offers limited parking but has showers and bathrooms. If parking is full, there is some public parking along Lower Honoapiilani Hwy but watch for the no-parking signs. While the water is clear and calm most of the year, there is no lifeguard, so take precautions. As of this writing, there are no concessions on the beach. Some convenience stores are scattered around the area but supplies are better picked up in Kaanapali or Lahaina. The renowned oceanfront restaurant, Merriman's sits atop the cliff of the bay, but wet bathing suits and sandy toes are a no-go at the fine dining restaurant, so plan accordingly.
Polihua Beach
Lanai
Remote beach only accessible via 4-wheel drive on Lanai's rugged northwest coastline
You'll likely be the only person on this nearly 2-mile white sand beach that takes an adventure to get there. From Lanai City, Polihua Beach is only about 12 miles from town, but you need a 4-wheel drive vehicle to make the several-hour trek. But what an adventure! From town, you'll make your way across some very rugged terrain until you reach the Garden of the Gods, a windswept Hawaiian rock garden that looks more celestial than terrestrial. While it's nice to explore the garden, catch it on your way back from Polihua near sunset when the experience becomes surreal. Continue your trek down the mountain towards the beach. While prior 4-wheel drive experience is not necessary, many novice drivers will wince at the ruts and crevasses on the trail to and from the beach. (Several vehicle carcasses sit abandoned after crashing on the treacherous trail.) Once you reach the sandy beach, you'll enjoy unmatched views of Hawaii. It's good for sunbathing, picnicking, and exploring as the powerful waves will sweep swimmers out to sea. There are views of Molokai, and on clear days, you can see all the way to Oahu. During winter season, whales can easily be spotted making their way across Kalohi Channel.
Know before you go: There are no actual roads to the Polihua Beach, so ask your hotel or the locals how to get there. The drive to Garden of the Gods and the beach can be dangerous. Do not attempt the drive if you have little to no off-road driving experience. Lanai has only one car rental shop, and a 4-wheel drive is very expensive, as is gas, so choose wisely. A tow truck would be astronomically expensive if you crash. Once you leave Lanai City, there are no facilities and you are likely not going to see many people on the way nor likely have cell phone service. Polihua Beach has no lifeguards or facilities. It is not recommended to stay on the beach or on the road after dark.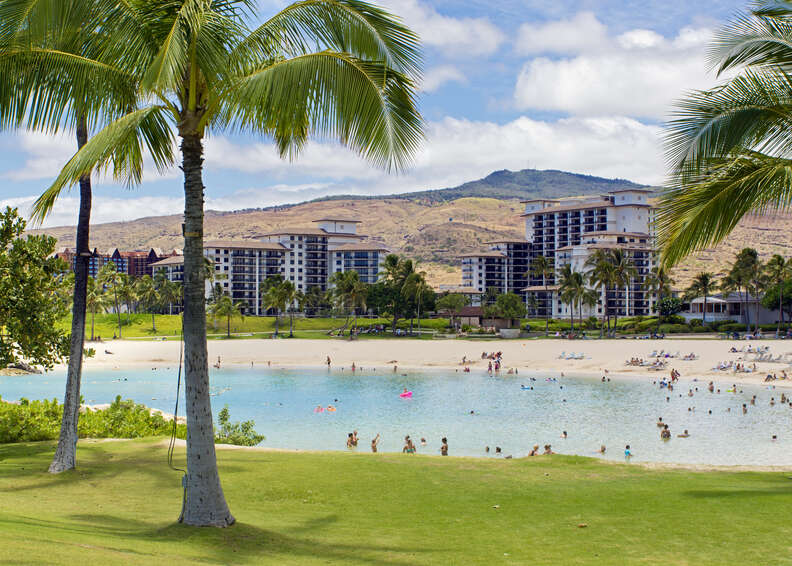 Ko Olina Lagoons
Oahu
Stunning man-made lagoons found on Oahu's leeward side
About an hour west of Honolulu is the resort area of Ko Olina that has four beautiful, powdery sand beaches that are not to be missed. The man-made lagoons are protected and conditions are almost lake-like all year round. While most of the crowd will stream in from the resorts that ring the crescent beaches, many locals make the trek from town to swim in the calm waters. Snorkeling is a must for any age or skill level, but don't expect to find interesting coral reefs as the area is not natural. There is a walkable path that connects each lagoon.
Know before you go: From Honolulu, take the H-1 westbound and exit Ko Olina. The lagoons are hidden behind the resorts, and each lagoon offers very limited public parking. There is a larger parking lot near the harbor at the end of Ali'inui Dr, but it fills up fast so try to go early. If you have the means, resort parking is an option and you can likely get validation if you eat at one of their restaurants. Each lagoon has showers and baths. While there are no gates on the properties, the resorts do not allow non-guests to use their pools or facilities. Take caution as Oahu's west side is usually dry and the sun will beat down on unsuspecting visitors. Off Ali'inui Dr, there is a well stocked convenience store and several restaurants. Further west from Ko Olina are several other beautiful beaches but the area can sometimes be challenging for visitors who don't stick to the beaten paths.
Sign up here for our daily Honolulu email and be the first to get all the food/drink/fun in town.
Marco Garcia is a freelance writer and photographer in Honolulu hates getting sunburned.