It's no surprise that an island state would have some of the best beaches in the world. We've got big beaches, small beaches, secluded beaches, crowded beaches, beaches that starred in movies, beaches with wild waves, beaches with calm waters -- basically, there's a waterfront for all appetites. While all of Hawaii's coastlines are equally stunning in their own way, we narrowed down our top picks for the best beaches in the Aloha State. 
Papohaku Beach, Molokai
Also known as Three Mile Beach, you'll get just that: a 15,840ft-long golden stretch of sand on the island's western end, making this one of the longest beaches in the state. Winter swells bring high surf, but calmer summer months relax into calmer waters, making this beach great for swimming and snorkeling. Few people typically frequent this beach, so you'll have your choice of real estate. Kick back with unfiltered views and pretend you're on your own deserted island -- for a few hours, anyway.
Lanikai Beach, Oahu
Hawaiian for "heavenly ocean" (although really, that would be "kailani"), this residential beachfront lives up to its name, with powder-white sand and seemingly endless miles of ocean, bursting with all the best turquoise colors on the Pantone color chart. The clear waters are sheltered by offshore reefs, creating inviting conditions for even inexperienced swimmers to feel comfortable slipping in for a refreshing dunk. The fraternal twin Mokulua Islands frame the horizon, where water adventurers can kayak, swim, or stand-up paddleboard their way to the larger islet and explore the seabird sanctuary.  
Waimea Bay, Oahu
One of the most popular beaches on Oahu's North Shore, this historic shorebreak is known for its massive winter swell, where big-wave surfers tackle giant waves for fun. Onlookers can stick to, uh, less active pursuits and just enjoy sunbathing on the wide, sandy shore... while gawking for free at the surfing eye candy. During the calmer summer months, when the swell subsides to a slow simmer, you'll find locals scaling a big monolith wedged halfway on shore, then jumping into the blue waters below.
Halona Beach Cove, Oahu
At the Hālona Blowhole, high tide pushes salt water through a rock formation, spraying water high into the air... but just west of the natural geyser, there's a pocket-sized sandy beach, framed by rippling lava rocks. Getting there requires hiking down the steep rocks, but you'll be rewarded with a somewhat secluded beach, tumbling turquoise waves, and a lava tube hidden amongst the rocks. A bit of trivia: the beach is also known as Eternity Beach, where Burt Lancaster and Deborah Kerr rolled around in the sand in the 1953 film From Here to Eternity. Locals also call the beach Cockroach Cove, for reasons unknown.
Punaluu Black Sand Beach, Hawaii Island
On the island's southwestern side, years of constant volcanic activity have produced a strikingly jet-black shoreline. Green coconut palms frame the beach as blue waters brush against the inky sand, creating an eerie -- but profoundly beautiful -- view. Choppy waters make the beach not a very swim-friendly spot, but it's a great place for lounging, and if you're lucky, you'll spot large turtles sunbathing on the sand. They're endangered, though, so please look and don't touch.
Hapuna Beach, Hawaii Island
Not surprisingly, the longest beach on Hawaii Island is the most popular beach. This half-mile of western coastline is dusted with white sand, and packed with both locals and visitors looking to swim or picnic. Winter months bring wild surf, when it's best to just park yourself on the wide oceanfront with a hat and some strong SPF, sit back, and enjoy the view. But calmer summer days make this sunny spot ideal for swimming, bodysurfing, or spying on tropical fish and coral reefs.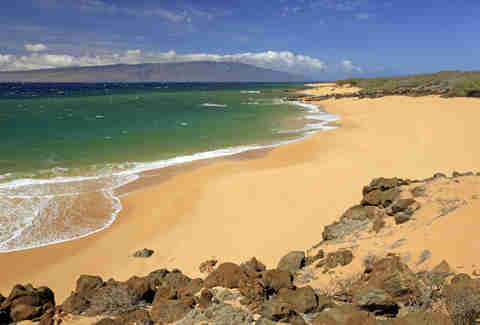 Polihua Beach, Lanai
You'll find an expansive, postcard-worthy horizon, with a mile and a half of glorious white sand. The longest beach on Lanai is 60 miles away from Lanai City, and requires driving a 4-wheel drive vehicle across a four-mile rugged trail, but the trek is worth the adventure if you're looking for a secluded spot to unwind. Pay attention to the weather, because the strong winds may make you feel as though you're caught in the bottom half of an hourglass. On a clear day, however, you can sit back and enjoy views of Molokai, and sometimes make out the outline of Diamond Head on Oahu. During winter months, humpback whales frequent the area, often close to shore. With no protective offshore reef, this picturesque beach is not for swimming... it's more for the long-walks-along-the-beach variety.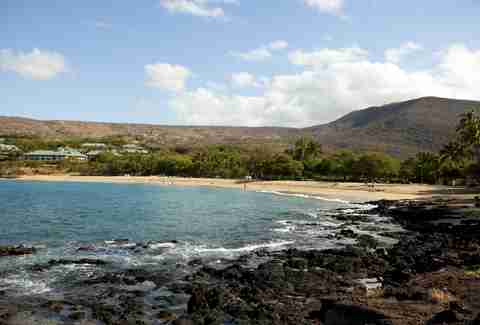 Hulopoe Beach, Lana'i
A backdrop for the Four Seasons Resort Lana'i, this protective bay features a crescent of golden sand fringed with gem-blue waters, which make for great swimming most of the year, except during the rougher winter months. Several large volcanic rock tide pools punctuate the beach, which are great for wading, or exploring marine life, like hermit crabs, sea stars, and opihi. Spinner dolphins are often seen performing acrobatic feats in the distance, and whales can be spotted during winter mating season.
Makena Beach, Maui ("Big" Beach)
Ringing in at nearly two-thirds of a mile long and a mile wide, this golden sand beach is as big as it is beautiful. Flanked with lava rocks and turquoise waters, the oceanfront can be crowded with visitors, but luckily, this expansive shore easily accommodates a throng of beachgoers. The dangerous shorebreak makes this beach not suitable for inexperienced swimmers, but experienced water buffs can enjoy body-surfing or skim-boarding. Even inexperienced beach bums can enjoy dipping their toes in the frothy surf, though... or just sticking around for amazing sunset views.
Wailea Beach, Maui
Tucked between luxury resorts, lined with tall palm trees, and framed by large black lava points, this wide, golden beach draws a crowd for its inviting cobalt water and manicured landscape. This is the perfect beach for swimming and relaxing, whale-watching during winter, and rubbing elbows with some famous resort guests. The ocean view features glimpses of neighboring islands Kahoolawe and Lanai, as well as the crescent-shaped Molokini islet. Plus there's easy access to nearby shops, so you can take shopping breaks in between beach breaks... basically it's all just a bunch of excellent breaks here.
Ho'okipa Beach, Maui
The combination of wind and surf make this beach a mecca for windsurfers and a popular spot for surfers and kite surfers. The long, narrow oceanfront is framed by an exposed coral offshore reef and lookout cliff, perfect for watching expert surfers skip over the waves. For the non-watersport proficient, shallow tide pools provide opportunities for a quick dip.
Hamoa Beach, Maui
If you're already doing driving aerobics weaving through Hana Highway, it's worth making a rest stop at this gray sand beach, near a little town along mile 52. Surrounded by sea cliffs, this 1,000ft-long beach is shaded by plenty of verdant vegetation. The silky, salt-and-pepper-colored sand gets its unusual glow from a mix of coral and lava, providing the perfect no-filter background for your Instagram photos.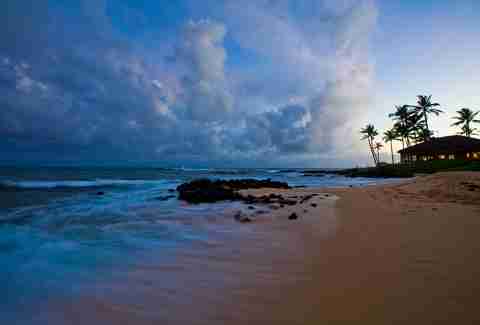 Poipu Beach, Kauai
This popular south shore beach features a string of golden half-moons, curving around smooth cobalt waters, typically safe for swimming and snorkeling, with lifeguards on duty seven days a week. The sunny beach shares a home with large green sea turtles, which you can witness folding through the clear waters, in addition to plenty of tropical swimmers, like the state fish, humuhumunukunukuapua'a. The shoreline also features a natural swimming pool, formed by lava rocks, shallow enough for those who'd prefer to take a dip without treading water. Nearby, a tombolo is a napping spot for endangered Hawaiian monk seals, who may pause to catch some rays before waddling back to the ocean.
Makua Beach, Kauai (Tunnels)
Nicknamed Tunnels Beach for the arches and caves found tucked in the coral reef and/or the tubular-shaped waves the ocean swell brings, this prime snorkeling spot teems with marine life, great for the novice to explore the inner reef, and for experienced divers and snorkelers to investigate the deeper outer reef. The large, protected lagoon is bordered with ironwood and palm trees and an emerald mountain, which once served as the backdrop for the 1958 movie South Pacific. The scene-stealing views get even better during sunset.
Hanalei Beach, Kauai
Call it cheating if you must: four beaches actually line this two-mile bay, but they're all equally beautiful and important, with a varying range of water activities that contribute to the overall gorgeousness of the bay. George Clooney's Kauai beachfront in The Descendants overlooked this north shore bay, and it's easy to see why his fictional family would choose such prime real estate: lush mountains with waterfalls frame the backdrop of this white sandy beach, stretching from Waikoko Beach to Black Pot. Accessible from the highway, but relatively hidden, Waikoko is a peaceful place to get a tan... and it's great for snorkeling when weather is calm. The water along Waioli Beach Park is a popular surfing spot, with tall ironwood pines serving as the backdrop. At the heart of the bay, Hanalei Beach Park Pavilion is the spot where sailboats and swimmers are drawn in the calm summer months. The iconic Hanalei pier stands in Black Point Beach Park, where the Hanalei River empties into the beach. So even if we can't live in The Descendants-caliber homes, we can still all appreciate the phenomenal view.
Ke'e Beach, Kauai
This tropical oceanfront is everything your beach dreams are made of. The shallow lagoon is the last beach accessible by car on the island's north shore, and the end of the road is no dead end, with blue waters and golden sand backed by palm trees, ironwood trees, native plants, and the famed 11-mile Kalalau trail awaiting. If you're not tackling the treacherous Na Pali coast hike, watch the high surf during the winter, or try your hand at snorkeling during the summer months. Sunsets are spectacular year-round, but cell phone reception here tends to be terrible, so enjoy unplugging for a few hours, and save your beach pictures for a #latergram. 
Sign up here for our daily Honolulu email and be the first to get all the food/drink/fun in town.
Summer Nakaishi is a freelance writer for Thrillist who tans easily but swims badly.