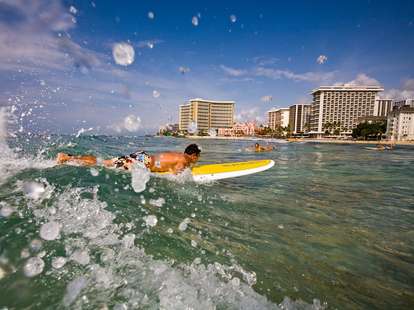 Tor Johnson/Hawaii Tourism Authority
Navigating your way through some of the world's best surf breaks can be tricky -- especially for beginners. Like snowflakes, no two surf breaks are exactly alike; some breaks are short and slow, while others are long and choppy. Some are deceivingly calm, but have a rough undercurrent, and some look just plain dangerous, but novice surfers still flock to them because, well, they're totally pretty. So to avoid confusion (and injuries), we asked some local professional surfers where they'd recommend beginners start out. Before you sex-wax up your longboard and hit the waves, check out some pro surfers' top break spots for beginners.
Barbers Point
Oahu
On the leeward coast of Oahu, this surf break is located at Kalaeloa (formerly Barbers Point Naval Air Station) in White Plains Beach Park. "Barbers Point is a nice, mellow wave," says Kekoa Uemura, a four-time Japan Professional Surfing Association grand champion and surfboard shaper. "It's a little bit crowded, but it's still a beginner-friendly wave." Shallow waters and an offshore reef keep the waves smaller, making the surf break strong enough to surf but gentle enough for novice surfers. With great surfboard, snorkel, and bodyboard rentals -- and pavilions available to military personnel -- the beach often swells with families, but while the wide beach may get crowded, it's far less packed than Waikiki. Pros: monk seals sunbathing on the beach. Cons: watch out for the occasional shark.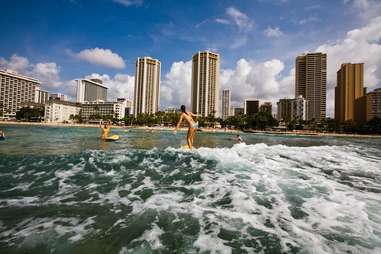 Queens and Canoes
Oahu
"Waikiki has it all," says Aaron Gold, 2016 World Surf League Big Wave award winner, of this beginner-friendly surf break. "Queens and Canoes breaks year-round, and features a very user-friendly setup for everything from the long-lapping waves, to taking a lesson or renting boards." Because of their easy beach access, these spots are easily two of the most popular breaks along the Waikiki shoreline. Be prepared for massive crowds in the water, with a varying degree of skill levels clogging up the line. You definitely won't be the only beginner paddling through the waves, which may be a blessing and a curse (i.e. you and your lack of surf skills won't stick out like a sore thumb, but lack of those skills can make it harder to get out of each other's paths). Be cognizant of others in the water and don't drop in on someone else's wave, especially if paddling out without a surf instructor to guide the way.
Pops
Oahu
Just steps beyond the iconic pink Royal Hawaiian hotel along Waikiki Beach, this surf break, also known as Populars, is a large, wide stretch of water that breaks right over a sandy reef. "It's a really mellow wave," says Uemura, who's been surfing since the age of five. "It's a bit of a paddle, but there's a pretty big channel -- paddling out is fairly easy. It's not a compact surfing spot. There's a big area for people to try to get their own area so they can catch their own wave, so they're not trying to compete." Although the long paddle out to the surf break may deter the beginning surfer, this Waikiki big surf break gives novice surfers a bit of breathing room, which is helpful when you're hurling your body uncontrollably over a wave for the first time.
Puaena
Oahu
For a surf experience away from Waikiki, Aaron Gold recommends this North Shore break for beginners from October through March when the waves aren't so big. "Puaena is great as it offers every level of surf available from beginner to expert in one location," says Gold. "The way inside is perfect for taking lessons or starting out, the middle features mild medium-size surf, and the outside heavy, expert-only conditions." Tucked near Haleiwa Beach Park, this small, sandy beach offers tree-shaded spots to rest onshore. Surf schools frequent this break, and it tends be crowded on weekends, but during the week, this area can be a relaxing space to learn the surfing ropes.
Pine Trees
Kauai
In the middle of the two-mile crescent-shaped Hanalei Bay is a sandy beach break nicknamed Pine Trees, and it's not too hard to imagine why: the whole area is ringed by ironwood pines near the sand's edge. Aaron Gold says the island's northside beach is one of his favorite spots because the break features a sandy bottom, with waves that break on the outside and knee- to shoulder-deep water. "Hanalei Bay is best surfed from October through March," says Gold, "however, it has been known to get the odd, out-of-season swell due to its location." When the winter swell heats up, beginners should proceed with caution. For novice surfers, Nakoa Decoite recommends tackling waves about waist- to chest-high. "That's big enough to get a good push, but not too big, where you'll get in trouble if you fall off," says Decoite.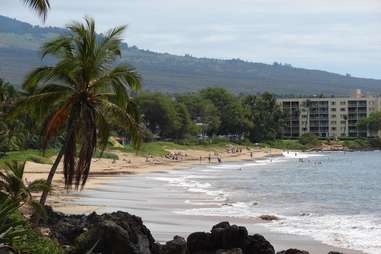 The Cove
Maui
"On Maui, I would say one of the best spots is Kihei Cove, just because it's relatively shallow and there's almost always something to surf there," says Nakoa Decoite, a professional big wave surfer from Upcountry Maui. Like Waikiki on Oahu, Cove Park is a popular, beginner-friendly spot and is often crowded with beginners testing their balance and core strength with surfing lessons. Beginners don't have to paddle far to reach the surf break, which typically features a long and mellow right but also breaks left, which is perfect for the virgin surfer. Pro tip: keep your feet pain-free by being on the lookout for vanna (sea urchins) when jumping in and out of the surf.
Breakwall
Maui
In the heart of Lahaina, the boat harbor is home to a friendly, shallow inside reef, great for beginners during a small swell. "Lahaina Harbor is pretty consistent and somewhat sheltered from the wind, and the waves don't get too big, so it's a good spot to learn," says Nakoa Decoite. The popular break fills with surf schools and more advanced surfers to the right, so this surf spot can get a bit crowded. During low tide, the ocean depths may be a bit too shallow, exposing the reef below. Those concerned about catching a heel (or their face) on coral may want to venture out during a higher tide.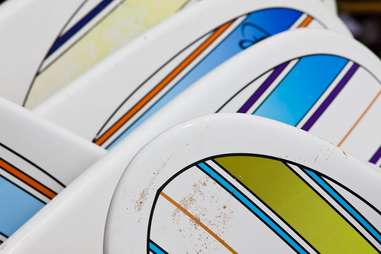 Thousand Peaks
Maui
Called Thousand Peaks for its multitude of breaking waves on both the left and the right, this west side Maui beach spot at Ukumehame is where professional stand-up paddleboarder Talia Decoite learned to surf. "That's where we'd go every Sunday and do family beach day," says Decoite, who's been surfing ever since her father tucked her on the front of his board at 15 months old. "It's kind of a far paddle out, but the waves are pretty mellow and there's so much room," says the 2012 Molokai-2-Oahu paddleboard champion. "For me, if I'm a beginner, I like to stay away from other beginners, just safety-wise."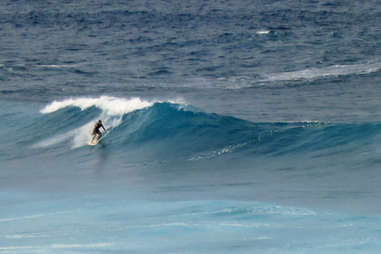 Middles
Maui
When the smaller waves begin to feel like second nature, and you're ready to take your novice skills to the next level, Talia Decoite recommends transitioning to this beach break in Hookipa on the island's north shore. The notorious windsurfing spot features three different peaks -- Pavillions, Middles, and the Point. The first and third peak are more aggressive, with a strong current, and should be left to advanced surfers, but Decoite says Middles is a good spot when the summer swell brings smaller, softer waves and can be a nice transition for beginning longboarders to attempt to take their next steps. Staying on your board can be tough, and wipe outs are all but guaranteed; however, Decoite says the more time you're out in the water, the better -- you'll get more experience, and learn something about the ocean and the waves.
Sign up here for our daily Honolulu email and be the first to get all the food/drink/fun in town.
Summer Nakaishi is a freelance writer for Thrillist whose skin turned purple the summer she learned how to swim.