Oahu is home to some of the most spectacular sunrises and sunsets on this planet. The sparkling ocean makes a natural (and easy-to-access) accompaniment to nature's mystical light show in the sky. Sometimes the sky will be bright orange and yellow -- a fantastic #nofilterneeded fire-y event. Other days, there may be a display of pretty pastel purples and pinks blending with blues and yellows, creating the perfect romantic backdrop. When you're trying to catch a particularly spectacular sunrise or sunset, you'll want to make sure you've found a beautiful setting to go with it. So here's a list of the best places in Oahu to chase the sun and enjoying that magic moment.
Puu Ualakaa State Park
Makiki
Located on Mount Tantalus, Puu Ualakaa State Park is a gorgeous place to watch the sunset, offering a sweeping panoramic view of Honolulu, including Diamond Head on the left, and the sun setting on the right. There's a small grassy area, which you can enjoy picnicking on while also watching the sunset -- pick up poke bowls from Keeaumoku Seafood down the hill beforehand, and then relish this special time you've carved out of your busy day.
Lanikai Pillboxes
Kailua
Situated on the east side of Oahu, Lanikai Pillboxes is a quick and fairly easy hike that offers a great vantage point to watch the sunrise. If you want to watch the entire sunrise from atop the pillboxes, strap on a headlamp and arrive with enough time to hike up to the bunkers. It takes approximately 20-30 minutes to reach the first bunker, and only about 10-15 minutes more to get to the second bunker. Either viewing location showcases the famous Kailua twin islands, aka The Mokes, Kailua Bay, and even Chinaman's Hat in the distance. Don't forget to turn around and take in the amazing Koolau mountain range in the early morning light. One perk to waking up early is being able to get back into Kailua town earlier than the rest of the crowd, and checking out one of several renowned breakfast joints -- Cinnamon's, Over Easy, Boots & Kimo's, or Moke's Bread and Breakfast -- all great rewards for your early morning efforts.
Sandy Beach
Hawaii Kai
Just drive on up to Sandy Beach and head towards the water. You can choose from views of interesting rock formations and tide pools, or even big waves carrying daring surfers and bodyboarders. The surf break is super close to the shore, but this also makes it a breeze to safely photograph and admire the action from the beach. No matter if you choose one or all of the above, the sunrise is guaranteed to be beautiful, and the experience will be unforgettable!
Kaena Point
Waianae
Of course, watching the sunset from the most Western point of Oahu would logically make sense, but first you've got to be seriously committed, since the afternoon traffic going to the West side is absolutely horrendous. But if you persevere, you will be richly rewarded because the sunset at Kaena Point is really worth all the potential road rage... just remember to breathe. Luckily, there aren't crowds of people once you get there, so you can experience the sunset in peace. The lava shoreline and tidepools are unique natural formations that photograph beautifully in the foreground of your Snapchat selfie.
Kualoa Beach
Kaneohe
Want to make your friends Insta-jealous? Check out Kualoa Beach for brilliantly colored sunrises, featuring Chinaman's Hat framed by several iconic palm trees. It's a little bit of a haul to get over there, so grab a blanket and a couple of musubis -- or pick up some Zippy's breakfast bentos -- and have a picnic while enjoying nature's beauty.
China Walls
Hawaii Kai
Hidden within a Hawaii Kai residential neighborhood, China Walls is an amazing place to chill, watch some crazy surfers and cliff jumpers, and take in the sunset. It's easy to find Koko Kai Mini Beach Park; from there, simply walk down the square tile path and you'll be right on the cliffs. Step carefully and avoid the wet, slippery footing, and don't venture to close to the edge as strong waves can often reach and surprise. The waves are so powerful that you can actually feel the water coursing along the island. With a view of the rock formations, plus the ocean and the sun setting in the sky, you're set up for an extraordinary time!
Ala Moana Beach Park
Ala Moana
Ala Moana Beach Park is a great place to watch the sunset because not only does is it offer several stunning views to choose from, but it's also a fun place to people watch. Take a step back and see the silhouettes that appear from the community members that are backlit by the magnificent sunset. It's a gathering place for runners, bikers, walkers, paddlers, volleyballers, brides and grooms getting married, beach goers, SUPers, and BBQers who are all coming to this location for one simple reason -- it's a nice place to spend the afternoon, which will be capped off by a gorgeous sunset.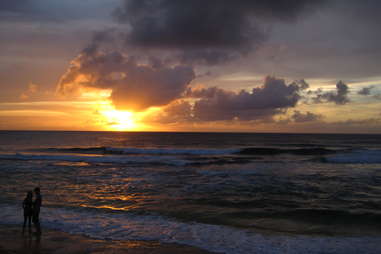 Sunset Beach
Haleiwa
There's a reason why Sunset Beach is named such -- the sunsets at this famous North Shore beach are spectacular. No matter what time of year, the sky will be a colorful delight. So make it an-all day event to make that drive worth it -- eat some garlic shrimp, explore Haleiwa town, pick up snacks from Pupukea Foodland and some pie slices from Ted's Bakery, and then hunker down at Sunset Beach. In the winter months, watch big wave entertainment and surfers working their craft, and in the summer months, give snorkeling a try... then soak up all that gorgeous sunset magic.
Sign up here for our daily Honolulu email and be the first to get all the food/drink/fun in town.
Amanda Zen is a freelance writer for Thrillist, whose loves chasing the sun every chance she gets!