The Best Things to Do in Maui
©Tor Johnson/Hawaii Tourism Authority (HTA)
©Tor Johnson/Hawaii Tourism Authority (HTA)
Now that your plane tickets to Maui are booked, here comes the fun part -- planning your time in Hawaii's second-largest island. Assuming you've made the right decision and decided not to sit by the hotel pool all vacation long, we've rounded up our favorite things to do on the Valley Isle, including going on scenic hikes, drinking delicious local beers, and hanging out with some very chill goats.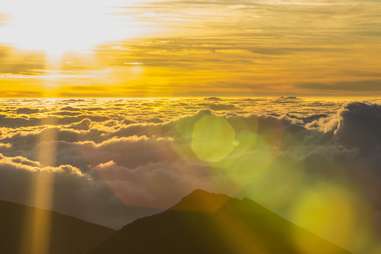 Take advantage of your jet lag or vacation adrenaline and spend the wee, early morning hours atop a dormant volcano, 10,023ft above sea level. Sure, it may be a little touristy, but this workout makes it into the guidebooks for a reason -- we're talking screensaver-worthy, panoramic photo ops from a mountain range named "house of the sun." Bundle up in your warmest outfit (it gets cold at the top) and watch the stars fade as the sun surfaces from above the clouds, then shed layers as you leisurely coast down 26-38 miles of paved asphalt, winding through pineapple fields and verdant pastures.
With over 55,000 plants and 45 lavender varieties, this mountaintop reprieve overlooks the Pacific and offers great views, drinks, and food (hello, lavender scones!). Explore the 13.5-acre grounds on your own, relax on benches or under a gazebo, take a guided walking tour, participate in a lavender treasure hunt, or enjoy a picnic lunch. Although the plant is not endemic to Hawaii, lavender thrives in Kula's cool, dry climate and blooms all year long, so there's never a bad time to visit.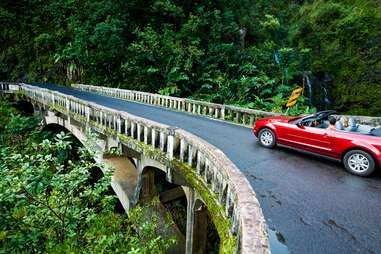 It's impossible to talk Maui tourism without bringing up this curvy coastal road on the island's northeastern shore. The entire stretch includes over 600 switchbacks and 46 one-lane bridges, zig-zagging through a lush rainforest with sea cliffs, bamboo forests, waterfalls, pools, and black and red sand beaches both hidden and not-so-hidden along the way. The trip can take anywhere from a few hours to a full day depending on how many stops you make. Take a rental car or book a guided tour but be sure to bring snacks, a swimsuit, covered shoes, and bug spray so you can keep your adventuring plans flexible.
A five-minute hike from the Ritz-Carlton lies one of Mother Nature's best works of art. Hundreds of years ago, fierce ocean wind gusts bent the molten lava at Makaluapuna Point skyward, making it harden into jagged, teeth-like rocks. When you come here to see the waves crash against this unique formation, don't walk on the big lawn nearby as it's an ancient burial site. In addition to the natural beauty here, you might also spot sea turtles and whales out in the surf.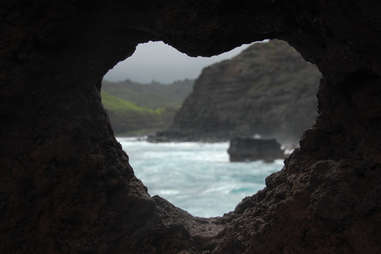 Fall in love with the Heart Rock at the Nakalele Blowhole
Over the years, the Pacific pounded away at a lava rock shelf, chipping out this heart-shaped formation. To get there, you'll have to scale a wet and rocky slope near the Nakalele Blowhole, so be sure to wear covered shoes and proceed with caution. Follow the hand-painted warning signs and keep a safe distance from the geyser, which can explode ocean water 100ft into the air.
If you're tired of looking at rocks, head to this famous 120-acre beach park (along mile marker 32 on Hana Highway), where the ocean is blue, the trees are green, the sand is velvety black, and where hundreds of years of strong currents have crushed lava rocks into fine, coffee-colored pebbles. While swimming is generally not recommended when the surf is high, there's much to explore. Hike a 3-mile coastal trail, visit a heiau, or find caves with freshwater pools, which were once used to clean clothes and prepare food during ancient times. If a few hours aren't enough for you, rent a cabin rentals and or camp out.
According to Hawaiian legend, Molokini was once a beautiful woman turned to stone by Pele, the fire goddess, who was jealous because she and Molokini loved the same man. Today, the crescent-shaped volcanic crater, 3 miles from Maui's south coast, is a popular diving and snorkeling spot, home to a lush reef and around 250 species of fish. With little sediment to muddy the waters, Molokini's waters are often clear as far down as 150ft. Visibility is best in the early morning, but it's worth the boat ride at any hour to get an up-close look at the crater and its underwater marine population.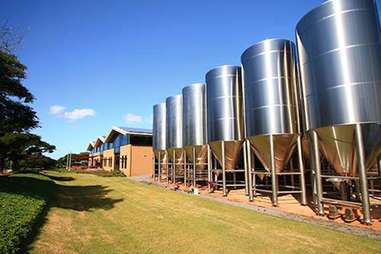 Tour a local brewery
One of the best ways to get to know a place is to taste the local cuisine and throw back a locally brewed, handcrafted beer. If you're in Kihei, stop by Maui Brewing Co. for a 45-minute guided tour. The excursion concludes with a tasting of the brewery's flagship beers like the Bikini Blonde, Big Swell, Pineapple Mana, and Coconut Hiwa and you'll receive, a souvenir glass and a token redeemable for a full-sized beer. In Lahaina? Stop by Kohola Brewery for a 30-minute tour with an introduction to beer tasting and a tour of the brewhouse cellar room. The trek caps off with a sampling of their year-round beers and non-alcoholic beverages like kombucha or root beer.
While you may not actually see a goat hang 10, you have a good chance of catching one or two playing on surfboards around this 42-acre farm, where you can take a casual tour, help with chores like milking the animals, and sample over 20 varieties of gourmet cheeses. Panini, coffee, and desserts are also available to supplement your samples, including 30 flavors of dark chocolate goat cheese truffles. If that doesn't sell you on a visit, we don't know what will.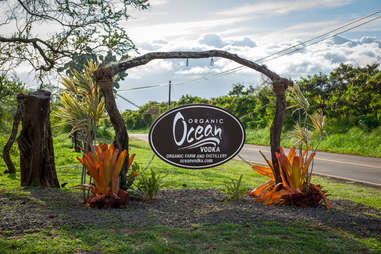 After you've eaten your body weight in goat cheese, head down the road for a locally distilled adult beverage. At this sustainable farm, spirits are made in a 6,000sqft solar-powered warehouse, and you can learn about the company's eco-conscious efforts. Tours are held from 9:30am to 4:00pm daily, and end with a taste of their 80-proof organic and gluten-free vodka and rum, made with deep sea ocean water and distilled sugar cane. You'll also get an Ocean Organic Vodka souvenir shot glass to pair with whatever booze you take home from the gift shop.
Sign up here for our daily Honolulu email and be the first to get all the food/drink/fun in town.
Summer Nakaishi is a freelance writer for Thrillist, who will gladly eat her way through Maui, one dark chocolate goat cheese truffle and lavender scone at a time.