Before you decide to spend your afternoon arduously climbing past the 10,000 other people who planned to also hike Diamond Head, take a look at our comprehensive roundup of the eight most underrated hikes in Oahu. You'll get cascading waterfalls, freshwater pools, tunnels to get spelunky in, and unquestionably some of the best Instagram shots of your life.
Pu'u Pia
Distance: 2 miles

Tucked back in the Manoa Valley, this novice trail is chiefly shaded by tall trees that'll protect you from the cruel, piping hot sun. Great for a quick day hike, the trail weaves through a forest of koa and paperbark trees, opening to 360-degree views of Waikiki, Wa'ahila Ridge, and the Koolau summit. Although the trail is well maintained, sporadic Manoa rains may turn dirt path into a muddy mess, so be sure don shoes with good traction, or don't and be prepared to make a lot of jokes about how you had one too many "mudslides on the trail."
Lanipo (Mau'umae Ridge)
Distance: 7 miles
If you follow the crest of this ridgeline trail, you'll be rewarded with impressive views of the Ka'au crater and the Windward coast. However, those views don't come for free (this trail is best suited for intermediate-level hikers). Trekking to the summit involves dipping up and down through rolling hills and the majority of the trail is unshaded, so you'll want to pack lots of water and a cool hiking hat, like a bucket hat. Part of the path includes tromping through overgrown ferns, meaning you'll want to wear long pants, or else you'll end up with legs looking like they were attacked by 1,000 frenzied cats.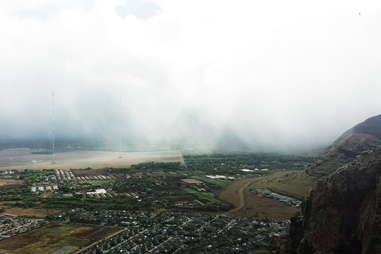 Pu'u o Hulu
Distance: 2 miles

If you were thinking about hiking the Kaiwa Ridge (better known as the Lanikai Pillbox trail), don't, and instead try this less crowded option on the Waianae Range. This steep trail is punctuated with several abandoned concrete bunkers that were once fire control stations for coastal artillery batteries. To get to the bunkers, experienced climbers can actually scale up rockfaces, but novice climbers (you) can follow a contour trail. Once you get there, you'll take in a bird's-eye view of the Waianae coastline and the impossibly tiny houses below.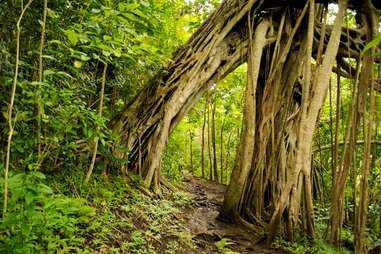 Ualaka'a
Distance: 1 mile

For an expeditious adventure through the jungle, take the scenic route up Tantalus and Round Top Drives. Situated along Pu'u 'Ualaka'a State Park on Makiki Valley's east ridge, the hillside trail passes through throngs of shade-throwing hau trees, Banyan arches, and Cook pines. The short path then leads you to a lookout over Manoa Valley and Waikiki before giving you the option to connect to Makiki Valley, Moleka, and the Maunalaha trails. Or you could round back to the park, throw an incredibly impressive picnic, and savor the views from Diamond Head to Pearl Harbor.
Kalauao
Distance: 4 miles
After a rain, take advantage of the freshwater flow and trek to a natural swimming hole. Starting from the back of the popular Aiea Loop Trail, descend through strawberry guava, paperbark, ironwood, and Pukiawe trees before reaching an unfortunately koala-less eucalyptus grove. Traverse a rocky slope through a patch of mountain apple trees (ripe for picking during summer months), then you'll hit a meandering stream. Make your way up the stream, cross it no less than eight times, take a moment to think about how awesome Hawaii is, and then you'll come face to face with a rushing waterfall, shaded by banyan and mango trees.
Waimano Ridge
Distance: 15 miles

For a more challenging daylong adventure through the forest, follow the graded Upper Waimano Trail (the Lower Waimano leads to Waimano Valley and a couple of swimming pools). On this hike, you'll encounter multiple streams, bamboo, and mountain apple groves, thickets of hau trees, and at least one of Olmec's annoying temple guards... wait, no, that's not right. Irrigation ditches. You'll encounter some abandoned irrigation ditches, all built by the Honolulu Plantation Company in 1912. Pro tip: bring a flashlight... and a pendant.
Wahiawa Hills
Distance: 4 miles

Despite its somewhat short mileage, don't underestimate the intricacies of this path. The loop traverses several streams and ridges, and if that's not enough to get your blood flowing, you'll encounter a massive hill to ascend. Once you accomplish that, pass through knolls of tall eucalyptus and peeling paperbark trees before reaching your destiny: the Kaukonahua Stream. It's the longest stream in the state, and the waters flow for about 33 miles, where you can jump in for a refreshing dip or, if water conditions are not too high or not too low, go inner-tubing downstream and think about how climbing that massive hill was all worth it. Junctions may be confusing, so going with a group is highly recommended.
Koloa Gulch
Distance: 8 miles

You want a quiet waterfall hike? You got a quiet waterfall hike. Obtain a free permit from Hawaii Reserves, and make your way to the Windward side. Expect a wet (often slippery) hike where you ford the Koloa Stream around 20 times before reaching a set of short twin waterfalls. Around the corner, climb a final bend and you'll reach a lush, 100-foot waterfall surrounded by a cool freshwater pool. After spending most of your day jumping on slick stones, the serene view makes it totally worth it. Just don't slip and fall.
Sign up here for our daily Honolulu email and be the first to get all the food/drink/fun in town.

Summer Nakaishi is a freelance writer for Thrillist. She enjoys hiking, but is afraid of heights.