Election Season 2016 was stressful. So stressful, in fact, that we forgot exactly how lucky we are to live in Hawaii. Our state is famous for its beautiful places, which means it's ripe for exploring this weekend. Take a few hours to relax and recover at some of our most astonishing spots -- from rock formations to temples -- that you probably never knew existed or, at the very least, are worth another look.
Heart rock
Maui
Although the rounded edges of this rock cavity seem almost too symmetrical to be natural, this heart-shaped window was created by Mother Nature. Pounding surf naturally eroded the lava rock shelf, eventually wearing it away until a perfect heart was formed… which means someday the ocean will force it into a new shape, so take in the views while you can. Adjacent to the Nakalele Blowhole, the hike to this natural wonder is no easy feat -- covered shoes are recommended when scaling the rocky slope, and please heed the hand-painted warning signs, and don't stand too close to the geyser. Seriously, you wouldn't want to get swept away in all the excitement and get, well, swept away.
Oahu
Although this tropical rainforest has been open to the public for the last 43 years, many locals and tourists forgo this lush, educational garden trail for the popular Manoa Falls hike nearby instead. Named after the Minnesota-born plant pathologist and former director of the Hawaii Sugar Planters' Association, the 194-acre research site and cultural resource now has over 5,000 tropical and sub-tropical plants throughout its grounds, including rare and endangered native Hawaiian plants. Visitors can explore 12 verdant gardens and seven miles of hiking trails, with the main trailhead leading to the not-too-crowded Aihualama Falls. Pro tip: Don't sleep on the bug spray, or you risk being dinner for some ravenous mosquitos.
Kauai
Take in some Garden Isle history at this little-known archaeological site, home to the islands' largest limestone cave and possibly the richest fossil site in the entire Pacific. Thousands of years ago, this once-fossilized sand dune collapsed, forming a natural sinkhole, and a 10,000-year-old diary of weather patterns, animal fossils, and pre-human plant life preserved within the cave's layers. After tackling a bumpy dirt road, take in panoramic views of the Mahaulepu Beach, where Pirates of the Caribbean was filmed. Then curl yourself into a ball and squeeze through the cave's mouth, which opens into a spacious open-air amphitheater where you can relish its geological glory. Added bonus: a turtle sanctuary is on-site, so feel free to check those guys out before making your way back.
Dragon's Teeth
Maui
Walk along the edge of the golf course near the Ritz for an eyeful of these evocative volcanic formations. Hundreds of years ago, gusts sweeping from the ocean forced lava to harden skyward, forming jagged, gray rocks, creating a forbidding landscape almost out of a J.R.R. Tolkien story. Along the coastal trail, you'll also find a replica Chartres labyrinth fashioned from white stones, punctuated by green grass growing between them, and that's not all: enjoy views of Molokai, check out green sea turtles, and hopefully spot some whales if you visit during mating season. Oh, and the coastal lookout is adjacent to the Honokahua Burial Site, so please be respectful of the ancient Hawaiian grounds nearby.
Kaumana Cave
Hawaii Island
The Thurston Lava Tube at Hawai'i Volcanoes National Park may get the bulk of the Big Island's underground volcanic cave props, but this less-frequented roadside tube in Hilo is legit: lined with overgrown foliage, the skylight entrance drops into two miles of stalactites and stalagmites, where vines and roots swing from the ceiling. After exploring this pitch-black tunnel, you'll find out just how afraid of the dark you actually are.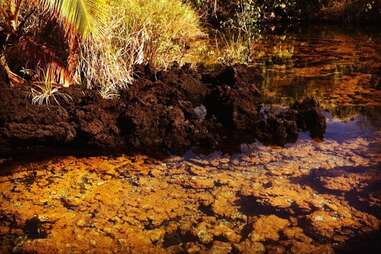 Golden Ponds of Ke-awa-iki
Hawaii Island
Near the Kohala coastline, past a salt-and-pepper-colored beach, in the middle of an expansive lava field, find a pair of freshwater pools, teeming with thriving golden algae, giving the water a luminescent glow. Although the anchialine pool doesn't directly connect to the ocean on the surface, water levels in the gilded pool ebb and flow with the tide. Oh, and because the mysterious ecosystem is fragile, this pond is better for viewing than jumping in. Sorry.
Kauai
Tucked away in the mountains of Kapaa, surrounded by sacred gardens, a rudraksha forest, rock ponds, and waterfalls, rests this Garden Isle Hindu monastery. The peaceful spot is home to the first all-stone temple outside of India, hand-carved from granite by trained artisans, and it's the perfect place to meditate, or simply take in the tranquility of the natural/man-made surroundings. Be sure to arrive in modest attire and save suntanning bare shoulders and knees for another day.
Maui
Nestled at the edge of a little bluff, this two-story beach shack overlooks clear turquoise waters of Namalu Bay, with unobstructed views of the Pacific and glimpses of Molokai and Lanai in the horizon. Initially a facility for Honolua pineapple plantation managers in the 1940s, the little seaside cottage was recently purchased by the Kapalua Resort and is now available for one-day rentals, where you can spend the day snorkeling and swimming in the protected waters until you've had your fill of your own personal paradise.
Oahu
Bursts of colors pop out between trees and residential homes in Palolo Valley, making this architectural giant tough to hide, but the little-known Buddhist temple is seldom packed with visitors. Overlooking the ocean, the tranquil Korean temple is the largest outside Korea, with intricately hand-painted temple walls, water lilies, a garden of 1,080 miniature statues, and a bell tower to explore at your leisure. The vibrant art filling the temple grounds make it an exciting place to visit, but as always, be mindful of those meditating, and be sure to use your inside voice... even if you're outdoors.
Keahiakawelo (Garden of the Gods)
Lanai
Located seven miles from Lanai City, down an unpaved, rocky road, this natural formation boasts starkly beautiful, yet barren topography that features hundreds of round red rock towers arranged centuries ago, and according to local lore, it was created when two kahuna of Lanai and Molokai were challenged to see who could keep their fire burning the longest, resulting in the Mars-like landscape we see today. Remember, don't roll the dice and rearrange any stones. You'll piss off the Hawaiian gods and risk a lifetime of bad luck.
Molokai
Hawaiian for "pearl-eyed lizard," (no, we don't know why), this sprawling 921-acre preserve is managed by the Nature Conservatory, which protects one of the state's last intact coastal ecosystem, and boasts rippling sand dunes a mile long and hundreds of feet wide, shaped by the powerful winds that hit the island's northeastern coastline. Home to native grasses, shrubs, and rare coastal species, the area is also a nesting site for endangered green sea turtles, native shorebirds, and the Hawaiian owl. Next time you're in the Friendly Isle, sign up for the conservatory's monthly tour, and see coastal island wildlife as nature intended.
Hunakai Beach
Oahu
Hidden behind million-dollar mansions with exteriors worthy of MTV Cribs, the quiet beach is a quick and easy getaway from the noise of the city. Like lots of beaches in Hawaii, this one boasts tranquil blue waters and swaying palm trees, but the true beauty of this shoreline lies in its long, often deserted stretches of white sand, where you can actually take long walks on the beach without tripping over people/things, or where you can relax alone with a book, etc. Don't miss it.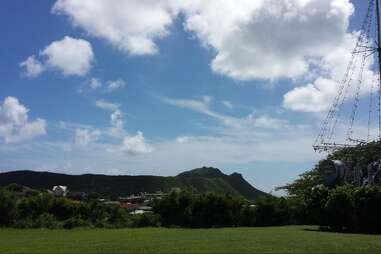 Pu'u o Kaimuki Mini Park
Oahu
Nicknamed Christmas Tree Park for the giant metal tree that glows green during the holiday season, this little park was once called Telegraph Hill, a lookout where King Kamehameha's troops could spot enemies racing to shore. Perched on a cliff over the Kaimuki fire station, this public space remains more of a viewpoint than a place to relax (no restrooms, no picnic tables!), but that's just fine. During the day, take in expansive views of Diamond Head, the Ko'olau Mountains, and the Pacific, and by night, watch the sunset fall over the Pacific as the city skyline sparkles with lights.
Sign up here for our daily Honolulu email and be the first to get all the food/drink/fun in town.
Summer Nakaishi is a freelance writer for Thrillist, who, probably because of Christmas Tree Park, believed in Santa Claus far longer than is socially acceptable. (It was like last week!)