Hawaii is the last state in the union to release the indoor mask mandates, with restrictions loosening on March 25, at 11:59 pm. The state's Safe Travels program that required domestic travelers to present proof of vaccination or a negative COVID test in order to skip quarantine upon landing will end on the same day.
This means that our lovely Aloha State is quickly coming back to life, with a slate of springtime activities for locals and tourists to enjoy. Enjoy some of the best restaurants in Honolulu, and afterwards, take advantage of art exhibitions, natural wonders, film screenings, and more. We can't wait to see your smiling faces at all of the fun events and activities you can do in Honolulu and Oahu this spring.
Editor's note: Please be aware that private businesses are permitted to create their own COVID guidelines to protect themselves and their staff, including the enforcement of indoor masking. Respect the rules in place.
Ongoing through Thursday, March 31
$$
Hawaii is the best place to watch humpback whales frolic from November through May, as the ceremonious creatures migrate to the warm Pacific Ocean waters to mate and give birth. At the peak of the season, you can try to see them for free from various points along Oahu's south shore. It's best, however, to take a licensed whale watching cruise so you can learn more about them and get as close as possible while keeping a safe distance (as required by law). Whale watching tours generally only run through the end of March, since many of the whales start their trek back north by then and the sightings start to dwindle.
Ongoing through Sunday, May 8
Free–$$
The island of Oahu turns into a huge art exhibit, thanks to The Hawai'i Triennial 2022 (HT22), themed "Pacific Century - E Ho'omau no Moananuiākea," which touches upon history, place, and identity within the context of Hawaiʻi's unique location at the confluence of Asia-Pacific and Oceania. Explore installations by 43 artists and art collectives from Hawai'i and Asia-Pacific across seven exhibition sites, or attend public events to learn more about the art and meet HT22 curators and participating artists. There are also tours and workshops throughout the 11-week event. You can find the citywide exhibition at: Bishop Museum, Foster Botanical Garden, Hawaii Theatre Center, Hawai'i State Art Museum, Iolani Palace, Honolulu Museum of Art, and Royal Hawaiian Center. Some exhibits and activities are free; others are ticketed. All-access passes are $75 for adults, $25 for students.
Thursday, March 17
$-$$
The big Chinatown block party on Nuuanu Ave. is still on hold, but Murphy's Bar & Grill, a mainstay in downtown Honolulu, is celebrating their signature Irish holiday as big as they can. The bar and restaurant area will offer six seatings throughout St. Patrick's Day, starting at 10:30 am, for 90 minutes each. Reservations are required for dining in; takeout will also be available for both pre-orders and walk-ins. Since this is the most popular day for Murphy's, only St. Patrick's Day specials will be available, including Corned Beef and Cabbage, Lamb Shank, Desserts, and more. To make reservations, call 808-531-4142.
Saturday, March 26
$$-$$$
Hilton Hawaiian Village Coral Ballroom
Lively drag brunches have been in short supply the last two years, but some of Hawaii's most fabulous queens are coming together for PAI Foundation's first Mahu Madness drag dinner at the Hilton Hawaiian Village Coral Ballroom as the state opens up. For those unfamiliar, "mahu" is a native Hawaiian term for "third gender." Famous local performers and artists include Cocoa Chandelier, Ari South, Lady Laritza Labouche, Maddison Westwood, Linda Brown, Brandy Lee, Likeole, The Hawaiian Queen Mum, and Starr Kalahiki. Tickets for the buffet dinner and show are $125; tickets for the show only are $35. Masks and vaccination cards are required prior to entering.
Wednesday, April 6–Sunday, April 24
$
Hawaii International Film Festival (HIFF) is one of the largest film festivals in the region and HIFF's Spring Showcase—the supplement to the larger fall event—is an expertly curated collection of both short film and longer cinematic pieces that highlight the best filmmakers from Hawaii, Asia, and the Pacific. Several world-premiere screenings are also held at this event. From April 6 to 14, film buffs can take in the featured films on the big screens at Consolidated Kahala Theatres, and from April 15 to 24, watch online.

Friday, April 22–Sunday, May 1
$-$$
Did you know that people in Hawaii consume more SPAM® per capita than any other state in the US? It's estimated that residents go through about 7 million cans per year, so it's no wonder that we have an entire festival dedicated to the beloved pink pork patty. After a two-year hiatus, the annual Waikiki SPAM JAM® (WSJ) is back—instead of a street party spanning several blocks, however, this 18th year redux will feature top restaurants throughout Waikiki, offering at least one menu item that showcases SPAM®. Various events throughout the week will feature live music, SPAM® logo items, accessories, and other SPAM® brand-related items not found elsewhere in Hawaii for sale, as well as appearances by SPAMMY™ characters and friends. As with every year, WSJ will offer a custom, collectable t-shirt. A portion of the proceeds from WSJ will be donated to the Hawaii Foodbank, Visitor Aloha Society Hawai'i (VASH), and Waikiki Community Center.
Friday, April 22–Sunday, April 24
$$
Why be yourself when you can be someone else? Kawaii Kon, Hawaii's biggest event for fans of
Japanese anime, manga, and all facets of Japanese pop culture, is back with their annual three-day event at the Hawaii Convention Center. In addition to the convergence of enthusiasts in elaborate costumes, there are video and tabletop games, guest speakers, costume contests, thousands of manga to read, an Artist Alley, an expansive Dealer's Room, and a formal ball.
Saturday, March 26–Sunday, March 27
$
Going beyond the usual food and products expo where new products make their debut and samples are provided throughout the exhibition hall, Pacific Expos will also bring the latest restaurants and food trucks together to Blaisdell Exhibition Hall to show off their signature dishes. Other activities include guest speakers and cooking demonstrations, giveaways, and live entertainment.
Wednesday, March 23 to Wednesday, April 6
$-$$$
The Hawaii Agricultural Foundation (HAF) celebrates businesses that promote the state's agricultural and fishing industries, as well as agricultural education. #FoodAGogo spans two weeks, with participating local restaurants, businesses, malls, and hotels across the state featuring a special promotional dish or menu that uses local ingredients to bring awareness to the HAF, while educating diners.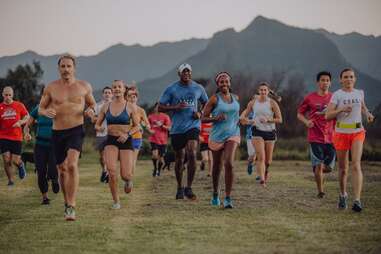 Sunday, April 10
$$-$$$$
The Hapalua Half Marathon is the largest half marathon in Hawaii, and after a two-year hiatus, it's back as both an in-person and virtual event. The run starts on the shores of Waikiki, goes through Downtown Honolulu, and then takes a scenic route up Diamond Head, ending at Kapiolani Park with medals, malasadas (Portuguese doughnuts), and shaved ice. Like the full Honolulu Marathon, there's no time limit, which makes it popular for walkers, as well. Those who choose to participate virtually can sign up to complete any or all of the Hapalua's related running events between April 10 and May 12.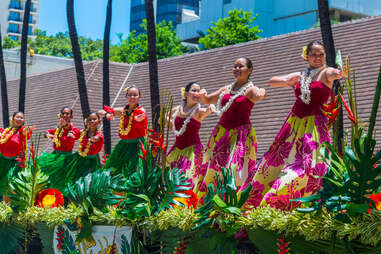 Celebrate Lei Day
Sunday, May 1
Free
Kapi'olani Park
Since 1927, May Day has been observed as "Lei Day" in Hawaii, and it's been an official holiday since 1929. On May 1, the annual Lei Day event returns to Kapi'olani Park in Waikīkī, honoring lei, lei-making, and the traditions surrounding both, with festivities such as pageants and competitions for lei queen. It's a feast for the senses as professional lei makers display their most beautiful floral creations, some available for sale so you can wear beautiful, fragrant garlands in this unique celebration of Hawaiian culture, the spirit of aloha, and lei.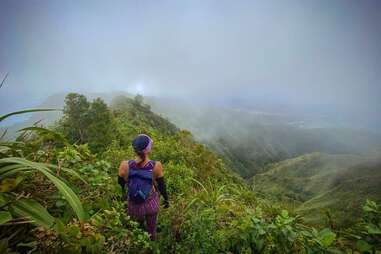 Ongoing
$$$$
Many visitors frequent the easier Diamond Head, Manoa Falls, or Lanikai Pillbox hikes, but if you are a hiking enthusiast looking for a more vigorous activity, spectacular views, and an in-depth perspective on the unique history and surroundings of Oahu's trails, try a hiking tour with Aina Lani Hikes. Led by two prominent women in Hawaii's hiking community, the popular but challenging trails include Koko Head Crater stairs, Ka'au Crater and waterfall loop, and Olomana—all of which take three to five hours. Aina Lani also offers more advanced hikes, but requires an interview to ensure applicants are experienced and capable of completing the treks—not just thrillseekers looking to get a good shot for the 'gram.
Support local farmers and artisans
Ongoing
Free
On almost any day of the week, you can find a farmers market in different parts of the island. In fact, during the pandemic, farmers markets flourished thanks to being outdoors and socially distanced, with increased support from the public to support local businesses and promote sustainability. Find locally sourced meats, eggs, vanilla beans, honey, and even exotic fruits. In addition to fresh produce, the markets feature grab-and-go food and local artisans. The biggest markets are on the weekends, including Hawaii Farm Bureau at Kapiolani Community College, Farmlovers Kakaako, and Farmlovers Pearlridge on Saturdays, and Plenty of Aloha Market at Windward Mall, Hawaii Farm Bureau at Mililani High School, and Farmlovers in Kailua on Sundays.
Friday, March 18; Friday, April 22; Friday, May 13
$-$$$
The Hawaii Symphony Orchestra's HapaSymphony series is the perfect way to combine symphony music with Hawaiian culture, featuring celebrated Hawaiian musicians and world-renowned guest conductors. Whether you love orchestra music, local Hawaiian music, or both, HapaSymphony will fuse a unique perspective of Hawaiian culture and symphonic music into one concert.
Daily
$$$$
You don't have to be a fan of CBS Magnum, P.I. to enjoy a doors-off tour in a helicopter from the show. Magnum Helicopters' 50-minute ride is a unique, picturesque perspective over almost the entire island of Oahu, narrated by the pilot. While other visitors are standing in line to visit various landmarks, you can soar overhead to see them from a different vantage point.
Sign up here for our daily Honolulu email and be the first to get all the food/drink/fun in town.
Melissa Chang is a longtime food blogger and social media consultant based in Hawai'i. Follow her on Instagram & Twitter @Melissa808 for the latest in Hawai'i eats!