On Kauai, the island where no building is taller than a coconut tree and the chickens roam free, you'll find the perfect blend of relaxation and outdoor activities. The oldest island in the Hawaiian archipelago is packed with some of the most beautiful natural wonders, so if a trip to the Garden Isle is in your future, fill up your itinerary with our picks of the best things to do in Kauai. (Note that seasonal weather conditions can sometimes affect availability and access to some of nature's most gorgeous spots on this list, so be sure to call ahead before you plan your dream getaway.)
Start your day off with a little adult beverage tasting at the Koloa Rum Company's Tasting Room, which opens at 10:30am every day. The liquor is made from locally sourced ingredients like coffee, coconut, pineapple, and sugar, and is distilled twice in a vintage copper pot. After your sampling, invest in a few full-size bottles to take home for some Mai Tais.
Hike the Waimea Canyon
Millions of years ago, erosion from the Waimea River etched out a 10mi long, 3,600ft deep canyon, nicknamed the "Grand Canyon of the Pacific." While smaller than its Arizona counterpart, it's just as breathtaking, with rugged red-dirt walls, lush foliage, waterfalls, and, in the right weather, rainbows. The canyons can be viewed easily at two lookouts just off the main road, or more adventurous travelers can venture to Koke'e State Park, where numerous trails offer hikers a better look at the canyon's spectacular buttes and gorges.
Chill out at Hanalei Bay
Despite any homophonic similarities, Hanalei is not the mystical land where Puff the Magic Dragon frolicked in the autumn mist. This crescent-shaped white sandy bay, set beneath 4,000ft lush mountain peaks, stretches two-miles long and includes four beaches: Black Pot, Hanalei Pavilion, Wai'oli, and Waikoko. At the mouth of the Hanalei River is the historic 300ft pier, where sugar cane and other goods were once exported and is now a popular place to sunbathe and barbecue. During the winter, the bay's strong currents make for a great surfing spot, while the calmer summer months are prime for swimming and sailing.
Pretend you're in Jurassic Park at the Na Pali Coast
The best ways to see the coastline made famous in Jurassic Park are by boat, kayak, helicopter, or a rugged 11mi Kalalau trail. Hawaiian for "high cliffs," this hidden and pristine area rises 4,000 feet above the Pacific Ocean, stretching 15 miles from Ke'e Beach on the island's north side to Polihale State Park on the west. Years of erosion created the rocky sea cliffs and high winds shaped the valley into its present landscape, with white sand beaches, sea caves, and waterfalls. If you're lucky, you'll get to see dolphins, turtles, monk seals, and whales cresting from the water.
Trek the Kalalau Trail
Centuries ago, Hawaiians farmed and fished on the Na Pali Coast, but they began to move out of the valleys once Westerners arrived in the islands. The area remains uninhabited but visitors are allowed to camp here for up to five days. Day hikers can take a short jaunt to Hanakapiai Beach or Hanakapiai Falls without a permit, but those looking for a challenge can opt for the full hike, which will involve backpacking, obtaining a camping permit, and a whole lot of clenched butt cheeks. While one of the most beautiful hikes, the 11mi one-way trail is often named as one of the most dangerous in the world for its narrow paths and abundant rainfall. It runs through five valleys, zigzags through streams along tiny footpaths, including the infamous Crawler's Ledge. However, once you descend the Red Hill to the remote Kalalau Beach, you'll be rewarded with a gorgeous vista and a lifetime of bragging rights.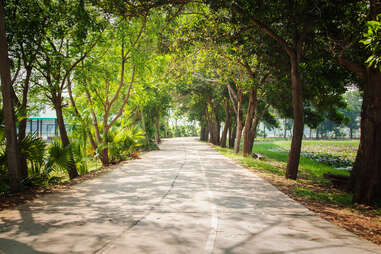 If you're not an avid runner, this adventure might not be ideal, but it's a fun way to tour the island. The route begins in the Poipu on the island's southern end and follows the coastline, twisting through verdant views of the mountains, ocean, and rainforest before passing through the century-old Tunnel of Trees, where you'll be able to stop and take pictures without worrying about motorists barreling through. The race forks at mile 11, where full marathon runners head to Lawai before returning to Poipu, which is consistently voted as one of the world's best beaches.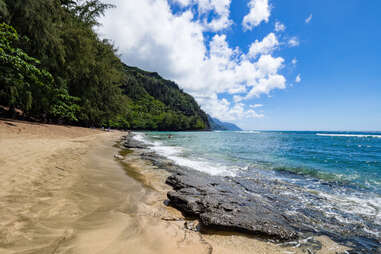 Discover the secret beach
Finding a tranquil spot on a beach near resorts can be a battle, so getting to the "secret beach" is worth the extra effort. Also known as Kauapea Beach, this white sand stretch is along steep cliffs near the Kilauea Lighthouse. You'll need to drive down a hidden dirt road in Kalihiwai Valley then traverse a steep trail before you can check out the black and red rock cliffs and small waterfalls. Perhaps due to its secluded locale, it's become somewhat of a clothing-optional area, where sunbathers occasionally enjoy freeing their coconuts. Nudity is illegal on beaches in Hawaii, so do it at your own risk.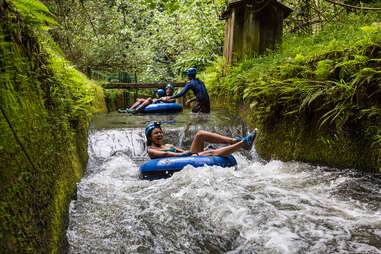 Sure, there's surfing all over the place here, but we recommend mountain tubing through this old sugarcane irrigation system. The three-hour tour takes you on a four-wheel drive into the old Lihue Plantation, where you're given a tube and headlamp before you launch into the flowing canals, tunnels, and flumes, hand-built in 1870. At the end of the tour, you can jump in a natural swimming hole and refuel with lunch.
The mountain is shaped like a giant lying down, and you may or may not want to join in on naptime after this 4mi round-trip hike. One of the three Nounou Mountain Trails, this beginner/intermediate hike ascends nearly 1,000ft through a mostly shaded switchback of ironwoods and guava trees as you climb across the giant's chest. When you reach the top, you'll find a clearing with views of the ocean and the towns below.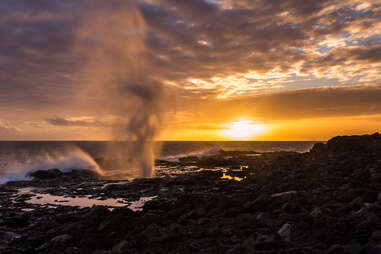 This easily accessible natural wonder sits on the island's southern coast near Poipu Beach. An eroding underground lava shelf created this natural blowhole, which sprays ocean water up to 60ft in the air when big waves crash against it. Besides its impressive jet-like eruptions, the popular spot is known for its second blowhole, which emits groans and hisses instead of rushing water. Local folklore says this coastline was once protected by a giant mo'o (lizard) who threatened those who would fish or swim nearby. One day, a man named Liko challenged the lizard and swam through the lava tube, trapping the lizard inside. Today, you can hear the lizards cries escaping the blowhole.
Eat shave ice
If there's one local delicacy that's a pretty much universally pleasing, it's shave ice. Do your taste buds of favor and treat yourself to Kauai's variety of shave ice options until you find your favorite. In Lawai or Poipu, try The Fresh Shave for all-natural, organic syrups with hand-cranked ice and flavors named after different mustache styles, like the Dirt Squirrel, made with cold brew coffee, cream, and sugar, or the Lip Luggage, made with chai tea and cream. In Kapaa, try Wailua Shave Ice for all-natural flavors like Coconut x Coconut x Coconut, which is a combo of coconut milk, haupia foam, and roasted coconut flakes. Or try Shave Ice Tege Tege for organic syrups made with condensed milk, meticulously layered through your cold treat.
Sign up here for our daily Honolulu email and be the first to get all the food/drink/fun in town.
Summer Nakaishi is a freelance writer for Thrillist, whose favorite thing about Kauai is the occasional lack of cell phone service, when she's forced to unplug.