The best parts of a rainy day in Hawaii are -- obviously -- the rainbows, but hiking to a waterfall after a sizable rainfall is a pretty close second. Take advantage of our island's geographical jackpot, and head off-road to get an eyeful of Oahu's scenic wonders. We rounded up our favorite Oahu waterfall hikes, ranging from easy strolls to adventurous treks… so lace up your shoes, douse yourself with mosquito repellent, and head to the rainforest for some screensaver-worthy photos... and/or zen-esque enlightenment.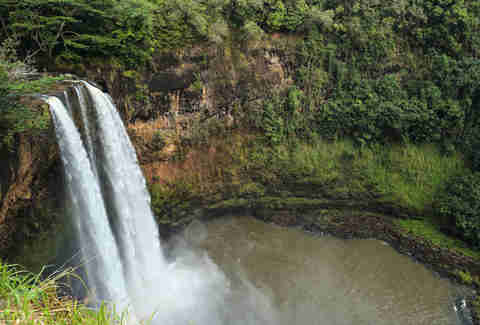 Waimea Falls
Haleiwa
Located in Waimea Valley, this waterfall hike is located in a botanical park, along with visitor attractions and cultural activities. To get to this waterfall, you'll have to pay park admission, but your ticket garners you access to a paved trail with a 45ft waterfall, where you can swim in the freshwater pool with a changing room, free life vests, and a lifeguard on duty.
How to get there: From Waikiki, take the H-1 Highway west. Merge onto the H-2 Highway, then merge onto Kamehameha Highway. Turn right on Waimea Valley Rd and park in the center's parking lot.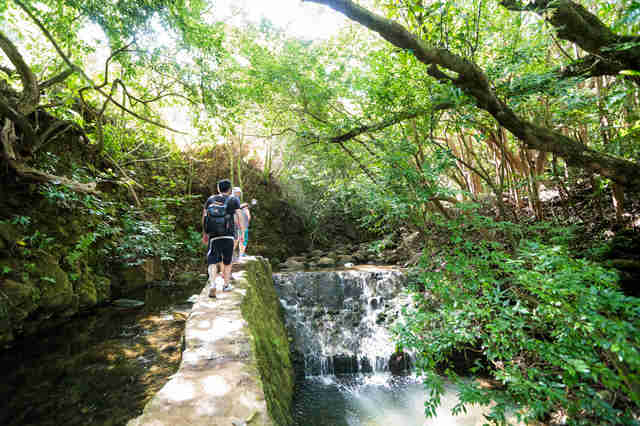 Lulumahu Falls
Nuuanu
Tucked on Board of Water Supply land, Lulumahu Falls requires you to obtain a permit to access this hike, and the path is uneven and muddy, but it's worth the hassle. Traverse through a dense bamboo forest, through the ruins of King Kamehameha III's summer home, and follow the stream to reach the 50ft falls.  
How to get there: From Waikiki, take the H-1 Highway west and merge onto the Pali Highway. Turn at Nuuanu Pali Dr and park on the dirt path.
Jackass Ginger Pool
Nuuanu
While it's worth hiking the full five miles of Nuuanu-Judd's grassy trails and scenic ridges, you can enjoy near-instant gratification by hiking the 1-mile loop to the Jackass Ginger pools. Check out a series of 10ft cascades pouring into a tranquil swimming hole, equipped with a rope swing for the brave. Hawaiian royalty once swam here, but the spot wasn't given its, um, remarkable name until the early 1900s, when local teens named the pool for a nearby donkey and yellow ginger fields.
How to get there: From Waikiki, take the H-1 Highway west and merge onto the Pali Highway. Turn at Nuuanu Pali Dr. Parking is limited, but you can park on the side of the road next to the Judd Trail sign as long as you don't block the entrance.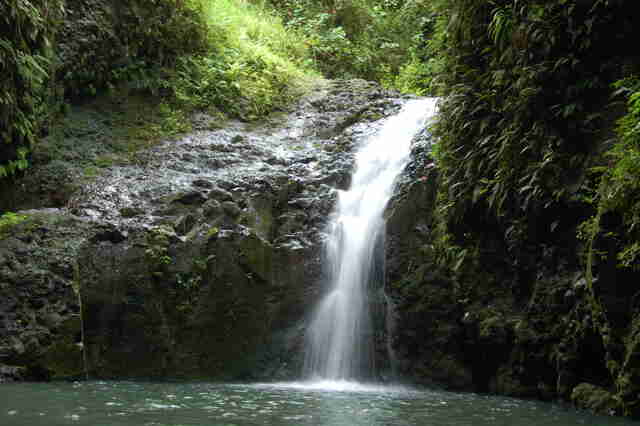 Maunawili Falls
Kailua
Hugging the Koolau Mountain Range, this 3-mile, windward-side loop is a relatively short and easy hike leading to a 20ft waterfall with a deep swimming hole, where swimmers take turns scaling various-sized boulders to jump into the freshwater pool below. To reach the falls, you'll have to ford Maunawili Stream a few times, and meander through tropical fruit groves, kukui nut, coffee, and monkeypod trees. This path, like many waterfall trails, is especially muddy, so prepare to dirty up your hiking shoes and car floor mats.
How to get there: From Waikiki, take the H-1 Highway west and merge onto the Pali Highway. Turn right onto Auloa Rd and park on the side of the road in the residential neighborhood.
Manoa
This waterfall hike is one of the most popular for several reasons: it's close to Waikiki, and it's a very easy walk. Hikers only have to travail a well-maintained, 1.6-mile trail to reach a glorious 150ft waterfall pouring down a massive rock wall. However, with great, easy-access waterfall glory comes great foot traffic. The beginner-friendly path almost always swells with crowds, so you'll have to do some advanced selfie gymnastics to crop strangers out of your photos. But crowd-ruining Instagram photos aside, this dramatic waterfall is still totally worth visiting.
How to get there: From Waikiki, going westbound, take H1 to the Wilder exit. Continue to Punahou and Manoa Rd. Park in the Paradise Park lot for $5 or park in the residential area.
Likeke Falls
Nuuanu
Tucked along a busy highway, the hike to this hidden waterfall passes the scenic Nuuanu Pali Lookout, where King Kamehameha famously united the Hawaiian Islands, ending an interisland war by forcing hundreds of soldiers over the 1,000ft cliffs. You'll descend an old, paved road, traverse under highway tunnels and through a canopy of trees before climbing an old cobblestone path, which leads to a moderate, 20ft cascade, framed by kukui and hau trees.
How to get there: From Waikiki, take the H-1 Highway west and merge onto the Pali Highway to the Nuuanu Pali Lookout and park in the Pali Lookout parking lot. Parking is $3 per car, but free with a kamaaina (local) ID.
Laie Falls
Laie
If you've got four hours on your hands and are feeling up for a 7-mile hike, head to the island's northeastern side and grab a permit from Hawaii Reserves at Laie Shopping Center. This moderate hike will lead you through an uphill terrain of exposed ridges and bamboo, pine, and strawberry guava trees before rewarding you with a quiet countryside trail leading to a two-tiered, 15ft waterfall, which spills into a swimmable pool.
How to get there: From Waikiki, take the H-1 Highway west. From the Polynesian Cultural Center, head north on Kamehameha Highway. Park by the football field on Poohaili St.
Koloa Gulch
Laie
Not for the faint of heart, this 8-mile trail starts in an open ridge along the Koolau Range, and requires hikers to rock hop through the Koloa Stream over 20 times, passing through native plants, fruit trees, a smaller waterfall, and a pool before reaching a fork. Venture left for a small waterfall and pool, or venture right, where you'll pass smaller pools before arriving at a split-level 100ft waterfall. While it's hard work getting here, the lush falls are totally worth the trip. Of course, you'll have to make your way back eventually, which means fording back over the stream. The entire trip can last you about eight hours, depending on your pace and the weather. Before you embark on your adventure, pick up a permit at Laie Shopping Center, and some snacks and water for the all-day excursion.
How to get there: Take Likelike Highway to Kahekili Highway, which becomes Kamehameha Highway and drive to Kokololio Beach Park.
Waimano Falls
Pacific Palisades
Tucked near a residential cul-de-sac, this neighborhood hike has often been called novice, but don't let the 3-mile round trip fool you into thinking it's a walk in the park -- after all, there ain't an incline named Cardiac Hill for nothing. While you (uh, hopefully) won't actually go into cardiac arrest scaling the dusty, root-covered mountain, some of us may or may not choose to crab walk our way up or down the trail. Once you reach the end, your shaking quads will be rewarded with a tiered waterfall spilling into a swimmable pool, its depth depending on rainfall. To access the pools, you'll have to Spiderman your way down a short, steep rock face via rope, where you'll be able to spend some well-earned time splashing in the pool... before huffing your way back up.
How to get there: From Waikiki, take the H-1 Highway west towards Pearl City and merge onto Moanalua Rd. Turn on Waimano Home Rd and turn left onto Komo Mai Dr and park in the residential neighborhood.
Kaipapau Falls
Hauula
Pink ribbons lead the way on this 8-mile out-and-back trail, but it can be easy to get turned around, given that you need to rock-hop across the stream nearly 40 times. As with all gulch hikes, the trail will be wet after a rainfall, so plan accordingly -- and be aware of possible flash floods. This path will take you past abandoned bunkers and through a lush, narrow forest filled with imposing trees. After you've forded the stream almost more than your feet can handle, you'll be greeted by an epic 90ft waterfall. Bask in nature's eye candy before fording your way back home.
How to get there: Take Kamehameha Highway towards Hauula past the Polynesian Cultural Center to Kokololio Beach Park. Limited parking by the trailhead.
Sign up here for our daily Honolulu email and be the first to get all the food/drink/fun in town.