With our endless summers and aloha spirit, it should go without saying that our state is the greatest in all the land, but we'll say it anyway: Hawaii is the best! But in case you need statistical proof of that, or whatever, here are 10 studies that prove our humble state is the best at more than just eating Spam. But we're totally No. 1 at that too.
The last 50-state favorability survey conducted by Public Policy Polling revealed the Aloha State won the Miss Congeniality award for being viewed as most favorable by our peers. In case you missed the news, high-five, hug, or honi honi your neighbors and friends, and keep that aloha spirit flowing.
As the only island state in America, it's no surprise that our turquoise waters and white sandy beaches are top notch, but it's nice to get the recognition. Every year, a professor from Florida International University, nicknamed Dr. Beach, ranks America's top 10 beaches based on over 50 criteria, including water sand quality, beach safety, environmental management, and no-smoking policies. In the last 25 years, Dr. Beach has selected a Hawaii beach as the top spot 14 times, more than any state, proving that our islands deserve the nickname "Paradise of the Pacific."
 
We always knew our society's ethnic makeup stood apart from mainland America -- just look at our diverse food history and you'll see proof that we're a cultural melting pot. A study by Pew Research Center makes things official with scientific numbers and things, revealing we are not only home to the most multiracial residents in America, but more than doubled the diversity percentages of the second- and third-place states.
An apple a day may not necessarily keep the doctor away, but we've been doing something right, because Hawaii has been named the healthiest state by America's Health Rankings for the third year in a row. Based on our low rates of smoking, obesity, and preventable hospitalizations, as well as cancer and cardiovascular deaths, we've ranked in the top six healthiest states for the last 24 years. So make sure to thank your parents for making you eat all those fruits and veggies.
It ain't easy being green, but out of 150 major cities across the nation, Honolulu was named the best place for providing a healthy environment. With the US Environmental Protection Agency's highest classification of good air quality, and our widespread use of solar energy, the grass may really be greener on the other... err, our side of the Pacific.
We didn't need a report to tell us our traffic is terrible, but here it is anyway. Ranked dead last in highway conditions and cost-effectiveness, our urban interstate congestion even beat out the notoriously clogged Los Angeles Interstate.
Maybe it's our geographical advantage or our endless adventuring options, but our state is the premiere destination in America for newlyweds. Hawaii island takes the top spot, with Kauai, Maui, Lanai, and Oahu all rounding out the top 10. So the next time you're stuck on one of the aforementioned highways, take a look out the car window, and remember we live in a postcard-worthy place where lovers pay big bucks to make their tropical post-wedding dreams come true.
 
Unfortunately, the other side of paradise is that warmer states tend to have a higher rate of homelessness, making it easier to find shelter. According to Movato's interactive map, every 487 out of 100,000 Hawaii residents are homeless, which means our state is at the top... err, bottom (?) of the list.
Although Alaska edged us out of the top spot this year, Hawaii is one of two states to consistently make the top 10 in the Gallup-Healthways Well-Being Index, since the survey's inception in 2008. Based on day-to-day motivation, social relationships, financial security, community pride, and physical health indicators, island residents maintain a culture of joyful living, which leads to us being the...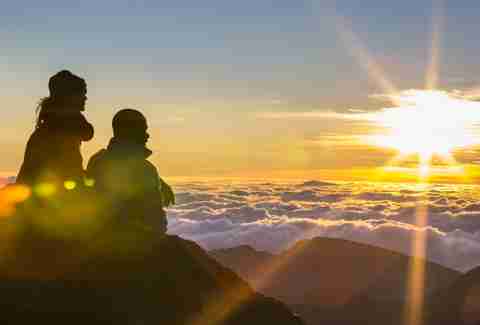 The best place to live for adults ages 55 and up is the youngest state in the Union, with this inaugural study reporting that island baby boomers lead the nation in community and physical well-being. Though riding out your sunset years can be scary, the good news is research shows that happiness, like wine and Betty White, gets better with age.
Sign up here for our daily Honolulu email and be the first to get all the food/drink/fun in town.
Summer Nakaishi is a freelance writer who got her master's degree in Chicago (?!), but never forgot which state was number one. Read more of her stuff, here.