Dinner & a movie, dinner & drinks, drinks & dancing... all perfectly acceptable, perfectly legal, perfectly unbelievably boring date ideas. If you want to take it to the next level, try these 10 totally illegal, unforgettably cool Houston dates, which we don't recommend you do at all.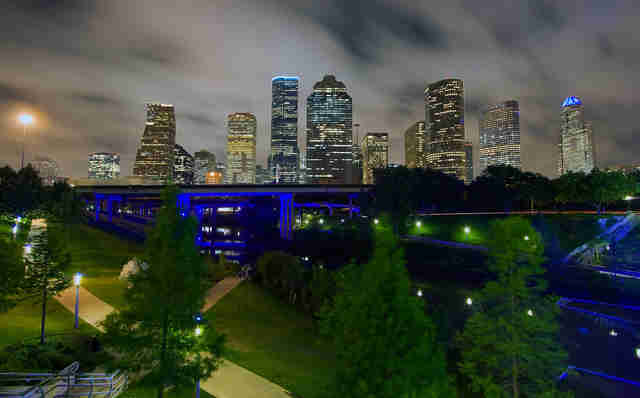 How to pull if off despite our explicit disapproval: The park is not exactly well fortified, so just wait until dusk and bring a blanket, a lantern, and wine to the Eleanor Tinsley section and plop yourself down for a nighttime snack. With views of the downtown skyline and open sky, things can get real sexy real quick. That is, until you hear that rustling in the trees and run back to your car with your pants down. Whatever, adrenaline is sexy, too.
Laws you'd be breaking: Trespassing, flagrant violation of park rules (closes at dusk, no glass, alcoholic beverages prohibited)
Play "chug" at your favorite standing-room only concert
How to pull if off despite us warning you it's against the law: Easy. Hit the floor at your favorite concert hall (Walter's, House of Blues, and StereoLive are great places to not sit) and chug beers with your boo thang. We're guessing you won't get "caught" because 1) how is this a law? and 2) everybody else is doing the same exact thing (if not worse).
Laws you'd be breaking: The ridiculous and unmonitored one where you can't take more than three sips of beer while standing in Texas.
Take a late night (not your) pool dip
How to pull if off even though you know it'll mean trouble: First, find a nearby pool (check out apartment complexes, a hotel, your neighbor's house, etc.). Next, pretend you live there and/or belong there. Finally, hold hands and jump in. Now quick! Makeout under water before you get caught.
Laws you'd be breaking: Trespassing, potentially being a douchebag to your neighbor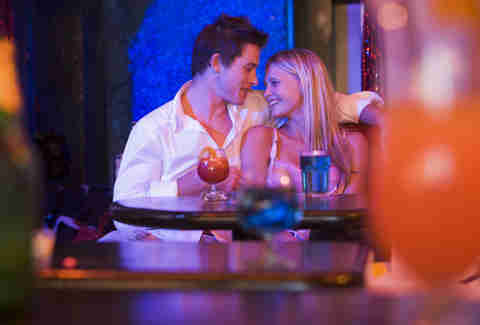 Do, uhh, stuff, in the champagne room
How to pull if off even though we're becoming increasingly disappointed in your behavior: It's not a champagne room per say, but makeout bar Marfreless has pretty much been ground zero for lewd behavior since 1972. Hit the upstairs den, then go downstairs, if you know what we mean.
Laws you'd be breaking: Public indecency, lewd behavior, blatant disrespect of a Chris Rock track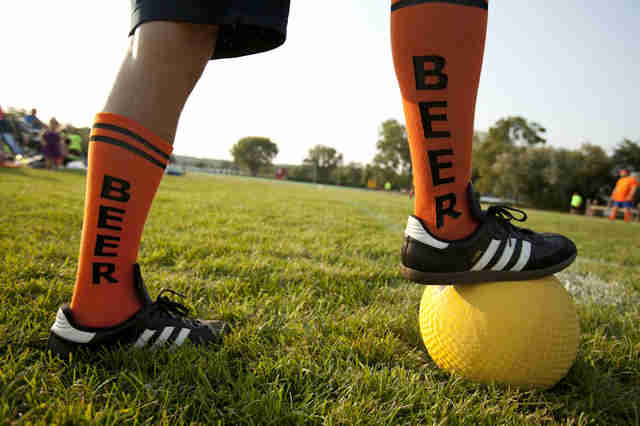 How to pull it off despite our threats to call your parents: Bring a cooler full of Lone Star and your best swing. Cover beers with koozies, or use red solo cups and you likely won't be bothered, so long as you clean up after yourselves.
Laws you'd be breaking: Public Intoxication, flagrant violation of park rules, destruction of property (when you accidentally "grand slam" right into someone's car window)
Go "green" at the Houston Livestock Show & Rodeo
How to pull it off despite our cries over the person you've become: It's 2015, you guys. We shouldn't have to tell you how. But here's a start: gummy bears.
Laws you'd be breaking: Possession, laughing way too hard at mutton bustin', eating inhumane amounts of chocolate-covered bacon
Go on an "obscene device" shopping spree
How to pull if off despite the fact that you're now embarking on a life of crime: Hit up those special lower Westheimer shops to peruse and purchase at least six "special toys" together. Though there's legit a law against this, the only thing you'll be in danger of is accidentally accepting the swingers party invite from the guy in line behind you.
Laws you'd be breaking: Public indecency. According to Texas State legislature, Sec. 43.23. OBSCENITY, anyone who "promotes or possesses with intent to promote any obscene material or obscene device" is committing a misdemeanor offense. And since "a person who possesses six or more obscene devices or identical or similar obscene articles is presumed to possess them with intent to promote the same" – that drawer full of "stuff" you just purchased could get you a Class A Misdemeanor (though we're guessing it won't).
Share ice cream on the sidewalk in Galveston
How to pull if off despite... you know what, this one's cool: Head to Galveston's La King's Confectionery and get yourselves some old-fashioned ice cream cones. Just be on the lookout for cops while you enjoy those rainbow sprinkles.
Laws you'd be breaking: Sitting on a sidewalk in Galveston is a misdemeanor for which you may be fined up to $500.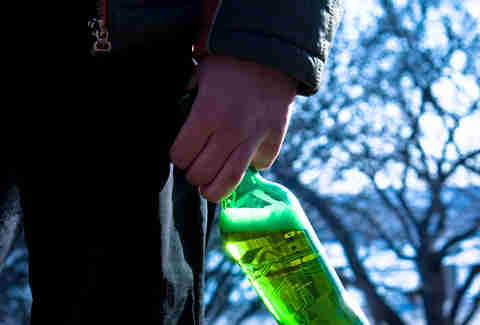 How to pull if off like you're a modern day Dillinger or something: Instead of joining a private club and doing things the legal way, buy one of those sweet hydration backpacks. Fill said hydration backpack with vodka/soda mixture. Now, without any of our consent whatsoever, get wrecked in public.
Laws you'd be breaking: Public intoxication. This doesn't even need to be in the dry area to be illegal... but it's more fun that way (said not us).
Present your date with flowers you've picked yourself
How to pull if off despite everything we've been through together: Visit Hermann Park and take a romantic stroll around the garden center or Japanese gardens. Then, despite our best efforts to advise you against doing so, make an illegal make-shift bouquet.
Laws you'd be breaking: Intentional damage to public property, probably some decency law against ruining nature
Sign up here for our daily Houston email and be the first to get all the food/drink/fun in town.
Brooke Viggiano is a Houston writer who is completely, 100% law-abiding. If you do anything on this list, let her know on Twitter @BrookeViggiano so she can live vicariously through you.