Great Group Workouts in Houston That Are Totally Free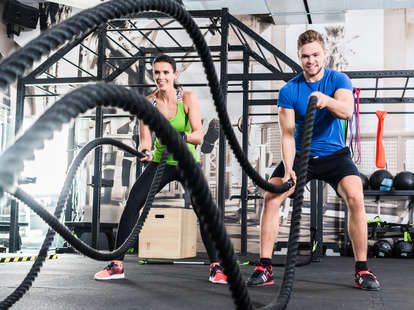 Combine Houston's hauntingly long summer with the fact that queso is tempting you at nearly every corner, and it's clear that it's pretty much necessary to work on your beach bod year-round. That requires motivation, and while working out in groups a la CrossFit can definitely solve the problem, the monthly memberships are always too expensive -- as will be all the coconut oil and grass-fed beef you're going to start buying due to your new, Paleo-centric lifestyle. Instead, forget the credit card, because staying fit is as easy as showing up to one of these totally worth it group workouts that also just so happen to be entirely free.
EaDo
A few times a month, F3 Cross Training hosts Saturday morning sweat sessions that will kick your butt into gear. The 60-minute gratis workout mashes intense cardio spurts, weightlifting, body-weight exercises, and Simone Biles-worthy gymnastics movements for a total body workout with #MaxCalBurn. The classes start at 10am, but you probably want to show up 10-15 minutes before to prepare yourself for the whoopin' (plus they ask that of you and you don't want to be rude). Sign up online.
Downtown
GreenStreet makes it exceptionally easy to get a sweat sesh in before you hit the office if you work Downtown. Just hit this weekly 30-minute bootcamp held at The Lawn. Not only are the all-skill-level classes on the house, but you'll also get $1 off your next salad or wrap at Salata and some free swag just for participating. You're practically making money!
Earn your beer at a bar running club
Various locations
Since Houston is, like, the coolest, many local drinking establishments have established the perfect reason to skip the treadmill in lieu of an outdoor run, and that reason is BEER. Meet up at the Gorgeous Gael Irish Pub for a Rice Village run every Tuesday (rain or shine); or Kung Fu, where it's on like Donkey Kong for a three- to five-mile run every Wednesday (also rain or shine).
Heights
Bayou City Outdoors is a one-stop shop for exploring Houston's natural scenery while getting in a sweet calorie burn, and one of the most beloved activities is the free monthly bike tour of the city's best farmers markets. The leisurely 12-15 mile ride lasts about three hours, with a few stops for handcrafted artisanal cheeses and locally made, 100% organic gluten-free honey, of course.
Downtown
Cancel all your plans. Starting now, Thursday nights are for getting right and tight with an intense parkour workout, or at least trying your best to do so. Experienced, certified coaches will teach you to run, jump, climb, crawl, balance, vault, and fluidly move through your environment like the stuntman you would love to believe that you are. Meet at the Deck under the oak trees and be ready to "play."
Downtown
You can sacrifice waking up to Bloodys and bacon at least one Sunday a month, right? Every first Sunday of the month at 8am, cycling enthusiasts meet at Market Square Park for a 25- to 40-mile bike ride exploring the beauty of Houston's bayous. The rides are open to all, though mountain bikes or bikes with fat tires are pretty necessary for survival.
Downtown
Forget your glam muscles; it's all about strengthening the core at Discovery Green's Tuesday night yoga retreats. The 60-minute classes run through yoga postures and dynamic flow sequences that stretch the muscles, warm the body, and zone in on core strength and flexibility. Bring your own yoga mat, towel, and lots of water, because this is Houston, and you can never not expect it to be hot. On Saturdays, Hatha Yoga promotes enhanced awareness, and a strong, healthy body, and on Mondays, the park teams up with the Texas Military Veterans to bring you yoga that strengthens, relaxes, and recharges. Check the calendar for seasonal schedule.
Galleria (& Rice Village & Memorial)
You can enjoy cardio and shopping in one shot at Athleta stores. The rotating selection of free classes range from PiYo and Sculpt Fitness total body workouts to hip-hop dancing and tribal Buti Yoga, and there's enough options between the three locations that you can pretty much cancel your gym membership today.
Downtown
Ever see Cirque du Soleil and think, "I can probably do that!"? Here's your chance to prove it. On Tuesdays from 6 to 8pm, instructors from Cirque la Vie lead wannabe acrobats through a ground arts workout featuring contortion and flexibility training, low tight wire balancing, partner acrobatics, juggling, and hand balancing. No pre-registration required. Just show up, sign a waiver, and start saving up for your move to Vegas.
Downtown
They say if you can't beat 'em, join 'em, and perhaps no single event is better described by those words than the monthly mayhem that is Critical Mass. ICYMI, that's when hundreds of cyclists join together to promote biker awareness and pretty much block all of the streets annoyingly even though they aren't trying to. The rides meet at Market Square Park, are slow- to medium-pace, and go for around 18 to 25 miles, regardless of sunshine, rain, or more accurately in our situation, torrential downpour.
Downtown
Fact: getting footloose at Zumba is slightly less embarrassing when everyone surrounding you is embarrassing themselves, too. On Wednesday nights at Discovery Green, ACE-certified personal trainer Oscar Sajche makes working out feel like one giant, sweaty dance party.
On one Sunday a month from October through December, select streets are closed to motorized traffic, allowing your lazy behind to bike, walk, jog, slog, blade, skate, or skip down them with your fellow Houstonians. It's a free community workout that's good for the mind, body, soul, AND wallet.
Sign up here for our daily Houston email and be the first to get all the food/drink/fun in town.
Brooke Viggiano is a Houston-based writer who just realized her dreams of being a professional stuntwomen aren't out of reach. Overcome physical and mental obstacles with her @BrookeViggiano.