Houston was founded in 1836 and has since become the fourth largest city in the US. And because of its storied past, there's no shortage of eerie tales and sinister ghost stories, what with all the creepy bayous and century-old graveyards. But it's especially hair-raising during Halloween, the season of fears, freaks, and frights. For some of the city's most epic scares, you'll want to hit up these downright disturbing haunts, from terror domes overrun by maniacal clowns to pitch-black hallways primed to unleash your deepest, darkest phobias. You may want to pack a change of pants.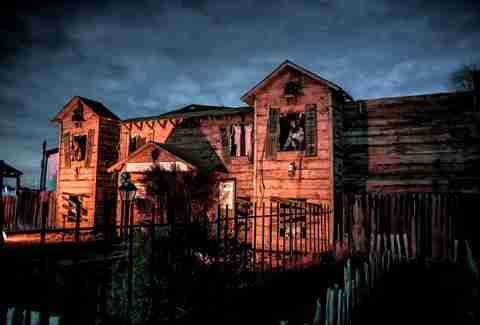 Greater Greenspoint
Price: Tickets start at $17 and go up to $37 if you want to skip the line
Dates: Thursday - Sunday through October 22; October 24 - 31; November 3 - 4. Doors open at 7:30pm Thursday - Sunday and 8pm on Friday and Saturday.
Pay once and get access to five blood-curdling attractions, including a freaky animatronic swamp, a very unsanitary slaughtering house, a seriously creepy hospital and morgue, a dizzying zombie graveyard and vortex tunnel, and an asylum maze packed with evil clowns (which might be an oxymoron).
Brookside Village
Price: GA tickets start at $15, but you can upgrade to skip the line
Dates: Friday - Sunday throughout October, plus extended dates around Halloween. Doors open at 7:30pm.
With six total attractions (three separate and three linked), Phobia has been scaring the crap out of locals since 1996. You'll tour the Darke hallways stacked with animatronics and terror lurking at every turn. We're talking psychotic zombies, crazed clowns, horrifying mutants, and all that good stuff nightmares have nightmares about. At Exile, you'll find three linked attractions: Savage Ground, DarkeWorld, and Contagion. Or get your nightmare fuel at Dawn of the Machine, Genetic Nightmare, or Mind Control. If you have kids 12 or under, they need to be accompanied by a parent.
Sawyer Heights
Price: Tickets start at $22 with options to upgrade and skip the line
Dates: Friday - Saturday through November 4, plus extended dates around Halloween. Doors at 7pm.
In the shadows of the Downtown skyline this bayou-side, 15,000-square-foot haunt sits directly next to Houston's oldest graveyard (and Party Boy, which makes for super-convenient post-fright Halloween shopping). This year's extreme fests include the creepy as hell Ghost House and Bayou Cemetery. Know before you go: The scares are intense and the attraction features a strict no-sandals policy. Kids are allowed, but those under 10 must be accompanied by an adult.
Rosharon
Price: $30 (or add $10 extra for speed pass to skip lines)
Dates: Friday and Saturday through November 4, plus extended dates around Halloween. Doors open at 7pm.
Are you afraid of the dark? If so, you'll absolutely freak at Pitch Black, one of the three creepy attractions at this nightmare factory. The room alternates between debilitating lights and total darkness to harness complete meltdowns. Things don't get much better in the Dark Woods, where a chainsaw carrying freakshow lurks around; or the 288 Scare Factory, a wayward viral genetic research facility that's pretty much ground zero for the zombie apocalypse.
Greater Hobby
Price: $40
Dates: Every Thursday - Sunday in October, plus October 30 and 31. Doors open at 8pm.
More than a haunted house, this fan-favorite bills itself as a haunted festival. Booze, live concerts, screenings of horror flicks, zombie paintball, and carnival games add to the fun, while attractions like the Texas Chainsaw Maze, insane asylum, and haunted graveyard bring the fear factor.
Richmond
Price: $30 with the option to get combo deals or upgrade and skip the line
Dates: Friday - Sunday throughout October, as well as October 31 and November 4. Doors at 7pm.
Dark and creepy asylum in the woods. Check. Classic horror scenes that blur the line between reality and whatever the hell else is going on. Check. Twisted traveling circus complete with psychotic clowns that will assault the senses and basically scare the hell out of you. Yeah... check.
Kingwood
Price: $30 for GA and $50 for VIP. Cash only.
Dates: Friday - Sunday in October, plus extended dates around Halloween and November 3 - 4. Doors at 7pm
Hope you haven't been procrastinating on your checkups, because the doctor is here to see you now. Sadistic characters lurk in corners and around the diseased woods at this dark and twisted insane asylum, where Dr. Philip Blackman and his barbaric staff await your arrival every October. This year, the outdoor Hallowed Grounds feature brand-new caves and a never before seen interactive prop you're just gonna have to see for yourself.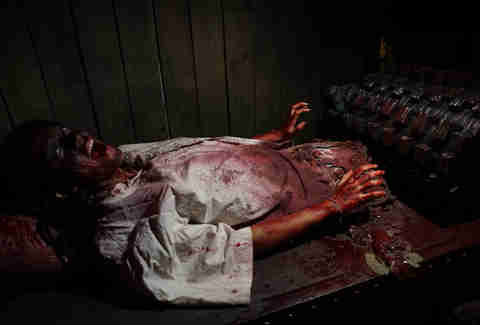 Channelview
Price: $20 (or $30 for VIP/faster lines)
Dates: Friday and Saturday through October, plus extended dates around Halloween. Doors open at 8pm.
You know things are about to get real when the haunted house warns you to "bring a change of underwear." Fresh for 2017 are new rooms, new effects, and new characters in "The Sacrifice" and "Sicko and Freako's 3D Fun House" attractions. Tickets are available at all Spookers Halloween Super Stores. Children under 12 are not recommended.
West Houston
Price: Tickets start at $5 (with an option to purchase other tickets to other attractions)
Dates: Weekends in October, and extended weekends through Halloween.
Immerse yourself in horror at this hellacious interactive haunt, where you can make your way through the abandoned Vanished in the Darkness building, with only a backpack and flashlight to help you find your way. You can also attempt to defuse a bomb against the clock; get terrified from a completely immersive virtual reality experience; and see what kind of horrifying stuff ensues when you open a very mysterious door we can't talk about.
Willowbrook
Price: $25 for GA or $35 for the speed pass
Dates: Weekends in October and extended days through Halloween. Doors at 8pm (except on Halloween when they'll open early at 7:30pm).
Sick of stuffy, claustrophobic haunted houses? The open-air Haunted Trails is for you then. Wander through the creepy trails for hair-raising scenes and likely some loud screams; and for the same price, check out Psycho Hollow, a wicked forest where twisted clowns and psychedelic freaks lurk in the dark behind the corners you least expect.