We'd say this year has been pretty terrifying so far, so why not pile it on with a spooky Halloween season—even if things look a little different this season. In Houston, that means you can sip tequila at a Dia de los Muertos fiesta, take a haunted stroll in the park after dark, pop bottles at a Halloween brunch, and win cash monies for having the greatest costume of them all (human or dog). The best part? You already have a mask.
Through Sunday, November 1
Sawyer Yards
"The Conjuring," "A Nightmare on Elm Street," "The Craft," and "Halloween" are just some of the films screening at The Drive-In at Sawyer Yards, a drive-in movie theater experience from The Rooftop Cinema Club. Food and drink are welcome, and there are concessions available on-site, as well.
Cost: Tickets are $28-$35 per car, with some flash deals as well
Tuesday, October 27 - Tuesday, November 3
El Big Bad
Downtown tequila temple El Big Bad isn't throwing its colossal Halloween and Dia de los Muertos-themed fiesta this year, but it will be hosting a week full of socially distanced events to make up for it. Follow its social media for updates on what's to come.
Cost: Free, with food and drink a la carte
Wednesday, October 28
Virtual
Halloween nerds can head to Plucker's Facebook page for a themed live-streamed trivia event at 7:30pm. To participate, complete the trivia form online (playing will even earn you a freebie menu item on your next order of $30 or more).
Cost: Free
Thursday, October 29
Osso & Kristalla
Is there anything better than doggy Halloween costume contests, because we really can't think of a single better thing. If you agree, you'll want to his this adorable socially distanced outdoor event, which also helps raise funds to help animal cruelty victims. Dress your furry friend is something he totally doesn't hate you for, snap photos in Halloween backdrops, and score food and drink specials for you and complimentary pet treats for your pal. To sign your pet up for the contest, email your name, email address and pet's name to info@pawandorderfact.com. The party goes down from 4-7pm.
Cost: Free to attend, with food and drink specials a la carte; RSVPs are highly encouraged.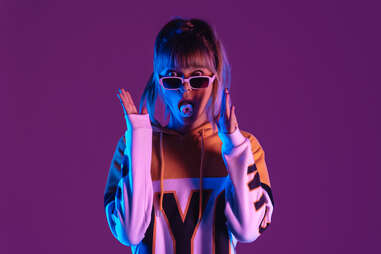 Friday, October 30
Lawless Spirits & Kitchen
Don your best '80s gear and get that hair nice and teased as you set out to uncover who ruined Poison Ratenstein's totally tubular concert by committing murdering at it (totally lame of them, right?). The murder mystery night will feature '80s tunes, a cocktail toast, a grazing board for your table, and food and drink a la carte.
Cost: $20 per person
Friday, October 30
Third Ward
3rd Ward Tours will be cruising the city on LED bikes at this 2000s themed costume event. Throughout the ride, a 2000s R&B Hip Hop playlist as you hit the chosen destinations (usually Discovery Green, Midtown Area or the Museum District).
Cost: $11.37 with your own bike, $30.85 with a rental
Friday, October 30 - Sunday, November 1
The Rustic Downtown & Uptown Park
Good times and spooky vibes are on the horizon at The Rustic, which will be celebrating Halloweekend with DJs, live music and its weekend Jam & Toast Brunch. Each venue rocks ample open-air space and maintains social distancing protocols.
Cost: Free to attend with food and drink a la carte; Jam & Toast Brunch runs $16.95 per person
Friday, October 30 - Sunday, November 1
Superica
The Tex-Mex haunt will rock Día de los Muertos festivities and specials all weekend long, from restaurant décor and staff costumes to Mexican candy gift bags and drink specials like the Morgue-rita featuring Espolon tequila and activated charcoal; and The Devil's margarita with a blood red wine floater and black salt rim.
Cost: A la carte, join the waitlist online
Saturday, October 31
Weights and Measures
From 8am-3pm, W+M is throwing a Spooky Halloween Brunch, with eats from banana bread & pork belly to chilaquiles and cracked egg pizza, plus Halloween cocktails that'll give you a scare, or at least a slight buzz. Break out your best Pence Fly Girl costume if you want to be in running for a $100 gift card prize.
Cost: A l a carte, reservations recommended by calling 713-654-1970
Saturday, October 31
a'Bouzy
You can expect the bubbly to be poppin' at this see-and-be-seen spot's Yelloween Brunch. That's because Veuve Clicquot Yellow Label Brut NV will be on special for $49/bottle from 10 am to 3 pm. Costumes are strongly encouraged, as is poppin' bottles.
Cost: A la carte; reservations are required by calling 713-722-6899.
Saturday, October 31
Virtual
The Houston Symphony is here to make your Halloween classy as hell, with a family-friendly livestream concert featuring Halloweeny music from "Harry Potter," "Pirates of the Caribbean," and more. The show goes down at 11 am but you'll have access to the concert for 24 hours.
Cost: $20
Saturday, October 31
Truck Yard
Truck Yard's outdoor Halloween Bash rocks both a Dog Costume Contest (2pm) and Human Costume Contest (6pm), plus cool stuff like live music, pumpkin smashing, and booze specials. Show up early (opens at 11am) to secure your spots in the contests and to snag a table. And don't forget your mask.
Cost: Free to attend
Saturday, October 31
Eight Row Flint
Rescued Pets Movement is bringing back its fan-favorite costume contest at Eight Row Flint. Dress up your pooch and snap a bajillion photos as it struts its way down the doggy runway.
The judging begins at 5pm, and the winner will get a $50 gift card to Eight Row Flint and a basket of goodies for their dog. To enter your pet, email info@eightrowflint.com or call 832-767-4002 with owner and pet's name and a costume description, or arrive early on the day of.
Cost: Free; participants are asked to bring pet food to the icehouse, and the donations will go directly toward animals in need at RPM (non-contestants are encouraged to bring pet food as well).
Saturday, October 31
Boheme
You may have caught Houston's Best Drag Show at brunch, but the witches are taking their show after dark with an epic Halloween performance, including DJ music from 8pm to midnight. Costumes are most definitely encouraged.
Cost: Reservations (with bottle service) are required; email Sayli@Barboheme.com to reserve a spot.
Saturday, October 31
Loch Bar
The buzzy seafood tavern and whiskey bar is throwing its first "Loch Ness Monster Ball," rocking tricks and treats -- including a live rock 'n' roll band, roaming snake charmer, and Bloody Frosé -- from 9pm to 2am on Halloween night. Dress to impress and win prizes during the costume contest.
Cost: A la carte, with reservations strongly encouraged
Saturday, October 31
Ouzo Bay
Over at Loch Bar's neighbor, Ouzo Bay will transform itself into a Mediterranean marvel for Greek gods and goddesses. Sport a toga and look forward to live entertainment, beats spun by DJ Athenz, drink specials, and a costume contest with prizes.
Cost: A la carte, with reservations strongly encouraged
Saturday, October 31
B.B. Lemon
Head to the Washington kitchen and patio for food and drink specials, DJ music, a costume contest with prizes, and a Spooky Drag show beginning at 9pm. Space is limited.
Cost: Food and drink are a la carte, call 713-554-1809 or visit OpenTable to score a rezzy
Saturday, October 31- Sunday, November 1
Todd Mission
The people-watching opportunities at The Texas Renaissance Festival are always the most interesting, but All Hallow's Eve Weekend takes things to another universe. Reserve a ticket to visit from 9am to 8pm to find a mad mix of creepy goblins and elves, decked out pirates and fairies, and, just a wild guess here, tons of fetish.
Cost: $30/day for general admission
Saturday, October 31
Bowl & Barrel
Get ready for balls, boos, and booze as the boutique bowling alley hosts an evening of Halloween fun, including bowling, music, and an adults-only costume contest. The spooks run from 8pm-1am.
Cost: $22/half hour/lane; $6 shoe rental per person; reserve a lane at 832-690-4480
Saturday, October 31
Bovine & Barley
The downtown craft beer bar and kitchen is throwing its spoony shenanigans starting at 7pm, with happy hour prior (3-7pm) and drink specials and DJ music during the night.
Cost: A la carte, for group reservations, info@eightysixd.com
Saturday, October 31
Henderson Heights
The neighborhood hangout, which just so happens to rock an open patio, promises to get extra crazy at its Insane Asylum-themed Halloween party, going down from 8pm-2am.
Cost: Free to attend
Saturday, October 31
Hermann Park
Fact: Walking the through archways, down dark paths, and over old wooden bridges in the park after dark will creep the hell out of you. Especially when your guide furthers the scare factor with all that unexplained death and ghost stuff. The haunt starts at 9pm.
Cost: $25 for adults
Sign up here for our daily Houston email and be the first to get all the food/drink/fun in town.
Brooke Viggiano is a Houston-based writer who is definitely not watching
It
before visiting any of these places. Be a giant scared baby with her @BrookeViggiano.