Founded in 1836, Houston has a storied past. It's one pervaded by eerie tales and sinister ghost stories, creepy bayous and century-old graveyards, and fears, freaks, and frights that are especially hair-raising during the month of October. For some of the city's most epic scares, you'll want to hit up these downright disturbing haunts, from terror domes overrun by maniacal clowns to pitch-black hallways primed to unleash your deepest, darkest phobias. You may want to pack a change of underpants.
Recommended Video
Please Don't Hang Up: The Best Things to See, Eat, and Do in Seattle, WA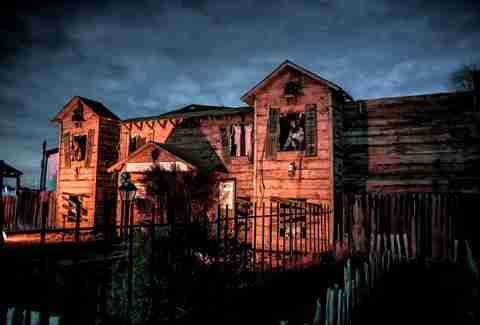 Greater Greenspoint 
Price: Tickets start at $19 on super discount nights and go up to $34 if you want to skip the line 
Dates: Thursday - Sunday through October 20; October 24 - November 2
Pay once and get access to five blood-curdling attractions, including a dark, damp journey through a voodoo swamp, very unsanitary slaughtering house, seriously creepy hospital and morgue, zombie graveyard complete with a dizzying vortex tunnel, and asylum maze of evil clowns that try to disorient you with strobe lights (spoiler alert: it works).
Brookside Village
Price: $15-$80, depending on how many attractions you want to attempt
Dates: Friday-Sunday through October 20, Thursday-Sunday through October 27, and Wednesday-Saturday the week of Halloween
With five houses and a three-link attractio, there are eight ways to literally scare the crap out of yourself at this frightening, choose-your-own adventure style haunt. Here, you can see how the abyss of technology has eclipsed humanity at the too-real Dawn of the Machines; go lights out and full-scream at the Darke Institute; and run from oodles of wack clowns at the trippy AF Clown Mania, all in one night.
Rosharon 
Price: $35 with a $10 speed pass option for line skippage
Dates: Friday and Saturday through November 2, plus extended dates around Halloween
Are you afraid of the dark AND of clowns? If so, you'll absolutely freak at Pitch Black, one of the three creepy attractions at this nightmare factory. The room alternates between debilitating lights and total darkness to the harness complete meltdowns of its clowns and yourself. Things don't get much better in the Dark Woods, where a chainsaw carrying freakshow lurks around; or the 288 Scare Factory, a wayward viral genetic research facility that's pretty much ground zero for the zombie apocalypse. Oh, and there are Escape Rooms in case you're claustrophobic, too.
Richmond 
Price: $30 or $50 for the speed pass online ($40 and $55 at the door)
Dates: Every Friday - Sunday in October, plus Halloween through November 2
Dark and creepy asylum in the woods. Check. Classic horror scenes that blur the line between reality and whatever the hell else is going on. Check. Twisted traveling circus complete with psychotic clowns that will assault the senses and basically scare the hell out of you. BIG CHECK. Oh, and a new Mad Max themed battlefield laser arena to bring all your post-apocalyptic nightmares to life.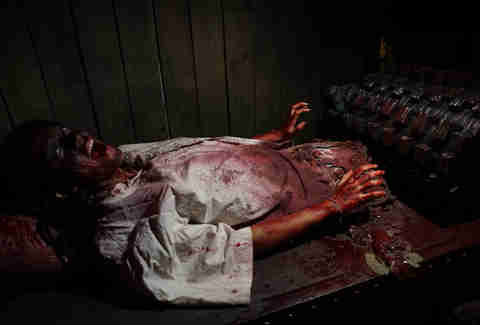 Channelview 
Price: $20-$25 (or $30-$35 for VIP/faster lines) 
Dates: Friday-Sunday through October 13, Thursday-Sunday through October 27, and Tuesday-Saturday the week of Halloween
You know things are about to get real when the haunted house warns you to "bring a change of underwear." This screamfest overloads the senses with sight, sound, and yes, even smell via a maze of freaky clowns, zombies, swamp things and butcher stuffs, and walk-through vortexes and 3D rooms. There's also the Sicko's and Freako's paint ball shooting gallery (with a padded up clown that you can exact revenge on) for an extra charge.
Willowbrook 
Price: $25 for both attractions + $10 for the speed pass 
Dates: Friday-Sunday through October 20, Thursday-Sunday through October 27, and Thursday-Saturday through November 2
Sick of stuffy, claustrophobic haunted houses? The open-air Haunted Trails is for you, then. Wander through the creepy trails for hair-raising scenes and likely some loud screams; and for the same price, check out Psycho Hollow, a wicked forest where twisted clowns and psychedelic freaks lurk in the dark behind the corners you least expect. You can expect even more scenes and screams for 2019, plus a Zombie Game.
Willowbrook
Price: General admission runs from $19.99-$29.99, with fast passes and skip the line options available
Dates: Thursday-Sunday through October 20, daily October 23 through November 2, and Friday and Saturday through November 9
There's a new scare in town, and it involves clowns that return our world every 13 years to swallow your fear-drenched soul. And a nightmarish open gate to the sinister Thirteenth Realm, aaaaanddd the blood-curdling cries of an undead but pretty dead woman in white that scrapes the bottom of rivers and lakes searching for her children. Scared yet? No worries, there's also axe throwing and a bar to help settle your fears.
Kingwood
Price: $33 for general admission, $50 for the VIP speed pass, and $5 for your "last ride" inside a coffin"
Dates: Friday-Sunday through October 27, Thursday-Saturday through November 2
Gone is the haunted "The Kingwood Asylum," and in its place is this scream park where over 27,000 square feet of pure terror awaits. On the way out, you can totally up your phobia level by taking your "last ride" to the grave inside a coffin that simulates movements, sounds and smells (don't worry, your friends can watch you totally freak the F out on a TV screen outside).
Angleton
Price: $35
Dates: Every Friday and Saturday night in October and November 2- 3rd, plus Thursdays October 25 and 31
If you don't think farms are scary, you'll think differently after you get lost in a dead end corn maze at this fear factory. Fans of the "jump scare" should dig that one, and those that enjoy being completely disoriented will love the fog and strobe lights inside the eerie 1900s farmhouse and completely unhinged barn. Add on escape games for $5 a pop.
Sign up here for our daily Houston email and be the first to get all the food/drink/fun in town.