Courtesy of Manready Mercantile
Courtesy of Manready Mercantile
It's way too easy to shop with the click of a button these days. Or to head to big box superstores and find pretty much everything you need (including beer and wine because Texas rocks). And don't even get us started on the effortlessness of drive-thru Whataburger. But do those kind of businesses offer any added, feel-good value? Like the feeling that you're doing something good for the community, supporting conscientious shops, or helping to keep an icon afloat in hard times? With the exception of being pretty freaking happy with that burger, the answer is no.
Supporting local businesses, on the other hand, provides some pretty swell feelings. To help you find those great spots, we highlighted some of our favorite local businesses around Houston that deserve plenty of love and support in 2017.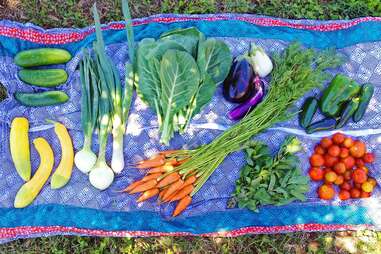 Multiple locations
While Houston has a history of welcoming refugees, it takes some time to get settled in a new life, especially those that may not have the job skills to find meaningful work. Recognizing that many refugees come from agricultural backgrounds, Plant It Forward gives economically disadvantaged refugees an opportunity to provide for themselves and their families through growing, harvesting, and selling produce from a sustainable urban farm within the city limits. It takes the "support local" movement and splashes in a dash of human compassion. Shop at farmers markets and stands, purchase farm share subscriptions (every 30 farm shares purchased provides a refugee farmer with a living wage), or simply eat at local favorites that support the endeavor, including spots like Revival Market, Uchi, and Down House.
Rice Village/West U
In an age when the written word is a dying medium and that Amazon app is right on your phone, it's pretty much a Survivor-level challenge for independent bookstores to make it today. But it's those indie shops that bolster the community, not the big name giants. Like Brazos Bookstore, for example, which does so through book reading programs and clubs, interactive (and free!) book signing events, educational collaborations, partnerships with local creative writing programs, and a wonderfully offbeat staff. Brazos was opened by Karl Kilian in 1974, and when he announced his retirement in 2006, the community sanctuary was saved when a group of 27 Houstonians came together to buy it out. It'd be a shame not to keep the love alive.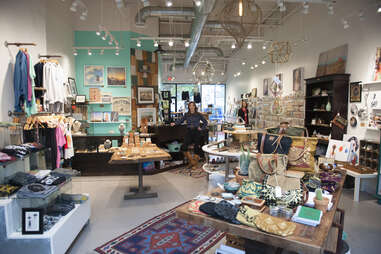 Montrose
You can feel good about supporting a local shop that reps H-town hard -- we're talking Houston tees, Houston coasters, Houston necklaces, even Houston onesies. Especially one that was designed as a platform for local and American creatives, as is the case with Space Montrose. The hip boutique also boasts prints, cards and stationery, candles and soaps, home decor, clothing and handmade jewelry. Look out for trunk shows and pop-up shops throughout the year, and stop in whenever you're looking for something outside-the-box.
Downtown
In the true spirit of a rec room, this community theater strives to get locals off the couch and give them a place to play in the actual company of others. The creative space was founded in 2016 by theatrical producer and creative writing teacher Matt Hune and native Houstonian and longtime theatre artist Stephanie Wittels Wachs (her late brother, Harris Wittels, was a comedian, actor, and writer who coined the phrase "humblebrag"). Today, it produces unconventional, original, and interactive works in the form of concerts, theatrical and dance performances, comedy, podcasts, variety shows, and film screenings; all of which promise to be badass, unpredictable, and full of "heart. Lots of heart." The space also recently added a bar. Just sayin'.
Sixth Ward
Housed in a refurbished paper factory beside the Ecclesia Church, this reincarnation of the late Taft Street Coffee serves the kind of joe you can get behind. First, it takes uber care in responsibly sourcing its beans, which it roasts onsite. Even sweeter, all of its profits go toward creating space for Houston's homeless to share good food and life, with a daily Common Meal where you can contribute what you can or pay more than the suggested donation to help feed a brother or sister in need. Sip on pour overs, foamy macchiatos, and flat whites, and feel damn good while you do so. If you want to feel even more damn good, grub on their fresh new menu of eats, including Texas-sized burgers and fried chicken biscuits & gravy.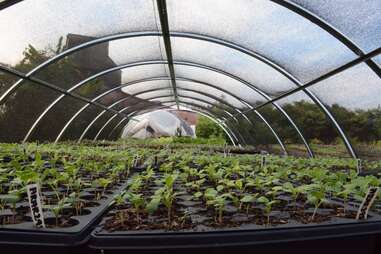 East End
The East Side isn't exactly known for its farm fresh produce, but all of that changed when Finca Tres Robles, meaning "Three Oaks Farm," revamped a former industrial site there in 2014. Now it's Houston's first private farm inside the 610 Loop, and it grows herbs, fruits, and vegetables with the goal of making them more affordable to the immediate East End community. In offering free memberships to residents in the 77011 (includes 10% or more discounts on all produce and classes offered on the farm), the urban farm challenges the current food system of the neighborhood, strives to promote health and education, and fosters both the community and the local economy. Hit the Finca Farm Stand, shop for produce at the Urban Harvest Farmers Market and East End Street Market, commit to a CSA share, and lookout for special events like seasonal farm dinners.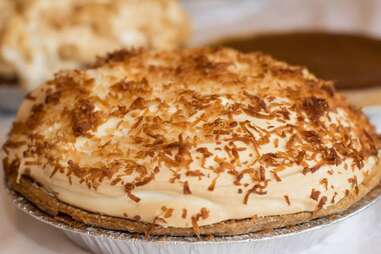 Last spring, a fire burned the historic Cleburne Cafeteria to the ground right before it was about to celebrate its 75th year in business; it's the second time the restaurant was destroyed by fire, the first being in 1990. This March, the Houston institution plans to open its doors once more. Family-owned and operated since 1941, everyone is treated like family here (it estimates roughly 70% of its business is regulars). Unexpected hiccup aside, owner George Mickelis hopes to attract a younger crowd (that's you!) with a menu refresh, including stuff like kale salad and tabbouleh to round out its homey chicken-fried standbys.
You always feel good after a fresh cut. But you want to know how to feel really, really good? Hit up Christopher Estrada, the Houston barber and humanitarian that offers free haircuts to veterans in need, those suffering from both physical combat wounds, as well as those injuries that can't be seen, including PTSD. Estrada started Gorgon Barbers with the hopes of giving back through genuine, sincere conversation and badass haircuts and shaves. He packs up his portable barber chair and tools and visits Camp Hope -- which provides interim housing to vets -- to offer his gratis haircutting services every few weeks, and hopes to one day open up a storefront where every paid cut buys a free cut for those in need. Help the cause by booking an appointment at gorgonbarbers@gmail.com or help out on his GoFundMe page.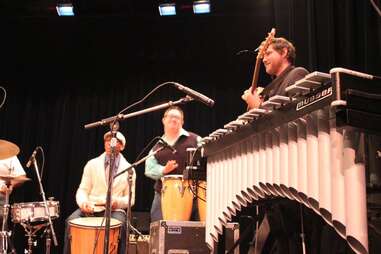 Though it's not exactly a business, ReelAbilities: Houston Film & Arts Festival has a hell of a mission. The FREE city-wide film and arts festival seeks to implement change and enrich Houston's culture, diversity, and inclusion efforts by celebrating the stories and talents of people with disabilities. Now in its fifth year, the inspiring art, music, and film exhibition will take place from late January through early March. Support the effort by showing your love at film screenings, art shows, and special events like ReelMusic, the jazz and blues jam held at the Secret Group space. If you want to get deep, hit up ReelPeople: UPAbilities, a series of group discussions about the impact of video games on the lives of those living with varying abilities held at Rice's Shepherd School of Music.
Heights
Manready Mercantile is just plain cool. The Heights men's emporium offers a solid selection of locally made products, and even when they aren't locally made, they are guaranteed made in the good ol' Americah. Just know that when you step inside, you should to be ready to spend some serious cash; because you'll probably want everything, starting with blissfully soft washed tees, sick vintage boots, and TX hats and ending with leather goods, bergamot-teak candles, and beard treatment. Oh, and whiskey-soaked "campfire jerky." You need to score some of that.
Sign up here for our daily Houston email and be the first to get all the food/drink/fun in town.