If you have a smartphone in Houston, you have apps; the majority of which are probably space-abusing ones to make GIFs that none of your friends actually find funny. What you need instead are ones that actually make living life in Houston totally easier. Like these 23, for starters: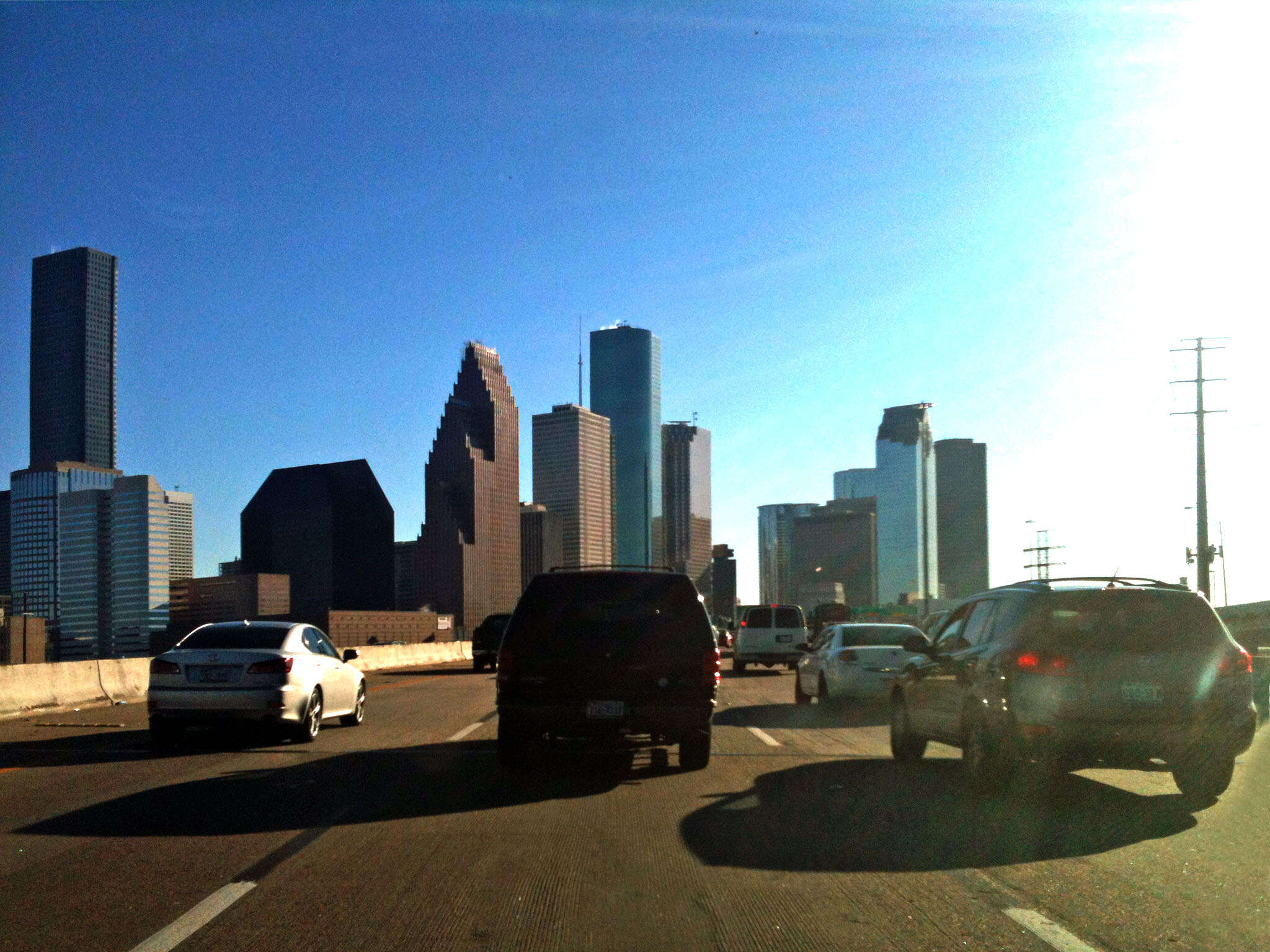 Getting around
Houston Traffic
Free
Android
What it does: Brings you real-time traffic updates
We all know Houston drivers aren't exactly the best (and that's putting it kindly), so you'll need an app to get you updates on all the inevitable traffic jams you're about to jam into. This one uses real-time info from Houston TranStar to bring you cams, maps, incidents, and essential highway info.
ParkMe
Free
iPhone, Android
What it does: Locates nearby metered street and garage parking spots
Instead of getting another ticket and fighting with your S.O. over whether or not they read the parking sign right, spring for a spot with this easy app that finds the closest, cheapest parking nearby and compare rates to get the best deal. You can also use it to pay in advance to reserve spots, which is especially helpful at the airports during the holidays.
Uber
Free
iPhone, Android
What it does: Gets your overserved a-s-s home
Do you even Uber, bro? If not, you should start. Because this cashless car service connects you with a private driver reliably, conveniently, and usually pretty quickly. Features like Uber XL and fare split make sharing rides easier than ever. Just request, ride, and pay via your mobile phone.
Get Me
Free
iPhone, Android
What it does: Combines a personal driver with a personal assistant
If Uber and Favor had a baby, it would be this Dallas-born gem. Houston is one of four cities the ride-sharing and delivery service is currently in. Keep it here by taking advantage of the easy "Get Me Somewhere" or "Get Me Something" options.
Hailacab Houston
Free
iPhone, Android
What it does: Hails you a cab (appropriately named, right?)
For times when Uber is surging like a motha, this app will catch a good ol' Yellow Cab for you. It also features real-time data and cab tracking, similar to the ride-sharing giant.
BCycle
Free
iPhone, Android
What it does: Finds the nearest B-station and tracks available bikes or docks
Houston's bike-sharing program is one of the best ways to take in the city. Make your experience instantly better by downloading its app, which allows you to track available bikes or docks in real time.
METRO T.R.I.P.
Free
iPhone, Android
What it does: Uses GPS to locate you and plan your most efficient Metro trip
Screw trying to look things up yourself. The Transit Route Information & Planning (T.R.I.P.) app gets the proper bus & rail schedule information to you, predicts arrival times of buses, and helps plan your trip with ease.
Ride
Free
iPhone
What it does: Helps you manage your daily commute to work
Enter the details of your typical weekly commute and Ride will match you with a carpool of friends, neighbors, or coworkers based on your (and their) preferences and schedule. And if you're cool enough to already have a carpool, you can use this app to manage fun stuff like routes, communication, and payments.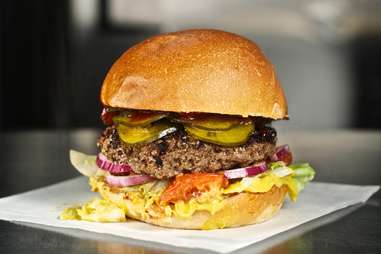 Eating/drinking
Thrillist
Free
iPhone
What it does: Gives you incredible bar and restaurant recommendations based on location
You're reading this, ergo it's scientific fact that you love us. So why not let us guide you through an epic food & booze journey with our app? We'll take you to the best, the hottest, and the hidden, all by using your current location.
TapHunter
Free
iPhone, Android
What it does: Allows you to find and track your favorite craft beers and cocktails.
Houston beer geeks love this craft booze finder, which locates nearby bars, restaurants, tasting rooms, and bottle shops and lets users rate the suds as they go.
Minibar
Free
iPhone, Android
What it does: Delivers you booze!
Very important public service announcement: you can get wine, beer, and liquor delivered to your door in 60 minutes or less. Just use this killer app, which partners with local liquor stores to bring you the good stuff. If that doesn't lift your spirits (get it?!), we don't know what will.
DoorDash
Free
iPhone, Android
What it does: Delivers you food on demand
No minimum orders and the ability to order from multiple restaurants, do group ordering, and earn credits as you go set this food delivery service apart. Get everything from Al's Quick Stop gyros to Kata Robata's ramen just by tap, tap, tapping.
UberEATS
Free
iPhone
What it does: Brings you curated lunch in 10 minutes or less (Monday-Friday, currently only available in certain locations)
As if getting you home safely every Saturday night wasn't enough, Uber has teamed up with the best local eateries to bring you a curated list of delicious lunch options (we're talking things like Helen Greek's hand-packed pork gyros, Common Bond's chocolate chip walnut cookie, and Asia Market's Thai panang curry). It's all right there in your Uber app. Don't believe us? Go check!
Favor
Free
iPhone
What it does: Gives you a personal delivery assistant
Get pretty much anything you want in Houston delivered to your door in under an hour. That means someone will actually bring you groceries, dry cleaning, a Good Dog Deli Dog, and a Fluff Bake Bar Veruca Salt Cup|Cake all in one sitting.
Roaming Hunger
Free
iPhone, Android
What it does: Provides a food truck map to find where your next meal is parked
Houston is a pretty sprawled-out city, so real-time food truck tracking is essential to finding your favorite roaming vendors. Annihilating your midday munchies just got that much easier.
Essential info
Houston 311
Free
iPhone, Android
What it does: Allows you to make service requests to the city and report and track non-emergency issues
Reporting potholes, broken traffic signals, and ugly graffiti (never report the cool street art) is a snap thanks to this app, which uses GPS to identify your location and also allows you to add photos to your service request.
Nextdoor
Free
iPhone, Android
What it does: Connects you with your neighbors
Imagine if your block and those surrounding it had a Facebook page. Now imagine the kind of hilarious madness that may ensue when you and your neighbors have a common sounding board. That, coupled with actually relevant and important local intel and a ton of reports on lost dogs, is the magic of Nextdoor.
Hurricane Tracker
$2.99
iPhone, Android
What it does: Tracks hurricane activity and provides preparedness tips
Houstonians know hurricanes are no joke. Keep tabs on hurricane and tropical storm activity through maps and images, real-time National Hurricane Center updates, details on threat percentages, and push notifications.
Ready Houston
Free
iPhone, Android
What it does: Provides timely information before and in the event of an emergency
The Houston region's official emergency preparedness app brings you local weather and health alerts alongside direct access to emergency radio, news, and weather updates. Users can make and track emergency plans and contacts and use the emergency alert to notify emergency contacts of your location.
Rollout! Houston
Free
iPhone, Android
What it does: Takes the guesswork out of trash pickup
Figure out your recycling schedule and big waste pickups with the touch of a few buttons. Just enter your location, set reminders, and never have to wait for your way-more-responsible neighbor to put their trash out first again.
Waze
Free
iPhone, Android
What it does: Helps you get the best route, every day, with real-time alley-oops from other drivers
This community-based traffic and navigation app allows drivers to share real-time traffic and road info, saving everyone time and gas money on their otherwise sucky daily commute.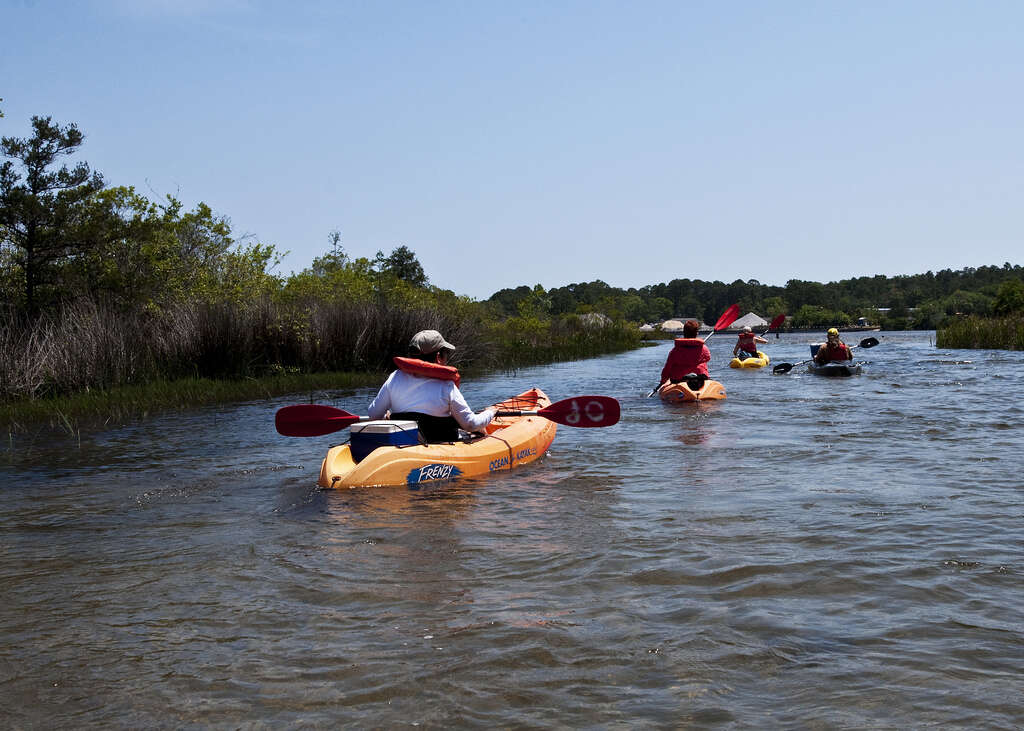 Lifestyle
GetOutHere! Houston
Free
iPhone
What it does: Gets you off the couch and outdoors
Leave it up to technology to pull you away from your Narcos binge. Swipe and tap to find hundreds of outdoor activities happening in the Houston-Gulf Coast region. Then get off the damn couch and go do them.
Tinder
Free
iPhone, Android
What it does: Don't pretend you don't know
Swipe right for the chance to get laid or just like, to meet up for coffee because you're classy like that. At the very least, you're sure to get a worthwhile tale for your next Tinder date.
Sign up here for our daily Houston email and be the first to get all the food/drink/fun in town.
Brooke Viggiano is a Houston writer who considered including the Texans app but decided against it 11 seconds later. Follow her: @BrookeViggiano.