The Most Beautiful Runs in Houston
People don't usually think of Houston as beautiful, and though we've already proved why those people are sorryfools, we'd like to do it one more time. This go-around, we're focusing on fitness, to keep you both aesthetically pleased with yourself and aesthetically pleasing to others. It's time to stop complaining about the Houston weather, stop binging on Narcos, and start hitting your heel strikes on these 11 most gorgeous trails.
Memorial Park
Whether you're a marathon runner, a casual jogger, or a power walker who really just wants an excuse to grab a Becks Prime burger afterward, we're sure you've hit the Memorial Park's uber-popular 2.93-mile trail. But we bet you didn't know it's real name is The Seymour Lieberman Exer-Trail, because it's likely no one knows that and the Memorial Park Loop is so much easier to say. Lined by big, beautiful Texas oaks, the crushed granite trail makes for a pretty, if not pretty packed run. If you want to escape the crowd and get one with nature (were talking bayou streams, a lake, and the Houston Arboretum) veer off to the 30 miles of trails on the south side of the loop. Yes, you'll still have time for Becks Prime.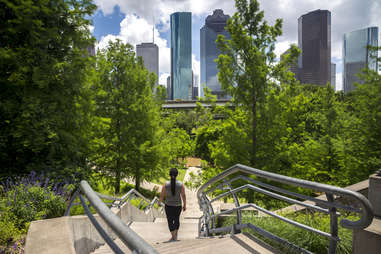 Buffalo Bayou Park
The Downtown skyline beams in the background of this recently renovated, 160-acre urban park, providing both motivation to dig deeper and something pretty to look at. Its running trails wind along with the Buffalo Bayou, with lush woodlands and pockets of wildflowers, eye-catching pedestrian bridges, cool art installations, fountains and trickling waterfalls, a lake, a dog park, and an entire restaurant that looks like a glass treehouse set along the way.
Get foot loose on the 10ft-wide Sandy Reed Memorial trail, which allows cyclists, walkers, and joggers to share the path, or dip down to the Kinder Footpath, a 5ft-wide asphalt walking and jogging trail that runs along the bayou's banks. At night, an innovative lunar-cycle lighting system designed by artist Stephen Korns illuminates the trail, fluctuating from blue to white along with the phases of the moon. The park is pretty much the crown jewel of Houston.
Buffalo Bend Nature Park
Over on the eastern trailhead of the Buffalo Bayou, you'll find this 10-acre park located near the Port of Houston turning basin. The former industrial area began its metamorphosis into a rad-looking greenspace and wildlife conservation area in 2009. It officially opened in February of 2016, and with it came enhancements like 10,000 wetland plants, rock walls, and winding hike and bike trails where you get to hangout with ducks. The serene park is only open for "passive recreation," so you won't find any pesky tennis or basketball games getting in the way of your zen.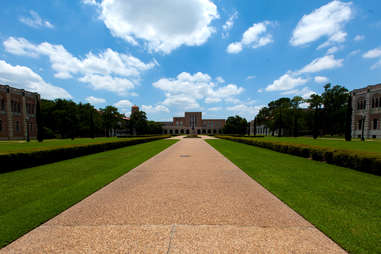 Rice University Loop
Right across the street from Hermann Park, this 2.92 mile loop through the scenic Rice University is the way to go for architecture buffs, with public art and gorgeous buildings popped up all around campus and ivy-covered homes dotting the outskirts. Even better? It's one of the shadiest runs in town, as towering oak trees offer a striking respite from the scorching Houston sun the entire way. Even better than better? The gravel path is flat enough to save your knees from yourself.
Terry Hershey Park
There's a damn butterfly garden in this westside park, so it can't not be beautiful. There's also lighted walking trails, tree-lined hike and bike trails, and convenient runner's showers which could be quite hot depending on who's using them. For a rugged run, hit the heavily-wooded Anthills Trail, an off-road trail frequented by bikers thanks to its rollercoaster-like route.
Hermann Park
The 445-acre Hermann Park is a masterpiece in the center of Houston; a prize that plays home to the Houston Zoo, Miller Outdoor Theatre, Japanese and McGovern Centennial Gardens, Jones Reflection Pool, and, most importantly for the purposes of this whole thing we're doing here, the 2-mile Marvin Taylor Jogging Trail. Run the loop around the golf course or zig and zag your way through the park's entirety to find hidden lakes, bridges, and gardens. Either way, you'll be treated to wonderfully-kept, eye-pleasing grounds surrounded by nearly 10,000 Texas trees, some of which are nearly a century old.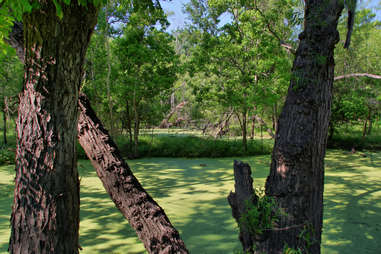 George Bush Park
Political affiliations aside, this truly massive, 7,800-acre park on the west side of town is pretty damn attractive. Inside, you'll find a slithering system of jogging trails, looking all fine alongside forest, bayous, and ponds, and strangely beautiful swamps, reminding you that ugly is in the eye of the beholder. That's how the saying goes, right?
Paul Carr Jogging Trail
This 2-mile strip down the historic Heights Blvd will make you want to house hunt the second you get home. Edged with stately mansions and quaint Victorian-style homes with wrap-around porches that you wish you had, plus seriously cool, rotating art installations along the way, the only thing not pretty about this run is the ugly cry you do when you remember what's in your bank account.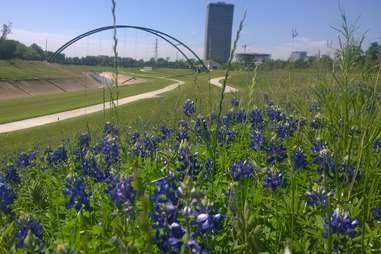 Brays Bayou Greenway
There's a reason we're called Bayou City, and this 31-mile bayou is one of them. The naturally formed park flows eastward from Fort Bend County, through the Texas Medical Center and to the Houston Ship Channel. Along it, you'll find a popular bayou-side running trail, which can be easily accessed from the both Hermann Park and the University of Houston campus. It's pretty sweet as it is, but expect big things in the future, as it's a huge part of the Houston Parks Board's Bayou Greenways 2020 Project. The project plans to connect Houston parks through an uninterrupted ribbon of green space, complete with hike and bike trails along the bayou within the city limits.
George Mitchell Nature Preserve
Up north in The Woodlands, this rustic nature preserve covers nearly 1,700 acres, but you'll want to hit the picturesque 2-mile trail loop if you want to make it home for dinner, or like, ever. On top of the naturally surfaced, forest and wildflower-lined jogging loop, the Flintridge Dr trailhead has three miles of bike trails at which to get your exercise in.
Galveston Island
For a beautiful beachside run, head straight for the sand, or jog along the island's famous Seawall Blvd, which offers a 10-mile urban park with beaches, ocean views, and the nation's longest continuous sidewalk. The people watching may be even more entertaining than the scenery.
Sign up here for our daily Houston email and be the first to get all the food/drink/fun in town.
Brooke Viggiano is a Houston-based writer who has a sudden urge to close her laptop and go for a run. See if she does by following her @BrookeViggiano.