There are only so many times you can take a three-hour tram tour of the Johnson Space Center before you start lying to your guests about NASA being shut down to the public because of alien space signals. Rather than being a big fat liar, why not try distracting them with a bunch of legitimately cool options for things to do instead? These compelling activities -- divided into price ranges from "Free as hell" to "Hope you're rich" -- should do just that.
Get wonderstruck at the James Turrell Skyspace
Free
Rice University
Not many tourist attractions are actually worthy, but this totally rad light and sound installation definitely is. Found right next to the Shepherd School of Music on the Rice University campus, the acoustically engineered masterpiece is dubbed "Twilight Epiphany" thanks to a trippy LED light sequence. It projects onto and through the structure's open roof just before sunrise and at sunset. Money isn't needed, but reservations are.
Take a picnic to the stage
Free
Museum District
From March through November, the open-air Miller Outdoor Theatre puts on lively stage productions -- think live jazz, ballet, and musical theater -- that are absolutely cool and absolutely free. It very obviously draws a crowd, so join that crowd along with a blanket, some boxed wine & local cheese, and your super-impressed guest of choice. In the off-season, a picnic at Downtown's urban park, Discovery Green, is another smart choice.
See bats!
Free
Montrose
True story: when the Waugh Bridge was built, no one know it was the perfect structure to host 250,000-350,000 Mexican free-tailed bats. Well, apparently it was, because locals started noticing a bat colony in 1999. Today you'll find the bats hanging tight until they spiral out from the bridge's crevices nearly every night around sunset. The city even constructed a viewing platform with some more educational details, which never fails to both fascinate and creep the hell out of visitors.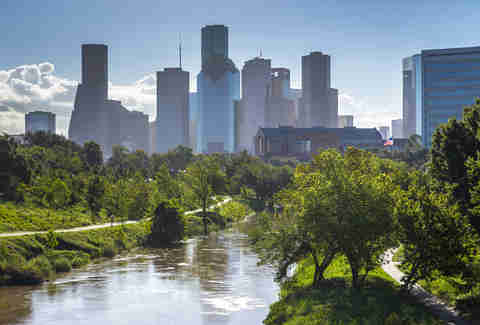 Explore a secret underground cistern
$
Downtown
The Buffalo Bayou Partnership has done a lot for this city, and one of the raddest of its contributions was re-imagining this 1927 industrial relic into a public space. For now, you can take 30-minute docent-led walking tours of the 87,500sqft, 25ft-tall space for $2 a pop; and soon enough, mind-warping light and art installations will be a part of the show. Reservations required.
Rent a B-cycle
$
Multiple locations
One of the sweetest ways to get to know the city is by biking it, so hit up one of bike sharing program B-cycle's 31 (and counting) locations to rent a bike for just $5. It'll last you 24 hours, but you'll have to check it in once an hour to avoid extra charges. With that in mind, we suggest taking an easy ride along the bayou and into Downtown, where you'll find a majority of the stops and a whole bunch of places to "quench your thirst" in between.
Tour a brewery
$
Multiple locations
Houston's brew scene is having a bit of a moment, so it stands to reason that you should partake in that moment. Start at heavy hitters like Saint Arnold, which opens the taproom for free tours and a la carte purchases on weekdays. On Saturdays, $10 will get you admission and access to the tour, plus four tokens with which to redeem the brews of your choice. Over at Karbach, you'll find a similar deal and an outstanding full-service restaurant next door to the biergarten. Once you've conquered those, expand your sudsy horizons with 8th Wonder Brewery, Buffalo Bayou Brewing Co, and Brash Brewing.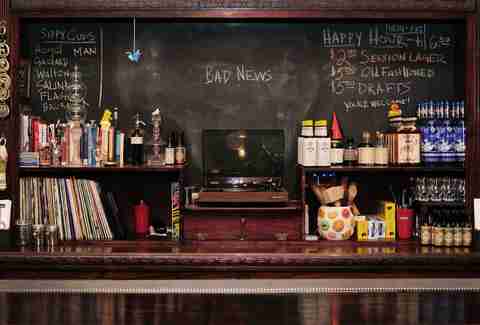 Bar hop on Downtown's megablock
$$
Downtown
While Houston is known for its sprawl, that's not the case Downtown, where inviting drinking establishments sit so close together, we're surprised there haven't been any turf wars. See how nicely the bars play together by embarking on a DIY bar crawl, starting with drinks for a cause at OKRA Charity Saloon, hopping your way to expertly crafted libations at Captain Foxheart's Bad News Bar & Spirits Lodge, and Moving Sidewalk, mezcal-laced cocktails at The Pastry War, whiskey shots at Boots 'n Shoots, and circling back to end the night at notsuoH, because that's always where you end the night. Oh wait no, that's Roma's or Frank's.
Teach them how to Topgolf
$$
Katy (& Webster & Spring)
It's kind of like teaching them how to dougie, but way cooler. Instead of looking like an idiot, you'll be smacking golf balls at colored targets, dominating life-size Connect Four, and drinking a decent amount of beer buckets. Don't let its outside-the-loop location stop you from this good time (there's always Uber to kindly provide transport if you plan to booze).
BYOB to Chinatown
$$
Chinatown/Sharpstown
A trip to Asiatown is never not a good idea, but when you tack on BYOB options, things get a little bit extra. You'll want to pair something hoppy with the fiery curries at Mamak Malaysian, fork-tender lamb shank masala, and Pakistani-spiced fried chicken at Himalaya, garlic-butter Vietnamese-style crawfish at Crawfish Cafe, and hot peppercorn beef and pot-roasted fish at Mala Sichuan Bistro (which offers an excellent in-house wine list in case you totally blank and forget your bottle, as well).
Spend all day at an ice house or beer garden
$$
Montrose (& Midtown & Upper Kirby)
Show guests how Houstonians really live by chillin' out maxin' & relaxin' all cool at the city's most laid-back watering holes ALL DAY LONG. Over in Montrose, the West Alabama Ice House is absolutely legendary. Cheap booze, basketball hoops, and some of the city's most excellent tacos al pastor help keep it that way. In Midtown, Axelrad Beer Garden is the kind of place you actually can hang out all day because you'll probably fall asleep in one of the garden's many nap-inducing hammocks. When you wake up, grab a slice from the neighboring Luigi's Pizzeria. Then there's Kirby Ice House, which won't allow folks under 23, and everybody seems to be OK with that.
Splurge on the seafood tower
$$$
We're not saying you need to prove to visitors why Houston totally rocks, but if you did need to prove to visitors why Houston totally rocks, you should do so with a gargantuan seafood platter. At Holley's Seafood Restaurant & Oyster Bar, that comes in the form of a beautiful $135 feast stacked with oysters on the half shell, marinated mussels, snapper ceviche, campechana, crab meat deviled eggs, and pickled shrimp. Over at Brennan's, the Grand Seafood Platter busts out the big guns with a creole spread featuring blue crab ravigote, Zatarain's jumbo shrimp, creole lobster "on a stick," West Indies crabclaws, Des Allemands smoked catfish dip, and Louisiana half-shell oysters. Bernadine's I-10 Platter makes the perfect starter at $65, with raw oysters, blue crab claws, pickled shrimp, smoked fish dip, chicharrones, aged Surryano ham, and house pickles. Or there's the jewel that is Julep's tower, feeding three to six people whole lobster, king crab legs, raw oysters, bay scallops, cold boiled shrimp, and seafood accompaniments for a cool $120.
Let some professional chefs guide you around town
$$$
Every month, a bunch of the best chefs in the entire city sign up to show you Houston's culinary scene from their super-knowledgeable point of view. These have included tours like the Ethnic Comfort Food tours with Adam Dorris of Pax Americana and Lyle Bento of Southern Goods, and the Chocolate Lovers tour with Fluff Bake Bar's Rebecca Masson. The culinary journeys sell out lightning-fast and they aren't cheap, but there's no better way to eat your way through the city. Sales usually start a month or two before, so you'll want to keep an eye out for the upcoming schedule.

Live that suite life
$$$$
Museum District
We're sure you hit up Houston's luxury hotels mostly never. But what if you did? Well, then you'd enjoy a luxurious staycation with five-star accommodations like Hotel ZaZa's super-sexy, 2,000sqft Rockstar Suite ($2,500/night) or much more affordable regular suite; plus access to a sick pool, skyline views, spa services, and a swanky fine dining restaurant and bar. Starting in November 2016, you'll also want to check out the Marriott Marquis, which is about to have the most coveted pool in Houston in the form of a seriously awesome lazy river in the shape of Texas.
Sign up here for our daily Houston email and be the first to get all the food/drink/fun in town.