Everything That Will Most Definitely Happen to You While Driving in Houston
Silvio Ligutti/Shutterstock
Driving in Houston is a beast like no other. It entails a unique set of rules that are mostly unofficial but generally accepted, complete with experiences (some traumatic) that make you think hard on why exactly you decided to live here. That's not to say that everything that happens to you while driving here is bad... but yeah, mostly everything that happens to you while driving here will be bad. At least we have plenty of Whataburgers for when you just need a break.
1. You almost get run over by a tricked-out Ford F150 on the Katy Freeway.
2. You nearly lose your mind when no one signals for a left turn on Westheimer.
3. You nearly lose your mind when no one knows how to merge onto ANYWHERE.
4. You forget you're wearing shorts and burn the living hell out of yourself on the scorched earth that is your driver's seat.
VictorPR/Shutterstock
5. The car next to you is texting while driving… on an iPad… while speeding on I-10.
6. Crap, pothole.
7. You realize speed limits are taken as light suggestions, especially the Grand Parkway.
8. You heed the warning "turn around, don't drown."
9. While downtown you forget that you can make a left turn onto a one-way street on red and get viciously honked at.
10. You hear "Cake By The Ocean" again and make silent death threats to Houston's radio DJs.
11. For a fleeting second on I-45, you forget what you're doing and think you're playing Mario Kart.
12. You spend so much time getting frustrated in traffic that you regularly trade your workout for happy hour, and you're totally OK with it because it's the only way to survive.
13. Crap, ANOTHER pothole.
14. It lightly snows, and it's basically as though the apocalypse has happened.
15. You pull off an expert-level parallel park in Midtown only to realize it's not a legal spot.
16. Your car takes a nice long mud bath just after you wash it.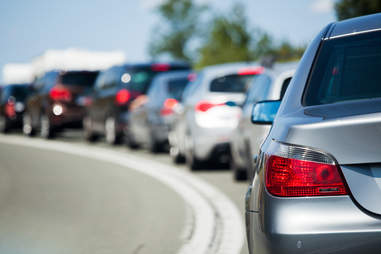 Christian Mueller/Shutterstock
17. You check Google Maps for traffic alerts and die a little inside after seeing the loop lit up like a Christmas tree.
18. You experience a moment of panic after seeing the light-rail tracks on Main.
19. You realize merging in or out of a four-lane feeder road is exactly like The Hunger Games.
20. HOT 95-7's "Whatcha Doin' At The Courthouse" is the best part of your morning commute.
21. You almost crash trying to Snap the Montrose rollerblader.
22. You legitimately get air while driving on T.C. Jester.
23. You get really good at dodging truck debris.
24. You wait in line to get onto 610 for 20 minutes only to have the car in front of you let, like, 10 cars cut in.
25. The lanes in the Med Center have been painted over so many times you're actually not sure which one you should follow.
26. You consider quitting your desk job and getting into construction, since there's clearly an endless amount of work to do.
27. You almost hit the guy that's straight-up stopped at the feeder to I-45 South from Allen Parkway.
28. You turn down a back road near Bush Intercontinental and are convinced your GPS is trying to get you murdered.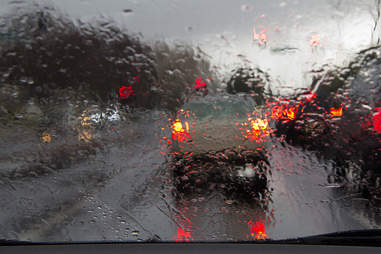 Galina Gutarin/Shutterstock
29. You drive through a torrential downpour like "Jesus, take the wheel."
30. Just when things are going well on Hardy Toll Road, you see it: "Road closed ahead."
31. Crap, valet guy.
32. While cruising downtown, the guy in front of you forgets he can't make a left turn onto a one-way street on red, so you viciously honk at him.
33. You decide to turn around, park your car at home, and Uber to keep any semblance of your sanity.
Sign up here for our daily Houston email and be the first to get all the food/drink/fun in town.