Houstonians are creatures of habit. Especially those that live inside the 610 loop and liken leaving their urban safe zone to being dropped off by their dad on the first day of kindergarten, desperately hugging on to his leg. The point is, you were better off for bravely facing uncharted territory. Since we know you probably require a little more than a questionable pump-up speech to stop being so lazy and leave the loop, there are also these awesome reasons.
1. To play around in a waterpark AT NIGHT
That's right, night sliding. Friday Night Slides at the newly opened Katy waterpark, Typhoon Texas, is the best way to beat the heat without having to actually face the scorching sun.
Local beer experts drank their way through Texas' finest brews to come up with their personal lists of the top 10 breweries in Texas, then we tallied their answers and ranked the 10 finest accordingly. The least you can do is leave the loop to visit one of them, mainly Lone Pint in Magnolia. Or if you really can't even, the just outside the inner loop Karbach Brewing Co and Brash Brewing Company.
You know that feeling you get when you like a band way before they were cool, then you get to make fun of all the posers that just discovered them? Do that with Houston's next big beer stars, from Galveston Island Brewing in Galveston to B-52 in Conroe.
This Pearland donut shop & grill made its own version of the cronut and had a Killen's Barbecue collab that caused an outright frenzy, so it's obvious they aren't messing around. Make your way to Pearland to see what all the fuss is about, and to get things like bacon cheeseburgers with glazed donut buns and hot dogs done "chimichanga style."
5. Because rocketships and space stuff are cool
Access to the largest rocket ever built and operated in the entire world? Check. Full-scale version of the Space Shuttle. Check. Astronaut food, space simulations, and the opportunity to fantasize about saving a lunar landing in the Mission Control room. Check, check, and check.
6. To get discount electronics, fly fashion and decor finds, and pashminas
If you consider yourself an semi-professional bargain hunter/pack rat, the discount haven that is Harwin Dr is the seriously cheap peanut butter to your budget-minded jam. Or the next evolutionary step into your starring roll on an upcoming episode of hoarders.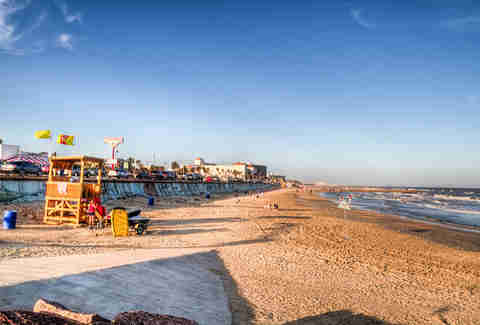 7. To dip your toes in the sand
Though we all mock Galveston beaches more often than not, the island is actually pretty cool. Play in the sand, rides waves in the Gulf, and do fun stuff like partake in our 11 Part Galveston Drinking Guide.
8. Because eight courses are better than one
Hubbell & Hudson's impressively crafted eight-course tasting menu restaurant, Cureight, is one of the Woodland's best kept secrets. Looks like the secret's out.
9. To do some dim sum
Just outside of Chinatown, Fung's Kitchen's Hong Kong-style dim sum packs the massive dining room on the regular. We suggest you go see why (here's a hint: they take fresh seafood straight from their fresh inhouse aquarium).
10. Because no seriously, Chinatown though
Chinatown, aka Asiatown, aka where you should be going to eat has strip center after strip center filled with absolute stunners. Drive through and you'll find every type of staple Asian cuisine you can think of and then some, from seven courses of Vietnamese-style beef and Cantonese squid ink fried rice to Malaysian-style whole fish wrapped in banana leaf and that rolled ice cream that's been taking over your IG feed.
11. To live that kolache life
Step away from the Kolache Factory. There are so many better versions to be had nearby, like Two Czech Chicks Kolache Shoppe & Bakery's passed down, babicka-approved recipe, the poppyseed numbers at Rosenberg's Old Main Street Bakery, or everything at the just-outside-the-loop Original Kolache Shoppe.
12. For lakes and party boats
Nobody is taking a party boat out on the Buffalo Bayou, so it's pretty favorable that there are plenty of lakes nearby. All you have to do is leave your inner loop panic room, and you'll find lakes like Clear Lake and Lake Conroe, at which you can sail, jet ski, fish, and most importantly, day drink.
13. Because there are ample hiking opportunities
Galveston Island State Park, Sam Houston National Forest, and Stephen Austin Park are just a few of the excellent spots to hike nearby.
14. To pony up
For the chance to feel like a real Lone Star cowboy, hit up Cypress Trails for a horseback riding sesh. The feeling should last roughly 2.5 seconds, the amount of time it takes you to realize you don't know how to mount and/or ride a horse.
15. For "Loud Packs" and "Crack Sauce"
If you don't know about Lotus Seafood, you don't know anything. So we'll help. Visit any one of the trio of Creole/Cajun/Asian seafood spots, ask for a Loud Pack with extra Crack Sauce, and you'll be gifted beautiful shrimp and crawfish fried rice with extra spice and more shrimp of which you can and will absolutely smother in creamy garlic butter sauce.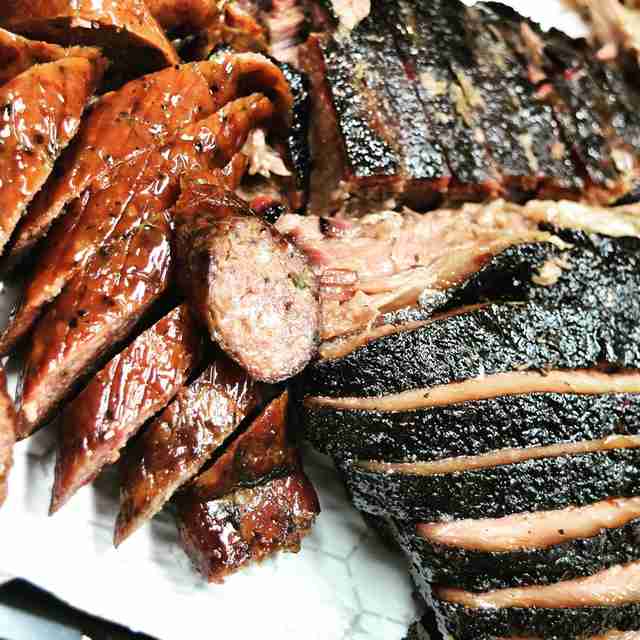 16. Because CorkScrew BBQ's smoked meat is not going to eat itself
And neither is Killen's.
17. To catch a concert
Houston's hottest outdoor music venue lies in the Woodlands, so if you want to see some of the biggest names out there, you may have to take a ride to our friends up north.
18. Because there's a wakeboarding park
Not only does Wake Nation boasts an overhead cable-system so you can learn to wakeboard without a boat, there's also an aerial ropes course, water trampoline and slice park, and paintballing.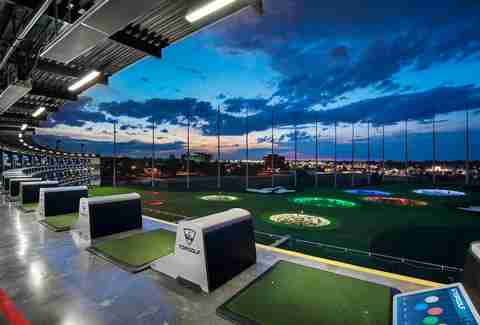 19. To smack golf balls at targets
Top Golf, the golf arena/entertainment center/drinking venue that is a total good time, has locations in Katy, Webster, and Spring.
20. To eat shrimp and stuff
... at a place called Shrimp 'n Stuff. The Galveston seafood shack is a cult favorite thanks to fresh-as-hell seafood po-boys, fish tacos, stuffed shrimp, and cheap beer buckets.
21. To try the best burger in Houston
One man (Thrillist editor and burger obsessive Kevin Alexander) is on a quest to find America's Greatest Hamburger, and he started in his birthplace: Houston. Follow the epic journey on Instagram @thrillist_burger_quest. Oh, and go to Tookie's to try the burger that he named supreme because that's what this piece is really about.
22. So you can stargaze
The George Observatory in Brazos Bend State Park gives you a closer look at those big, beautiful Texas stars on Saturdays year round.
23. For trompo
Which you can find at the street-style taco spot Karancho's.
24. To get a full pound CFS
Mel's Country Cafe doesn't just have an insane 1.5lb burger, they also have an insane 1lb chicken-fried steak that comes fully loaded with cream gravy.
25. To swim in a blue lagoon
Bet you didn't realize there are blue waters outside of South Padre. Just 75 miles north of Downtown, you'll come upon the clear blue spring-fed Blue Lagoon.
26. To treat yo'self at an award-winning, former member's-only dining club
With an executive chef who's had stints at El Bulli, French Laundry, and Alinea, the Pelican Club boasts a bold menu of beautifully plated, progressive American eats. Now that you're allowed in, put on some slacks and get Parmesan-encrusted red snapper, BBQ Gulf shrimp & buttered grits, and Zinfandel-braised lamb chops.
27. To further prove your taco prowess
You can't call yourself a taco aficionado without hitting the El Ultimo Taco Truck off Long Point.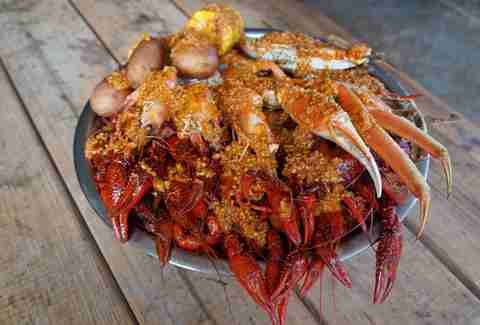 28. Because that's where you'll find the best Vietnamese crawfish
We've said it before and we'll say it again, Vietnamese-style crawfish are hands down one of the coolest things about Houston. Get your Casian mudbug on out Crawfish & Noodles, Cajun Kitchen, and Wild Cajun.
Which include Moody Gardens, Schlitterbahn Waterpark, and BIKINI CONTESTS!
30. To get wine mouth
Before you drive all the way to Fredericksburg, check out the legit vineyard and winery located  just over 35 miles from Downtown. Santa Fe's Haak Vineyards and Winery is open for tastings and tours seven days a week, plus they host fun stuff like food truck fests, concerts, and farmers markets.
Sign up here for our daily Houston email and be the first to get all the food/drink/fun in town.