There are many things you know you should be doing whilst living in the sprawling metropolis that is Houston... but are you actually doing them? Probably not. Houston is big. Life is short. So to help kick start your wild H-town ride and give you a few good reasons to put on pants, we've put together a 50-count bucket list covering every single pivotal experience in our fair city. Consider this your official guide to everything you need to do in Houston before you die (or leave town, which might be worse).  
1. Kayak the Buffalo Bayou
Work up a sweat while you take in the Houston skyline, navigate the twists and turns of the bayou, or explore the 3-mile stretch from Lost Lake to Allen's Landing. Bayou City Adventures offers tandem and single rentals from Lost Lake, plus guided tours for all levels of experience.
2. Pull off the Museum Triple Crown
Hit the prized Menil Campus, Museum of Natural Science, and Museum of Fine Arts (one of the first and biggest art museums in Texas) all in one day, because you crazy like that.
3. Tailgate at NRG Stadium
Texans tailgate parties are a thing of legends. Bring some meat to grill, a table for flip cup, and your party hat.
Recommended Video
France's Fête des Lumières Is a Light Festival Unlike Anything You've Ever Seen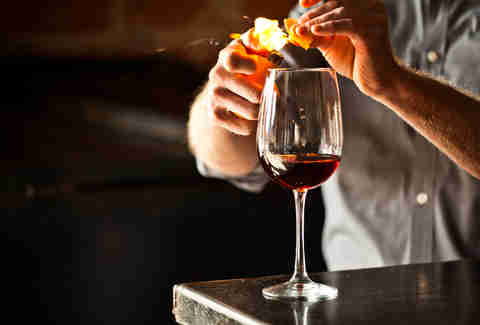 4. Sip a classic at Anvil
What started out as a training guide for Anvil's bartenders has become a list of 100 classic, expertly crafted cocktails for you to work on. Better get started.
5. Experience the Houston Ballet
The fourth-largest professional ballet company in the US puts on over 75 shows in the beautiful Wortham Theater every year. That's 75 chances to get cultured and earn some major points with your significant other.
6. Catch a free show at Miller Outdoor Theatre
Bring a blanket, picnic, and box of wine (no glass allowed) to Miller Outdoor Theatre, where you'll find 100% free music, plays, and shows beginning in March each year.
7. Get rowdy at the Houston Livestock Show & Rodeo
Watch bull-riding, eat smoked meat and deep-fried everything, and catch live music during this glorious 2½ week event in March. Just be sure to two-step at the Hideout afterward.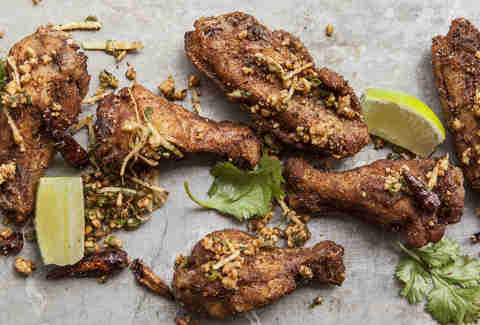 8. Treat yourself to an opulent meal
Underbelly and The Pass may only be a handful of years old, but both dining destinations have solidified themselves as Houston stalwarts. Hit them up for seasonally inspired, extravagantly plated, and seriously good tasting menus. Or try old-school, fine dining resto Tony's for a more classic experience.
9. Slurp oysters at Gilhooley's
The dive's wood-fire roasted, Parmesan-garlic butter coated oysters are totally deserving of the short drive to San Leon.
10. Smash a masala-spiced CFS
Himalaya's garam masala and garlic, ginger, yogurt-marinated chicken-fried steak (served with a side of spiced coconut milk gravy) is Mutt City dining at its finest.
11. Cheer on the Astros at Minute Maid Park
Or at the very least, sing "Deep in the Heart of Texas" during the 7th-inning stretch and smash a stuffed BBQ baked potato into your mouth.
12. Conquer the Memorial Park loop
You can't consider yourself a Houstonian until you've at least attempted to run this popular loop. It's only about 3mil and you can stop for Beck's Prime burgers in the middle. You can do it.
13. Catch a cult classic at the River Oaks Theatre
The theater typically plays The Rocky Horror Picture Show on the second Saturday of every month. Superfans come decked out and ready to belligerently yell at the screen. 
14. Defend your favorite breakfast taco
It may take some taco shop hopping, but you're going to pledge allegiance to your favorite breakfast taco spot, once and for all.
15. Spend a late night at House of Pies
Because a giant slice of Bayou Goo tastes even better at 4am.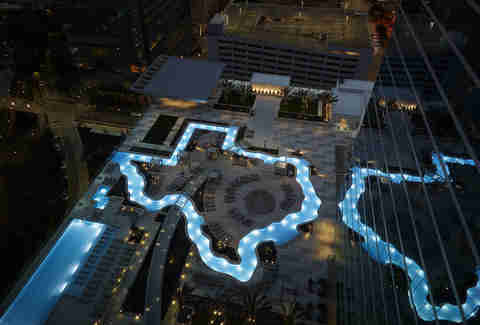 16. Staycation at the Marriott Marquis
Because where else can you float in a giant lazy river in the shape of Texas?
17. Get some Frenchy's
Open since 1969, this Third Ward standby fries up the crispest, most satisfyingly greasy bird in town. Even Beyoncé knows it.
18. Bring Fido to the Johnny Steele Dog Park
Or, if you don't have a dog, creepily watch others' dogs splash around in the ponds.
19. Take in the skyline from 30-40 stories up
Houston's unofficial observation deck, The Sky Lobby at Chase Tower, may be closed to the public, but you can still dine with a bird's-eye view of the city at Spindletop (34 stories up with rotating views) and 43rd Restaurant & Lounge (a fitting 43 stories up).
20. Two words: Pedal Party
Because there's nothing more fun than a tandem bike/trolley with a keg in the middle.
21. Block party in the Heights
Lights in the Heights (December) and White Linen Night (August) are two street ragers you don't want to miss.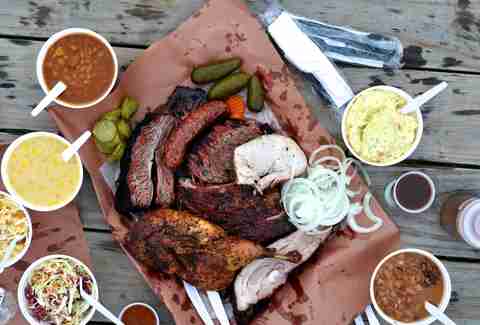 22. Brave the lines at The Breakfast Klub and Killen's Barbecue
The waits will be worth it once you stuff your face with TBK's famous fried chicken wings & waffles and/or coat your fingers with Killen's smoky, succulent meat-candy.
23. Spend an entire Sunday day drinking
With all of the excellent brunches, Bloody Marys, beer towers, and outdoor watering holes running rampant in this city, at least one over-the-top Sunday needs to happen.
24. Sip American-bred whiskey at Poison Girl
Visit Houston's favorite dive bar to sip whiskey and play vintage pinball all night.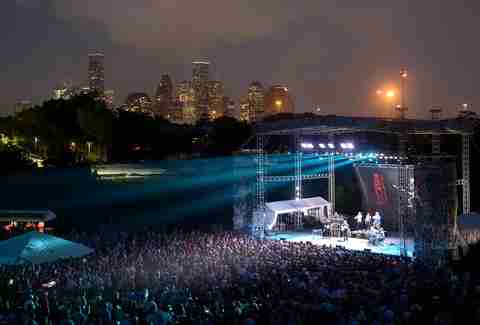 25. Rock your face off to live music
Hit venues like Walter's, Warehouse Live, The Continental Club, and White Oak Music Hall to catch live music acts from near and far.
26. Go orange for the Houston Dynamo & Dash
Because let's face it, they are some of the best sports teams in the city.
27. Sit courtside at the Toyota Center
Or go for the gold and sit with the "Red Rowdies" in section 114. 
28. Get a tres leches cake from El Bollilo
Graduation? Friend's birthday? Another lonely Friday night? It doesn't matter what you're celebrating; a tres leches cake from El Bollilo Bakery should be involved.
29. Run the Houston Marathon
Or, who are we kidding, just drink on the sideline and cheer them on.
30. Eat your way through Chinatown
Hit dim sum at Hong Kong Dim Sum or Fung's Kitchen to eat all the dumplings and fried chicken feet your little heart desires. Get after hours pho at Pho Binh by Night, Vietnamese crawfish at Crawfish & Noodles, or tongue-scorching eats at Mala Sichuan.
31. Hit up Downtown classics
La Carafe (one of the oldest bars in Houston), Warren's Inn (one of the chillest bars in Houston) and Dean's/Notsuoh (two of the coolest/weirdest bars in Houston) are all must-sees.
32. Get kolaches from the Original Kolache Shoppe
Open since 1956, the unassuming bakery on Telephone makes some of the most addicting Czech pastries in town. Get kolaches filled with cream cheese, poppyseeds & fruit and klobasneks stuffed with sausages, cheese, and jalapeños.
33. Go see the bats
Visit the Waugh Bat Bridge nearly any day at sunset to see over 250,000 Mexican free-tailed bats spiraling out from underneath.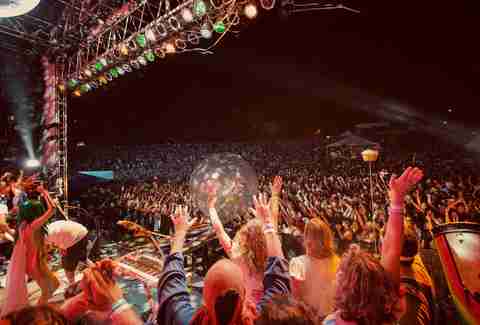 34. Actually go to Free Press Summer Fest
And if you absolutely refuse to sweat it out at a music festival in June, at least check out the possibly hipper sound and visual fest, Day for Night.
35. Host your own crawfish boil
Time to man up, throw down some newspaper, and boil some mudbugs for your friends.
36. Visit Mission Control
Sure it's a tourist trap, but you can't live here and not visit the Johnson Space Center at least once.
37. Play 18 holes at Memorial Park
Or hit up the driving range.
38. Eat a tamale at a dive bar
See that guy with a giant tray full of hot tamales? Go say hey. Now get some tamales.
39. Join in on Critical Mass
The social bike ride takes over the streets the last Friday of every month.
And then hit some more.
41. Win bingo at the park
Market Square Park's seasonal Blanket Bingo (monthly through September) is a legitimate excuse to go wild on a Thursday.
42. Explore the underground cistern
The Water Works Cistern may not be such a secret anymore, but the 87,500-square-foot, 25-foot-tall cavernous space is better than ever thanks to the rotating light and art installations, available for viewing through docent-led tours.
43. Run in (or cheer on) the Houston Marathon
Every January, people that are a lot more fit than you crush the Chevron Houston Marathon. The least you can do is sip beermosas and clap for them.
44. Spend all day at an icehouse
More specifically, spend all day at West Alabama Ice House, where delicious tacos from the truck next door, Tacos Tierra Caliente, will keep you going.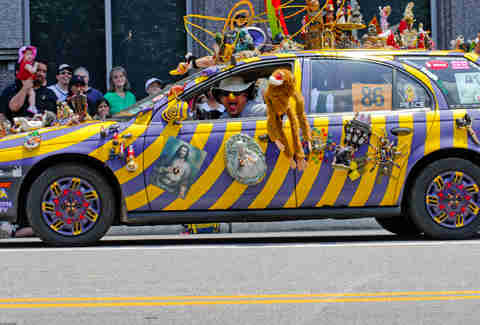 45. Be a part of the Art Car Parade
Don't just gawk at the parade from the sidelines (though that's fun, too). Sign up to ride in or volunteer for Houston's weirdest spectacle.
46. Catch the sunset at James Turrell's Skyspace
Set in an acoustically engineered pyramidal structure on the Rice University campus, the "Twilight Epiphany" show is not only absolutely magical, it's also absolutely free. Sunrise shows are also available, but who are we kidding.
47. Relive your skater days at a skatepark
There's the newly renovated Lee and Joe Jamail Skatepark right in Buffalo Bayou Park; and then there's the massive, 10-acre North Houston Skatepark -- the largest skatepark in North America.
48. Snap a photo in front of the "Houston is Inspired" mural
Mad genius graffiti artist Gonzo247 nailed Houston's truth with this Downtown pièce de résistance, set next to Market Square Park.
49. Actually go for a ride on the Light Rail
We even have a Light Rail Bar Crawl Map to give you a reason to do so.
50. Beef up, buttercup
While Houston may be drastically different than the rest of Texas, we're still all about the beef. If you're a steak eater, it'd be a downright sin to leave this world without going full caveman at one of Houston's fine steakhouses. We'll even give you a place to start.
Sign up here for our daily Houston email and be the first to get all the food/drink/fun in town.