Support Small Business at These Houston Shops This Holiday Season
Make a big impact by shopping small.
As we all know, everything's bigger in Texas, and that certainly includes our lineup of ever-growing local boutiques. Following Black Friday's smokey abyss of absolute mayhem comes Small Business Saturday on November 26—a sweet opportunity for us to give back to homegrown shops that continue to persevere and produce gems no major retailer could duplicate. From vintage-meets-couture womens local clothing boutiques and artsy shops to one spot hawking bourbon-infused beef jerky (a holiday gift anyone would love), here are a dozen shops to hit up this Saturday and beyond.
Heights
Originally from Zephyr, Texas, small town fella Travis S. Weaver had big town dreams, turning his hand-poured candle business into one of 19th Street's most popular shops, badass menswear boutique Manready Mercantile. Pop in for those richly scented candles, plus everything from made in the USA threads, hats and kicks, leather accessories and apothecary, homeware and utility goods, and dope extras like bourbon-infused beef jerky and toothpicks.
How to support: Stop by for in-store shopping or purchase online.
Montrose
There are a bevy of shops and boutiques off lower Westheimer, but this gorgeous space from husband-and-wife team Leila and Carlos Peraza is a special one. Since 2010, the shop has been curating a rockstar collection of local and nationwide small businesses and artists, offering everything from handmade jewelry and stationery to funky artwork and special gifts for kids. Need a unique holiday gift? Shop here.
How to support: Stop by for in-store shopping or purchase online.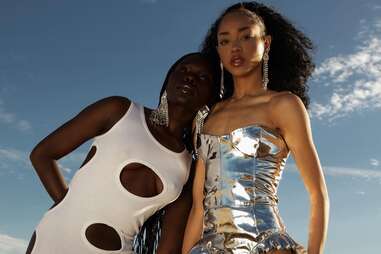 Virtual
Officially dubbed an "It-girl brand," Houston native and creative director Tacharra Perry definitely has an eye for style. Widely known for her form-fitting, high-cut metallic shorts, she's also expanded her luxury collection to comfy sweatshirt ensembles and low-cut v-neck linen dresses. With her shorts limited in stock, you might want to scoop a couple of them up for that upcoming New Years' cocktail party, or just have them handy when you're feeling like crushing the nightlife game.
How to support: Purchase online.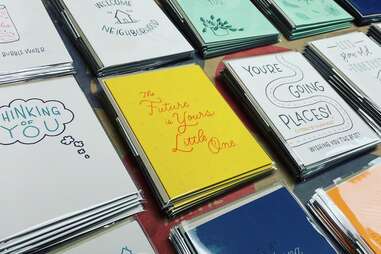 University Place
There's nothing funnier than replacing a run of the mill birthday card with a kitschy emblem of Pam Poovey from Archer congratulating you on being a year older—unless they're not fans of the show, of course. At this independently designed stationary haven, shoppers can purchase cards for any occasion, plus unique magnets, apparel, and more for loved ones. Or honestly, for yourself—their lineup is just too cute to pass up.
How to support: Stop by for in-store shopping or purchase online.
Midtown
We've all heard of self-care spa days, but what about our vehicles? Considering they deal with bumper-to-bumper traffic nearly any time of day in Houston, there's nothing wrong with thanking them for staying somewhat sane with a good pampering. At So Fresh So Clean, cars ranging from small and mid-sized to a luxe big body Benzes can receive spotless services such as detailing and washing.
How to support: Call 281-974-4383 to schedule an appointment.
Montrose
Dirt Bag specializes in premium plants, housing them in aesthetically pleasing ceramic planters and pots, and letting them flourish with rich plant food mixes. The quaint store also carries products from several locally sourced and underrated national brands, so after making sure your leafy babies are secure, shoppers can treat themselves by purchasing candles, straw hats, quirky greeting cards, and fragrant eucalyptus bouquets.
How to support: Stop by for in-store shopping or purchase online.
Rice Village
Compared to other sneakerhead utopias, Houston's swoon-worthy ties to streetwear culture is oddly underrated. However, thanks to Houston native Jennifer Ford (who's been operating this sneaker boutique since late 2004), we've been able to build upon our stylish influences with choice pieces from brands like Billionaire Boys Club, Champion, Nike, and more. So as the city continues to embrace cooler temperatures, stop by Rice Village and pick up a couple thickly-made graphic hoodies, oversized track pants, and the ultimate dad-approved New Balances to kick up your winter drip.
How to support: Stop by for in-store shopping or purchase online.
Heights
Long known to locals as a staple vinyl hub, this Heights outpost has been serving the masses vintage and modern records and AV equipment since 1985. From sultry R&B tunes and buttery jazz numbers to bass-kicking alternative and metal tracks, every selection boasts a charm so unforgettable you'll be running back to stock up on more.
How to support: Stop by for in-store shopping or purchase online.
Midtown
Stumbling up on this Black-owned specialty shop is like finding your Christmas tree jam-packed with all the presents. Settled within Midtown's historic streets, shoppers can wander through the pint-sized boutique, basking in one-of-a-kind apparel, soulful cups of coffee, visually pleasing paintings and photography, and showstopping open mic nights.
How to support: Stop by for in-store shopping and follow on Instagram for inventory information, event announcements, and more.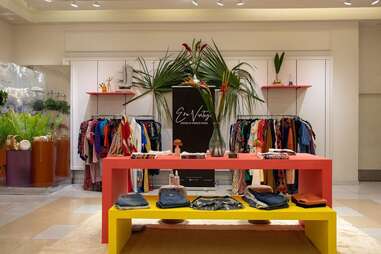 Virtual
For this aptly titled brand, repurposing extravagant frills and vibrantly sequined combos are more than just an aesthetic. Since owner Saida Carter first entered the fashion industry, she found comfort in expelling traditional clothing norms and marrying different eras of style to create something near and dear to her heart. And with ERA Vintage, fashionistas can prioritize comfort while skimming through these colorful ensembles. Stock up quickly, because these pieces are known to sell out quickly.
How to support: Purchase online.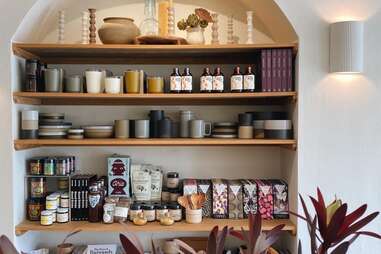 Woodland Heights
Give your humble abode an alluring makeover courtesy of this Woodland Heights retailer by picking up modern decor and aromatic candles or replacing the work-from-home clutter piling up on your desk with crafty knick knacks and top-tier minimalism. Afterwards, tap into your inner perfumier with spicy, woodsy fragrances perfect for setting the holiday scene.
How to support: Stop by for in-store shopping or purchase online.