Your Guide to the 10 Best Houston Farmers Markets
Shop for organic local produce and ranch-to-table goods at these Houston Farmers Markets.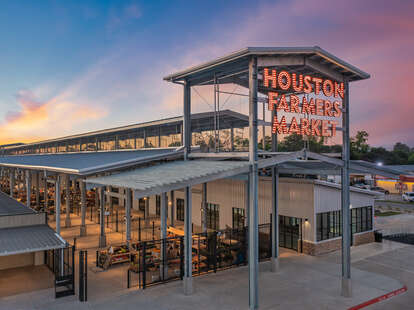 Photo by Michael Craft, courtesy of Houston Farmers Market
Photo by Michael Craft, courtesy of Houston Farmers Market
Seriously fresh, certifiably local goods are on parade here in Houston. All you have to do to find them is visit one of our many amazing farmers markets, which dot nearly every nook and cranny of the city. From year-round markets to weekend pop-ups, these produce-packed events are must visits for anyone looking to level up their Sunday supper. Here's where to find straight-off-the-ranch, locally made goods at Houston's best farmers markets.
Sunday, 10 am–2 pm
East End
Every Sunday in the heart of the East End, the East End Farmers Market takes over Navigation Esplanade to show off artisans and producers from Houston's Hispanic community. Snag hot sauces, freshly roasted coffee, handmade jewelry and artisan soaps, gorgeous herbs and produce, farm share boxes, fresh eggs, Gulf seafood, and more alongside live music and pop-up prepared food vendors. Bonus: The market just so happens to take place right in front of The Original Ninfa's on Navigation, the birthplace of the fajita and home to some bangin' Sunday brunch offerings that you can and should partake in as well.
Saturday, 9 am–1 pm
Garden Oaks/Oak Forest
This smaller, highly curated market pops up in the parking lot at longtime neighborhood fixture Cavatore Italian Restaurant every Saturday, offering a slightly less overwhelming, 30-vendor selection from beekeepers, fishermen and farmers to dairy and meat producers, prepared food vendors, wineries, and a variety of other artisans.
Saturday, 10 am–2 pm
Fourth Ward
This Black-owned farmers market was created to help close the food desert gap in Houston's oldest Black neighborhood, the historic Freedmen's Town, back in 2020. Three years later, it continues to highlight Black and Hispanic entrepreneurs, from organic farmers and gardeners to vendors offering oils, local honey, vegan treats, freshly baked breads, spices, plants, and more.
Every second and fourth Sunday, 9 am–1 pm
Heights
Head to the dog and kid-friendly Heights Mercantile promenade to shop this rain-or-shine pop-up farmers market, which features everything from build-your-own flower bouquets, pasture-raised Wagyu, homemade pickles, and freshly baked biscuits and breads to produce stands from farms like Sweetwater Farms, Wood Duck Farm, and Plant it Forward. Follow its Facebook or Instagram to find the upcoming vendor list.
Daily, 6 am–7:30 pm
Heights
Seattle has its famous Pike Place Market, and we have this local legend. Around since the early 1940s, the old Canino Produce got a major facelift in recent years, transforming into the massive, 18-acre Houston Farmers Market. Open daily, you'll still find a plethora of Latin vendors selling daily produce alongside retail space for heavy hitters including Crawfish & Noodles, Underbelly Burger, R-C Ranch butchery, and Wild Oats.
Saturday, 9 am–1 pm
Memorial
Rocking ample parking, top-notch farms and market vendors, plus fun stuff like cooking demos, live music, and activities for kids, the Memorial Village market has become a weekly Saturday morning ritual for many locals. Find it rain-or-shine over in Hunters Creek Village at the First Congregational Church and score things like in-season strawberries and squash, high quality goat milk and duck eggs, freshly prepared paella, candied jalapeños, and more.
First and third Sunday, 9 am–1 pm
Rice Village
Would you like a made-to-order margarita with your in-season, farm-fresh produce? Then head to this open-air farmers market, which pops up twice a month off Amherst and Kelvin in the lovely Rice Village. Expect a lineup of around 60 vendors, themed events, and a rain-or-shine, pup and family-friendly atmosphere.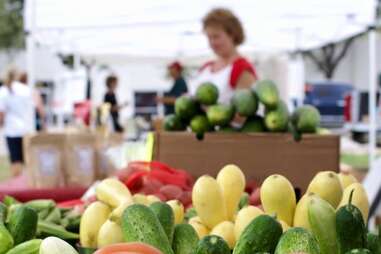 Saturday, 9 am–1 pm
Tomball
Up in northwest Houston in Tomball's Historic Old Town, this Saturday morning market is a certifiably fresh doozy, promising over half of its vendors are local farms, with 65-plus local farmers and vendors from within 150 miles of it. It also offers select sunset market dates, and you can stick around the area to find nearby boutiques and quaint eateries (just leave a cooler in the car to store your goods).
Saturday, 8 am–noon
River Oaks
Urban Harvest's epic Saturday market acts as an incubator for under-the-radar local businesses, jumpstarting some of today's hottest Houston stars in the culinary world. (You know the James Beard-nominated Best New Restaurant, Tatemó? Before going brick and mortar, chef-owner Emmanuel Chavez's nixtamalized corn tortillas were a market staple.) Shop one of the largest and most extensive selections of farm and ranch to market goodies—they've got over a hundred vendors from Atkinson Farms and Law Ranch Cattle Company to Dumpling Haus and Lira Rossa Artisan Cheese; and look out for cool happenings like cooking demos, live music, and holiday pop-ups.
Thursday, 3 pm
Westchase
Plant it Forward, Hibiscus Hill Farm & Ranch, Pure Texas Honey, Donkey Punch Hot Sauce, Biryani Hut, and Momma's Tamales are just some of the vendors you can expect to find at this vibrant community market near St. Cyril of Alexandria Catholic Church. It was created to offer workday friendly hours and bring seasonal, locally grown, fresh food options to West Houston.