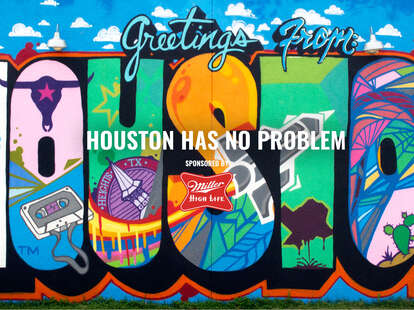 Mayra Beltran/Houston Chronicle/AP Photo/Edited
Mayra Beltran/Houston Chronicle/AP Photo/Edited
Folks love to sling "Houston, we have a problem" at the fourth largest city in the United States, but they always get the quote wrong. They get the city wrong, too.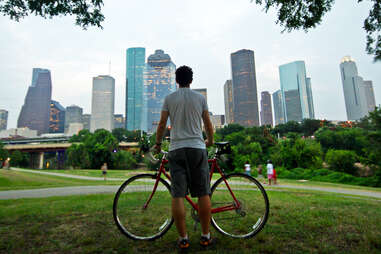 I don't live in Houston anymore. I moved to New York almost a decade ago. But I lived and worked in H-Town (a.k.a. The Bayou City, Space City, Screwston) from the fall of 1992 until the fall of 2006, years that were formative not just for me but for a city that was changing. It's changed a lot more since I left.
If you don't have a Houstonian as a tour guide, plenty of the city's cultural charm can be lost on you. Houston looks like an endless series of shopping malls, strip centers, parking lots and skyscrapers because that's what it is — a business town first, with distinct profit centers that form little cities inside of the city. There are six miles of tunnels under Downtown Houston, an elaborate maze filled with shops and bars and restaurants. Downtown, Uptown, Meyerland, Sugar Land, Greenspoint, Greenway Plaza, and The Texas Medical Center (the largest in the world and growing) are focal points of commerce, but the city's economy is also woven right into its neighborhoods because there are no zoning laws. There was a move to reverse that in the early '90s, but the people voted it down.
"I think that's part of the culture here," said graffiti artist GONZO247, founder of the Aerosol Warfare arts organization and a cultural ambassador for the city. "You have a house, and then you have a tire shop next to that and you have someone sellin' chickens and then it goes back to residential. You're in a residential area but then literally right next door it's a business, and some of it just blends in. If you go to the East End or Third Ward or even part of the Heights, you can cut through neighborhoods and come across full blown businesses. There's something about driving through and being able to see a little of everything that helps make that visual quilt, that textural fabric that makes a city what it is."
The lack of zoning regulations also gives Houston room to expand within its own city limits, with abundant short-term centers of commerce complementing the permanent ones. The Houston Livestock Show and Rodeo, where every country music star you can imagine from 1931 onwards has performed, still entertains a football stadium full of people every night for three weeks in February and March, drawing over two million people to the grounds of the Astrodome Complex — another city within the city. There are conventions held in Houston year-round, attracted by the nearly year-round sunny weather. Huge corporations set up shop and build communities around themselves (Clear Lake) or build themselves around communities (The Woodlands) and the city's business economy continues to sprawl, unaffected by the flux that comes with depending on tourism (a claim I cannot make about my own hometown). Houston's economy is rooted. It has never been a tourist destination, but people are moving there.
"It's no longer driven by just oil money and energy money," Gonzo said. "Houston has diversified so that when the Recession was happening, we barely felt anything because it's almost like if the energy or the oil kind of dips, the Medical Center is up, or if the Medical Center is down, we have growing science and technology apart from the Medical. There's different pockets of industry that help keep things moving."
With its proximity to Mexico, over a third of the city identifies as Hispanic or Latino. Houston's population is one quarter black. Refugee assistance to Vietnam in the late 1970s brought waves of immigrants to Midtown Houston, settling the largest Vietnamese community in the United States outside of California and making their language the third most common spoken in the city. There is a Chinatown on the Southwest side. Little India on the West side. Houston also has a large LGBTQ community, focused in the Montrose and Houston Heights, and boasts the fourth largest gay pride parade in the nation.
Maybe everyone feels like their city gets overlooked. Driving up to Houston from my hometown of Galveston to see concerts, I always thought this was the case because bands routinely skipped The Bayou City in favor of Austin or Dallas. After moving to Houston, I watched a constant flow of people my age relocate to Austin, where it was infinitely more hip. But I stayed.
You see it in our sports history. When the Houston Rockets won the NBA Championship in 1994, there was a taste of being slighted on a national level. It was the city's first major sports championship, and yet the spotlights were less on the Rockets winning than on the Knicks losing. It wasn't Hakeem Olajuwon's blocked shots so much as it was John Starks melting down, or Michael Jordan retiring. But a title had come to Houston. Jordan did play that next season, but his Bulls were knocked out in the second round by Shaquille O'Neal's young Orlando Magic, who the Rockets swept in the Finals to win their second set of rings. Clutch City.
Two years later, when the Houston Oilers announced they were moving to Tennessee, now that hurt. In Texas, football is king. "Luv Ya Blue" went quiet overnight, and both the Rockets and Astros were talking about jumping ship, too. There was an article in the LA Times entitled: "Houston, You Have a Problem."
Everything moves in circles.
Houston's industry has worked in its favor culturally, fostering an arts community underwritten in part by the abundant big business house money floating around town that has found its way into the art world year after year. More than 20 museums populate an area adjacent to one of the city's biggest green spaces in Hermann Park, at a juncture central to Rice University, University of Houston, St. Thomas University and Texas Southern University. The Museum District includes The Museum of Fine Arts Houston, Menil Collection, Contemporary Arts Museum, Houston Museum of Natural Science, Holocaust Museum, Houston Museum of African American Culture, Lawndale Art Center, Cy Twombly Gallery, and the darkest, quietest corner of the city in the Rothko Chapel, a meditative brick enclosure rising out of a sunny lawn next to a shimmering pool in the middle of a residential neighborhood. Houston has The Aurora Picture Show, The Orange Show, The Beer Can House, The Art Guys, and The Art Car Museum and Parade.
In fact, there are arts districts all around the city, including an initiative that has brought creatives to First Ward through The Washington Avenue Arts District and a long growing concentration of artists working and living in an area of Second and Third Ward east of Downtown for which Gonzo coined the term "EaDo." He's been working in that area since 1994 and I know because that's when I met him, when I worked at a print shop there and he came by to ask if he could spray paint our wall (my boss let him). That part of Third Ward was a wasteland then, full of empty warehouses, vacant lots, shotgun houses and a few scrappy places to eat. The edges of the neighborhood have now been sanded away by blocks of town homes and apartment buildings, and the skeletal remains of its Chinatown area have since moved to the Southwest side, but the area was once home to the city's greatest punk club (The Axiom, which later hosted Infernal Bridegroom Productions, where actor Jim Parsons appeared in his first play), and is still home to The Commerce Streets Artists' Warehouse (seminal in respect to the city's DIY culture) and is still home to Francisco Studios, where I always practiced with my bands and where most bands in Houston have rehearsed since the 1980s.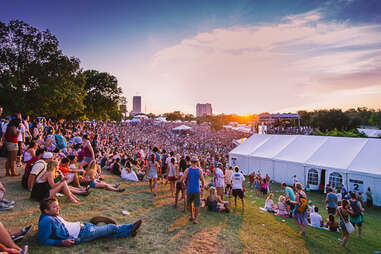 The music industry in Houston is an engine of small parts. It's not something that attracts people to the city but it's the perfect place for artists to build independently. Lightnin' Hopkins wasn't born in Houston, but he made a career there and he died there. That lil' old band from Texas, ZZ Top, relocated to Houston from Dallas in the band's infancy. Jazzman Arnett Cobb was born and raised and played there, and Townes Van Zandt got there by accident and couldn't stay away. Peacock Records was founded in Fifth Ward, where Don Robey shaped Houston's talented musicians into talented artists, launching the career of Clarence 'Gatemouth' Brown before eventually merging with the Memphis label Duke to become legendary Duke-Peacock Records. Rap-A-Lot Records was also founded in Fifth Ward and its flagship group Geto Boys have been together since the Mid-'80s, cutting the city's first platinum-selling rap album. Destiny's Child is from Houston. DJ Premier of Gang Starr. Jason Moran. DJ Screw built an entire culture around his slowed down tapes in the Southside neighborhood of South Park, birthing a new awareness of Houston's culture after his death in November 2000 that would make his style of turntablism the most influential in hip-hop, a worldwide genre if there ever was one.
And global or not, Houston's artists stay connected to the city. Geto Boys Scarface, Willie D and Bushwick Bill have all had residences in other cities over the years, but Houston is still their base. Lyle Lovett has a table reserved in the corner of his favorite Heights restaurant. Billy Gibbons of ZZ Top might still slip into the unmarked door off the lobby of a Westside Mexican restaurant for a cold beer in a quiet booth. The city has room for that.
They've made a bunch of movies in Houston, among them Brewster McCloud, which is set in the Astrodome. Night Game with Roy Scheider was also shot in the Dome and on Galveston Island in 1989 (yours truly was an extra in one of the carnival scenes). Terms of Endearment was filmed in Houston, as was its sequel The Evening Star. Urban Cowboy. Jason's Lyric. Rushmore. Reality Bites. Houston, We've Got a Problem.
There it is again.
Houston has a new movie industry in town as well, too, and lots of television is shot there. Judge Alex. Animal Cops. Richard Linklater's film Boyhood. Tree of Life. Lots of horror movies.
Plenty of books have been written about the city, but for me the bibles are the 1955 tome Sig Byrd's Houston by newspaperman Sigman Byrd (from my old paper Houston Chronicle), and Roger Wood's more contemporary Down In Houston: Bayou City Blues and Texas Zydeco, each of which perfectly encapsulates the kinds of cultural ecosystems that can develop and thrive in The Bayou City. The stories in those books also represent a connection between the past and present for some of the city's oldest and most marginalized neighborhoods.
In 2005, Houston rap music burst onto the national scene when a new crop of artists sprung up and took the H-Town sound worldwide. Mike Jones, Paul Wall, Slim Thug and Chamillionaire helped shepherd in an new era for hip-hop, building on a sound that had developed over their lifetime, bringing the city's slab (the name for older cars that are refurbished and customized from scratch) and lowrider culture to the spotlight. Houston was on the global radar in a way that it had never been before.
In August of that year, Hurricane Katrina struck our neighbors in New Orleans, and we opened our arms to the tired scores of people coming into the Astrodome Complex by the busload. When Hurricana Rita oriented herself in the direction of Houston a month later, a million of us jumped into cars and headed to Austin for the weekend. Luckily the storm peeled away and struck further up the coast, but Hurricane Ike made good on the threat a few years later.
The effects were more significant than the storm itself, though. Despite the worries that Katrina evacuees were bringing with them nothing but crime (sound familiar?), the culture of Houston was richer for it. Texas and Louisiana are inseparable sister states, and over the next decade, the people who fled to Houston from New Orleans became a part of the fabric of a city that was becoming more international all the time.
Another tide was turning aside from the one in the Gulf of Mexico. In the early 2000s, Houston was home to a Super Bowl, a World Series, and an NBA All-Star Game. Then the Houston Dynamo won the Major League Soccer cup twice in a row in 2006 and 2007. Beyoncé Knowles surpassed everyone to become the biggest pop star in the world, and you can just about track Houston's global recognition with the rise of her career. The city was becoming something different. It wasn't just a place you left anymore.
I remember sitting at a bar with an acquaintance maybe a year before I left, bemoaning over beers someone we knew having moved away. A moment of silence fell in and he turned to me and said, "Why are you still here?" I didn't have an answer. Lots of folks don't. Houston can suck you in like that. You wouldn't know it by its status among the nation's biggest cities, but Houston is a small town. Sure, it's full of highways and traffic and skyscrapers, but when you drive around between them, you'll find yourself waving to other folks you know, zipped into their cars with the air conditioning on full blast. Despite the heat, which is what drives most folks away, Houston is comfortable.
That comes at a price.
No love letter is complete without its moment of pause. Houston is growing, but that's meant the edges of the city's old political districts -- not officially recognized in over a century -- have been blurred by development, with shotgun houses replaced by town homes and blocks of apartments. Those encroachments have stirred an admirable fighting spirit: The Fourth Ward, once Freedman's Town before a highway cut it off from Antioch Church (which to this day stands among Downtown's skyscrapers), has been nearly erased, but not without triggering a series of community movements to preserve the area's history. Entire Third Ward blocks have been leveled and built over, but the community-based non-profit Project Row Houses has been fighting that tide since the early 1990s, restoring shotgun houses into affordable housing, arts spaces and learning centers in one of the city's oldest African American neighborhoods.
Houston does have another problem not confined to individual neighborhoods: it's built over a swamp (it isn't called The Bayou City for nothing), and urban density and concrete sprawl mean fewer places for historic floodwater patterns to sink in. But the city has been mustering its considerable energy to deal with the issue; it simply can't take things idly, not with the ever-present threat of a hurricane choking off Houston/Galveston refineries and disrupting the economy of, well, the entire United States. There are engineering solutions on the table, with citizens voting for flood drainage fee imposition and movements by the Harris County Flood Control District and U.S. Army Corps of Engineers to widen the city's bayous, canals and reservoirs. There are also multiple serious (and seriously contemplated) proposals to build an enormous gate that would hold the water back from Galveston Bay (and thus, the Houston Ship Channel) in the event of another Allison or Ike.
The city's collective spirit in the face of natural disaster is emblematic of its progress along other lines as well. Cuban-born Orlando Sanchez was the first Latino immigrant elected to a citywide position when he joined Houston City Council in 1996. Houston elected its first African-American mayor with former Houston Police Chief Lee Brown in 1997, who had been appointed to his previous position (before later becoming Police Chief of New York City) by the city's first female Mayor Kathy Whitmire. A light rail was installed in time for Super Bowl XXXVIII, inadequate but still loosening some of the city's killer traffic problems, and Houston's proletariat adopted it enough to where it has expanded around the city. In 2010, Houston chose its first openly gay mayor in 2010 with the election of Annise Parker, followed by the city's second African-American mayor Sylvester Turner -- a longtime member of the Texas House of Representatives.
And the underground scene I came up in when I moved to Houston in 1992? Bands don't skip town anymore. Clubs and music venues support the touring bands and the locals alike. There are bookstores and record stores opening anew. Free Press Summerfest started in 2009 and has grown into one of the premiere music festivals in the country. Last year, one of Summerfest's organizers opened a permanent venue north of the festival site, preserving the '70s-era Raven Tower in the process. The brain drain that had people packing for Austin all those years has relented. As evidenced by its rich, homegrown hip-hop scene, Houston can and does support its own.
"Main Street is kinda cool," said Jim Pirtle, an artist who bought a building in a deserted Downtown in 1995 and created the arts space Notsuoh. "Because Brad Moore got a collective together of all these different bar owners, and they all chose up spots at the same time, and then they opened all up together and immediately created a scene within two months, and suddenly people were flooding down here. It was transformed into a hub. And they're not nightclubs, they're independently owned bars. So it's not the guys coming in to do a disco and then one year in make the money and walk away from it. This is people here for the long term, so it feels like a neighborhood. It's a nice little scene down here of eclectic bar owners and independent and diverse crowd down here. It's not a monoculture of hipsters or of rich people or whatever. That's a real model for cities where you have to deal with property owners who are greedy. We're almost at critical mass now where there are enough residents down here where a grocery store could open up. I've been without a car for five years now, and that's something that's hard to do in Houston. I got a rail line in front of me, I mean I got mass transit, but it's close to reaching that point where people can live an urban lifestyle where they don't have to use a car."
On March 30, 2015, the Houston soul band The Suffers made their network television debut as the musical guest on Late Show With David Letterman. Houstonians crowded around television sets in bars all over the city to watch the group perform their song "Gwan," and the nation was introduced to an independent act that started in Houston and stayed in Houston. The city's newest creative generation has planted a flag.
In New York City, I noticed the difference over the years. It went from people saying "Why would you ever go to Houston?" to "I wanna check that place out!"
Last month, megachef Anthony Bourdain was in The Bayou City to film segments of his television show with rapper Slim Thug and Houston's homegrown Comicpalooza filled the George R. Brown Convention Center with 43,824 fans in its eighth year, growing exponentially since its inception in the lobby of a movie theater. The Toyota Center hosted The NBA All-Star Game again in 2013. The NCAA Men's Final Four Basketball Championship was held at NRG Stadium earlier this year, and the Super Bowl will return there in 2017. Houston has always had the population to make things happen, but the modern communication age has connected parts of the sprawling city that were once up to an hour apart, making the big small town even smaller.
There are things that I miss. You could argue that some of the best food in the world is in New York City, but there's also more mediocre food. Throw a rock down the street in Houston, in the city's heart or around its outskirts, and it'll bounce off of a great barbecue joint, Vietnamese restaurant, taqueria, Tex-Mex or soul food restaurant that maybe even the thorough Houston Chronicle food critic Alison Cook doesn't know about. There is no order to Houston's treasures.
Really, nothing in Houston is centralized, but it is the city's center that will both grow and at the same time homogenize a city of over 2 million where more than 80 languages are spoken across 600 square miles. That includes the towns and annexed communities they call "Greater Houston," the added populations of which have the largest metropolitan area in the South creeping up on Chicago to become the third largest city in the United States.
And that's entirely possible. Harris County is the third most populous in the country. More people are moving to Houston all the time, and the ones already there ain't leaving. Veteran newscaster Dave Ward was sent a certificate this year by the Guinness Book of World Records that reads: "The longest career as a television news broadcaster is 49 years and 218 days, achieved by Dave Ward (USA), who began working on 9 November 1966 and continues anchoring at KTRK-TV, in Houston, Texas, USA, as verified on 2 June 2016."
When I go back, there are some parts of the city I don't recognize, but Houston's foundations are too big, too weird and too complex to ever really overwrite. Its framework is such that it could never grow to be anything else. Other cities may transform from their centers out, but Houston will always be a convoluted, decentralized, big beautiful mess of a city, and I will always love it.
Oh and by the way, it was "Houston, we've had a problem here" that astronaut Jack Swigert called back to NASA from inside of the troubled Apollo 13 spacecraft in April of 1970. Those boys got back to Earth fine, and in the years since, Houston has done alright, too.
Lance Scott Walker has written for Houston Chronicle, Houston Press, Local Houston, Red Bull Music Academy, Vice, Wondering Sound, Free Press Houston, 002 Houston, Texas Music, OutSmart, Fader, GOOD, Dazed And Confused, NewType USA, Orlando Weekly, Portland Mercury, San Diego Fahrenheit, San Diego Union-Tribune, USA Today and RollingStone.com. He is the author of Houston Rap (Sinecure, 2013) and Houston Rap Tapes (Sinecure, 2014), both collaborations with photographer Peter Beste, and the host of Houston Rap Tapes Radio. He lives in New York. Follow him here.