We talk a lot about how awesome Houston is (and why wouldn't we, IT'S AWESOME). Unfortunately, every hero has a fatal flaw: a mental or physical weakness that can all too often lead to their own demise. Just as Superman cannot even deal with Kryptonite and Batman is a recluse who will only ever truly love his butler, Houston possesses a number of these unfortunate characteristics. But before you completely give up on life and take in like, a million of the city's stray cats -- maybe, just maybe these defects can be fixed. Indulge us, if you will, as we dive deeper into Houston's potentially impending doom and how we might prevent our own undoing.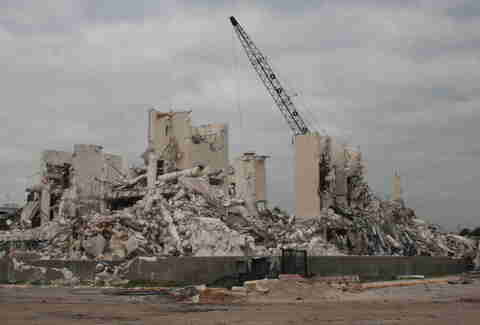 The flaw: Houston shuns its history
Even the least observant of Houstonians can see that the city has a history of tearing down its own history. Our self-destructive ways date back to the beginning, when the Allen brothers designated Old Market Square as the city's epicenter in 1836. Beginning in 1841, the square played homed to the Houston municipal government and the historic City Hall. When a report by the city planning commission urged the development of a new Civic Center, the construction of a new City Hall around Hermann Square was suggested. That's cool and all, since we needed more space and the newer Art Deco City Hall, finished in 1939, is pretty great. But what happened to the old Market Square City Hall? Well, it was converted to a bus terminal, destroyed by a fire in 1960, and instead of being rebuilt as it had been in the past, is now a parking lot, which is not cool and all. That's just one sad example. The lack of preservation of places with rich historical and architectural importance can seen all across the city (boxed townhome instead of a century-old bungalow, anyone?); with some of the bigger lost landmarks including downtown's historic Foleys building at 1110 Main -- opened in 1947, demolished in 2013; the first high-rise corporate office building outside downtown, Texas Medical Center's Prudential Building -- opened in 1952, imploded in 2012; the dazzling Shamrock Hotel -- built in 1949, kissed goodbye in 1987; and an Art Deco icon, the Houston Turn-Verein Clubhouse -- opened in 1929, a goner in 1993.
Can it be fixed? There's hope.
The Astrodome -- the world's first ever domed stadium, built in 1964 and dubbed the "Eighth Wonder of the World" -- was on the National Trust for Historic Preservation's list of the "11 Most Endangered Historic Places" in 2013. Today, it's off the list thanks to a proposed renovation plan. Its first step to add underground parking, thus raising the Astrodome's floor to ground level and creating more than 500,000sqft of usable space, was just passed. Other iconic areas, like the Houston Heights and Freedmen's Town -- a culturally significant community built by freedmen, or former slaves who were emancipated during and after the American Civil War -- are thankfully being watched over by activists and historic preservationists. With the National Historic Preservation Act of 1966, citizens were empowered to list landmarks in the National Register of Historic Sites, and today, Houston has 270 listings in the National Register. We've also seen some important relics being restored as of late, the resurrection of the once forgotten 1927 Cistern in Buffalo Bayou Park being one of the absolute coolest. If the city rallies together to preserve our rich history, we can escape our bulldozing demise.
The flaw: An unfortunate climate
We're guessing if you could pick anywhere to live, it wouldn't be a place with a humid subtropical climate. Yet somehow, you're here, and so are we. According to Google's "Climate Types for Kids," a humid subtropical climate is characterized by "relatively high temperatures and evenly distributed precipitation throughout the year." Well, kids, what that really means is, you're going to drip sweat from places you didn't even know existed for the majority of the year; you better start saving now for the bazillion dollars you'll spend air-conditioning your apartment; and your hair? It's going to look good roughly... never. The entire Google page should really just read "WET & HUMID." As for that last, completely laughable part about "evenly distributed precipitation," we'll get to that next. The site goes on to say "there are really only two seasons here: summer and winter." That, we can agree with.
Can it be fixed? Of course not
Well, maybe with a catastrophic Ice Age-esque climate change brought about by our own greed and global warming, but we're not exactly rooting for that.
The flaw: Unexpected hurricanes, tropical storms, and floods!
Living in Houston goes something like this: With the sun shining and a satisfying, albeit hot and moist breeze rolling through the air, you setup your Beats by Dre Pill and crack open a Fancy Lawnmower by the pool. That's when it happens. The clouds ominously darken, and before you can run for cover, the beast that is Houston weather awakens and the torrential downpour begins. That's the best case scenario. The worst is the devastating damage and loss that can be caused by hurricanes, tropical storms, and floods. The Great Galveston Hurricane of 1900 remains the deadliest single day event in US history; Tropical Storm Allison destroyed endless homes and businesses, dumping around 40 inches of rain on parts of Houston and going down as the worst flood in the city's history; and just last April, the area just northeast of Houston experienced two "100-year" rainstorms in less than a week.
Can it be fixed? Probably not
Without encompassing the city in a glass dome (because that's actually been proposed, you guys) or firing and rehiring the entire weather team at all major news channels (with a staff that is likely equally as helpless in predicting our humid subtropical climate), there's not much we can do about our rainfall situation.
The flaw: Unchecked urban sprawl
We get it. Suburbanization -- the shift from urban areas to more rural areas or "suburbs" -- happens in most every American city. No biggie. While the most harmless result of this is cookie-cutter neighborhoods, car-dependency, and a seemingly endless amount of highways dotted by shoddy-looking strip malls and Whataburgers, the city can also suffer more serious consequences. Like, remember all of that flooding we just talked about? Several experts say our flood damage is exacerbated by Houston's uncoordinated growth and unchecked property development, with new neighborhoods being built in areas that cause existing neighborhoods to flood more without concern. The Bayou Land Conservancy, for instance, sees the "rampant destruction" of the region's highly absorbable forested and prairie wetlands directly resulting in our increased flooding issue.
Can it be fixed? If we get serious
Many believe instituting more hardcore planning regulations and lobbying for stricter enforcement of the laws already set in place may help the city in better managing its flood control. Other solutions have been proposed, including planting more trees and furthering urban development.
The flaw: Lax zoning
We have no one to blame but ourselves for this one. Houstonians have voted against instituting zoning ordinances no less than three times. Yep, the locals shut down the city's zoning proposals in three separate decades: 1948, 1962, and 1993. The good news is there may be a few unintended benefits to our laissez-faire attitude, including potentially saving ourselves from that whole housing market crash (at least the first one) and a HOUSE MADE OF BEER CANS. There are also, however, some downsides. Mainly that it can make the city kind of ugly and you can live next door to a friendly 80-year-old named Marge one second and a unwarranted deprivation tank "healing spa" the next. Wtf, Houston.
Can it be fixed? "If you build it, he will come."
Wait sorry, that Field of Dreams analogy makes no sense. Or maybe it does. Think about it. Would Shoeless Joe Jackson have ever played baseball in Ray's dreams if Ray hadn't built that field, thus sparking an epic journey in which Ray heals past wounds with his father? And would Ray have ever been able to build that field if his little Iowa town had strict "zoning laws." Nope, still makes no sense. All of that aside, the jury's still out on whether "the plan is there is no plan" thing really is truly a problem that needs fixing at all.
The flaw: Crappy public transportation
Urban sprawl or not, Houstonians are dependent on cars (why do you think so many damn buildings are being turned into parking lots?). The sad truth is, we have no reason not to be. We're not exactly a walkable city, and in the past, our transit sitch has kinda blown, with a stronger presence in the city's center that gets weaker as it spreads out (before the METRORail opened in 2004, Houston was the largest American city without a rail system). That means our freeway system -- all  4,206 lane miles of it -- is heavily traversed and constantly under construction, which leads to traffic (the fourth worst in America last year), which leads to frustration, which leads to road rage and this study showing Houston has the most a-hole drivers around.
Can it be fixed? It's getting better
No, for real. With Houston leading the nation in population growth, a spotlight has been placed on the importance of having effective public transportation. Last year, Metro went back to the drawing board, scrapping its 80-route bus program and launching a major redesign, then adding even more late-night and early-morning trips earlier this year. The METRORail has seen significant improvement as of late, as well. At the end of 2013, it completed the 5.3-mile North/Red Line extension from UH Downtown to the Northline Transit Center. In 2015, the 3.3-mile Green Line and 6.6-mile Purple Line opened, extending into Houston's East End and Southeast side. The city also launched its bike sharing B-Cycle program in 2013, and today, it has over 30 stations stretching from Downtown to Memorial. Over the next two years, it will more than triple in size, adding 71 stations with 568 bikes. And in 2014, Houston began its $215 million hike-and-bike trails project, adding trails along the bayous over a continuous 150 miles throughout the city.
The flaw: Outsiders don't "get us"
It's really hard to understand Houston -- in all its crawfish-sucking, sprawled out, diverse as hell, banh-mi-shop-next-to-an-erotic-boutique glory -- unless you live here. This author herself has been guilty of judging Houston all too quickly. A first visit walk to the movies (from the Richmond El Tiempo to Edwards Cinema in the midst of August's scorch, which is only like a mile away but was pretty stupid, looking back) ended with getting lost and seriously sweaty and promising herself and her significant other "there is no way in hell we're moving here. Houston sucks." The next day got better when she had some patio beers, and the city's quirky, chilled out ways began to charm her. We're sure something similarly annoying has happened to many a visitor. Right, guys? Right??
Can it be fixed? Who cares!
As the saying goes, FYHA.
Sign up here for our daily Houston email and be the first to get all the food/drink/fun in town.