The Pros and Cons of Hosting the Super Bowl in Houston
The world's biggest sporting event is about to return to Houston. A lot has changed since 2004, the last time we hosted the Super Bowl. Myspace was still a thing and Uber was five years away from being born. The Houston metro population was only 5.1 million compared to a cool 6.6 now. Our bayou looked how a bayou usually looks (ugly) as opposed to the gorgeous urban green space that Buffalo Bayou Park offers today. We didn't have spots like Anvil, Hay Merchant, Underbelly, Uchi, or Pass & Provisions, some of the best bars and restaurants currently in Houston. Nor did we have all of those rad art installations Downtown or a dozen charging stations at NRG Stadium. The city has been busy building up and beautifying for the last 13 years, and we're ready to show off the goods at at the Big Game. But every great pro of hosting has a con, so we're taking a look at whether or not bringing this massive event to town is so super after all.
Pro: You don't have to spend money on flights to get to the Super Bowl this year
Con: You do have to spend roughly $4,500 on tickets
Face it -- the best shot you have of going to the Super Bowl this year is if you win tickets in that sweepstakes Jerry Built Homegrown Burgers is running.
Courtesy of Houston First Corporation
Pro: It prompted the opening of the Convention District's new restaurant superblock
Con: Choosing between 13 awesome new restaurants and bars is hard
Stretching across the George R. Brown Convention Center, Avenida de las Americas got a 97,000sqft facelift and collagen injection of bars, restaurants, and nightlife. The roadways were narrowed from eight lanes to three, making room for a more pedestrian-friendly restaurant row. Your Discovery Green date night just went from sounding like, "Hey, let's go to The Grove," to "So do you want French at Brasserie du Parc, Mexican at Xochi, or Southern comfort at Kulture?" "I don't care. You pick." "How about The Grove?" We'll admit -- it's a good problem to have.
Pro: Local businesses will see an economic boost from increased foot traffic
Con: That boost may just come at a cost to taxpayers
Reports say that in hosting Super Bowl 50, San Francisco residents were slammed with over $5 million in taxes. In Houston, the costs started before we even got the bid. In an attempt to bring the game back to Houston, NRG Stadium added two 50-by-277ft HD video screens in 2012 at a whopping cost of $16 million. It worked, and we won the bid! But while owner Bob McNair and the Houston Livestock Show and Rodeo "paid" for the screens, 61% of the bill was reimbursed using public funds, according to Texas Monthly.
Pro: You can potentially make bank through Airbnb
Con: You also might be delusional
As soon as Houston committed to the game, the apartment and housing listings on home-sharing sites like Airbnb skyrocketed. Go ahead and take a look at some of the current "deals" and try not to laugh. A $9,500/night town house in the First Ward, a $5,500/night 1BR apartment in Montrose, and an $8,000/night home in Pearland?! Just look what happened in San Francisco last year -- days before the Super Bowl, there were around 10,000 active AirBnB listings in the Bay Area and 60% percent were still available. But hey, good luck to you.
Pro: The Astrodome is about to get a lot of media coverage
Con: We haven't done anything with it yet
Ah, the Astrodome, the Eighth Wonder of the World. The world's first-ever domed stadium is now an ugly eyesore that we just can't quit. During the Super Bowl, it'll be there right next to NRG Stadium, and while the city may have grand plans for its renovations -- including a massive underground parking garage and upper levels of usable space -- exactly none of those have happened yet.
Pro: We get to show off our city to an estimated 150,000 out-of-town visitors
Con: Those 150,000 will also be sharing our roads
In a city that's constantly fretting over traffic, it looks like we're all about to get a little more frazzled. Those 150,000 people better prepare for some good old-fashioned Houston road rage.
Geoffrey Lyon
Pro: The Super Bowl Live Festival is totally free
Con: It will be crazy busy
Downtown's pregame festivities will feature free concerts, interactive exhibits, plenty of tasty eats, and even the NASA-sponsored Future Flight, a virtual reality enhanced amusement ride that takes you to Mars and, in real life, back to Earth via a thrilling 90ft drop. It'll likely be the coolest two minutes and 10 seconds of your life, if you're patient enough to brave the lines. All of that is expected to draw in over a million fans over the 10 days leading up to the game. And those one million fans have to get to the festivities somehow. Parking will likely be a nightmare, so know your transit options before you try to go.
Pro: Hosting leads to an influx of celebrities, like Bruno Mars, Taylor Swift, and Lady Gaga
Con: It also leads to Roger Goodell
You've probably heard Lady Gaga is headlining Super Bowl LI's halftime show, but you may have missed the rolling nightclub, Club Nomadic, that's popping up in February. The three-tiered traveling venue will host the Chainsmokers, Sam Hunt, Bruno Mars, and Taylor Swift in the days before the game. All of this comes at a cost, of course, and that cost is welcoming NFL commissioner Roger Goodell, one of the most reviled men in the game's recent history. Though we're sure Patriots fans will give him a warm welcome after he suspended QB Tom Brady for four games earlier this year over deflated footballs.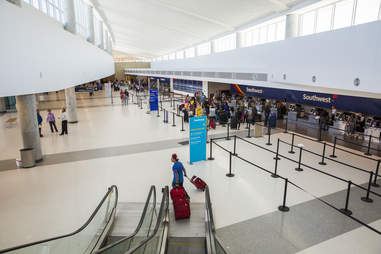 Houston Airport System
Pro: Southwest Airlines spent $150 million to upgrade Hobby Airport in anticipation
Con: When's the last time you flew out of Hobby Airport?
We kid, we kid. But really, IAH has United and Hubcap Grill, so we're probably flying out of there.
Pro: Downtown is now home to a hotel with a Texas-shaped lazy river
Con: You can't stay there
The 29-story, 1,000-room Marriott Marquis was finished in 2016 with the Super Bowl in mind, and it looks pretty fantastic. There's 60,000sqft pool deck overlooking Discovery Green, the heated, rooftop infinity pool, and, as we mentioned, a Texas-shaped lazy river. Unfortunately, it's fully booked during the Super Bowl, so good luck getting there.
Pro: The last Houston Super Bowl halftime show brought us Justin Timberlake
Con: It also brought us the term "wardrobe malfunction"
Remember that time Janet Jackson's nipple-shielded breast was bared for the world to see in Super Bowl XXXVIII, causing an uproar of concern over censorship, free speech, and morality? Yep, that was in Houston. We don't think the world needs another Nipplegate, so keep your top on, Lady Gaga.
Visit Houston / Andrew Broadfoot
Pro: We can show off how cool Houston is, once and for all
Con: We'll still receive the inevitable comparison to those other Texas cities
Earlier this year, we named Houston one of the Most Misunderstood Cities in America. Now, after nearly losing our collective sanity over a seemingly endless amount of construction around town (we apparently spent $1.5 billion upgrading the area around Discovery Green alone), it's time to show the world what we've got. But will the world necessary "get us" after all is said and done? That's uncertain, so hopefully it was worth all the time, money, effort, and traffic jams. Enjoy the game!
Sign up here for our daily Houston email and be the first to get all the food/drink/fun in town.