By now, we hope you've uncovered a few of Houston's secret spots that you didn't previously know existed -- the cistern is finally open for tours, so y'all can stop trespassing now. Believe it or not, there's even more stuff about this fascinating city that we bet you didn't know. We've got some deep-cut facts about Houston that are likely new to you if not for some extensive internet rabbit-hole sessions (we'll save you the time).
Houston is home to an all-nude travel agency
In spring of 1984, Donna Daniels and James Bailey established a travel agency -- a travel agency that just so happened to specialize in clothing optional travel. Castaway Travel scored a bunch of press when put together the first NUDE AIRLINE flight, the now defunct Naked-Air, in 2003, but today, you'll find them coordinating all-nude cruises and group trips to au natural beach resorts.
Our air quality is affected by African dust storms
At least according to a collaborative study from the University of Miami Rosenstiel School of Marine and Atmospheric Science in participation with the University of Houston and Arizona State. The results showed that during major dust storms in the Sahara, the average air concentrations of inhalable particles more than doubled in Houston. While that kinda blows (!), the study shows that the dust intrusions impact solar radiation, which may cool ocean temperatures and weaken the formation of hurricanes. We'll take it?
The phone on the International Space Station has a Houston area code
In way cooler news, the phone on the ISS has a 281 area code, meaning this WHOLE ENTIRE TIME, Ludacris might have had hookups up there, too. Is your mind blown yet?
The Houston police are "rather" helpful
Apparently the popo were much more "lenient" back in the day, because as Dan Rather tells it, they once helped him score/shoot heroin for a story. When Rather was working in radio in Houston in 1956-57, the police had arrested a bunch of musicians for heroin. Not knowing much about it and thinking it'd make a great story, Rather had some of his police buddies inject him at the station, and he went on to produce a series, covering "This is what heroin is; This is why people take it; This is what you experience while you're under the influence; This is why it's dangerous." Damn, Daniel.
There's a way to earn free pizza for life
NYC may have a pizza rat, but Houston has a pizza tat (and isn't that like, way better?). In 2012, Pi Pizza Truck owner Anthony Calleo came up with a pretty rad way to celebrate his truck's anniversary: offer cult followers the chance to get one of their specially designed tats for $200 and earn themselves free Pi Pizza for life. Four years later, so many people wanted the pizza tat, the highly sought after promotion required winning a raffle first. The truck announced its plans to go brick and mortar in the old Funky Chicken spot, but here's hoping the pizza tattoo lives on.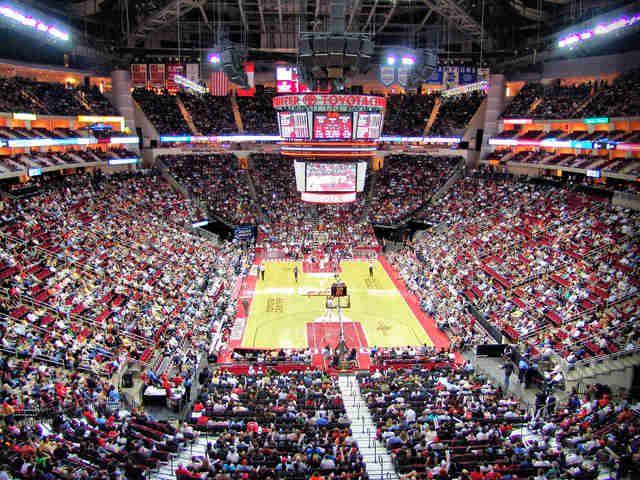 The Rockets' name has nothing to do with NASA (or Houston)
One may assume that the Rockets are named after Houston's Space Center, but one would be wrong, because A GIRL HAS NO NAME. Sorry, Thrones brain. In actuality, the Rockets are were first established in San Diego in 1967. Fans there were asked to choose a nickname for the team, and Rockets was chosen to reflect the outstanding growth of space-age industries in San Diego. The team relocated in 1971, and the name stuck.
Walmart's employee population exceeds that of Houston's
We're getting all cocky now that we're set to take over Chicago as the third largest city in America. But you know who's bigger? You should because we told you above. That's right, it's freaking Walmart. While Houston proper shows a population around 2.196 million, Walmart smacks that with 2.2 million. Even scarier, if for some reason Walmart became an army, it would be the second largest military in the world, behind China. Now that's a dystopian future.
Remember how long it used to take to get your baggage the airport? Well it still takes just as long, you just don't think it does. Years ago, when IAH received an exorbitant amount of complaints over baggage wait time, they allocated more baggage claim workers to get the job done faster. But the complaints persisted, so the airport changed its approach, this time Jedi mind-tricking passengers by moving the arrival gates further from the terminals and routing the bags to the furthest carousel. This made the walk to get your bags six times longer, and the wait seemingly shorter, and just like that, complaints ceased.  
Know those jerkos that park in disabled spots illegally? You can take a four-hour training course, pass a background check, do a ninja kick, and put them under CITIZEN'S ARREST. OK, not citizen's arrest really, but you can do an errant ninja kick and issue them a citation.
That would be the glorious I-10. The Katy Freeway at Beltway 8 comes in at a whopping 26 lanes across (12 main, eight feeders, and six managed lanes), earning it a spot on Business Insider's list of The World's 11 Wildest Highways and taking about three to four years off your life from the countless stressful hours you've spent navigating it.
Sharknado kinda happened
You guys, after Hurricane Ike, the partial carcass of a hammerhead shark washed up near a creek in The Woodlands. It's a SHARKICANE!
The real life Tony Soprano lives/owns strip clubs here
Remember that really confusing last scene of Sopranos that you either totally loved or hated so much it made you ugly cry? Well ugly cry no more, because the person on whom Tony Soprano was based lives on, and his name is Vincent "Vinny Ocean" Palermo. After being involved in some very Sopranos-esque things, the ex-mobster-turned-government-informant eventually settled in Houston, entering witness protection and starting a new life as a millionaire strip club operator, because life is fair.
We may or may not have been able to save our beloved Astrodome. There is, however, a plan in place to save the city of Houston from the perils of an "environmental juggernaut" by covering it with a 21 million square foot geodesic dome, so we guess all is right in the world.
Sign up here for our daily Houston email and be the first to get all the food/drink/fun in town.