Houston's Black community enriches all aspects of this city, from Third Ward jewels like the nearly 150-year-old Emancipation Park and empowering artistic hub, the Project Row Houses, to the food, music, art, and culture that have helped mold Houston into a diverse, world class place to be.
Black History Month is right around the corner, but Houston's Black community should and will be celebrated all year round—and these are some of the best, safest ways to do that. Whether that means participating in community efforts, supporting local Black-owned businesses, or donating to Houston organizations that fight racial disparities, here's how you can make a difference in Houston today.
Donate to local nonprofits and community efforts
The Houston branch of the NAACP strives to fight racial disparities on the local level, working to provide equality and focus on issues from voting rights and voter registration to racial profiling and economic inequality, and more. Donations are welcome online.

On a mission "to build a movement that transforms Houston into a city that allows Black Houston to grow and thrive," Black Lives Matter Houston organizes local marches and programs to fight the racial injustice. Lead organizer Kandice Weber reached out to thank volunteers for their support, saying in a June 1 post, "Make sure the flame for Black lives continues to burn in you everyday. Solidarity."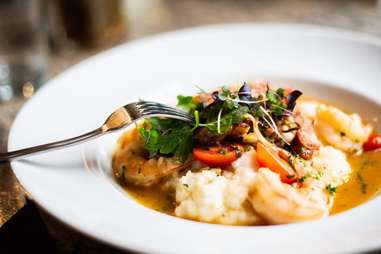 Support these Black-owned restaurants
Restaurants and bars across Houston have been devastated by the COVID-19 crisis, so spending your dollars at the businesses you care about is now more important than ever. Try using those dollars to support the vitality of the city's Black-owned restaurants and bars.
In just a few short years, the Turkey Leg Hut has become a Third Ward staple. Owners Lynn and Nakia Price are big supporters of the community, organizing a virtual balloon release in honor of George Floyd (who grew up in the Tre and graduated from Yates High School) and donating their time and turkey legs to victims of Hurricanes Laura and Delta last year. Their work even earned them some well-deserved praise in our 2020 Local Hospitality Heros awards.

Lucille's goes all the way back to Lucille B. Smith, educator, culinary innovator, and great-grandmother of brothers and restaurant owners Chris and Ben Williams. At their Museum District spot, the Williams brothers pay homage to their great grandmother via remakes and reinterpretations of some of her best, most soulful recipes. Midtown's the breakfast klub is owned by native Houstonian Marcus Davis, who has built quite the community around his comfort food spot. Southwest Houston's Cool Runnings Jamaican Bar & Grill, which has the "Triple D" seal of approval as well as a loyal local following, serves Caribbean fare. Also don't forget the entire restaurant devoted to fried potatoes, The French Fry House, over in the Third Ward.
For Black-owned barbecue spots, look here: Greg Gatlin's Gatlin's BBQ; Ray's BBQ Shack from Rayford "Ray" S. Busch, who learned his craft from a Third Ward legend; Burns Original BBQ, started by Roy Burns St. in 1973; and Boogie's Chicago Style BBQ out in Missouri City.
Mico's Hot Chicken was inspired by Nashville's Prince's Hot Chicken and recently went brick-and-mortar in the Heights. Co-owner Kimico Frydenlund recently shared her journey with the students of the local Baker Ripley Charter School during their Virtual Career Week, telling them, "I am living proof that no matter who you are or where you come from, your station in life, if you have a dream, you can make it come true with courage, perseverance, hard work. You can definitely change your life and those around you as well."
While his Neo-soul restaurant Indigo will close its doors in July of 2021, chef Jonny Rhodes has also been focusing his efforts on sibling projects, Broham Fine Soul Food & Groceries and the under-construction Food Fight Farms. The farm will eventually supply the grocery store, which sits over in local food desert Trinity Gardens and whose mission is to "combat food apartheid & food inequality while inspiring the community to cook at home." And there are plant-based eateries Green Seed Vegan and Soul Food Vegan, plus Sunshine's Health Food Store and Vegetarian Deli on Old Spanish Trail.
Houston Black Restaurant Week put together a comprehensive list of Black-owned area bars and restaurants that are offering delivery and takeout. And while, yes, takeout and social distanced dining are both welcome routes of support right now, donations are another. You'll have to call and ask your favorites if they are accepting donations, and we're sure they'll appreciate your assistance at this time.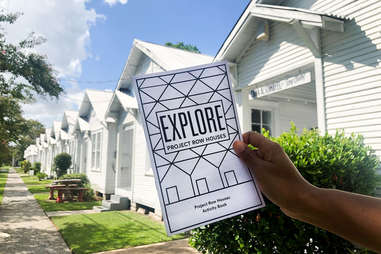 Support Black-owned galleries, arts organizations, and local retailers
You can help raise up Black culture by preserving it, supporting it, and amplifying it; and these local art houses, museums, and retailers are a great place to start.
Third Ward community staple the Project Row Houses has currently closed its art houses and community gallery until further notice due to COVID-19, but you can still support its efforts to spotlight cultural identity and its impact on the urban landscape by giving in the meantime. The Ensemble Theatre has been helping to preserve African American artistic expression and provide diverse roles for Black artists since the late George W. Hawkins​ founded it in 1976. The ensemble is ramping up its digital and live performances, as well as hosting weekly videos to share updates, personal stories, and words of encouragement for everyone. Any donations will help keep this important theater company and its mission afloat during this time.
Houston funk singer Kam Franklin and her group The Suffers have taken to live streaming performances, most recently adding activism into the mix and highlighting various social causes. The Chron put together an excellent playlist of other local Black artists to listen to and support.
Art enthusiasts can support Black-owned galleries like the Bisong Art Gallery, the Gite Gallery, and D&B African Village Arts. Or further preserve the exploration of history and culture via donations to museums including the Houston Museum of African American Culture and Buffalo Soldiers National Museum, both of which offer events and programming for the community.
There are ways to #BuyBlack, as well. African Imports in the Greenspoint Mall is currently offering a virtual shopping experience on its Facebook page that includes artwork from black creatives, Black History tees, books, masks, and more. Feel-good Houston-based eyewear brand 3rdEyeView recently partnered with the St. Hope Foundation to give glasses to patients in need; you can show your support of them by shopping them online. Luxe skincare and facial bar Swanky Beauty Bar owner Felice Simmons wants to debunk common myths surrounding beauty treatments for clients with darker skin tones. "There is really a science to what we are doing, and there is not a one size fits all. We are excited to offer customized procedures to our clients of all skin tones." Visit for treatments from deep pore cleansing and men's beard facials to waxes, brows, and lashes.
Need help in the kitchen? Chef Michelle Morris, who owns and runs the popular Well Done Cooking Classes in the Heights with her husband Darrell, has both virtual and limited in-person cooking classes available (buy a gift certificate for yourself or a friend if you prefer to stay home). Stay tuned for future events and virtual happenings from ChòpnBlọk, a pop-up dinner experience that connects local communities with West African culinary traditions; and the cool weekly lineup of sips, tastings, and live music at artsy wine bar & kitchen, Trez Art and Wine Bar.
Continue seeking out Black-owned businesses and services with this colossal directory from local site Houston Buy Black.
More ways to help?
Check out a list of national organizations we've compiled to help support the Black community and further the National Movement here. If you have thoughts on other businesses you'd like to see included in our local stories, please email feedback@thrillist.com.
Sign up here for our daily Houston email and be the first to get all the food/drink/fun in town.
Brooke Viggiano is a Houston-based writer who encourages you to take action in solidarity with the Black community in any way you can. Find her on Twitter @brookeviggiano.