Pride Month is crucially (and heartbreakingly) happening smack dab in what may be the largest civil rights movement of our lifetimes. Crucial because we are witnessing history in the making with this generation-defining action for Black social justice, and heartbreaking because vulnerable communities are still being brutalized in real time while we fight for them in the streets.
Like many other large cities, the traditional Houston Pride parade has been canceled and tentatively pushed to this fall, while the Pride event taking place on June 27 will now be a march and rally held in solidarity with the Black Lives Matter movement. Oddly enough, this is the most authentic version of Pride we've had in ages. While many are more than happy to eschew the parade of corporate-sponsored rainbows, this is still a version of Pride we have yet to see in practice. So how do we navigate this new Pride while also demanding justice and equality in the era of COVID-19? Here's everything you need to know.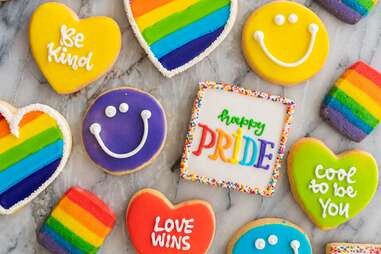 Support queer-owned restaurants and bars
Montrose has been a hub for Houston's gay and lesbian community since the late '70s, home to a score of gay bars in the Fairview District as well as the city's first Houston Pride Parade back in 1979. Today, the rainbow-strewn neighbohood offers a wealth of queer-owned and allied bars and restaurants. And while these diverse establishments hold it down year-round, they're especially high-spirited—not to mention especially deserving of your hard-earned cash—throughout the merry month of June.
Over in the 'trose, you drink your way through a string of queer-friendly haunts, including karaoke hotspot JR's Bar & Grill, laid-back "urban cowboy" hangout George's Country Sports Bar, and rowdy LGBTQ+ franchise Hamburger Mary's, where the queens are always in full showtime mode. Bar Boheme's Sunday drag brunches are the stuff of legend (as are its Bangkok fries, yum), and you can expect them to be even more lit this June, when the lush wine bar and patio hosts one every single weekend. You can also dance the night away at club favorites like Barcode, Blur Bar, Buddy's Houston, Crocker Bar, Eagle, and Ripcord, an iconic stalwart that's been rocking since 1980.
Just outside the Fairview District, gay piano bar Michael's Outpost is known for mixing low-key cabaret nights with drag show spunk, while Tony's Corner Pocket sits just outside downtown with a welcoming vibe and friendly crowd. Longtime nightclub Rich's (now in Midtown) is known as "the Studio 54 of the South" and Houston's top lesbian bar, Pearl Houston, hosts DJ nights, LGBTQ+ parties, pop-up Pride markets, and drag king shows galore.
Perhaps most importantly, folks looking for good eats to soak up last night's questionable decisions should definitely do so with a hearty breakfast at one of the several locations of Barnaby's followed by all the sweets from Michael's Cookie Jar, two beloved queer-owned institutions.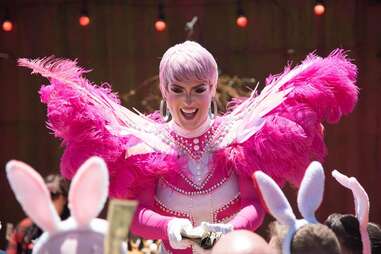 Tip your queens and kings
After a particularly difficult year that saw thousands of venues shutter and stages draw their curtains for months on end, talented queer performers the city over could definitely use a little extra financial love. And now that things are opening back up, you can show your support by getting out there, hitting up your local drag show, and making those dollars rain. Renown venues like Avant Garden, Hamburger Mary's, Boheme, Barcode, Buddy's, Michael's Outpost, Pearl, JR's, Rudyard's, House of Blues, and Galveston's Rumors are poised and ready to welcome you back with open arms (and open tip jars).
Donate to or volunteer for local LGBTQ+ charities
Pitching in at local nonprofits and other community-focused organizations is always a fantastic way to support the queer community, both during Pride and throughout the year. A longstanding cultural hub for Houston's LGBTQ+ scene, The Montrose Center works to foster a healthier community by offering access to behavioral health and support services and free wellness programs from anti-violence training and group therapy to transgender support and youth outreach. The center often works in conjunction with AssistHers, an all-volunteer nonprofit that provides non-medical in-home support and care to LGBTQ+ women and nonbinary folks with chronic illnesses or disabilities. Similarly, Lesbian Health Initiative aso works in partnership with The Montrose Center in an effort to eliminate healthcare barriers for lesbian, gay, bisexual, and trans folks by providing education, access, and advocacy programs—give now to help sustain the powerful movement.
Local housing-focused groups are another brilliant place to turn. Among others, Montrose Grace Place, Open Gate, and Tony's Place are on hand to provide safe spaces for unhoused and housing insecure youth of all identities and sexual orientations.
More of a generalist? Look no further than volunteer-run Bunnies on the Bayou, a hard-working team of rabble rousers committed to raising and doling out funds to local charitable, educational, and cultural programs fighting to advance human rights and provide much-needed resources for Houston's queer community. They get the job done by hosting ticketed events throughout the year in addition to accepting straight-up donations. Keep an eye on upcoming event announcements via their Facebook page. And statewide, allgo supports queer folks of color through the arts, wellness, and social justice—donations are always appreciated.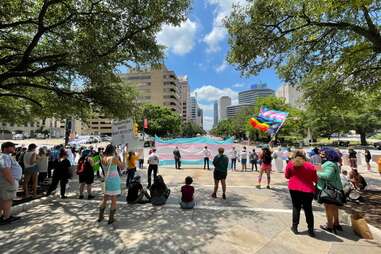 Stand up for equal rights
Strapped for cash? No worries. You can always do your part to create safer, healthier futures for Houston's robust LGBTQ+ community by lending your voice to local advocacy groups.
Founded in 1975 and dedicated to eliminating prejudice, violence, and injustice against gay, lesbian, bisexual, and trans folks in Texas and beyond, the Houston GLBT Political Caucus has long been a pillar of the community. You can join the caucus, donate, and volunteer to get in on the action.
Showing your support for trans and gender non-conforming Houstonians is as simple as signing a pledge with Transform Houston, a nonprofit focused on upending negative public opinions concerning LGBTQ+ nondiscrimination laws. Elsewhere, The Truth Project envisions a world where LGBTQ+ communities live their lives free of stigma—a worthy cause if we ever heard one.
The Equality Texas Foundation (unsurprisingly) works to secure all things equal for queer Texans, with past victories including defeating measures that would prevent queer folks from fostering and adopting kids, instituting nondiscrimination policies at major state agencies, and successfully fighting against several other anti-LGBTQ+ bills. Share your story, become an official Equality Texan, and find out the other ways you can get involved by checking out their website.
And finally… get weird at these show-stopping in-person and virtual Pride events
Houston's LGBTQ+ Pride Celebration Festival & Parade sadly isn't coinciding with Pride month this year, but rest assured you can still take full advantage of a lineup of pop-up and outreach events (both virtual and IRL) spread throughout June and beyond. From pool parties and movie festivals to the annual Rainbow on the Green, here's where to strut your most fabulous stuff in the name of Pride this summer.
Saturday, June 12
Greater Third Ward
Y'all know there are Pride pool parties coming up, right? Get your summer bod in check by gearing up for the official 5k or 10k Pride Run, starting at MacGregor Park.
Cost: Early bird registration starts at $30 for the 5k and $40 for the 10k
Saturday, June 12
Conroe
Break out your wildest Rocky Horror-themed costume and head up north to Conroe's Southern Star Brewery for a bash celebrating sexual liberation and love for all. Music from the '80s, '90s, and 2000s will be pumping throughout the night, and from 7 pm to 10 pm, $1 from every pint sold will benefit Equality Texas (so drink up—responsibly, of course).
Cost: No cover; menu prices vary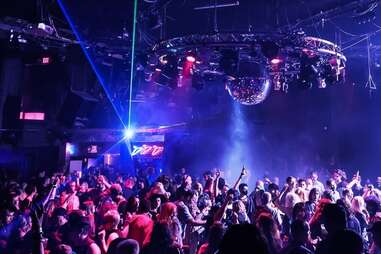 Saturday, June 19
Montrose
Houston institution Numbers Nightclub has been hosting Kinky Collective's Kinky Circus since 2014, and now that the club is back open, the funky freak show lives on. Local aerial and floor performers will show off their impressive skills all night long alongside an art market, culinary delights, and flowing drinks. Costumes and otherwise festive attire are encouraged.
Cost: Tickets runs $20 per person in advance, $25 to $30 per person at the door
Thursday, June 24
Virtual
Rainbow on the Green's 10th annual iteration will be going down virtually this year, featuring performances by drag stars Ada Vox, Tye Blue, and Angelina DM Trailz, plus a commemorative ten-year Rainbow retrospective.
Cost: Free
Friday, June 25 - Sunday, June 27
Montrose
Houston Leather Pride hosts this three-day block party in honor of Pride weekend. Hit up the popular Eagle Bar for DJ music and dancing, food and drink specials, artists and vendors, and the prestigious Mr. Texas Eagle competition. The event is open to all (all adults, that is).
Cost: No cover; food, drink, and shopping prices vary
Friday, June 25 - Sunday, June 27
Downtown
Houston-based Denver Max Productions is putting on a powerhouse Pride bash this year, posting up inside downtown techno music dancehall BauHaus Houston for five parties fueled by nine DJs over three days of debauchery.
Cost: Passes start at $30 per person
Saturday, June 26
East End
Kick summer off with a rainbow-hued pool party at El Segundo Swim Club, where both the cocktails and the waters are cool as a queer cucumber and the vibe is equally as chill. The event benefits the Official Baewatch X Salvation Pool Party slated for August, and the revelry pops off around 2 pm.
Cost: Tickets start at $25 in advance and $35 at the door
Saturday, June 26
Northwest Houston
Party like royalty at this ballroom bash, a grand affair punctuated by the crowning of a very special Envy Pride King and Queen by the evening's end. Held at the Holiday Inn Northwest Houston Beltway 8, the swanky soiree also rocks a pool, vendor market, food and drink, performers, prizes, and giveaways.
Cost: General admission runs $10 per person; food, drink, and shopping prices vary
Sunday, July 25
Washington
Though the original Pride Kick-Off Party was postponed, a new and improved fest is set to take the stage at Pearl Bar—albeit in July instead of May. Register now for your chance to tap into all the anticipatory fun including this year's theme reveal, Grand Marshal honorees, and sneak peeks at the upcoming celebration.
Cost: No cover; menu prices vary