'Tis finally the season to get out and actually experience life off of your couch: The Houston temperatures have finally chilled and the streets have been properly decked with boughs of holly or at the very least, some twinkling lights. Whether it's naughty or nice, a holiday-related happening or just plain wintery fun, this season's bucket list is loaded with local spots, eats, and sips that are poised to be celebrated by all. Fa la la la la, chag sameach, and happy winter, y'all!
Sip bubbly
Champagne and the holidays go together like holiday work parties and next-day awkwardness thanks to that one guy that hung out near the open bar too long and tried licking everyone. Good thing we have a guide on where to pop that bottle.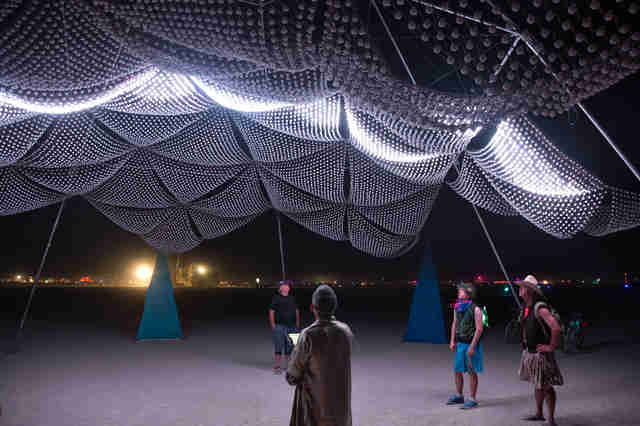 Gawk at the city's best light displays
Pack some cider and take a stroll through town to take in some pretty captivating holiday lights. The extravagant displays going down at the McMansions in River Oaks are a great (and free!) place to start. Then there are annual light shows like Moody Gardens' Festival of Lights, Magical Winter Lights at Gulf Greyhound Park, and the Wave Holiday Lights Tour. For some Burning Man-inspired cheer, head to Discovery Green to see Christopher Schardt's Firmament, an art installation featuring a canopy of 21,600 LED lights that he created for the 2015 Burning Man Festival. While you're there, hop over to the George R. Brown Convention Center to see the Enchanted Promenade and City Hall to see the tree and menorah.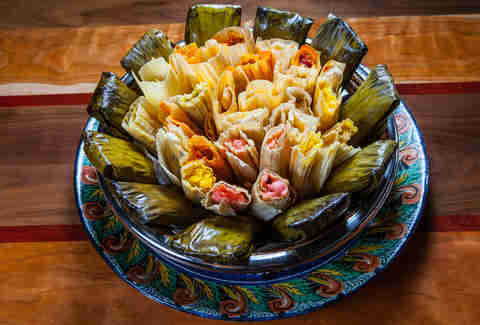 Take advantage of tamale season
We may not have seasons like "fall" or "spring," but we do have ones like "mosquito" and "tamale." While only that second one's a good thing, all of winter's tamales make up for it. Paying visits to the Tamale Festival, Arnaldo Richards' Picos' pop-up tamale stand, or authentic Mexican institution Hugo's are just a few of the ways to indulge in the season.
You have until December 23rd to pick your own pine and cut it down at Dewberry Farms. Then deck it out and try not to set it on fire with those "vintage" lights you bought off Craigslist.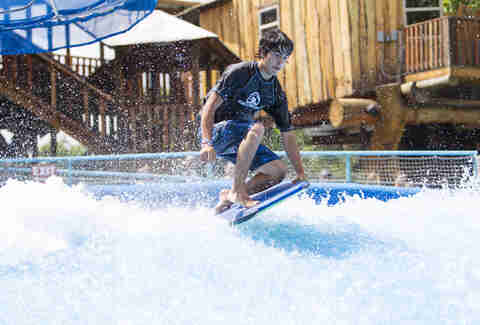 Until the end of December, Schlitterbahn is transformed into a winter wonderland. Float in tubes through a giant holiday themed snow globe at Torrent River, check out the Banh Borealis light show and pretend to be a cool 10-year-old while you surf with Santa (your Snapchat followers will thank you). Bonus feel-good factor: bring an unwrapped gift for the Secret Santa Toy Drive ($10 value or greater) and get a complimentary ticket to come back select dates in 2017.
The annual block party, Lights in the Heights, may have started as a small neighborhood affair, but it's blossomed into a debaucherous block party that has become a highlight of the season. Be respectful of the neighborhood and bring an extra Cruzin' Cooler for your trash.
Get festive with Hornitos® Black Barrel® Tequila
If experimenting with your cold-weather cocktail lineup is your idea of festive good times, try mixing in this premium aged Añejo further matured in deep charred oak barrels for four months to get a rich smoky flavor, and another two months in specially toasted barrels that add more depth and distinct complexity.
Smash some latkes
Hanukkah is known as the Festival of Lights, but it should really be called the Festival of Fried. There's some history behind why nearly every Hanukkah delight is wondrously deep-fried, as it represents the miracle that kept the Holy Temple of Jerusalem's menorah lit for eight days even though there was only enough oil for one. Try dropping that knowledge with a mouth full of Kenny & Ziggy's latkes this season.
Get some holiday hops
Buffalo Bayou Brewing Co.'s robust Gingerbread stout is Christmas in a glass, with warm ginger notes lingering throughout each sup of this dark, full-bodied beer. Over at Karbach, Yule Shoot Your Eye Out is loaded with specialty malts, fresh ginger, cocoa nibs, orange peel, and other holiday spices; and Saint Arnold doubles down with the rich and cheerful Christmas Ale and spiced, hoppy Sailing Santa.
Don an ugly sweater
There's no need to reinvent the wheel: Ugly Christmas Sweater parties may be corny, but they are a guaranteed good time. Start with Ugly Xmas Sweater bar crawl on December 3rd. Then head to No Label Brewery on December 16th as it taps the Java Elda M Milk Stout and Citrus Ginger Gose. Meanwhile, 8th Wonder is breaking out the hideous garb for its Christmas with Krampus on December 18th, and Little Woodrow's EaDo is hosting a party complete with "adult eggnog chugging" on December 23rd, so there's truly plenty of time to find every ugly sweater of your Aunt Edith's that you can get your hands on.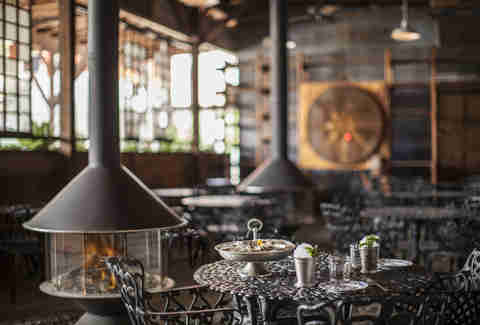 Cozy up by the fireside
Houston bars and restaurants are as cozy as ever this holiday season. Sitting by an outdoor fireplace at Brooklyn Athletic Club is a choice way to have some cocktails and cheer (there's bocce, too), and Julep's back patio has fire pits that pair quite well with some Pappy. If there is ever a time to dine in a century-old historic log cabin complete with a fireplace and all the proper festive trimmings, it's during the holiday season; Rainbow Lodge offers all of that, plus platters of elk, venison, quail, and wild boar and upscale throwbacks like lobster thermidor finished table-side. For a more kitschy Christmas experience (without the fireside but still), go for old-school Italian and wonderfully tacky Christmas light displays at Riva's in Montrose.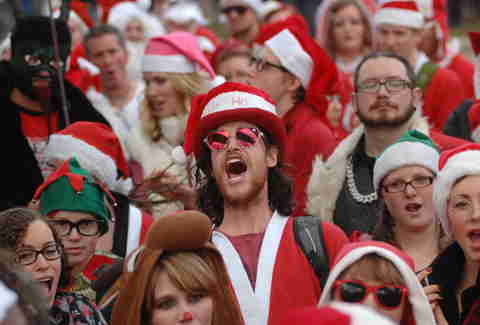 Unapologetically partake in SantaCon
If you can't beat them, join them. WAKA's annual SantaCon is going down on Washington on Saturday, December 10th; and on Saturday, December 17th, a mass of holly and jolly Saint Nicks will take over the streets of Downtown.
While you can show off your inner Tonya Harding at the Galleria anytime of year, Discovery Green grants you the opportunity to do so outdoors through early February. Just don't actually pull a Tonya Harding on anyone.
ICYMI, Houston got its very own cat cafe, and that cafe -- the El Gato Coffeehouse -- is throwing a holiday paw-ty. Twenty bucks will get you an hour of feline festivities, a coffee or spiced cider, and a holiday treat. BYOB welcome.
The Houston Zoo goes full holiday through the ides of January, with over 2 million LED lights illuminating its ancient oaks and winding pathways. Grab some hot cocoa and stroll it all 15 miles of it, then get some more hot cocoa because it's delicious.
Party like it's 1999
This year has been an interesting one to say the least. Whether you believe it's the end of the world or not, you may as well party like it is on New Year's Eve. Lucky's Pub's annual BLT (Black Tie, Lingerie, Toga) party is one way to accomplish that. Sipping "unicorns" (margaritas with upside down bottles of Champagne in them) at El Big Bad's no-cover Year of the Unicorn NYE party is another.
Feast on seven fishes
Pass & Provisions' annual Feast of the Seven Fishes, held on Christmas Eve, is the hottest ticket of the season. Seven sure-to-be-mind-blowing seafood courses with wine and beverage pairings will run you $125. The memories, though, are free (or just $125, depending on how you look at it).
Give back
Sure you can get gifts on the holidays, but you know what feels better? Giving. Toys for Tots collects and distributes an average of 16 million toys to around 7 million kids nationally each year. The City Wide Club, which provides social services to the poor, needy senior citizens and those in need of a helping hand, has opened volunteer registration for the Annual Christmas Eve Big Feast. Non-perishable foods and household item donations are also welcome.
Sign up here for our daily Houston email and be the first to get all the food/drink/fun in town.