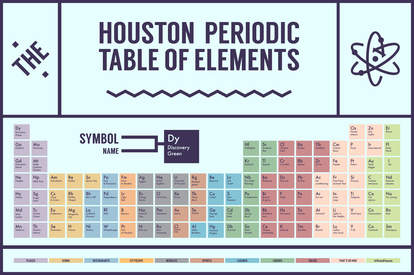 All the Essential Elements That Make Up Houston
Houston is made up of many elements -- no, not just debilitating humidity and road congestion. In constructing the Houston Periodic Table of Elements, we used a mix of scientific theory (kinda, not really), some simple thermodynamics, and a late night of feeding some beers to friends to select the essential components of the city. With everything from food and booze to H-Town pride points and problems, we present to you our findings.
Find the full-size Periodic Table here.

H - H-town - We'll let HTX and HOU battle it out on their own
Am - Astrodome - The only stadium where centerfield turned into an ankle-breaker
Cs - Chop & screw - Reppin' that slowed and throwed
Eu - Endeavour - Both a space shuttle and a beer
Mg - Magnolia City - Because Houston actually had trees at one point
Re - Rodeo - The only acceptable excuse for a two-week bender
Rh - Rothko Chapel - Ohmmmmm
Sc - Space City - We have NASA, what do you have?
Se - Screwston - Still the home of Krunk, though we've kicked our syrup habit
Ba - Barbecue - Aka the stuff that gives you meat sweats
Bi - Biscuits & gravy - Aka the stuff that makes you nap immediately after brunch
Bk - Breakfast taco - Screw Wheaties, this is the Breakfast of Champions
Ce - Cheese enchiladas - If you like it then you shoulda put an egg on it
Cf - Chicken-fried - Because was there really any other way to be fried?
Cr - Crawfish - Twist. Pinch. Suck. Repeat.
Ds - Dim sum - Do sum
F - Fajita - Born here or not, we're steak-ing claim
Hs - Hot sauce - Houston's ketchup
K - Kolache - Bring them to the office to earn your co-workers trust
Ra - Ramen - The soup that is giving pho a run for its money
Rb - Ribeye - The cut of beef you want to order
Pb - Po-boy - NOLA's not the only city that can stuff crawfish into bread
Po - Pho - Pho sure a good idea
Ta - Tamale - The last words you hear before being trampled by a hangry stampede at the bar
Tm - Tex-Mex - The God-sent cuisine that brought us queso and fajitas
Yb - Yardbird - A cool, Southern way of saying chicken
Zr - Za'atar - A Middle Eastern spice that actually works here (Houston is international and stuff)
Dy - Discovery Green - A lush oasis in the midst of a concrete jungle
Ga - Galleria - Where you'll find endless shops, a mass of quinceañeras, and absolutely zero parking
Gd - Galveston Island - Beaches, booze, and bivalves
He - Heights - That zip code you got priced out of
Ho - Hobby - The other airport
Md - Med Center - The only thing saving us from an economic depression
Mn - Midtown - Where you leave your credit card every weekend
Mo - Montrose - That other zip code you got priced out of
Mt - Miller Outdoor Theatre - The best dates are the free ones
Np - NRG Park - Home of the Texans and that Beyoncé concert you spent an entire paycheck on
Sg - Sugar Land - The place you promise yourself you'll never move to but then you have kids
Tc - Toyota Center - Home of the Rockets, and not the Aeros (RIP)
Th - Theater District - Where you'll see Hamilton in the year 2025
Ag - Aggies - Love 'em or hate 'em, they're here to gig
Es - Energy sector - We're pulling for you, little guy
Na - NASA - Proving nerds are cool since 1958
N - Natural Gas - The lighter side of the oil industry
Ne - Nine/Eighties - The work schedule you wish you had
O - Oil & Gas - The industry that employs 75% of the people you know
Pm - Petroleum - Fueling both our cars and our economy
Ru - Rice University - Home to the Owls, and more importantly, a sick, tree-shaded running trail
U - University of Houston - Home to the Coogs, and more importantly, wait that's it
Xe - Exxon - The company that employs 75% of the people you know

B - Bayous - Those trickling swamps we call water
Lr - Light rail - Wait, we have a light rail?
Fm - Farm to Market - The road you take to mawmaw's house
Pr - Port of Houston - Pretty much the reason we're a city at all

Bh - Berryhill - Cheap tacos and frozen margs FTW!
La - Lankford Grocery - Come hungry, don't forget your cash
Ni - Ninfa's - All hail Queen Mama Ninfa, O.G. of Fajitas
Pa - Pass & Provisions - One side you can afford, the other you can't
Pd - Pappadeaux - Proving everything is better when smothered in Cajun butter sauce
Rf - Reef - Boosting the Third Coast's confidence since 2007
W - Whataburger - Fancy ketchup lovers unite
Al - Allen brothers - The actual guys that founded the city of Houston
Be  - Beyoncé - "H-town vicious, H, H-town vicious"
Cu - Cullen - As in Hugh Roy Cullen, oil industrialist, philanthropist, and seriously rich guy
Ge - George Bush - W. & H.
Hg - Howard Hughes - Have you seen his house?
Lv - Lyle Lovett - The "Cowboy Man" himself
S - Sam Houston - He did not, in fact, found Houston, but he did defeat Santa Anna!

Cd - Cold brew - The only way to drink coffee in during a Houston summer
Db - Dive bar - Aka that place you drink one too many cheap Lone Stars
Hf - Hellfighter - Bourbon barrel-aged nectar straight from the gods
Kr - Karbach - Brewing your favorite IPA since 2011
Nb - No Label Brewing - No labels necessary
Pu - Pumpkinator - Causing a frenzy on or around the ides of October
Sb - Spring Bock - Exactly what you want to drink in the spring
Sn - Saint Arnold - Houston's oldest, baddest brewery is in it to win it
Sr - Southern Star - Making the drive to Conroe actually worth it
Tl - Tequila - The darling of Houston's beverage scene that gets you every single time

Ac - Air conditioning - Something you pray never breaks down
Ar - Art car - A parade at which you booze and gawk at insanely decorated art mobiles
At - Astroturf - The game-changing synthetic turf invented in Space City itself
Br - Brunch - Make Sundays Fundays Again
Cm - Critical Mass - Either join them or loathe them
Fe - Feeder - The thing other cities call a frontage road
Fr - Free Press Summer Fest  - A cool music festival at which you sweat your balls off
In - Inner loop - That thing you never want to leave
Ir - International - As in, Houston is extremely international
Li - Lights in the Heights - Get the spiked cider ready
Lu - Ladies who lunch - To find them, simply dine in River Oaks
Os - Oyster season - One of three seasons in Houston besides mosquito and crawfish
P - Pools - The only reason you still talk to your coworker is his
Pt - Patios - Because who likes imbibing indoors?
Si - Sizzurp - Like we said, we've kicked the habit
Ti - Tailgates -Things Houstonians take to another level
V - Viet-Cajun - It's not the only way to do crawfish, but it is the best way to do crawfish
Y - Y'all - A much easier way to say "you all"
Zn - Zoo nights - The only way the zoo is bearable during the summer

As - Astros - We'll get that World Series one day, won't we?
Cl - Clutch City - A much, much better nickname than "Choke City"
Rg - Rockets game - Where you go to see the beard
Tb - Texas Bowl - RIP Houston Bowl
Te - Texans - Wonder who our QB will be next year?
Au - Gold digger - See: Ladies who lunch
C - Carbon emissions - How about that greenhouse effect, eh?
Ca - Car alarms - The sound you hear every damn night
Cn - Construction - The never-ending locust plaguing our city
Co - Commute - Get your podcasts ready, this one's gonna be rough
Er - Enron - [Slowly backs away]
Fl - Flash flood - Turn Around Don't Drown
I - Ike - Est. 2008
Nd - Natural disaster - The reason you stock up at Costco
No - No zoning - YOLO!
Rn - Rain - It's what's for dinner
Sm - Swampass - Why you check yourself before you wreck yourself
Sign up here for our daily Houston email and be the first to get all the food/drink/fun in town.
Brooke Viggiano is a Houston writer who really hopes you realize she used all of the actual element symbols, otherwise that was a giant waste. Geek out with her @BrookeViggiano if you did.