There's no doubt that Houston is one of the best places to live. You live here for a reason, right? But whether that reason was because of your work in oil and gas (likely), your significant other's work in oil and gas (also likely), or because you moved here on a whim after reading about just how friendly our city's drivers are (less likely), we're all destined to go through the same Houston lifecycle. You'll have high highs and low that make you wonder why you ever moved to this damn hellhole in the first place. Don't worry, there's a happy ending… probably.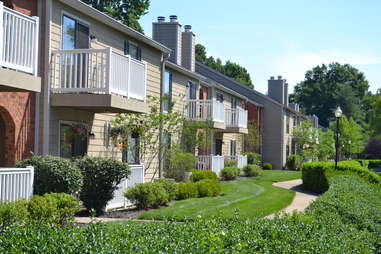 Stage one: The "what the hell did I just do?" phase
Where you're living: A nice apartment in Pearland that was so cheap!
Where you're going out: You're not exactly sure yet...
Your mantra: "It'll get better, right?"
Go-to activity: Trying to find a new place to live
You thought Houston was supposed to be affordable. But then you saw the prices for apartments in Montrose, Midtown, and Washington and realized, wait, no, it's totally not. So you started expanding your parameters a bit and then hey, look at that -- prices went down! Why would anyone pay 1500 to live in a one bedroom/one bathroom apartment in Midtown when half of that could get you a two bedroom in Pearland. Plus, JJ Watt lives there... how bad can it be?
Bad. The answer is really, ridiculously bad. You went to Killen's BBQ your first weekend and things were looking up for a second, until the next weekend when you realized that was pretty much the best thing there is to do around here.
After a few miserable weeks, your co-worker invites you to happy hour for his Big Brothers charity at OKRA, and that was really cool of him, until you realized you had to drive 35 minutes to get home afterward. Just when you're down in the dumps and seeing absolutely zero worth in Houston, you get invited to join a flag football league and finally start making some friends.
It takes a bit, but you realize it's time to leave JJ and Killen's behind after sleeping on your friend's couch for the fourth weekend in a row. It's probably for the best.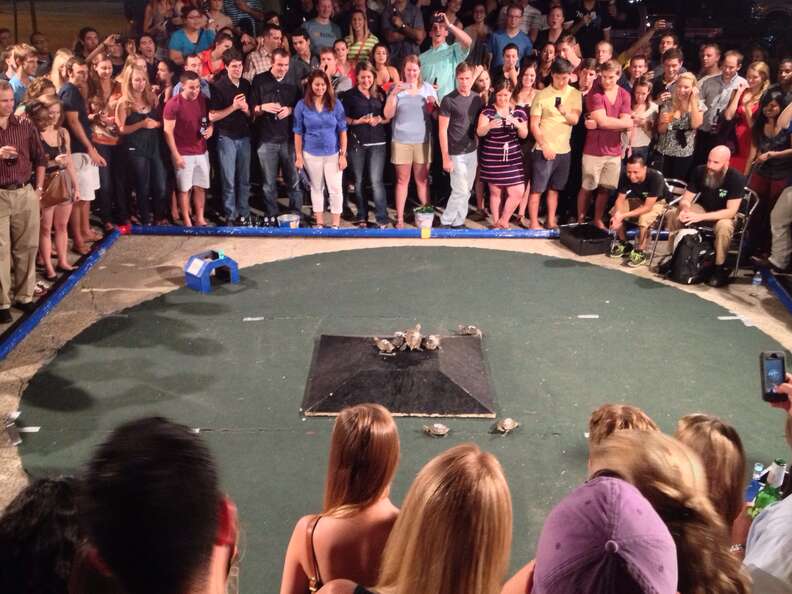 Stage two: the honeymoon phase
Where you're living: Metro Midtown
Where you're going out: In Midtown, and only Midtown
Your mantra: "Who's down for Sunday Funday!?"
Go-to activity: Thursday night turtle races at Little Woodrow's followed by wheel spins at Shot Bar
After a rough couple of months attempting to make friends outside the loop, you have finally come to the realization that living in town is worth the hit to your bank account. Now that you live in the Midtown party zone, you plan to take FULL advantage. And you do.
You've gotten oddly great at cornhole thanks to many a Sunday spent at Irish Cowboy, your "Who's Your Daddy and What Does He Do?" Tuesday night trivia team is pretty much legendary at Christian's Tailgate; and you hosted such an epic pregame for FPSF, you're still finding feathers embedded in your carpet. Don't even get you started on rodeo season. You just realized you can walk to the light rail FROM YOUR APARTMENT.
You get it now. Houston is a magical land. Sure, the summer is blisteringly hot, but that just means more time for floating beer pong. Plus, when your friends back home are dealing with the 8ft of snow that just won't quit even though it's March, you're sipping patio beers and eating crawfish at Front Porch. You win!
Stage three: the feeling local phase
Where you're living: Still Metro Midtown, but you moved to a two-bedroom apartment
Where you're going out: In Midtown, but you're willing to venture to "cool" neighborhoods like Downtown, Montrose, and the Heights
Your mantra: "FYHA"
Go-to activity: Brunch!
That crawfish, though. You've finally perfected your peeling method and are pretty damn proud that you're no longer afraid to suck the head. You love Cajun boils, of course, but now that you've tried the game-changing Vietnamese style in Chinatown, you feel totally in the know. You're even planning a crawfish boil of your own, if the front desk will let you reserve space by the pool.
It's not just the crawfish; you're starting to learn all the ins and outs of the entire city. You totally know how to pronounce "Humble" and "Milam" now ,and you even feel comfortable saying "y'all!" Just last week you joined Flying Saucer's UFO Club and are totally going to get a plate on the wall. Your entire dodgeball team is doing it, so why not?
After a few months, you enter into hipster territory, ignoring the fact that you're go-to order used to be a skinny vanilla latte and proclaiming you can't even think about starting your day without Blacksmith's daily black or cafe sua da. This weekend, you're brunching at Izakaya, then grabbing a B-cycle to ride to the Museum District to check out that dope new art exhibit at MFAH. Plus, there's that ceviche pop-up in Market Square on Sunday night. You can't wait.
Stage four: the "I'm never leaving the Loop" phase
Where you're living: Either a rented townhouse in Rice Military or a shiny new apartment in Downtown because people are actually living there now
Where you're going out: For some beers along Main or Westheimer, if you make it
Your mantra: "I'll call an Uber in 20"
Go-to activity: Shopping for houses on HAR, then crying when you see the prices
The honeymoon's not over... yet. You still love living in the city, and especially love a good night on the town, just so long as your night at Poison Girl ends early enough for you to meet your running group at Memorial Park the next morning.
Also, you have an appointment with your realtor at 4pm, so depending on how that goes, you'll see how tired you are after. Last weekend was rough, you saw like eight houses, none of which had that subway tile kitchen you've been dreaming of except for that one place in Garden Oaks. Too bad it took you 25 minutes to get back into town. Nope, not happening.
The appointment went OK. You just need to rest your head for a minute before you meet up at Flying Saucer to work on getting that plate. Crap, you fell asleep again.
Stage five: the adulting phase
Where you're living: Your first home that is technically considered the Heights, though no one believes you
Where you're going out: In the Heights, there are so many new bars and restaurants opening up, you can't even!
Your mantra: "There's this new place by my house... "
Go-to activity: Fixing up your garden, and proving you can still hang by irresponsibly going out on Sundays even though you have a huge presentation tomorrow
You're a homeowner now! A responsible adult who shops for flowers and plant food at Buchanan's and is practically best friends with the cashier at Southland Hardware. You have plenty to do, it's just, after spending what feels like 19 hours perusing local jams and honey at Urban Harvest farmers market and running around town dealing with traffic, you've hit a breaking point. Not that you'd rather live in the 'burbs and shop at Target or anything; you just really, really need a beer.
So after a solid morning of "adulting hard," a Saint Arnold pub crawl doesn't seem like such a bad idea. Nay, it seems like an absolute necessity for survival. And it was totally awesome! That is, until you woke up with a handful of empty Pink's Pizza boxes that, for once in your life, you're actually hoping your dog got to. Is this week recycling or was it last?
Stage six: the "over it" phase
Where you're living: Your same house in the Heights, though it's starting to feel claustrophobic
Where you're going out: The same damn bars you go to every damn week
Your mantra: "Ugh"
Go-to activity: Constantly second-guessing your decision to turn down that expat assignment in Hamburg
Taxes in this city are crazy, aren't they? Seriously, you don't even have kids, what is all of your hard-earned money going toward? It's not like the city has fixed the damn potholes on your block; your banged-up bumper can tell you that much.
And that commute. Ugh. It's starting to weigh heavily on your soul. Even though it's reverse traffic, they've shut down your exit off 45 for just about the millionth time, and now it's taking you an extra 20 minutes to get home. That's 20 minutes you could have spent taking your dog on a long walk to the dog park, but now you have to let him out in the backyard because the commute is soooooo tiring. You don't even know the last time you made it to CrossFit; you should really cancel that membership.
Your friend just texted you that he has an extra ticket for a show at White Oak and all you wrote back was "LOL." You'll avoid that millennial circus and stay home tonight, thanks.
At least you still live in the Loop, though...
Stage seven: the "happily settling outside the loop" phase
Where you're living: A way more spacious home in a great school district that is has a bigger backyard AND a pool
Where you're going out: To the potluck pool party down the street
Your mantra: "Wanna come over on Sunday? I'm grilling!"
Go-to activity: Perfecting your smoked ribs and working on the pool
Call it whatever you want. Delusion. Admitting defeat. You're fine with it. Why? Because your commute has been chopped down by half, your future children will go to a great school, you have an outdoor kitchen, pool and cabana hooked up with AppleTV, and you just heard they're opening another location of Flying Saucer about 15 minutes away.
Looks like [insert whatever suburb you promised yourself you'd never move to here] ain't so bad after all.
Sign up here for our daily Houston email and be the first to get all the food/drink/fun in town.