Election Season 2016 was stressful. So stressful, in fact, that we forgot lucky we really are to live in Texas. Finding areas of natural beauty in the state is like going on a completely tame, domesticated goose chase -- it's suuuper easy. But despite that, there are still a few straight-up gorgeous locales that seem to slip through the cracks of state-wide fame, an error we hope to remedy right here. Relax this weekend (and prepare your Instagram account) with a visit to the 12 most beautiful Texas places you didn't know existed...
East Texas
With Spanish moss casing thick cypress trees and a sprawling labyrinth of lush bayous and wetlands, this lake is just begging to be kayaked. Created by the gigantic log jam dubbed "The Great Raft" -- which began backlogging the Red and Atchafalaya Rivers as far back as 1100-1200 AD -- it's one of the only naturally formed lakes in Texas.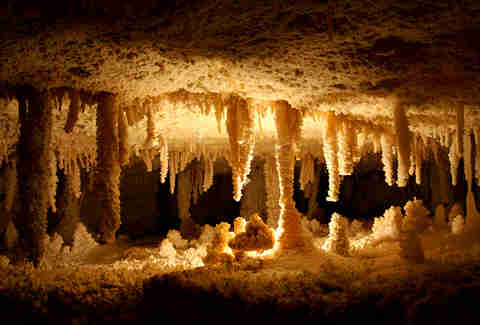 Sonora
Just west of the small city of Sonora (which, FYI, is about halfway between San Antonio and Big Bend), this massive cave carved itself into Cretaceous-period limestone about 1-1.5 million years ago. It boasts one of the heaviest collections of calcite crystal formations, most especially helictites, in the world. Make sure to check out the "butterfly," where two fishtail helictites share the same attachment point, and the "snake pit," where the formations are so densely packed, you'll soon be Indiana Jonesing to get out.
Bend
We don't even know why you'd visit Colorado State Bend Park without hiking the 1.5-mile trail to this hidden treasure. Afterward, you'll be treated to a misty chill and a breathtaking 60ft waterfall cascading into a fern-coated grotto.
Rio Grande
With over 800K acres, Big Bend National Park is one of the largest national parks in the US. It's also one of the most desolate, with only 300-350K visitors annually. You may be tempted to hit the Chimneys and Marufo Vega Trails first, but you should really make your way over to the winding valley that separates the US and Mexico. Flowing with the waters of the Rio Grande River and lined by towering 1,000ft cliffs, the canyon's water can get as shallow as 2ft at points, allowing you to both hoof it and paddle it.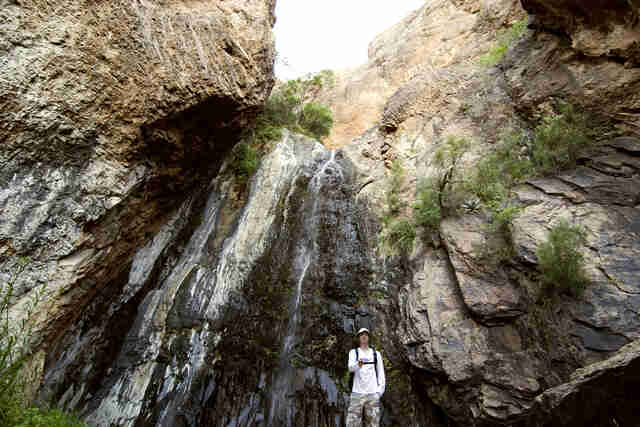 Rio Grande
With all of those acres to cover, we had to bring you two spots in Big Bend. This lush desert oasis, complete with an Instagram-baiting waterfall that can reach up to 80ft, is hidden off the Ross Maxwell Scenic Drive at the base of the Chisos Mountains. The secret spot is not on many travel guides, but you can thank the Internets for directions.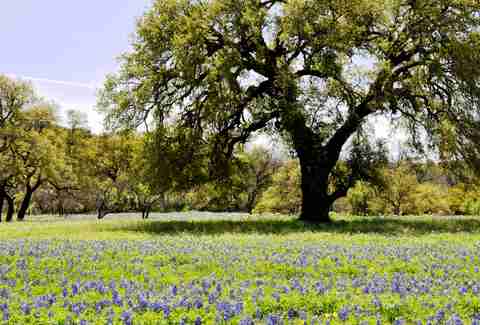 Fredericksburg
We're sure you've seen some Texas bluebonnets. But the best place to view them is this hidden scenic loop outside of Fredericksburg. Take the girlfriend or boyfriend and bring some Hill Country wine and cheese for triple bonus points.
Blue Lagoon
Huntsville
You don't have to drive all the way to South Padre to get blue waters. Just 75 miles north of Downtown Houston, you'll come upon this clear blue spring-fed lagoon. Hit it to learn to scuba dive or just to swim in pretty water.
Canyon
If we were a hype man, we'd be hyping this way-underrated canyon hard. It's the second-largest canyon in the United States -- but it's only visited by around 300,000 people per year (by comparison, the Grand Canyon gets over 5 million). Dubbed "The Grand Canyon of Texas," the sunken valleys show off a seemingly endless array of green and sunset-colored terra cotta that deserve at least a few more props.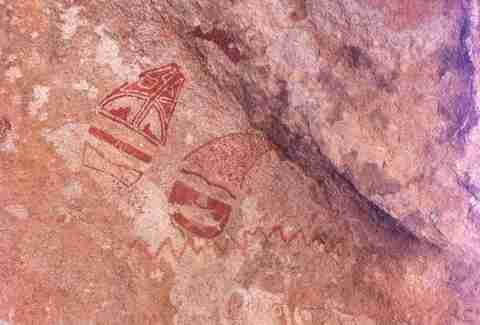 El Paso
A little over 30 miles north of El Paso, you can this 860.3-acre park named for the "huecos" -- large natural rock basins -- that encompass it. Rumor has it the place was a spiritual haven for ancient Native Americans who used the basin's pooled water to survive in the arid land. Their thousand-year-old pictographs can be found all over the monstrous boulders. Just remember to look, not touch.
Boerne
Just three miles south of Boerne, you'll find this limestone cave that formed all the way back in the Lower Cretaceous period. It was once Texas' only cavern with an interior waterfall, though droughts have limited the flow in recent years. Luckily, people are smart, so they figured out a way to keep the water cascading through man-made pipes. Visit the cool, 64-degree cavern on guided tours year-round.
Bandera County
Anyone who's anyone has been floating the Guadalupe, but this less-crowded 116-mile-long river -- starting in northwest Bandera County and ending just southeast of San Antonio -- is equally as enjoyable. Lined with cedar, live oak, and limestone bluffs, the spring-fed rapids make it a kayaker's dream. Don't miss Chamblee Falls on the North Prong, where a 10ft waterfall and baby 4ft waterfall provide some pretty blissful scenery.
Burnet
Forget Lake Travis. Inks Lake, only slightly farther from Austin, is just as amazing. Case in point: this picturesque inlet just off the lake, which is the perfect place to plop yourself into a float tied with another float to house your cooler. Best day ever???
Sign up here for our daily Houston email and be the first to get all the food/drink/fun in town.