The Prettiest Places in Houston to Visit Right Now
Houston gets a bad wrap for its aesthetics, but we're here to declare that we know where the most beautiful places in Houston are.
We're over people calling Houston ugly. Sure there's endless construction and lack of zoning regulations that leads to an interesting cityscape. Still, Houston still boasts plenty of beautiful places to visit right now: a gorgeous skyline, elaborate gardens of both the manicured and natural variety, a bunch of artsy and architectural stunners. Here are 15 eye-pleasing locales and attractions that prove Houston is pretty damn beautiful, thank you very much.
In addition to breathtaking art exhibits like the Yayoi Kusama "Aftermath of Obliteration of Eternity" and Pipilotti Rist "Pixel Forest and Worry Will Vanish," Houston's modern arts museum features a visually immersive campus. Explore the gorgeously tranquil Cullen Sculpture Garden, distinguished Glassell School of Art, and one-acre public greenspace Brown Foundation, Inc. Plaza, where you'll find Cloud Column (Houston's version of Chicago's shiny Bean in Millenium Park).
Across from the neighborhood of Memorial sits a nearly century-old urban park. Covering around 1,466 acres, Memorial Park features knockout attractions like the lush 155-acre Houston Arboretum and Nature Center, gorgeous new Eastern Glades, and just-completed Land Bridge and Prairie. There's also a top-rated 18-hole golf course, crushed granite running trail, sports fields and facilities, picnic spots and playgrounds. There's even a Beck's Prime burger joint because this is Houston, and that's how we do it around here.
Less than 10 miles southwest of the city, this curated collection of plants is lush, showing off its array of global and regional flora, horticultural displays, and walking trails over 132 acres. Take all the selfies, pack a picnic and park yourself in Picnic Grove, and get lost in the beauty of highlights like the Global Collection Garden, Woodland Glade, and Coastal Prairie.
Sitting real pretty just north of Rice University is this historic neighborhood and its piece de resistance: the North and South Boulevard esplanade lined by towering, century-old live oaks. The street has become so popular you'll now see "No photo shoots" signs from its civic association, but you can still take a quick snapshot as you walk the streets.
For an up close and in your face look at the cityscape, the Skylawn at the new Post Houston is exactly where you want to be. After you stuff yourself silly at the downstairs food hall, make your way to the five-acre rooftop park for one of the prettiest strolls in the city.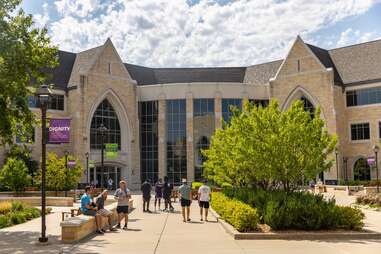 Historic houses like the Link-Lee Mansion and the statuesque Chapel of St. Basil make this 75-year-old campus—set in Neartown and designed by award-winning American architect Philip Johnson—one of the prettiest set-ups in town. Stroll the Academic Mall, pop into that chapel, or pack a picnic for the courtyard.
Miss Ima Hogg and her brothers worked hard to transform the 14 acres of natural woodlands and winding ravines around their River Oaks home into a Secret Gardenesque sanctuary, so it's only fair that you pay the $7.50 admission to bask in all its glory. The formal gardens showcase the quintessential American landscape design, with garden "rooms" becoming a natural extension of the house and channeling classical muses as inspiration.
Formerly known as the Williams Waterwall, this cascading fountain soars 64 feet into the sky, making it a guaranteed Instagram hotspot and a way to stay cool during summer. Bonus knowledge: The sculptural fountain was designed by the same guys who did Houston's Pennzoil Place and NYC's former AT&T World Headquarters.
Rocking neo-Byzantine architecture surrounded by a kingdom of twisting, towering oak trees and springtime azaleas, this more than century-old campus proves Houston is quite foxy, after all. You can get loads of steps in exploring its campus that spans over 300 acres (including some pretty cool public art collections and installations). Finish with a cheap brew at hidden, student-run bar Valhalla.
Speaking of Rice University, this acoustically engineered pyramidal structure can be found right next to the Shepherd School of Music. Not only is the "Twilight Epiphany" show which runs at sunrise and sunset an absolutely magical Houston bucket list item (and ace date idea), it's also absolutely free.
This reimagined bayou-side park is easily the best place to take in the Houston skyline. Aside from setting up an epic picnic in its Eleanor Tinsley Park or posting up on the Sabine Bridge to catch those prime views, you'll also want to check out beauteous things like public art installations, $20 million dog park, and super cool Cistern built as one of the city's underground reservoirs in 1926 (now open to the public for tours and sound healing meditation experiences).
With a blend of century-old live oak trees, amazing art installations, and the towering Houston skyline in the background, this 12-acre urban park redefined the landscape of Downtown. Head here for a lineup of free concerts, pop-up markets, fitness classes, and movie nights. Check out seasonal happenings like The Ice or The Rink on the Green, or simply stroll its grounds to enjoy pop-up art installations, Kinder Lake, a kids playground, and the nap worthy Jones Lawn, and in-park bar and restaurant, The Grove.
Set in Houston's sprawling Museum District, a trip to the lush Hermann Park is a much-welcomed refuge from the city. Calm your mind, body, and soul with a walk through the Japanese gardens. Or hit the golf course, then chill with the monkeys at the zoo. The breadth of activities is vast. For something more active, paddle the lake and enjoy the fetching gardenscape of the McGovern Centennial Gardens as you glide through the water. Afterwards, catch some rays on the sprawling lawn in front of the Miller Outdoor Theatre. Before you enter, you'll find the bubbling Mecom Fountain at the traffic circle on Montrose and Main.
Do yourself a favor and visit the beautifully serene and modern Rothko Chapel—complete with a meditative space and striking Broken Obelisk sculpture in memory of Dr. Martin Luther King, Jr.—on the prized Menil Campus. Once your mind and soul are reset, spend the rest of your exploring the campus' many lures, including the serene Menil Park and colorful Dan Flavin Installation at Richmond Hall.
If you're going to choose one restaurant based on its grounds, it'd be this local standby, which just so happens to offer a nice Texas steak alongside eye-catching views.The wooded retreat is set on a lush, landscaped garden along the Buffalo Bayou, and did we mention it has happy hour at its gorgeous al fresco bar? Well, now you know.